Key information:
Public Safety Auxiliary's Drive-thru Chili Supper Fundraiser tomorrow
Contractor Services improvement project update
Utility bills are arriving late via USPS
Road work set to begin soon, look for scheduling updates and road closings/detour info
COVID 19 Update:
NC remains in a modified stay at home order through February 28, 2021
NC announces plans to begin administering COVID-19 vaccine to Group 3
Brunswick County case numbers
Reminders:
BHITA special meeting and public hearing next Wednesday, February 17, 2021
Wilmington Harbor Inner Ocean Bar Project continues
BHI Department of Public Safety is now on Facebook
Village Hall remains closed to the public until further notice
Drive-thru Chili Supper Fundraiser – The Public Safety Auxiliary is having a Drive-thru Chili Supper Fundraiser tomorrow, February 12, 2021, from 4:00 p.m. to 6:00 p.m. at the Public Safety Building (273 Edward Teach Ext.). Proceeds will go to the Bald Head Island Department of Public Safety. Please drive around back and remember to wear your mask. Only cash and checks (made out to the PSA) will be accepted. Homemade chili and brownies for two people will cost $20, $35 will feed four.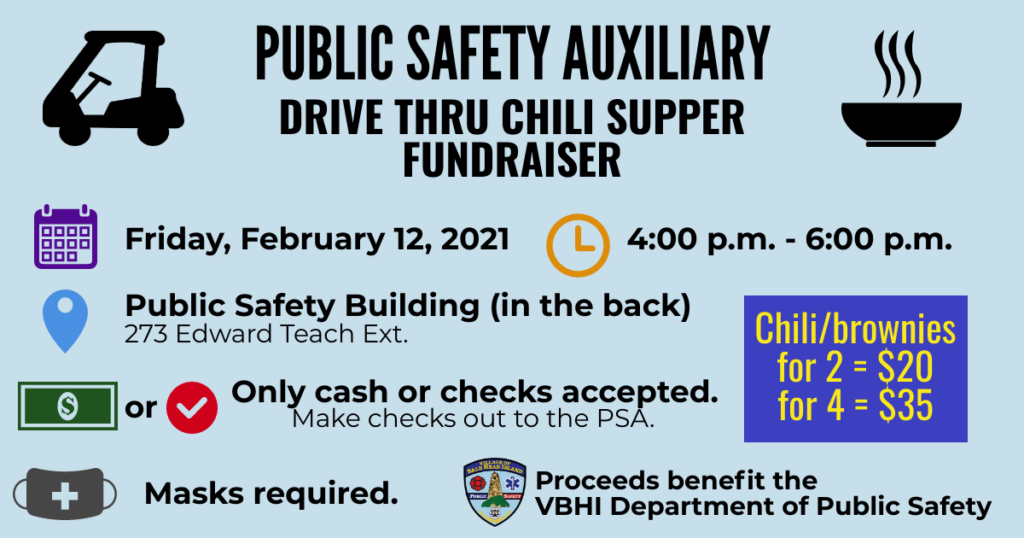 Contractor Services Improvements – The improvement project at Contractor Services is moving along with construction bids for the stick-built storage buildings and office/breakroom building due tomorrow (February 11, 2021). The Village Council will likely have a special meeting early next week to award the contract. Construction should begin shortly thereafter.
The Village has received questions about the removal of vegetation on the edge of the lot along Federal Road. The State's stormwater permit required a stormwater basin and required some clearing. Caution was given to minimize the amount of vegetation removed with the usual emphasis on the protection of the larger live oaks. The plan is to let the vegetation (understory) grow back to the extent that it will offer some buffer in the long-term. This project is still in progress and the current condition is not what the Village expects the area to look like in the long-term. Click HERE to view a copy of the site plan. The stormwater basin is indicated in red.
Updates on this project and others can be found on the Village's website on the Village Projects webpage HERE.
Utility Bills Arriving Late – The United States Postal Service continues to have the following alert on its webpage, "USPS is experiencing unprecedented volume increases and limited employee availability due to the impacts of COVID-19 We appreciate your patience." The Village has noticed that the increased volume is likely affecting utility payments. Many have been arriving late. The Village asks that customers keep this in mind as you mail payments and to consider alternative payment options to avoid late fees. More information can be found on the Utilities webpage HERE.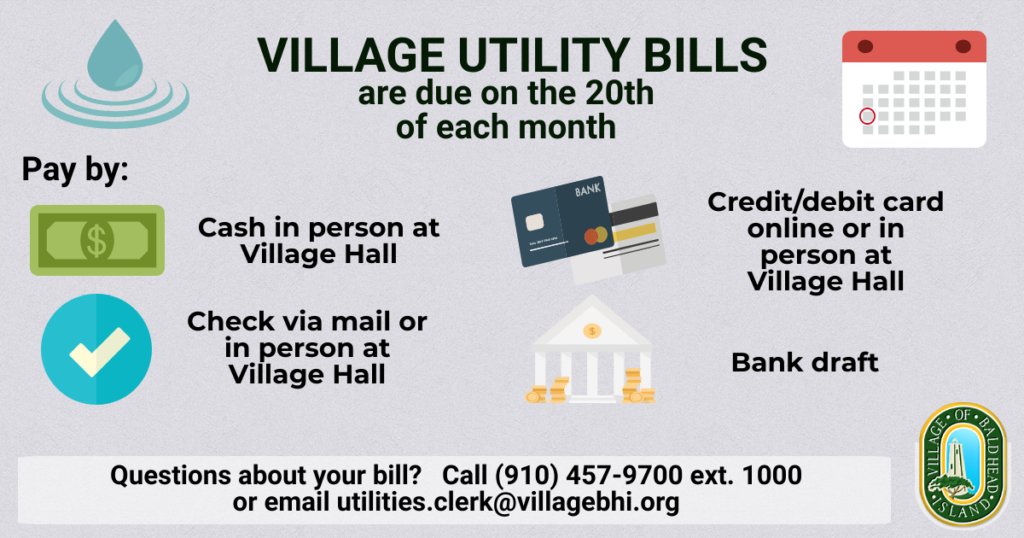 Road Work – The Village has contracted with a paving company to resurface several Village roads to include:
South Bald Head Wynd, top of hill to Federal Road
200 ft section of Federal Road in front of BHI Conservancy
East entrance of Palmetto Cove to stop sign
Large section of Kinakeet Way
All of Coquina Trail
Work is expected to begin soon. As scheduling information is received from the contractor, there will be future updates from the Village regarding road closings and detours which will be sent to Village's Voice subscribers and posted on social media.
COVID-19 UPDATE
NC Remains in a Modified Stay at Home Order – The State will remain under a modified state at home order through February 28, 2021, unless the Governor repeals, replaces, or rescinds his executive order with another executive order. Under this order, people must stay at home between 10 p.m. and 5 a.m. Travel to and from work; to obtain food, medical care, fuel, or social services; or to take care of a family member is exempted. Certain businesses are required to close to the public from 10 p.m. until 5 a.m. each night. For more information view THIS FLYER or these FAQs.
Partial Launch of Group 3 Vaccinations to Begin February 24, 2021 – Yesterday, the State announced plans for how North Carolina will move to Group 3 for COVID-19 vaccines. Vaccine supply is still very limited, and the population of frontline essential workers is very large, so the State is going to begin vaccinating anyone working in childcare or in PreK – 12 school starting February 24, 2021, and then continue with additional frontline workers on March 10, 2021. More details HERE.
The State has developed a tool to help you determine which vaccine group you are in. You can access the "Find My Vaccine Group" tool HERE. More vaccine information can be found on the NCDHHS website HERE and Brunswick County's website HERE.
Current Case Numbers for Brunswick County – The latest NC County Alert System report indicated that 61 out of the 100 counties in North Carolina are "red" which indicates critical community spread. Brunswick County is included in the red counties.
Case numbers are typically updated daily on Brunswick County's dashboard on THIS WEBSITE. The County is experiencing technical issues and this site will direct citizens to the State's COVID-19 dashboard until the County dashboard is up and running.
REMINDERS
BHITA Public Hearing – As announced earlier this week, there will be a special meeting and public hearing of the Bald Head Island Transportation Authority (BHITA) on Wednesday, February 17, 2021, at 9:30 a.m. This meeting will be held remotely with simultaneous communication using Zoom. Details for the meeting and information regarding public comments can be viewed HERE. Additional information about the BHITA can be found on this WEBPAGE.
Wilmington Harbor Maintenance Project – Great Lakes Dredge and Dock is progressing east down South Beach. As of yesterday, they were pumping sand between Beach Access #17 and Beach Access #18 across from Mourning Warbler Trail and South Bald Head Wynd. Please follow the Village's updates on THIS WEBPAGE. The page includes progress maps and photos of the project site and is being updated by the Army Corps of Engineers and Village staff regularly.
If you have property near the project area and will have renters, this page will give them an idea of what to expect during construction. Due to the many variables associated with the construction progress, such as mechanical or weather impacts, it is extremely difficult to forecast when the contractor will have a particular section of the beach closed.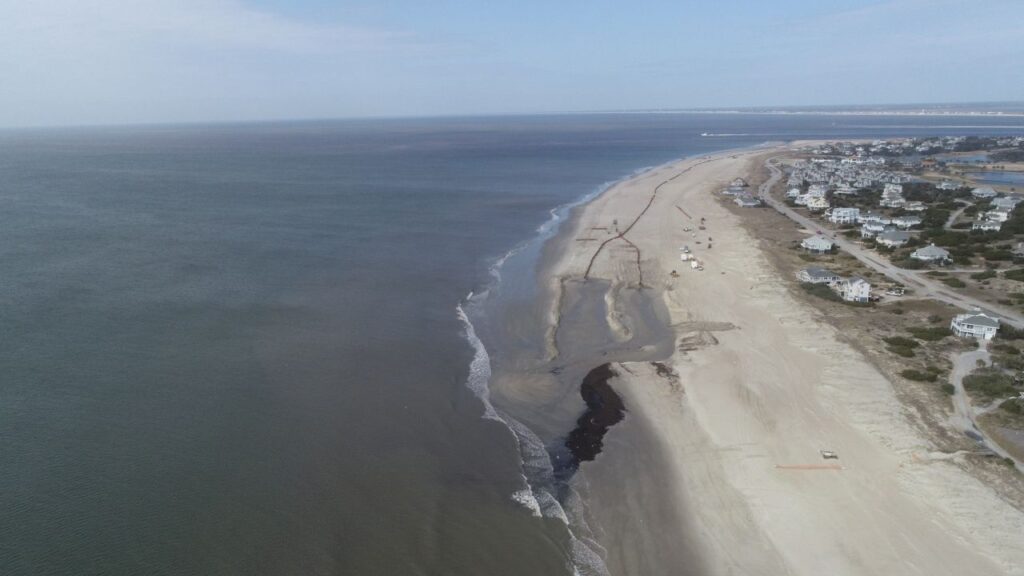 Department of Public Safety Facebook Page – The Bald Head Island Department of Public Safety is now on Facebook. You can find the Facebook page here: https://www.facebook.com/BHIPublicSafety. Please "like" the page so you can view the department's posts.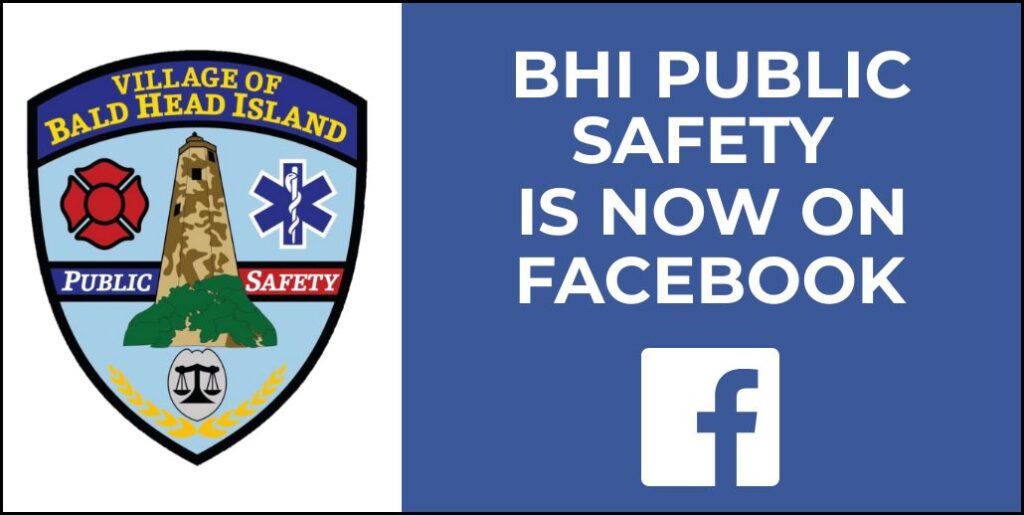 Village Hall – Out of an abundance of caution, Village Hall has been closed to the public until further notice due to minimal staffing with remote-flex work schedules. If you have business with the Village, we ask that you please use our online options, e-mail, or call for an appointment. Please call 910-457-9700 and the auto-attendant will direct you to the appropriate department. General questions can be e-mailed directly to public.information@villagebhi.org. Utility payments are to be dropped off in the box on the porch at Village Hall. Notary services are available at the IPC/Post Office.