Wind Energy Project
Background
On March 25, 2022, the Bureau of Ocean Energy Management (BOEM) announced the Final Sale Notice (FSN) for the Wilmington East Wind Energy Project, now named the Carolina Long Bay (CLB) wind project. The FSN is the third step of four which will culminate with the lease of two areas within the CLB designated area.
The BOEM Competitive Lease Award Process began with the first step on August 7, 2014, with the Call for Information and Nominations to Area Identification. The Village engaged with BOEM, area communities, and the state in an effort to express our concerns about viewshed, infrastructure, and impacts on ferry and barge through several letters.
On November 1, 2021, BOEM initiated the second step of the process with the Proposed Sale Notice (PSN). The PSN provided detailed information about potential areas that could be available along with possible lease provisions and conditions. On November 1, this area allowed for the closest wind turbine to be between 14 and 15 nautical miles offshore. Again, the Village along with other coastal entities raised continued concerns about the viewshed and other potential negative impacts the wind project could have on Bald Head Island.
With the March 22, 2021, FSN announcement (third step), we were pleased to see that over 13,000 acres were removed from the northern portion of the Lease Area resulting in the closest turbine to be located 17 nautical miles offshore (just under 20 statute miles). The Village views this as a good development. Furthermore, BOEM acknowledges that the post-lease issuance process will allow for further minimization of potential impacts.
The fourth step, Lease Issuance, is expected within the next few months. The issuance of any lease resulting from this sale would not constitute an approval of project-specific plans to develop offshore wind energy. Such plans submitted by the lessee would be subject to subsequent environmental, technical, and public review prior to a decision.
For additional information, click HERE. Information, including maps, regarding the viewshed and movement of the project area, further offshore can be found on pages 7 and 8.
This webpage will be updated as more information about the project becomes available.
---
Updates
8/14/2023 – TotalEnergies and Duke Energy have shared further details about the August survey activities for the Carolina Long Bay offshore wind project. Please review this Survey Activity and Project Overview that also includes a project development timeline for TotalEnergies Renewables USA, LLC (TotalEnergies), holder of Lease OCS-A 0545 and Cinergy Corp.*, a direct non-regulated subsidiary of Duke Energy (Duke Energy), holder of Lease OCS-A 0546.  

The leaseholders have also announced that a North Carolina based coastal and offshore wind survey firm, Geodynamics, an NV5 company located in Newport, NC, will conduct the survey activities. TotalEnergies and Duke Energy have voluntarily committed that the survey vessel, The R/V Shackleford, will not exceed 10 knots per hour throughout the course of this survey work.
In the coming weeks, the leaseholders will provide the public with links to the official Carolina Long Bay website and webpage for TotalEnergies and Duke Energy, where the public can learn even more about the project. 
There is also a recent blog written about the surveys.
8/4/2023 – Carolina Long Bay Offshore Wind lease holders, TotalEnergies and Duke Energy will be performing surveys in the offshore wind lease area between August 16 and August 31.  The survey details have been submitted to the U.S. Coast Guard for publication in the District 5 and 7 Notice to Mariners.
This is a collaboration between the two lease holders, TotalEnergies Renewables USA, LLC (TotalEnergies), holder of Lease OCS-A 0545 and Cinergy Corp.*, a direct non-regulated subsidiary of Duke Energy (Duke Energy), holder of Lease OCS-A 0546, to conduct a geophysical survey to collect data for the future deployment of met-ocean buoys within the Carolina Long Bay Offshore Wind lease areas.
This survey activity is part of the standard, early-stage evaluation process and is expected to last three to five days, depending on weather conditions. The survey will inform data required by the Bureau of Ocean and Energy Management (BOEM) of the lease holders for site assessment planning. The leaseholders will be updating the Village on this survey activity and other project development news as the project continues.
8/3/2023 – View the latest NC TOWERS newsletter HERE.
7/6/2023 – View the latest NC TOWERS newsletter HERE.
5/30/2023 – View the latest NC TOWERS newsletter HERE.
3/24/2023 – A recent report shows our state could bring in $4.6 billion and 10,000 jobs over three years from offshore wind energy. Learn how communities are preparing to fill workforce needs in this March 24 episode of ncIMPACT on PBS.
3/7/2023 – Offshore Wind Open House – Tuesday, March 21, 2023, 4:00 – 7:00 p.m. at Brunswick County Community College Virginia Williamson Event Center.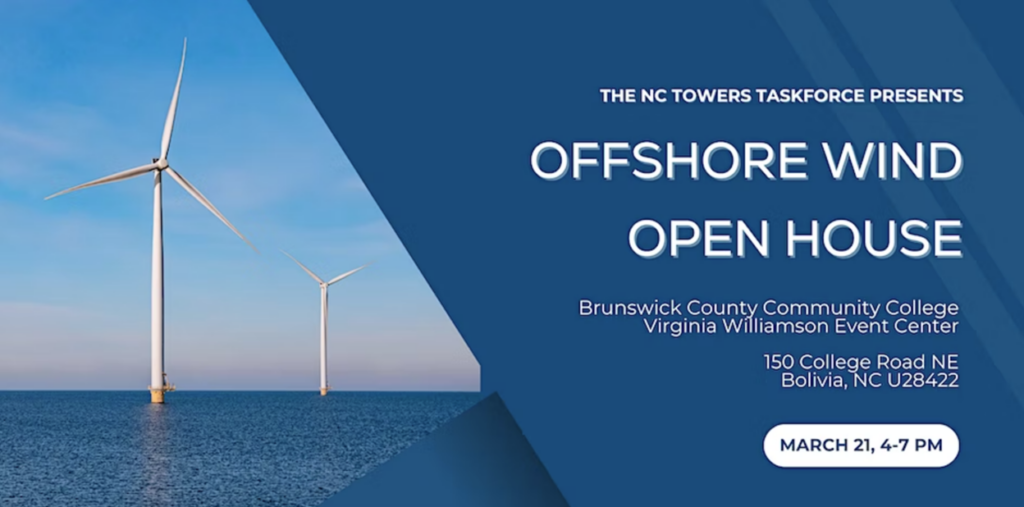 The North Carolina Taskforce for Offshore Wind Economic Resource Strategies (NC TOWERS) presents an Offshore Wind Open House for residents and stakeholders in Brunswick County, North Carolina. This open house will provide attendees the opportunity to connect with members of the NC TOWERS task force and with offshore wind experts. Attendees will have the chance to talk with experts one-on-one in an informal setting.
Brief information sessions about the status of offshore wind in North Carolina will be held at 4:30 p.m., 5:30 p.m., and 6:30 p.m. These will be interactive sessions including time for Q&A. Taskforce members and offshore wind experts will provide information, answer questions, and listen to feedback throughout the Open House.
2/7/2023 – Steven Barringer, a representative from the Village's Government Law and Policy Practice advocacy firm, Greenburg Traurig gave a presentation at the Village Council's annual retreat about the firm's work with the Village.
Mr. Barringer went into detail on the background of offshore wind energy for the Wilmington area
and gave an update on what is happening now with the Wilmington East wind energy area. The
Environmental Impact Statement process is expected to begin in June 2028 and construction
could start as early as 2031. Video HERE (wind portion starts at 3 mins, 3 secs). Presentation HERE.
5/13/2022 – On May 11, 2022, BOEM held an offshore wind auction for two lease areas in the Carolina Long Bay. The lease sale drew competitive winning bids from two companies totaling approximately $315 million.
1/20/2022 – At the Village Council regular meeting, Mayor Pro Tem Gardner reported that the NC Taskforce for Offshore Wind Economic Resource Strategies (NC Towers) infrastructure subcommittee met, and the main topic of discussion was transmission. He said the Northeast states that are installing wind energy have multiple smaller companies to work with, while the Southeast, specifically the Carolina's location, mainly has only Duke Energy to work with, which makes it easier. There was discussion about locating the transmission offshore so the electricity can be bought, sold, and traded. As far as timing, he indicated that construction near BHI is going to be several years ahead. Regardless, he said that he will be in touch with Duke Energy and the other leaseholders, Pam Hardy (Duke), and our lobbyists in DC. He said the committee meets about every other month and he will continue to provide updates.
---