2025 CSDR Project
The Village is planning a Coastal Storm Damage Reduction (CSDR) for 2025. The plan is to dredge beach quality sand from either Jay Bird Shoals or another approved site and place it on the west end of the terminal groin down through the groin tubes, then the sand fill will restart east of Muscadine Wynd, and fill to the east end of the Shoals Club (see map below). For more details on this project, please view the CAMA permit application listed under documents (to the right).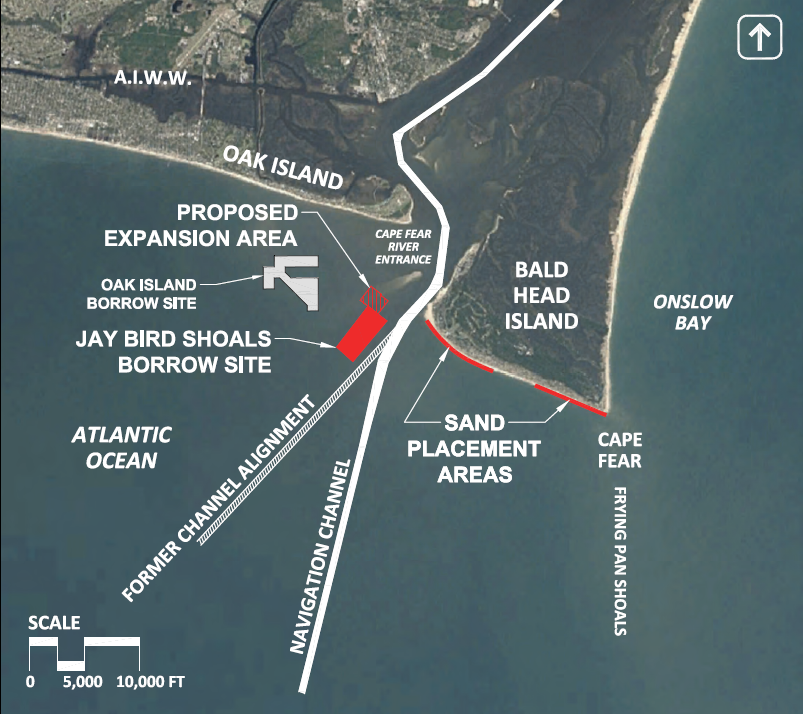 PROJECT PURPOSE
The purpose of the project is to maintain and restore beach and dune resources and thereby protect adjacent residential
homes, businesses, and infrastructure. Proposed beach nourishment is intended to offset chronic and episodic sand losses along the western and eastern reaches of South Beach as well as maintain the terminal groin fillet as required by permit condition. Daily use of the beach is, and will continue to be (post-project), recreational (for use by both residents of Bald Head Island and the public).
FINANCING
Like the Village's previous shoreline projects (2010 & 2018/19), the financing for this project will be through a General Obligation Bond (GO Bond). There will be a process in which the Village will inform the public on the details of the project, project funding, etc., and then a referendum will take place. The referendum is scheduled to take place on March 5, 2024.
The Village continues to pursue Federal funding for this project through its governmental affairs consultants Ward & Smith. As of July 2023, the Village's request for FY24 Community Project Funding appropriations had received clearance for $4.5M by the full committee in the US House. Ward & Smith is tracking and pushing for this request as it moves to the floor of the House. They are also communicating with our Senators' offices, so they are aware of the Village's funding request and expectations regarding the preservation of it through the overall Congressional earmark process.
The photo above is from the 2022/2023 Wilmington Harbor Inner Ocean Bar Project. The method of sand placement seen in the photo will be used in the 2025 CSDR project.
DOCUMENTS
CAMA Permit Application with Project Details