The latest on TS Nicole.
Update on the Duke Energy project at the wildlife overlook area.
Golf cart registration renewal begins December 1.
REMINDER: Village offices will be closed on Friday, November 11, 2022, in observance of Veteran's Day.
TS Nicole – The Village has been monitoring the forecasted track of Tropical Storm Nicole. Nicole is currently impacting the Bahamas and will make landfall along the southeastern coast of Florida overnight. The storm is expected to gradually turn northeast toward the Carolinas Thursday night into Friday and gradually weaken. Nicole will move very quickly across the Southeast U.S. into the Mid-Atlantic region Friday into Friday night. Here is the National Weather Service's overview of expected impacts to our area.
Mostly minor impacts are expected across northeast SC and southeast NC Thursday and Friday as Nicole moves across the western Carolinas during Friday.
The primary impact will be from an increased tornado threat which will develop Thursday night and continue into Friday.
Other impacts include: brief heavy rainfall, gusty winds up to 30-35 mph, and minor coastal flooding.
Nicole is expected to move rapidly across the western Carolinas which will limit the duration of any impacts. Conditions are expected to improve during Friday night.
The full National Weather Service Wilmington briefing from 5:00 p.m. today can be viewed HERE.
Property owners should prepare by securing outdoor items so they do not cause damage if carried away by wind gusts. Winds have already been strong, impacting barge service all day today. Prepare for the possibility of power outages and transportation delays.
Duke Energy Project Update – As recently reported, the Village and the Bald Head Association have been coordinating with Duke Energy on the upcoming work at the wildlife overlook area. With potential tropical storm impacts later this week, Duke Energy decided to delay the switching to de-energize the existing equipment that was scheduled for this week. The updated plan is to start that work on 11/17. Due to this delay, Duke Energy will not begin the removal of existing equipment until the Monday following Thanksgiving to avoid having an open construction area over the holiday weekend.
Here's the adjusted schedule (subject to weather and other impacts) for the project:
11/17 grid switching to de-energize existing equipment
11/28-11/29 rigging to remove existing switchgear
11/30-12/1 pouring new concrete pad – three-day curing time
12/5-12/6 installation of new switchgear
Week of 12/5 site restoration
Week of 12/12 cable testing for new switchgear
TBD energize new switchgear
While some of this occurring, traffic control personnel will be staged at Sabal Palm Trail and Bay Tree Trail to redirect traffic as there will be no through traffic on Stede Bonnet Wynd while this work is taking place (see maps below).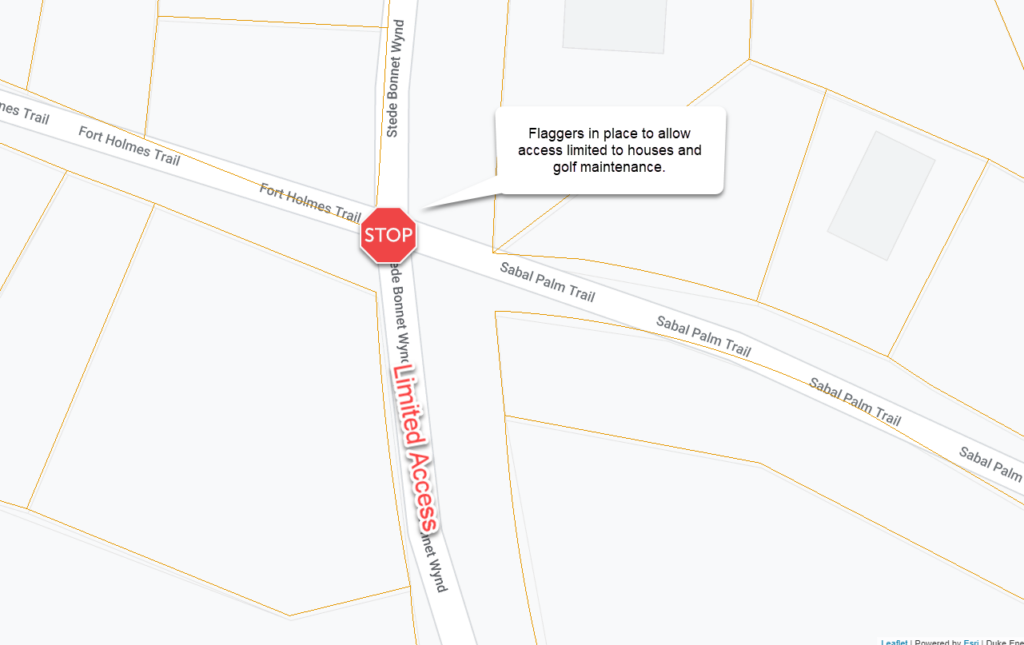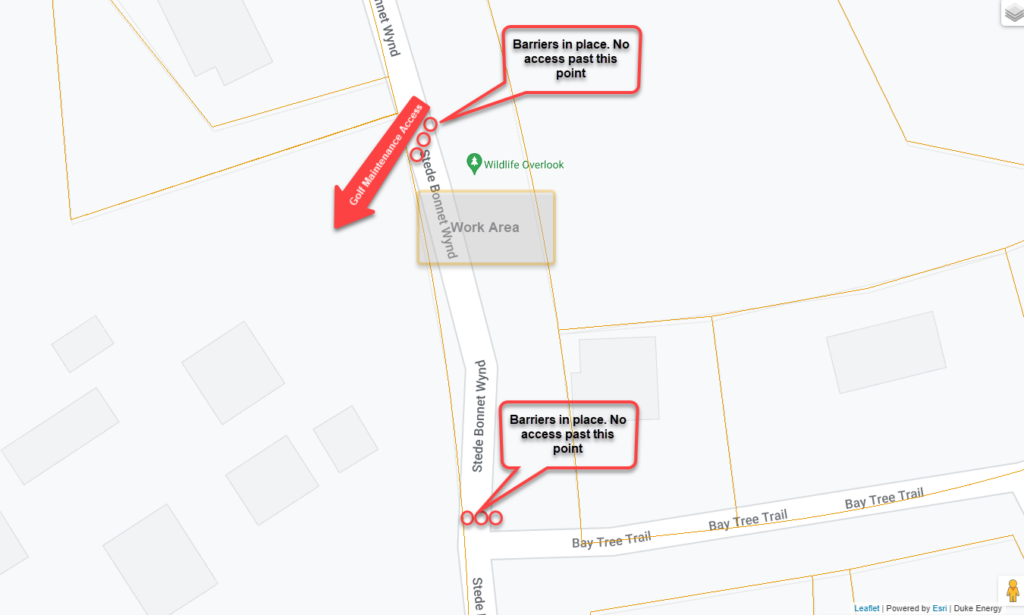 This work is not expected to cause a power outage for customers. As always, if you do experience an outage at your home, please call the outage line at 1.800.419.6356.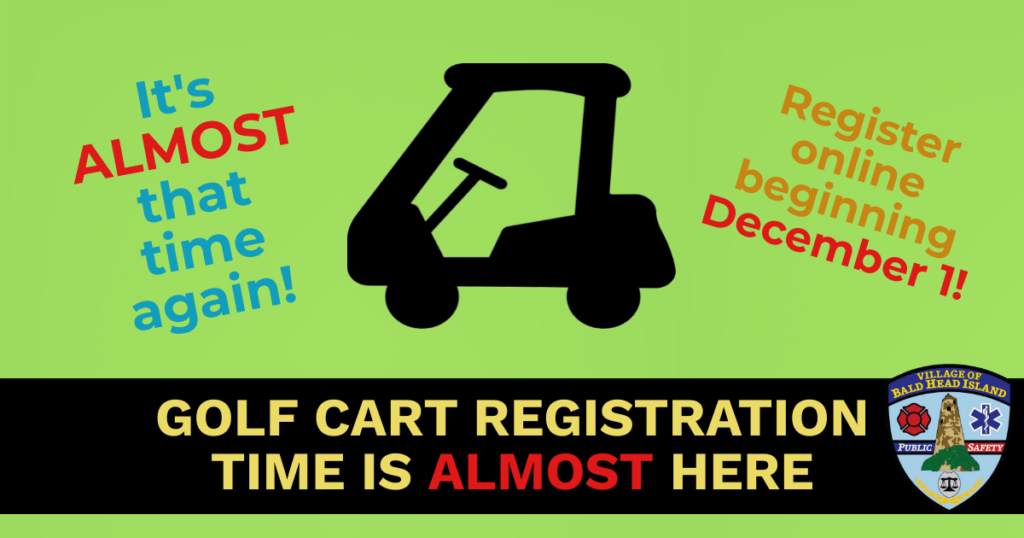 Golf Cart Registration – Annual golf cart registration renewal begins on December 1 each year. Online and in-person registration will begin no earlier than Thursday, December 1, 2022. The Village will provide details as the date of registration opening arrives. No changes in procedures are expected this year.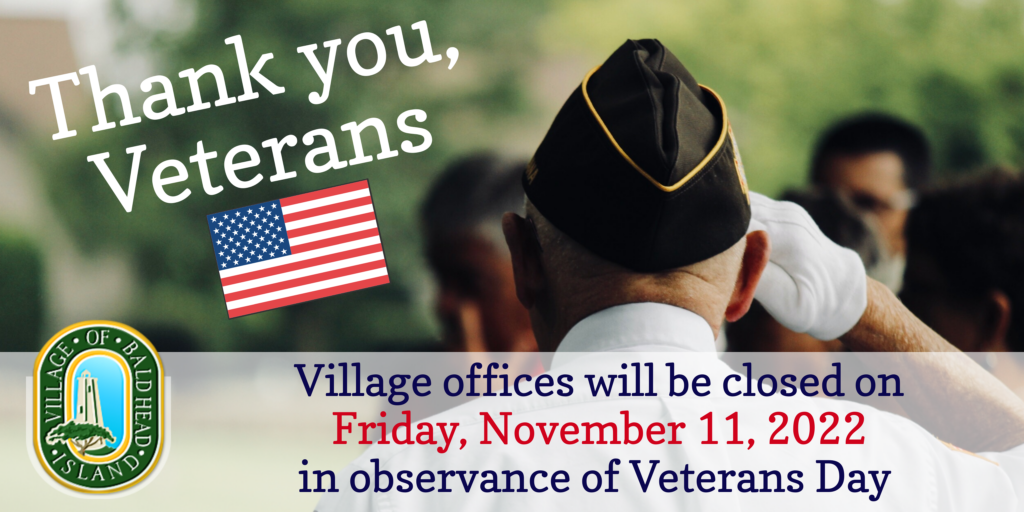 Veteran's Day – Village offices will be closed on Friday, November 11, 2022, in observance of Veteran's Day. This includes the Island Package Center and Post Office. USPS mail will be put up on Saturday, November 12, 2022.