In this issue:
Recap of Village Council regular meeting – Village Hall reopening on 4/26, updates on Contractor Services, new cell tower, new handicap access, etc.
Road closure 4/27- 4/29 across from the Creek Access on N Bald Head Wynd, Stede Bonnet to be used for the detour
2020 employees of the year selected
Bike Patrol Unit is a Positive Force for Safety and Law Enforcement
Grilling safety tips and ordinance reminder
REMINDERS: Applications for Bald Head Reserve volunteers, CTP survey, budget workshop
COVID-19:
NC remains under an executive order including a mask mandate through April 30, 2021
Vaccinations are now available to anyone 16 and older in North Carolina.
Brunswick County case numbers
Ferries and trams are now at full capacity
Village Hall will reopen to the public next Monday, Public Safety office remains closed to the public until further notice
Regular Council Meeting – The Village Council conducted its regular meeting on Friday, April 16, 2021, at 10:00 a.m. Here is a summary of the information shared and the actions that were taken at this meeting:
Under New Business (there was no Old Business) the Village Council adopted Earth Day 2021 and Arbor Day resolutions. The Council also approved two budget amendments. The first budget amendment addressed some general fund line items that were slightly underfunded this year, these were matched with revenues that are running over the budgeted amount for this fiscal year. The second budget amendment was to address some short-term capital fund expenditures for the Utilities Department related to increasing in production of sewer and water due to the increase in population on the island. The increase in population puts stress on the equipment and requires more chemicals and sampling for the water and sewer plant. The increase in construction has resulted in a shortage of porta johns.
The Village Manager updated the Council on several items to include the Wilmington Harbor Navigation Project, IPC upgrades, new handicap beach access, contractor services, new cell tower, stormwater management, Dosher Memorial, Sandpiper Trail, and Village Hall reopening to the public.
WHMP – The Wilmington Harbor Maintenance Project wrapped up on April 6, 2021, demobilization continues. According to the update received by the Army of Corps Engineers today, Great Lakes Dredge and Dock (GLDD) is scheduled to have all equipment demobilized off the beach next Monday (April 26, 2021). The Corps construction team was out there last week and will follow up with GLDD on leveling the beach at the pipe cross-over points.

The Village received information on the total volumes. Approximately 1.57 million cubic yards of material was removed from the channel and approximately 1.35 million cubic yards was placed on the shoreline of South Beach on Bald Head Island. The Village's coastal engineering firm will be monitoring the shoreline and will be submitting a formal analysis of the net benefits in future monitoring reports. The fill reached the hot spots near the Shoals Club which is the furthest the fill has ever reached during this Federally funded project which is aimed at making the channel navigable while benefitting the Village with a shoreline restoration worth about $18 million at zero cost to the Village.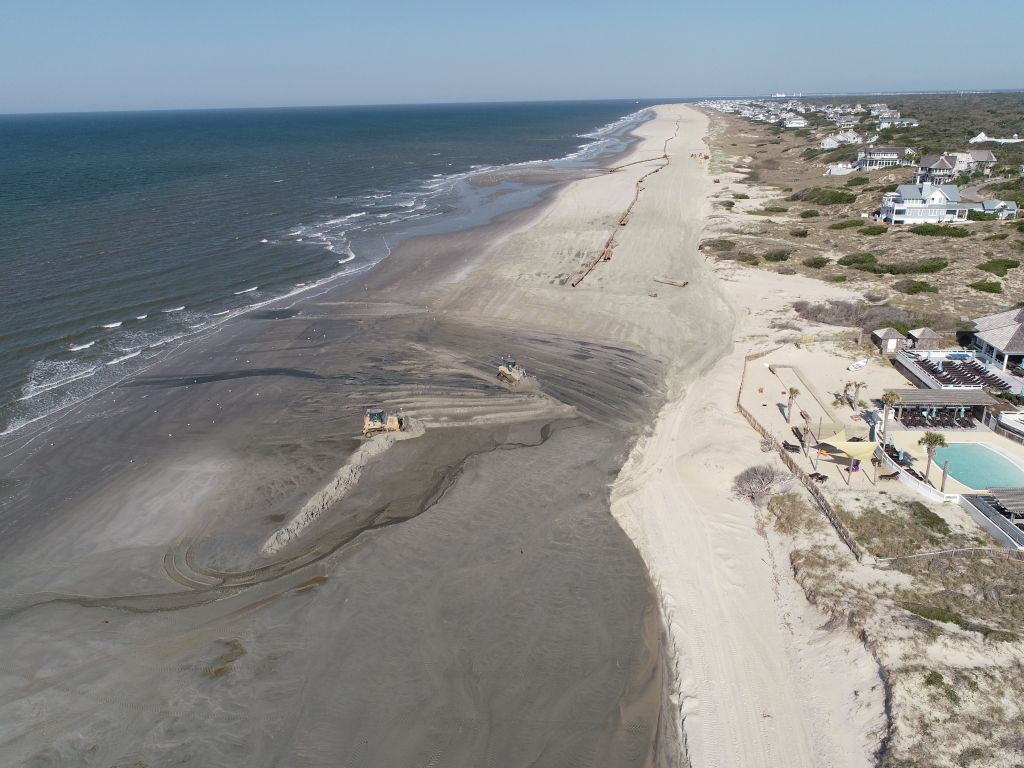 IPC Updates – Village Staff is finishing up on data entry necessary to migrate to a new package software and use of hand scanners for the Island Package Center. The staff has received quotes on the expansion of the IPC, which will move forward with the lowest bidder, since this was not a formal bid, Council approval was not required, but Council did provide unanimous consent. The Village is also working on updating its contracts with the shippers and a method for charging user fees to cover the updates of the IPC, these will also be considered for the FY22 budget.
Handicap Access & Beach Access #15 – Progress is being made on the new handicap beach access that the Village received a Division of Coastal Management access grant to build. The project was delayed from last season, due to COVID-19. Staff is currently working with an architect on the design of the new access which will include parking and a ramp-up to the peak of the dune and a ramp down to the beach, there is currently an overlook deck area in the design at the top of the dune, Village Council indicated that since there are no other covered "gazebo" decks present on the shoreline, they would rather leave that off of the final, as it may block views.

Beach Access #15 had been the designated handicapped access for BHI but has been taken over by the growing dune and had no longer been providing ADA-compliant access. In the meantime, the Village has directed those who need access to the vehicle accesses at BA #11, #24B, #35, #42, with BA #42 as the preferable option since it is a shorter distance to the beach. Staff is seeking a location to install the mobimat which was purchased with the grant. The vehicle accesses cannot be used since the emergency vehicles will need to access them and will damage the mat. Public Safety has a beach wheelchair available for use by the public details can be found HERE.
Contractor Services – A series of slides were shared showing the 2016 plans and the current plans which require basins for stormwater which are required from the NC Division of Water Quality (DWQ) to handle the stormwater in this area which has a high-density area of impervious surface located near Bald Head Creek.  The Village Manager explained that the area needed to be cleared of small vegetation to be able to see the terrain and delineate the basin perimeter to work around the large live oaks, some palms were moved, and this careful design plan has resulted in odd-shaped basins. Similar basins were installed at the Public Safety Building, these were also required by DWQ.  Staff is looking into the possibility of using the dirt removed from the basin areas to establish a berm along Federal Road, there is not a lot of land to work with, but if there is, this berm will be planted with plants that grow quickly.  The Village Manager emphasized that this project is still a work in progress and that the vegetation removal did not occur within the boundaries of the maritime forest.  The slides which include plans and maps can be viewed HERE.

The current project costs for the Contractor Services were reported including recent bids for the fuel pump. Financing options have been researched with several banks.  Fees will be evaluated to determine appropriate levels to meet the debt service.
Cell Tower – The Village Manager provided an update on the construction of the new cell tower. Crown Castle and its contractor arrived yesterday to begin construction. The alleyway between Edward Teach Extension and Market Alley is now blocked for use as a lay down area during construction. The tentative schedule and background on this project can be found on the Village's project website HERE. It is expected that all cell providers should be transferred to the new tower by 2022 and the tower removed.
Stormwater Management – The Village has received cost proposals for the planned stormwater updates to include lagoon connection. The Village will be reaching out to property owners in the vicinity of lagoons 3 A/B and 6/7 (adjacent to Nightshade Court and Fort Holmes Trail) which will be connected as part of this project. The Village Council provided consensus for staff to proceed with this project.
Dosher Memorial – The Village Manager reported that staff has met with folks from Dosher Memorial and that the draft agreement will be on the agenda for the May meeting. Details on the clinic operations for this season are yet-to-be-determined.
Sandpiper Trail – The Village is still waiting to receive the wetlands delineation from the Army Corps of Engineers so a plan can be made to address access from West Bald Head Wynd to the properties at the end of Sandpiper Trail. The Village still aims to utilize the access at Sandpiper (BA #11) as a vehicle access as it is used as an emergency entrance for vehicles and heavily utilized during shoreline projects. Village Council provided feedback on the Bald Head Association's preference for only one entrance from West Bald Head Wynd. Council indicated that the suggested loop road would make trash pick-up difficult and it would be preferable to have direct access from West Bald Head Wynd to each lot instead.
Donation Collection – Village Staff provided an update on the impact that donation collection is having on the Public Works Department as far as hours worked and expenses to manage this service. Funding options are being looked-into for the FY22 budget. It was found that when there are limits imposed, illegal dumping occurs. Staff indicated that it would continue to monitor the use and that if there are substantial changes they will reported to Council.
The Village Council went into to closed session to consult with the attorney regarding property acquisition. No action was taken.
Road Closure – Village Utilities must install water and sewer in front of 110 North Bald Head Wynd which is across from the Creek Access. This will result in a road closure at this location on April 27, 28, and possibly the 29th. Folks heading to the IPC/PO and the marina area on North Bald Head Wynd will need to turn left on Stede Bonnet and take West Bald Head Wynd to get around the closure.
Employees of the Year – Last year was wrought with unexpected challenges and change. Village employees experienced adjustments in their work schedules, work environments, and home lives. It was difficult to pick just one employee who stood out and went above and beyond in 2020, so Village Manager Chris McCall decided to select not just one, but four employees for recognition as an employee of the year, Paul Homick, Nick Hughes, Lloyd Jackson, and Mishanda Mohundro.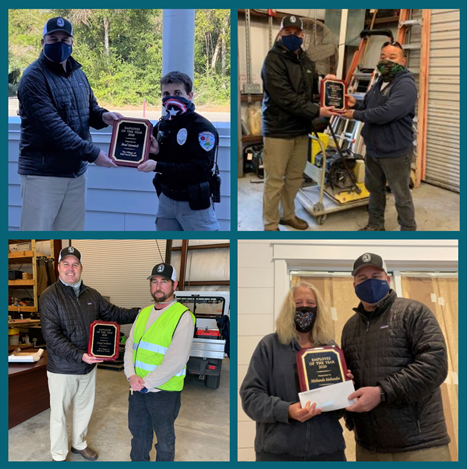 Paul Homick is a Public Safety Officer and started working for the Village in September 2016. Paul's peers say that he is one of the hardest working, honest, and integral individuals they have the pleasure of working with and that he displays incredible drive to accomplish goals, takes on extra assignments, and pushes the team in a positive way.
Lloyd Jackson has worked for Public Services (Utilities) since April 2011. Lloyd's peers say that he is always willing to do whatever it takes to get the job done and that he is a true team player.
Nick Hughes has worked for Public Services (Public Works) since August 2017. Nick's peers say that Nick is full of politeness and humility, everything he does, he does for others and always considers their feelings and comfort first.
Mishanda Mohundro started working for the Village in 2014 in the Island Package Center and Post Office, she was promoted to Administration (Finance) and then took over payroll duties and works in Human Resources. She was nominated by 8 of her coworkers. Mishanda's peers say that she is always helpful, knowledgeable, professional provides exemplary service, goes above and beyond all year long, stays longer to help answer questions, is a great person to work with, always has a good attitude, friendly, patient, and delivers great quality of work.
Bike Patrol Unit is a Positive Force for Safety and Law Enforcement – The Department of Public Safety started the Bike Patrol Unit approximately 2 ½ years ago. It was formed to build community relationships and provide a positive visual example of safe bike riding. When it started, the unit had only two officers, now it has three trained officers and a fourth will be completing the training course this week. The unit is mostly active from March through November and patrols during the remaining months when the temperatures are mild. The unit typically patrols three districts, the Marina District, the Market District, and the Conservancy District. The bike patrol officers will also periodically ride the beach roads when staffing allows. Two of the four patrol bikes are standard police mountain bikes and two are power assist bikes. All four are outfitted with emergency lights, siren, and basic medical or first aid gear.
Assignment to the unit is voluntary for BHI Public Safety Officers. To join the unit, you must take a minimum of a 40-hour International Police Mountain Biking Association certification course. It is a strenuous weeklong course that mixes classroom and practical skills. The skills component of the course includes riding over and around obstacles, endurance riding, police tactics from the bike, and community policing. By the end of this week the Village will have four PSOs certified to work on the Bike Patrol Unit. There is interest from others to join and the department is hoping to send them to training over the next few years.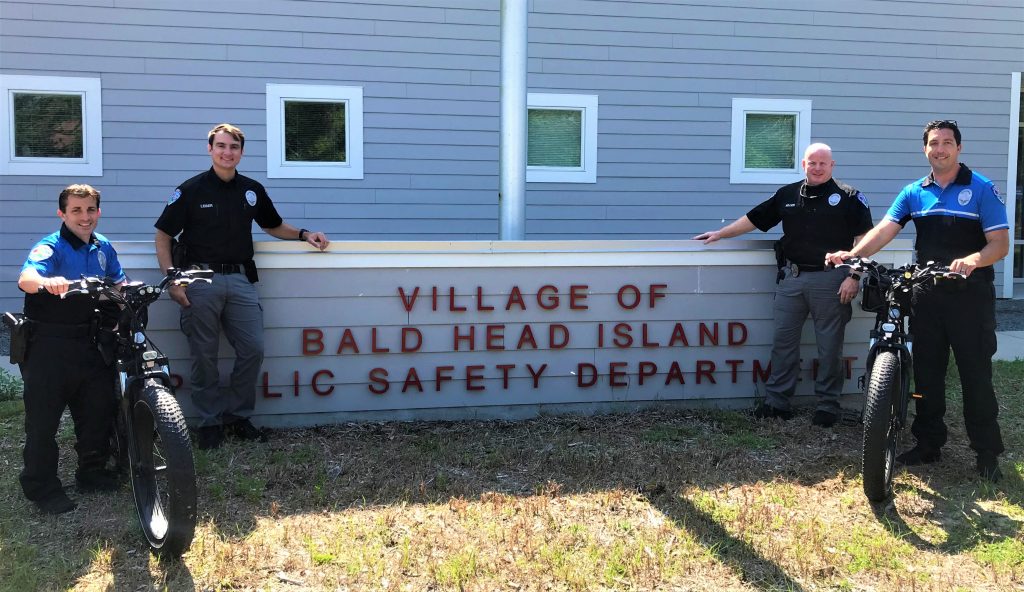 Sergeant Steven Barger, team leader of the unit says the unit is made up of dedicated folks who love doing bike patrol unit activities. One of those is the "Got Caught Doin' It Right" certificates that the officers give out to kids who are doing the right thing and wearing their helmets. The certificates are good for a free serving of ice cream at Sandpiper Ice Cream & Coffee (which we would like to give a BIG THANK YOU to for sponsoring each year!). The bikes are easily approachable and increase public contact with Public Safety Officers. "The most enjoyable part is the interaction," said Barger, "when we are on a bike with our helmets, and we have that interaction, it hits home on bike safety more. It's education by being an example and it's better received." He said that this type of patrolling allows for the most positive interaction during non-emergent times and helps build trust amongst the island residents, visitors, and the Public Safety staff. "We hand out a lot of public education materials on top of the "Got Caught Doin' It Right" cards like stickers, hats, and other fun children's activities."
The Village stopped tracking the unit's mileage last year, but Barger estimated they were on track for 1,000 miles. Using the bikes cuts down on pollution from the department's vehicles. Another benefit is that it promotes the health of the Village's Public Safety Officers. The bikes also allow the officers to travel among the crowded areas of the island during the peak season when most infractions are reported. If there are reports of high volumes of unlicensed drivers or drinking and driving in a certain area, the bike unit can be deployed to that area. Many departments that have bike patrol units say that the bikes are so much quieter than patrol cars that offenders are really caught off guard when they are approached by an officer. Barger added, "the most common citations for bike units are in fact open containers and unlicensed drivers. The bikes improve the officer's ability to see the roadway and the vehicles while in motion, which improves sightings of violations."
Grilling Safety Tips & Village Ordinance Reminder – Outdoor grilling is one of the best activities of spring and summer and it's one of the most popular ways to cook food. A grill that is placed too close to anything that can burn is a fire hazard. Hot grills can also cause burn injuries. Medical and fire emergencies are two things we all want to avoid on Bald Head Island.
The Village's Fire Prevention Ordinance (Section 12-53) provides the following exemptions for grill users:
Cooking fires contained within a commercially available, solid-fuel burning, portable, outdoor cooking appliance, but only to the extent that such portable appliance shall be located at least ten (10) feet from any structure and within twenty-five (25) feet of a permanent water source connected to a hose that is able to reach the location of the appliance, and shall not be located upon any wood or composite deck or balcony attached to such structure or underneath any roofed structure, including any porch, awning, or balcony overhang of a structure.
Fires, including those used for cooking and warmth, that burn liquefied petroleum gas (LP), but only to the extent that such fires are not located underneath any roofed structure, including any porch, awning, or balcony overhang of a structure.
Following the Village's ordinance will reduce fire emergencies and property damage caused by grills and ensures that islanders can quickly respond to any mishaps that may occur when grilling out. Violating this ordinance could result in a $500 fine.
Here are a few grilling tips from the National Fire Prevention Association (NFPA):
Propane and charcoal BBQ grills should only be used outdoors.
The grill should be placed well away from the home, deck railings and out from under eaves and overhanging branches.
Keep children and pets at least three feet away from the grill area.
Keep your grill clean by removing grease or fat buildup from the grills and in trays below the grill.
Never leave your grill unattended.
Always make sure your gas grill lid is open before lighting it.
For more information about grilling safety and other fire safety topics go to nfpa.org/education. Also, check out the Village of Bald Head Island YouTube channel for a short grilling safety video.
REMINDERS:
CTP Survey – Brunswick County, its municipalities (including Bald Head Island), Cape Fear Rural Planning Organization, Grand Strand Area Transportation Study Metropolitan Planning Organization, and NCDOT have created a steering committee to start the Brunswick County Comprehensive Transportation Plan (CTP). The CTP is a 25–30-year long range multimodal transportation plan that will assess Brunswick County's existing and future transportation needs including roadways, bicycle, pedestrian, transit and rail facilities and services. The goals of a CTP are to assist with identifying transportation deficiencies, setting short and long-term transportation priorities, establishing a relationship between local and regional expectations, and to reinforce and support other local and regional planning and funding initiatives.

The CTP steering committee wants feedback from residents and visitors of the county to help create the Vision, Goals and Objectives as well as to guide the entire CTP process. Your input will help guide this plan. Please participate in THIS SURVEY or pick up a paper copy in the IPC/PO. The survey will be open from March 11 to June 9.
Volunteer Opportunity with Bald Head Woods Reserve – New members are needed for each of the NC Coastal Reserve's ten sites, including Bald Head Woods Reserve. Community members with knowledge and experience in the topical areas as related to a reserve site and an interest in serving as a Local Advisory Committee member are encouraged to consider applying. Effective committee members present and review information impartially, listen to and understand various points of view, and offer unique perspectives. The LAC Operating Procedures document further outlines the roles and responsibilities of members and the selection process. Interested parties are encouraged to attend the spring meeting of the Local Advisory Committee for their site of interest. The spring meeting for the Bald Head Woods Reserve is on April 20, 2021 an access link to the meeting can be found HERE.

If you are interested in applying for a vacancy, please fill out member application form and send to the appropriate site manager via email or mail by May 5, 2021. More information about the application process can be found HERE.
Village Council Special Meeting/Budget Workshop – The Village Council will be holding its first budget workshop on May 4, 2021, time to be determined.
COVID-19 UPDATE
Governor Cooper's latest Executive Order took effect on March 26, 2021 and will be in effect through April 30, 2021. The state's general mask mandate remains in effect. Read the Order's FAQs HERE. As of April 7, 2021, anyone 16 and older in North Carolina will be eligible to get a COVID-19 vaccine. The State's vaccine finder at myspot.nc.gov provides information on where folks can receive a shot. More information about vaccines can be found at YourSpotYourShot.nc.gov.
According to the latest NC County Alert System report Brunswick County remains in the "yellow" group, which means there is significant spread in the community. View Brunswick County's dashboard on THIS WEBSITE.
Brunswick County Case Numbers – The latest NC County Alert System report indicated that 1 out of the 100 counties in North Carolina are "red" 20 are "orange", 48 are "yellow", 31 are "light yellow", and 1 is "green." Brunswick County is currently yellow. Yellow means there is significant spread in the community.
Case numbers were typically updated daily on Brunswick County's dashboard on THIS WEBSITE. The County experienced technical issues and this site will direct citizens to the State's COVID-19 dashboard until the County dashboard is up and running. View the latest COVID-19 snapshot posted by Brunswick County on March 19, 2021.
Ferries are at Full Capacity – Ferries and trams are now at full capacity (150), this was issued on April 12th and effective on April 13, 2021, when the NC Utilities Commission issued this ORDER allowing the motion filed by Bald Head Island Transportation, Inc. to resume ferry operations at full capacity but otherwise maintain operating policies in response to COVID-19. The Village sent THIS LETTER to the North Carolina Utilities Commission in support of Bald Head Island Transportation Inc.'s MOTION. Passengers are still required to wear a face-covering at all times during the ferry voyage and while on the trams. Village Hall – Village Hall will reopen to the public on April 26, 2021. This does not include the administrative office at Public Safety, the tentative date for reopening is May 17, 2021. Most staff at Village Hall have been reporting to the island on staggered schedules on teams and the office doors locked to prevent COVID-19 exposure, while off-island Staff worked remotely at home or at Deep Point.