In this Issue:   
Hurricane Isaias – tornado, damage assessment, debris pick-up began today (8/25)
Marina channel maintenance dredging
Cell tower project update
A brief recap of the 8/21 regular Council meeting
Village employee service awards
REMINDERS – Golf cart registrations, please use your P.O. Box #, Village Hall will be closed on 9/7 for the Labor Day holiday, Dosher Clinic on BHI closing for the season on Friday, September 4, 2020, trash pick-up goes to once a week starting September 7, 2020.
COVID-19:
Current case numbers for Brunswick County
Phase two expected to last at least through September 11, 2020
Job Retention Grant Program for Businesses/Non-Profits – Deadline September 1, 2020
Hurricane Isaias – On Monday, August 3, 2020 at approximately 11:10 p.m. Hurricane Isaias made landfall near Ocean Isle Beach with maximum sustained winds of 85 mph. As the storm arrived in the area there were several tornado warnings issued in Brunswick County. Shortly before 9:00 p.m., a tornado came off the East Beach area of Bald Head Island and headed northwest across Bald Head Creek into the Dogwood Ridge Trail area of Middle Island. The tornado then crossed portions of Cape Creek and went across the Cape Fear River coming onshore again near West Bay Street in Southport. The National Weather Service determined that it was rated as an EF2 tornado with an estimated maximum wind speed of 115 mph. Click HERE to view a map with links to some photos taken by NWS during the survey.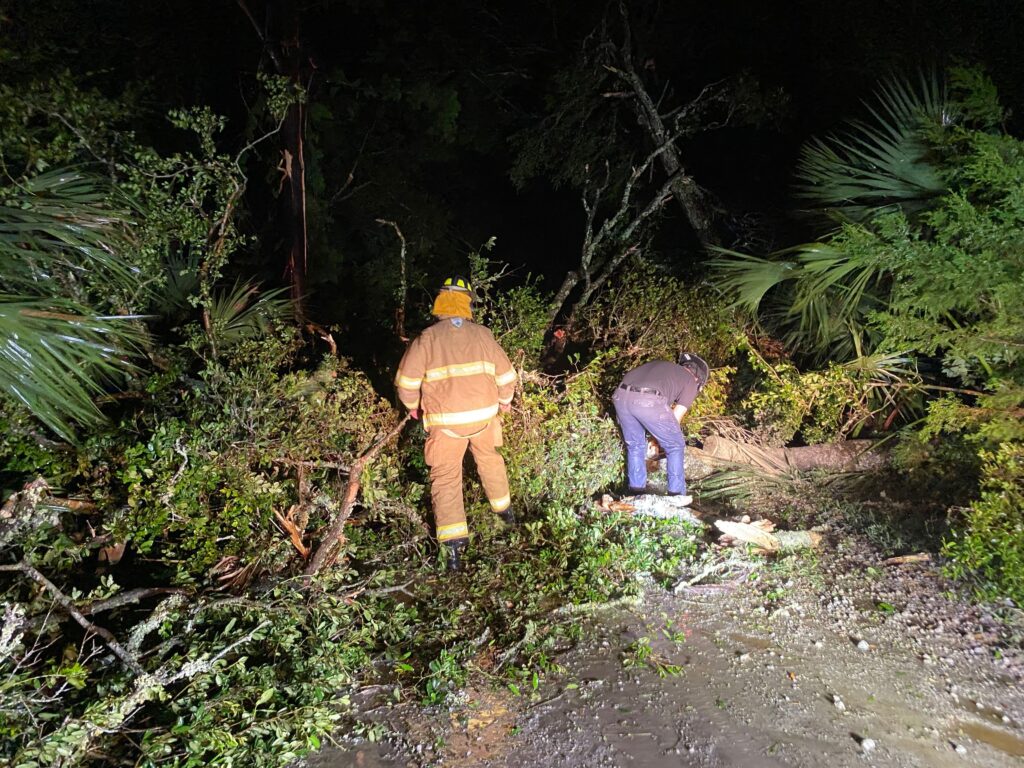 Most of the damage the island received during Isaias was due to the tornado. It resulted in an estimated $989,500 in damage, affected 115 residential properties, and 1 commercial property. Eight residential properties had minor damage and ten had major damage. A survey of Bald Head Island's shoreline by the Village's coastal engineer determined that the sand loss was not significant enough to apply for Category G FEMA funding. It is still not too late for individual property owners who received damage as a result of Hurricane Isaias can still self-report their damages by clicking HERE. Homeowners will still need to report damages to their individual insurance companies and will still have to apply to any programs that become available.
The Village will be picking up vegetative debris (ONLY) from public and private roads on the island. The Village's debris management contractor began working today (August 25, 2020). Pleasemake sure debris piles do not block the road or anyone's visibility while driving. Do not cover bollards or any utility/communication equipment. There is no need to put in individual work orders as Public Works and the debris management contractors will make their way through the Village and do more than one pass. If you have non-vegetative debris please contact a contractor (BHA has a list of providers). Public Works will not be accepting any non-vegetative debris including C&D and treated wood.
Click HERE to download our flyer for Hurricane Isais storm debris.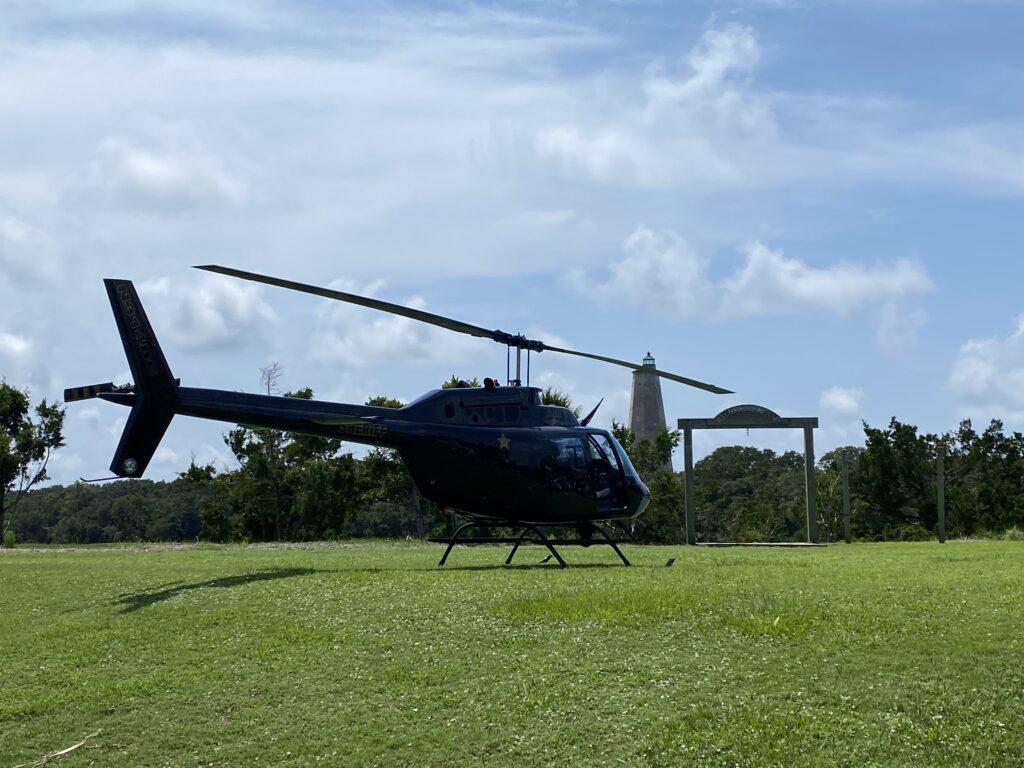 Cell Tower Update -Crown Castle had a tough time getting the friction pile installed below twenty feet because of an obstruction in one area. They had to pull the piles out and will be moving them three feet over to avoid the obstruction entirely. They need some drier weather to resume as there is a significant amount of welding involved in installing the friction piles.
Marina Channel Maintenance Dredging – The Village's dredging contractor has been working on the marina channel entrance and the nearby area since last week. They are currently working on clearing out the bypass section. This is a section south of the jetty that they clear out regularly so that the sand that usually shifts north has a place to go instead of over the jetty and into the channel. The sand from the bypass area will be placed along Row Boat Row. The Village recently received a permit modification that will allow the sand to be placed further north on Row Boat Row, closer to the two towers.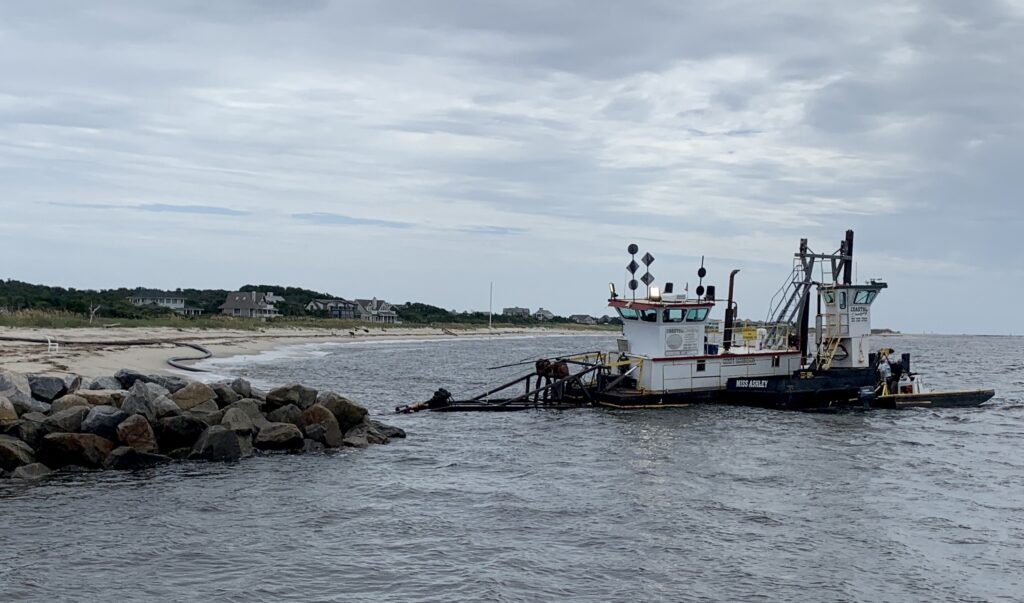 Council Meeting Recap – The Village Council conducted its regular meeting on Friday, August 21, 2020, at 10:00 a.m. Under New Business, the Village Council renewed the Village's audit contract, accepted Councilor Jim Bonica's resignation, adopted a proclamation honoring Councilor Bonica's service to the Village, appointed Claude Pope to the Bald Head Island Transportation Authority board (to replace Bonica) and adopted a resolution authorizing the removal of vegetative storm debris from public and private roads.
There was discussion regarding the forming of a Public Safety Community Advisory Board. The Village Manager indicated that in lieu of an "advisory" board that it be recommended that the new Public Safety Director be responsible in managing any complaints and/or citizen concerns with Council's expectation that the new Director, once hired, would work to establish a community outreach program. The consensus of Council was to hold off on creating an advisory board, but to include public outreach as a job expectation for the Village's new hire.
There was discussion in follow-up to the Village Council's request for legal advice on installing cameras to enforce the no-wake zone. Following up on the legal analysis of the Village Attorney that has concluded that there is nothing straightforward about the Village's ability to enforce a no-wake zone by camera in the creek unlike provisions in NC law specifically providing for speed enforcement by camera with the "red-light camera" statute, the Village Attorney recommended that the Village adopt a local act allowing for the cameras to be used. Additional research from staff on the question included reaching out to the Brunswick County, NC Marine Fisheries, and NC Wildlife Resources Marine Patrol units, all of whom, indicated that that do not use cameras to enforce other no-wake zones throughout navigable waters in the County. The Council indicated that they would put some further thought into it before coming to a decision. There was a request to have Village Staff investigate having a management plan to keep the creek accessible for recreational navigation from the mouth of the creek to Keeper's Landing.
The Village Manager announced that several employees will be receiving service awards to their years of service to the Village. See the list of award recipients below.
A full account of these meetings can be found in the minutes which are posted HERE. Typically, minutes are posted with the agenda of the next month's meeting (ex. If you want to read the May meeting minutes, they will be found under the June regular meeting agenda).
Village Employee Service Awards – The Village would like to recognize several employees who have served the Village for 5 or more years. They include:
15 YEARS
Ken Bowling, David Suther, Charles Trott & Wayne Ingram (All from the Utilities Department)
10 YEARS
Paul Swanson (Public Safety)
John Parker (Public Works)
5 YEARS
Ivan Rodbell & Clay Brendle (Public Safety)
Joe Forte (Contractor Services)
REMINDERS
Golf Cart Registrations – If you have purchased a new golf cart in 2020 and have not registered it yet, please do so as soon as possible. Initial registration cannot be completed online. Please contact Gloria Agnew at gagnew@villagebhi.org or 910-457-5252. There are quite a few registration stickers that have yet to be picked up. Those can be picked up by appointment only by contacting Ms. Agnew first. If your registration has yet to be renewed for 2020, please do so online HERE. Forty-eight hours after registering on-line, please call Ms. Agnew to schedule an appointment to pick up your stickers. As COVID-19 restrictions are lifted, Public Safety will begin issuing more citations for expired golf cart registrations which are required annually by January 1st of each year.
P.O. Box Numbers – If you have a post office box at the Village Post Office, we would like to remind you to please use it when you have folks send you mail and packages. Island Package Center and Post Office (IPC/PO) staff do not organize mail and packages by physical address, and it slows down processing when they must look up recipients to determine the post office box number. For more tips on using the IPC/PO check out our video HERE.
Labor Day Holiday – Village offices will be closed on Monday, September 7, 2020 for the Labor Day holiday.
Dosher Clinic on BHI – The Dosher Clinic on Bald Head Island will be closed for the season after Friday, September 4, 2020.
Trash Pick-Up – Trash pick-up will be on Mondays and Tuesdays only starting Monday, September 7, 2020 for the off-season. Go HERE for the 2020 Trash & Yard Debris calendar.
COVID-19 Update
Current Case Numbers for Brunswick County – As of August 25, there are 1,372 positive cases of COVID-19 among Brunswick County residents. Of the positive cases, 1,224 are considered recovered, 119 are isolating at 95 different homes, 5 are isolating at a hospital, and 24 are deaths associated to COVID-19.
There are 17 cases involving non-residents who tested positive for COVID-19 while visiting Brunswick County, resulting in their contacts having to quarantine as well; these cases are not reflected in the County's total case counts. Eleven of the cases are considered recovered, one of the cases is currently isolating at home. The County has transferred monitoring for three cases to the individuals' home counties, and two are deaths associated to COVID-19.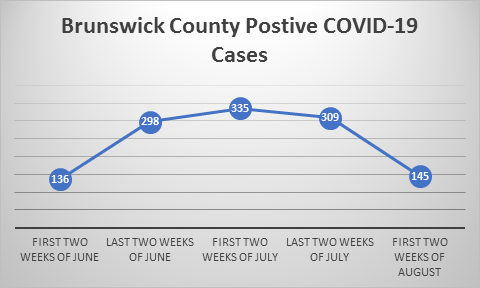 NC will be in Phase 2 into September– North Carolina remains under the Phase 2 extension and will be in this phase until at least September 11, 2020. You can review the Governor's most recent Executive Order extending Phase 2 into September HERE. Under this phase, folks are encouraged to stay at home, especially vulnerable populations. Most folks must wear face coverings/masks in indoor and outdoor public places where social distancing is not possible.  The Village strongly recommends that folks practice the 3 W's while in public and to be courteous to others.  The ferries will remain at 75 passenger capacity through Phase 2.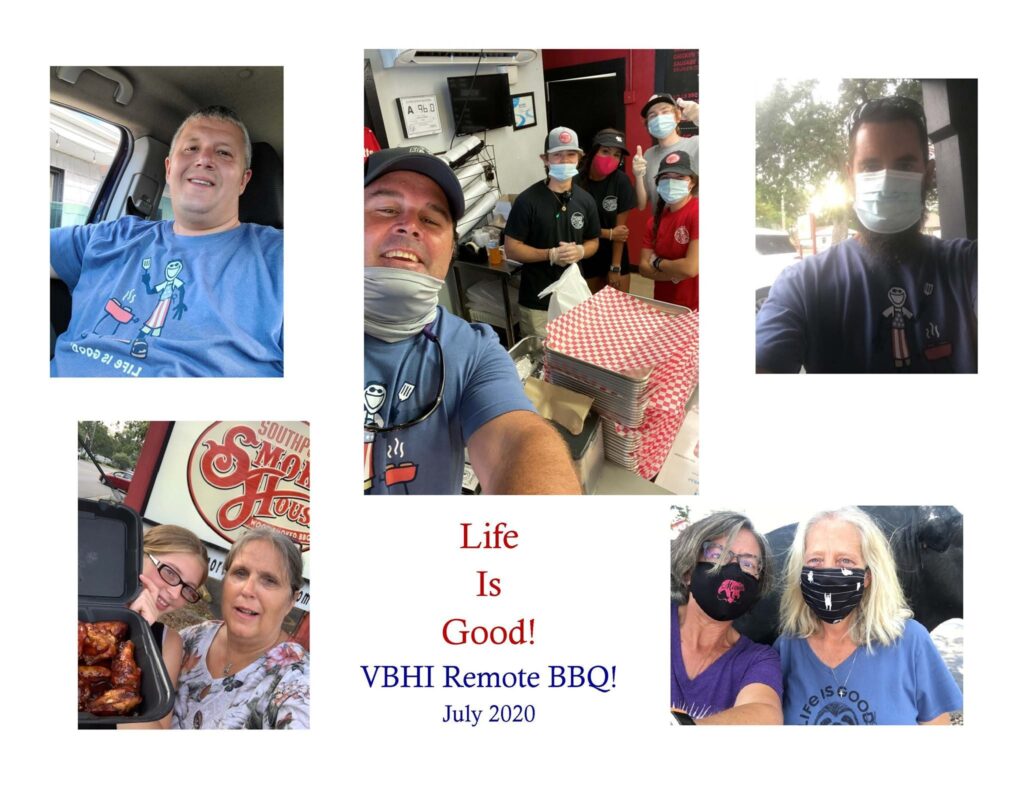 Job Retention Grant Program – If your business or non-profit organization's operations were interrupted due to the COVID-19 coronavirus pandemic, $15 million in federal relief money in the new Job Retention Grant (JRG) Program may be able to help. Under the JRG program, businesses are eligible for grants of up to two months of the eligible entity's average monthly payroll costs from 2019, plus an additional 25% of that amount, up to $250,000 if they haven't already gotten support from another program like the Paycheck Protection Program.
The North Carolina Department of Commerce is accepting applications from now until Tuesday, September 1, 2020 at 11:59pm. No applications will be accepted after that time.
To qualify to receive these grant funds, your organization:
Get more information about the program on the Department of Commerce website HERE.