In this issue:
Recap of Village Council regular meeting.
Department of Public Safety participates in live burn exercises at MOTSU.
Golf Cart Safety Month Poster Contest winners announced!
New signs are being installed along the shipping channel and in the marina harbor area.
The Village maintains its Class 7 CRS rating, help for homeowners with flood insurance.
NCDOT is seeking input on the draft 10-year State Transportation Plan.
Halloween 2022 plans are in place.
REMINDERS: Package addressing guidance, N-95 masks available at Village Hall, free at-home COVID-19 tests available via mail.
Regular Council Meeting – The Village Council conducted its regular meeting on Friday, September 16, 2022, at 10:00 a.m. Here is a summary of the information shared and the actions that were taken at this meeting:
During the public comment period, Kevin Arata made a presentation to Council requesting that the Village re-evaluate the 16'/25 HP restrictions that are in the Village's ordinance due to changes in boat motor technology, safety limitations of current restrictions, and limitations of current restrictions for choices in boats.
The 16'/25 HP restriction originated from BHI Limited's permit from the NC Division of Coastal Management (DCM) which included an operation condition with this restriction. In order to modify the condition, BHI Limited, as permit holder, would need to request the modification. DCM will then have other agencies (Wildlife Resources Commission, Marine Fisheries) review the modification request, and a decision to approve/deny the request will be made. If the condition is modified, Council can consider a text amendment. Traditionally, Village Council conducts a public hearing on ordinance amendments even when the statute does not require one.
The consent agenda passed unanimously. It included meeting minutes, proclamations for Fire Prevention Week and Constitution Week, an Emergency Preparedness Month resolution, and the approval of the annual Brunswick County Emergency Services & Franchise Agreement.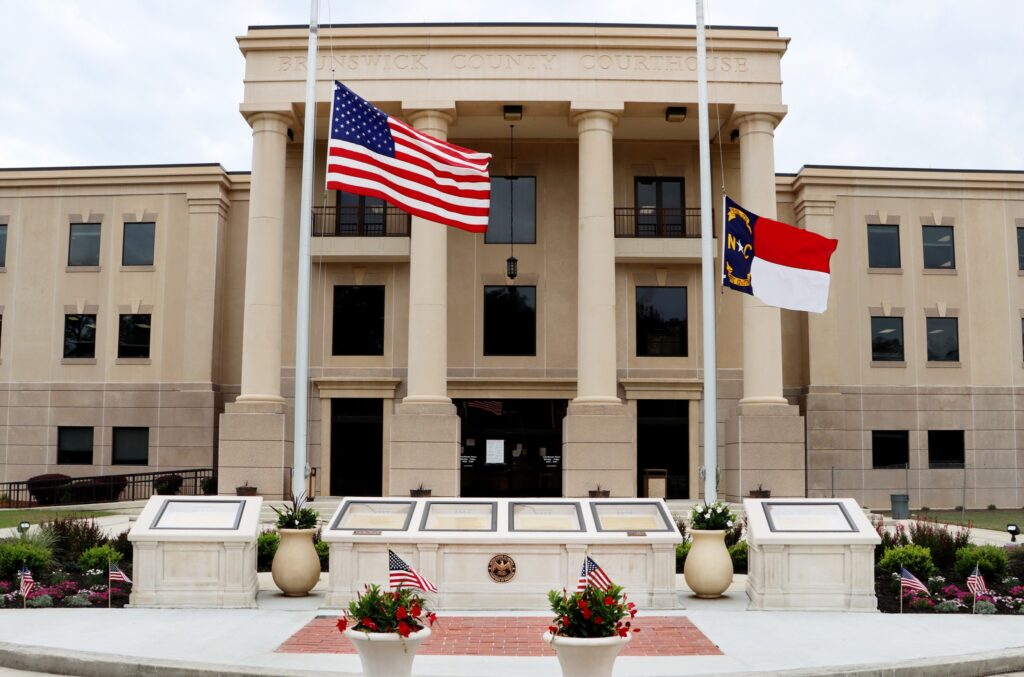 Under old business, the Village Council received an update from Mayor Quinn on the commercial area master plan. He reported that the planning contractor (Cole, Jenest & Stone) has started collecting existing condition data and has spoken with several stakeholders such as Limited and architects that work on the island. The Village is refining the contract and working on scheduling dates to meet with additional stakeholders, those dates are forthcoming.
Public input will go to the contractor and the Council, and the Village will supplement stakeholder input processes to ensure all stakeholders are covered. The mayor said he plans to involve folks from the part-time resident advisory group. If you are unfamiliar with this planning effort, please read Mayor Quinn's latest message from 9/14 HERE (correction: the 9/9 special meeting referred to in the message was on 9/6).
Under new business, the Village Council unanimously adopted a resolution stating the Village's intent to plan for and conduct two studies, the Village of Bald Head Island Water Asset Inventory and Assessment Planning Grant and the Village of Bald Head Island Sewer Asset Inventory and Assessment Planning Grant. If approved, this will include a new rate study and new mapping of our infrastructure and will likely take until December 2024 to complete. Both projects are eligible for American Recovery Plan Act (ARPA) funding (eliminating the usual match required from municipalities) and will assist in making the Village more competitive as it seeks future grant funding for the expansion of the Wastewater Treatment Plant and other capital needs. Also under new business, the Village Council unanimously adopted a budget ordinance amendment which covers additional funds for professional services being provided by Cole, Jenest, & Stone for the BHI Commercial Area Master Plan (contract total came to $78,000).
Below are a few items that were shared during the Manager's Report.
The Assistant Village Manager, Jae Kim, provided an update on the following:
IPC/PO Update – Mr. Kim gave an update on the August package counts for the IPC/PO facility:
7,262 total packages for August 2022, which is a 13% drop from the month prior (8,332 last month).
6,800 total packages from August 2021, which is a 6.8% increase from the prior year.
The Village continues to work with UPS to increase the amount received in revenue on the per package fee. The Village should hear from the office managing contracts next month. Staff is also working with FedEx Ground and has been back and forth with them and our edits are currently with Contract Management for review. The contract includes an increase to $8.00 per package rate, per the Village's request, but other issues are still being worked out (liability, payment/audit, insurance, indemnification, subcontractors, terms/notices).
Mr. Kim is still preparing options for hours of operation of the Island Package Center/Post Office for the Council to review and is planning on submitting them this week. As options are considered, we ask that customers reflect on the most recent service quality, such as improved wait times, and evaluate if there is a critical need for the facility to be open on Saturdays to pick up any packages that are received late in the day on Friday or USPS packages received on Saturday. Any increase in hours at the current staffing level (4 full-time employees) will undoubtedly impact staffing levels, therefore service, on weekdays. If Saturday service is critical for you, please let us know by contacting Carin Faulkner at public.information@villagebhi.org.
Shoreline Protection – Mr. Kim gave an update on the Jay Bird Shoals borrow site permit. The soils analysis lab work was completed in addition to archaeological surveying work. The Village should expect to receive a final report in 60-days more or less and a permit application submittal to the NC Division of Coastal Management possibly by end of the year.
Seventy (70) Cape Fear Academy (CFA) students will be visiting the island on Thursday, September 22, 2022. As part of their project to give back to the community, they are partnering with Steve Mercer, owner of Coastal Transplants to plant sea oats. Coastal Transplants is donating roughly 300-500 sea oat plants. Students will also be attending workshops at BHI Conservancy.
Mr. Kim announced the upcoming NC Beach, Inlet and Waterway Association (NCBIWA) Annual Conference is on November 3 & 4, 2022 at The Terraces on Sir Tyler in Wilmington. He and Ms. Faulkner (PIO and NCBIWA board member) plan to attend. More info HERE.
Grant Funding – Mr. Kim reported on several grant funding opportunities that he is exploring, in addition to the AIA (Asset and Inventory Assessment) grant program that was previously discussed. He is looking at submitting another letter of interest for infrastructure grant resources and is looking into the $3.1B funding available through FEMA's BRIC (Building Resilient Infrastructure in Communities) and FMA (Flood Mitigation Assistance).
Zoning – Mr. Kim updated the council on the status of the special use permit (SUP) application for BHI Academy. He is currently working with the applicant to submit a complete application this week and coordinate with the Planning Board for a meeting to consider approval of the application. There have been zoning inquiries on several topics including electric scooters (and other modes of electric-powered transport), stand-alone ice vending machines, regulations on the number of dogs per single-family dwelling, and a hydrant ordinance. A suggestion was made to allow the Planning Board to look into these items and provide recommendations and Council to review the past recommendations of the Transportation Committee.
Village Manager, Chris McCall, provided an update on the following:
Stormwater Management – Work on the BHI Club's side of the bypass lagoon is still expected to take place this winter. They are hoping to do the work in the first week of January. The weather could affect the schedule. It is expected that the front nine holes will need to be closed during this work. There will be an on-site pre-construction meeting with the Club, contractor, engineer, and Village Staff the second week of November.
ADA Beach Access – Mr. McCall had Mayor Quinn provide an update. The mayor reported that he made a presentation at the Bald Head Association that morning and the Village is waiting to hear about the architectural review board's decision.
Cybersecurity – Mr. McCall reported that he had finalized an agreement with NC Army National Guard to do a cybersecurity threat assessment for the Village. Scheduling is forthcoming. A report will be presented and depending on the results of that report, additional work by another outside party may be considered.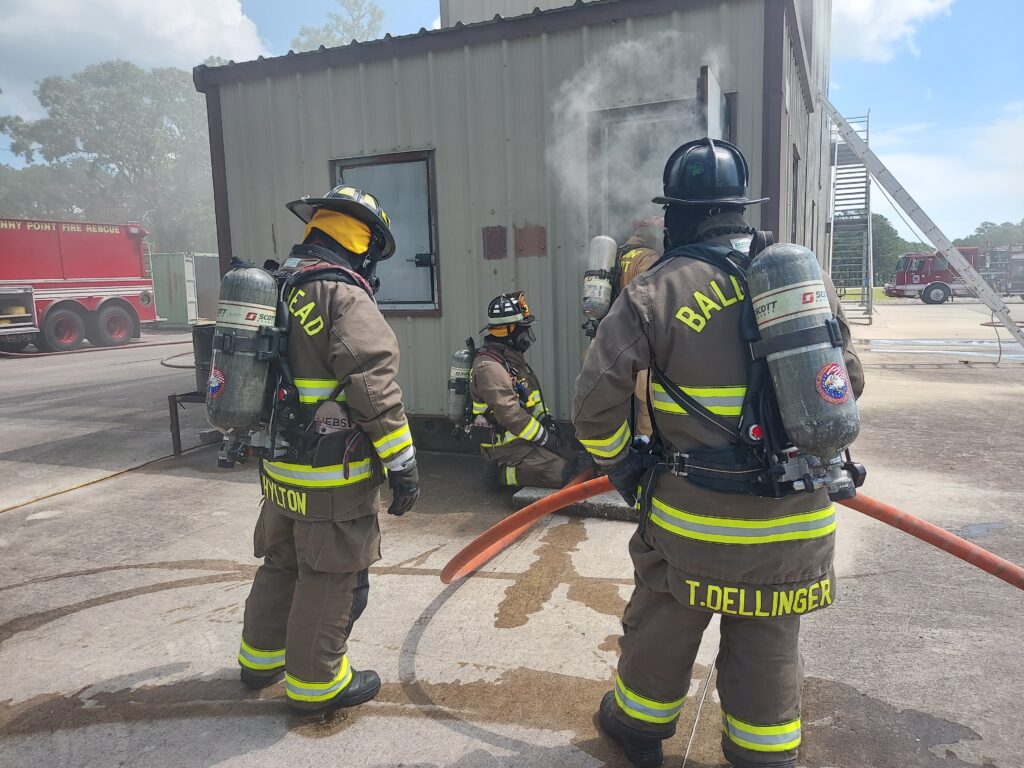 Live Burn Exercises – Military Ocean Terminal at Sunny Point (MOTSU) offers its fire training facility to local fire departments to perform "live burn" exercises. Last Tuesday and Wednesday, all full-time Department of Public Safety personnel participated in several hours of exercises at the facility.
The "live burn" exercises involved real flames and extreme smoke conditions in a controlled environment with Sunny Point firefighters and EMTs on-hand to observe, provide guidance, and medical assistance, if needed. Practice situations involved containing fires on an upper floor level, ground floor, and performing a search and rescue. The search and rescue involved a strategically placed mannequin that required rescuers to ventilate, enter, isolate, search, and carry the victim to safety through a window.
These exercises helped prepare our Public Safety Officers for facing the intense heat and stress of a fire. They received feedback from observers and tips based on previous experiences the Sunny Point personnel had learned during their firefighting careers.
Check out our video (HERE) so you can see what the facility looks like and all of the work our PSOs put in during the intense exercises.
Chief May indicated he would like to have the department conduct these exercises on a regular basis and that they will be including volunteers in future exercises.
On a related note, the Village public information officer, development services director, and the newly certified fire prevention specialist PSO Chip Sudderth, are working on educational material on monitored smoke detection systems. Sudderth will be focusing on fire prevention education and is also going to work with building inspections to develop a new fire inspection program. Stay tuned for more information.
Poster Contest Winners Announced – The Village observed Golf Cart Safety Month for the first time this past July. We will continue to educate the public about golf cart safety year-round but expect to focus on golf cart safety during the month of July for many years to come. We asked for help for next year's education campaign. We enlisted the island's most creative group of Islanders (KIDS!) to help us design posters for 2023. And the winners are:
                     1st Place (Gold):      POWERS THIES (8 years old)
                     2nd Place (Silver):    REESE NAVEJAS (7 years old)
                     3rd Place (Bronze): FRANCES THIES (6 years old)
Our artists will be receiving awards over the next few weeks. We are hoping to get photos of them with their awards and will post the photos with their artwork on social media (with their parents' permission). The posters will be displayed in the Island Package Center and Post office as well. Our artists not only came up with some creative designs, but they also thought of some great safety tips!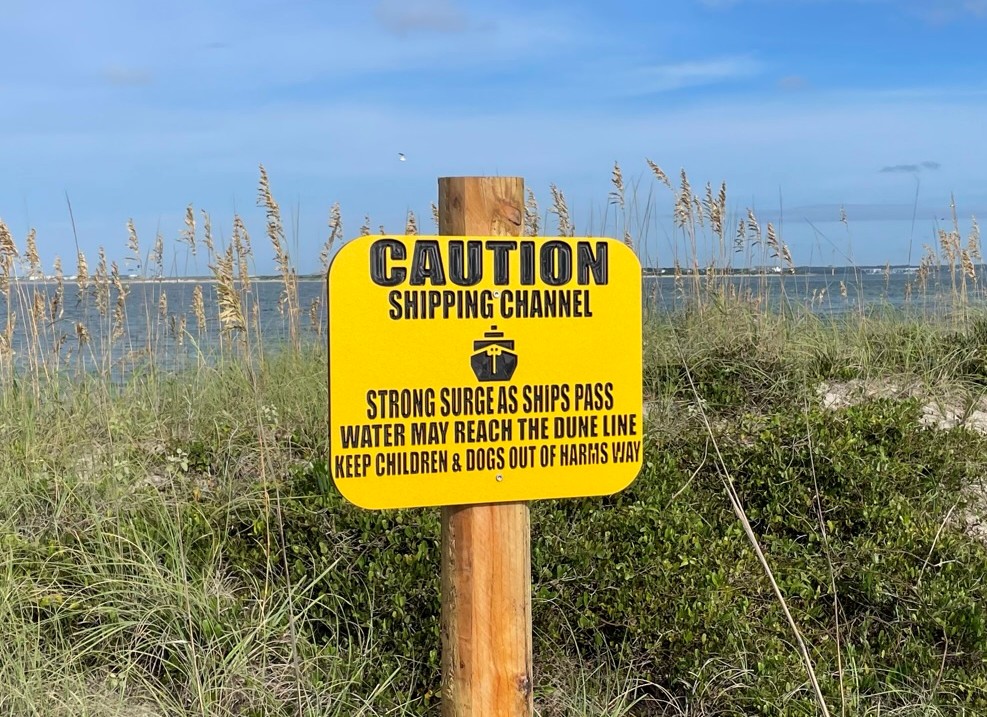 New Signs – The Village's new sign-making machine has been busy making replacement stop signs, beach access signs, and newer signs to notify the public about the hazards of passing ships and parking regulations in the marina harbor area. The Village is waiting on new materials to make the remainder of the caution signs for west beach and Beach Access 11 to complete the set. The marina harbor signs that have gone missing over the years will be re-installed in sections. See photos of the new signs that have been installed above and below. If you are unfamiliar with the parking regulations in the marina harbor area, check out the map HERE.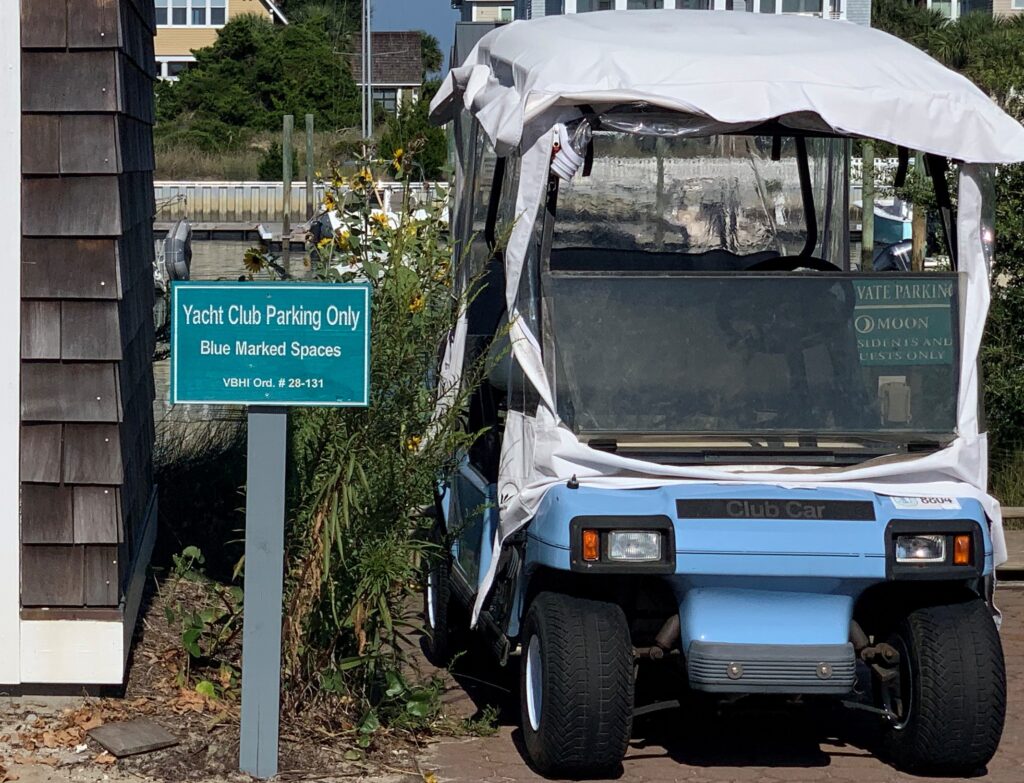 BHI Yacht Club decals are issued by the harbormaster (Ben Traynum) and Harbour Association decals are issued at the Department of Public Safety (Elizabeth Gray). The harbormaster also oversees the parking at the circle, barge landing, and contractor parking lot near the marina.
As signs are installed, there will be a short week or two grace period before tickets will be issued. Please obey what is written on the signs to avoid a ticket.
CRS Rating – The Village has received notice that it maintains a Class 7 Community Rating system (CRS) classification from the National Flood Insurance program.  This means all Federal flood insurance policyholders on Bald Head Island are eligible for a 5-15 percent discount on their NFIP premiums.  Since this is still a fairly new designation for BHI, you may want to follow up with your insurance agent to make sure that the discount is applied at renewal. 
The CRS is a voluntary program for recognizing and encouraging community floodplain management activities exceeding NFIP standards. In addition to reducing flood insurance premiums, participation in the program aims to reduce flood damage to property, strengthens and supports the insurance aspects of the NFIP, and encourages a comprehensive approach to floodplain management. Each year, the Village must verify that it is continuing to perform the activities that are being credited by the CRS by submitting an annual recertification. Visit our webpage HERE for more information about flood protection on BHI.
NCDOT Seeking Input – The public is invited to learn more about and comment on the N.C. Department of Transportation's draft 10-year transportation plan for 2024-2033, called the State Transportation Improvement Program, or STIP.
From Sept. 19-23, during normal business hours, members of the public can visit the Division 3 Office, located at 5501 Barbados Boulevard in Castle Hayne. The sessions will serve as opportunities for people to review the funding and proposed schedules for projects in Brunswick, Duplin, New Hanover, Onslow, Pender, and Sampson counties, ask questions of local NCDOT staff and submit questions.
The public can contact Adriene Cox by calling 910-341-2000 or by emailing via the department's online portal to answer questions.
People who cannot attend the public comment sessions have the opportunity to submit comments online and participate in an online survey to indicate which projects matter most to them.
More details about the program can be found HERE.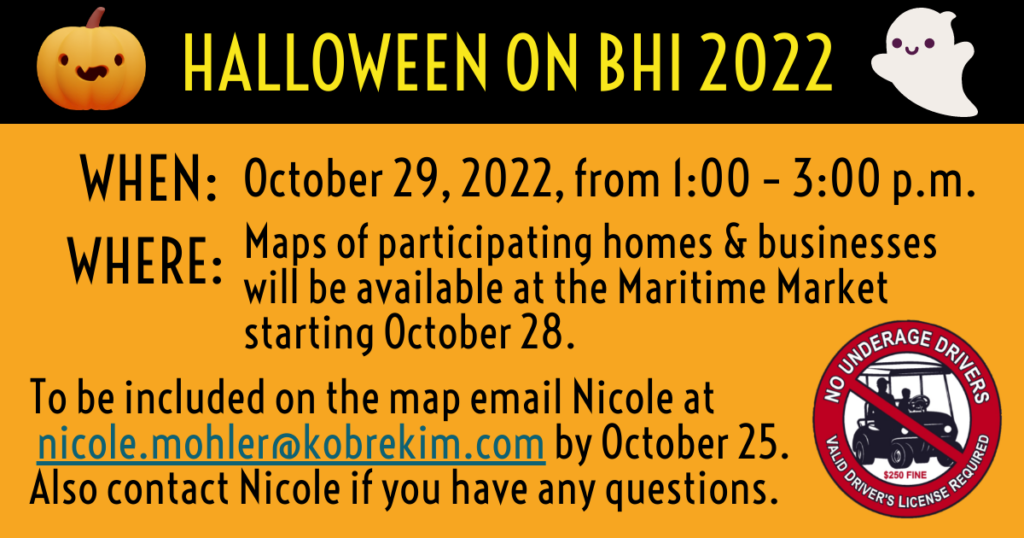 Halloween 2022 – Volunteers have already finalized activities for this year's celebration of Halloween. The plan this year is to host trick or treating on October 29, 2022, from 1:00 – 3:00 p.m. Maps and the list of the participating houses/businesses will be available for pick-up at the Maritime Market starting on October 28th and posted on BHI social medial groups. Free trick-or-treat bags will be provided while supplies last. Businesses and homes that will be handing out candy can contact Nicole Mohler at nicole.mohler@kobrekim.com by October 25th to be included on the maps and list. Include your address and how you would like to be listed. Plastic pumpkin buckets will be delivered to participating houses as a road marker to identify houses easily. Please contact Nicole if you have any questions. Check out the Department of Public Safety's safety tips for Halloween HERE.
REMINDERS:
Package Addressing – Due to recent upgrades at the Island Package Center and Post Office, all incoming mail and packages must have a unique identifier to ensure that packages are tracked and received in a timely manner. If you have a post office box, please make sure all incoming mail has that number on it. If you do not have a PO box, your BHI property address needs to be on all incoming mail and packages. We have customers that are using the IPC/PO address (104/106 Lighthouse Wynd) for incoming mail and packages. This is no longer acceptable and will not be compatible with our new software system.
Free N95 Masks – Federally provided N95 masks are available at Village Hall, as supplies last. These supplies do not include child-sized masks at this time. Learn more about N95 and other types of masks HERE. To learn more about where to find free N95 masks in Brunswick County go HERE.
Free At-Home COVID-19 Tests Mailed to You – Every home in the U.S. is eligible to order four free at-home COVID-⁠19 tests. The tests are completely free. Orders will usually ship in 7-12 days. Order your tests now so you have them when you need them. Order your tests through the United States Postal Service (USPS) at covidtests.gov. Find local testing sites HERE.