In this Issue:
A brief recap of the 10/23 regular Council meeting
Free mulch is now available at the Swan's Quarter site
Thanksgiving ferry schedule
Annual golf cart registration begins December 1, 2020
Wilmington Harbor Maintenance Project is expected to begin December 20, 2020
REMINDERS – Village offices and IPC/PO closed on 11/26 & 11/ 27 for Thanksgiving, ICE vehicle use is not allowed Thursday & Friday, IPC/PO open late Wednesday 11/25, Village Hall operating by appointment only
COVID-19:
Phase 3 could last until December 4, 2020 – State tightens existing mask requirements and enforcement
NC's New COVID-19 County Alert System
Current case numbers for Brunswick County
Council Meeting Recap: The Village Council conducted its regular meeting on Friday, November 20, 2020, at 10:00 a.m. Under Old Business, the Village Council received a presentation on the 2020 Darting Season Report from Beth Darrow from the Bald Head Island Conservancy. The Village Council will be considering the options regarding the immunocontraception program during the FY22 budget process. Under New Business, the Village Council approved the Designation of Applicant's Agent and Applicant Assurances for Public Assistance (this will begin the Village's FEMA Public Assistance application process for Hurricane Isaias), Village Council approved a request to use a Geothermal HVAC system at 184 Station House Way, and Village Council discussed the administrative changes that will be made by Village Staff, per the Village's subdivision ordinance to recombine 8 existing parcels owned by BHI Limited into three parcels.
The Village Manager updated the Council on several pending/proposed projects to include the Wilmington Harbor project (more on that below), the Marina Park dock and pier, the Crown Castle cell tower, and stormwater management. For up-to-date information about these projects and others, visit our Village Projects webpage HERE. Village Staff updates this page regularly as we receive information and answer questions from the public.
A full account of these meetings can be found in the minutes which are posted HERE. Typically, minutes are posted with the agenda of the next month's meeting (ex. If you want to read the September meeting minutes, they will be found under the October regular meeting agenda).
Mulch: Mulching of storm debris from Hurricane Isaias has been completed and the Village received a final inspection from a FEMA debris monitor. Mulch is now available for pick-up at the Swan's Quarter site FOR FREE (Swan's Quarter is next to Bald Head Island Club).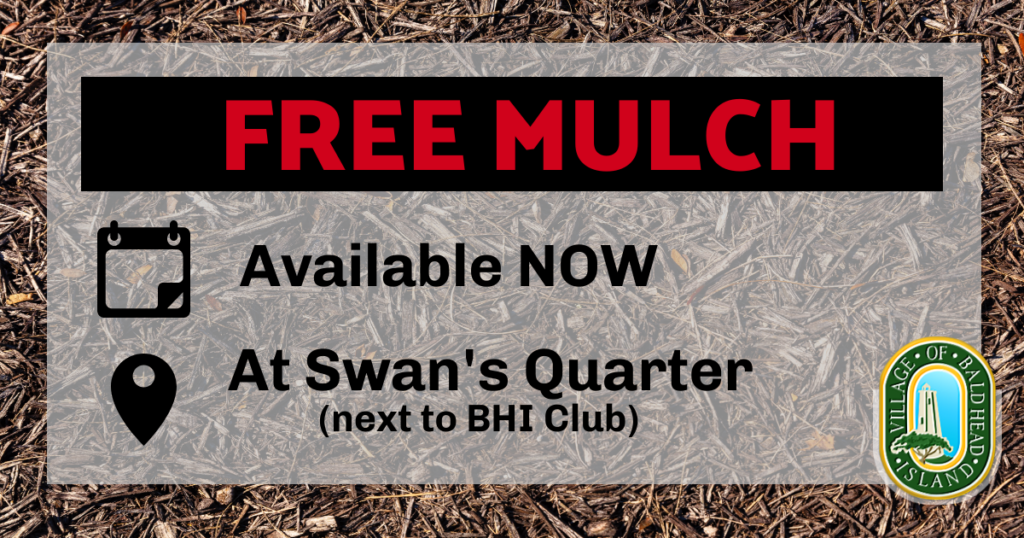 Thanksgiving Ferry Schedule: Bald Head Island Transportation, Inc. released the following regarding the ferry schedule over the Thanksgiving holiday: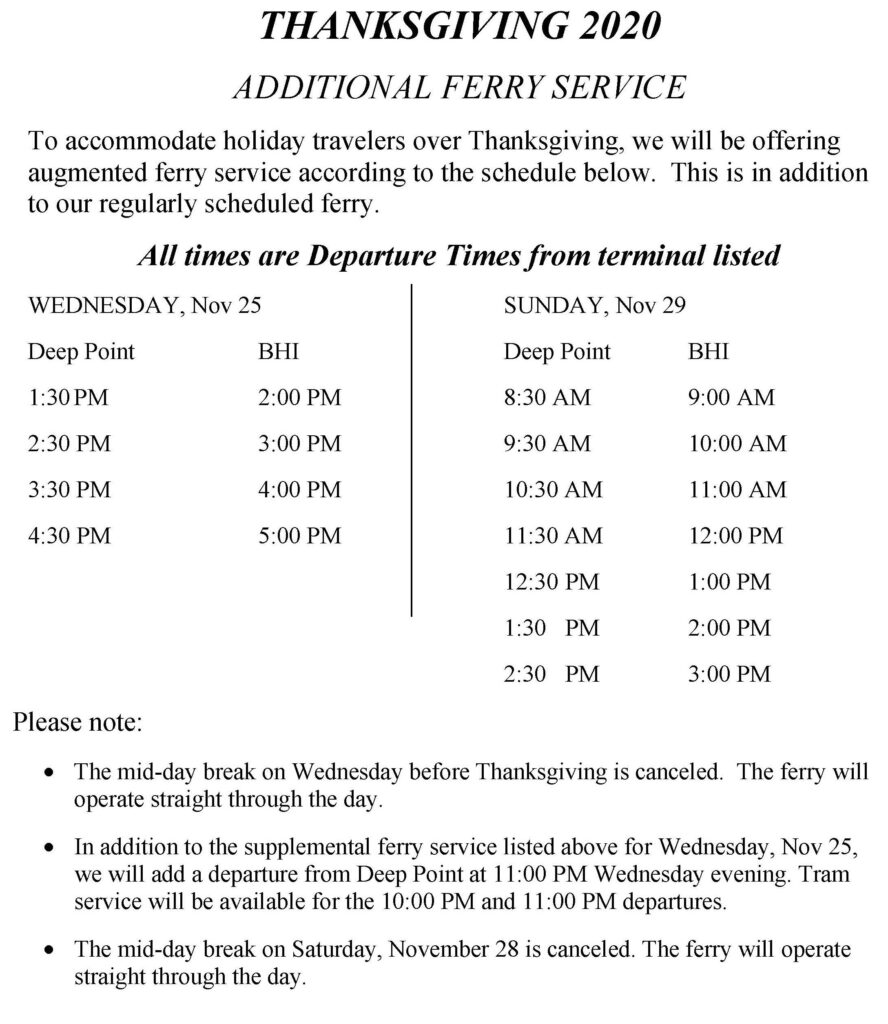 Annual Golf Cart Registration: The Village will begin processing annual mandatory registrations for electric carts on Tuesday, December 1st. Annual golf cart registrations are due by January 1st of each year and are important in helping Public Safety Officers identify the owners of missing or stolen carts and providing contact information of family members in the event of an accident.
Please take the opportunity to get this out of the way early in the month. You can register your golf carts through the online registration portal which will be accessible on the Village website. When registering online, if you select the option to pick up the new sticker at the Public Safety Department, please allow at least 48 working hours for processing by administrative staff before going by to pick it up. Note that the 48-hour processing does not apply on weekends and/or holidays. The only exception to online registering is for first-time registration of golf carts. Brand new and new to the island golf carts must be registered in person at the Public Safety Department (please bring proof of insurance). The Public Safety Department is open Monday – Friday from 9:00 a.m. – 3:30 p.m. to pick-up registrations and to apply for first-time registrations.
If you have any specific questions about the annual registration process please feel free to contact Gloria Agnew, Administrative Assistant, at 910-457-5252 or by e-mail at psadmin@villagebhi.org.
Wilmington Harbor Maintenance Project: The U.S. Army Corps of Engineers has contracted with Great Lakes Dredge & Dock to provide maintenance dredging of the Wilmington harbor inner ocean bar. Approximately 1,490,000 cubic yards of the dredged material will be placed on South Beach. The project plans show that fill will be placed just south of 232 S. Bald Head Wynd and will go all the way down to the end of the Shoals Club property. Great Lakes Dredge & Dock is scheduled to mobilize on December 16, 2020, and construction will begin on December 20, 2020. The project is expected to conclude on or about February 9, 2020. The Village has created THIS WEBPAGE to post project information. If you have property near the project area and will have renters, this page will give them an idea of what to expect during construction.
REMINDERS
Thanksgiving Holiday Closures – The Island Package Center/Post Office and Village offices will be closed on Thursday, November 26, 2020, and Friday, November 27, 2020, in observance of the Thanksgiving holiday.
No ICE Vehicle Use – Please note that per Village Ordinance, Thursday, November 26, 2020, and Friday, November 27, 2020, are considered non-workdays for Internal Combustion Engine (ICE) vehicles. That means that ICE vehicles are prohibited on Village public roads unless they are Emergency Vehicles, Government Vehicles, Official Island Transportation System Vehicles, or have been issued a Special Use Permit.
IPC/PO Operations – The IPC/PO will be open until 6:00 p.m. on Wednesday, November 25, 2020, to meet the needs of our customers who will be arriving for the holiday. Please note: The IPC/PO will be open on Saturday, November 28 at normal hours (10 am. – 3 p.m.). No packages will be coming into the IPC/PO from Thursday, November 26 to Sunday, November 29, 2020. Packages will not begin arriving until Monday, November 30, 2020.
Village Hall Operations – Village Hall continues to operate with minimal staffing and has transitioned to staggered scheduling and remote work options. If you have business with the Village, we ask that you please use our online options, email, or call. Please call 910-457-9700 and our auto-attendant will direct you to the correct department. General questions can be emailed to public.information@villagebhi.org. There is a dropbox on Village Hall's front porch for utility payments.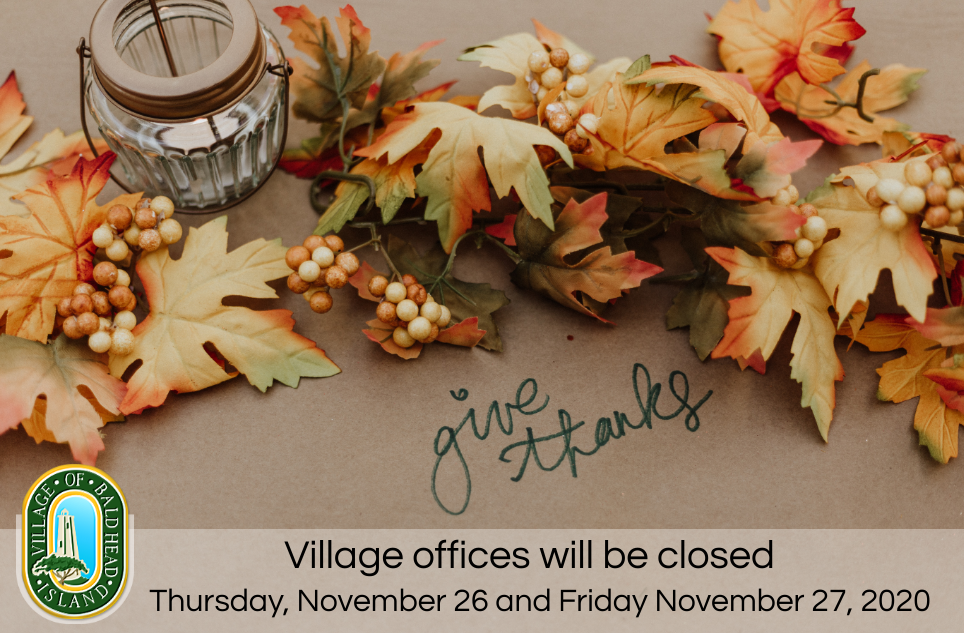 COVID-19 Update
NC could be in Phase 3 until December 4, 2020 – North Carolina transitioned into Phase 3 on Friday, October 2, 2020, and will be "paused" in Phase 3 until at least December 4, 2020 (unless the Governor repeals, replaces, or rescinds his executive order by another executive order). Under this phase, vulnerable populations are still encouraged to stay at home. Most folks still must wear face coverings/masks in indoor and outdoor public places where social distancing is not possible. The outdoor mass gathering limit remains at 50 people, but the latest executive order decreased the indoor gathering limit back to 10 people.
Today, Governor Roy Cooper issued additional COVID-19 safety measures to tighten mask requirements and enforcement as cases continue to rise rapidly in North Carolina and across the country. Executive Order No. 180 goes into effect on Wednesday, November 25, and runs through Friday, December 11.
In addition to extending Phase 3 capacity limits and safety requirements, the Order tightens the existing statewide mask requirement – making it clear that everyone needs to wear a mask whenever they are with someone who is not from the same household. The Order also adds the mask requirement to several additional settings including any public indoor space even when maintaining 6 feet of distance; gyms even when exercising; all schools public and private; and all public or private transportation when traveling with people outside of the household.
The Order also requires large retail businesses with more than 15,000 square feet to have an employee stationed near entrances ensuring mask wearing and implementing occupancy limits for patrons who enter.
Read a Frequently Asked Questions document about the Order. Read the slides from today's briefing.
The Village strongly recommends that folks continue to practice the 3 W's while in public and to be courteous to others.
NC's COVID-19 County Alert System – Last week, NC Department of Health & Human Services (NCDHHS) released its COVID-19 County Alert System. The system pinpoints counties with the highest levels of viral spread and offers specific recommendations for individuals, businesses, community organizations, and public officials to bring numbers down.
The COVID-19 County Alert System uses metrics informed by the White House Coronavirus Task Force and North Carolina's key metrics to categorize counties into three tiers:
Yellow: Significant Community Spread
Orange: Substantial Community Spread
Red: Critical Community Spread
Because no one metric provides a complete picture, the COVID-19 County Alert System uses a combination of three metrics: case rate, the percent of tests that are positive, and hospital impact within the county. To be assigned to the red or orange tier, a county must meet the threshold for case rate for that tier AND the threshold for either percent positive OR hospital impact.
Counties will remain categorized in these tiers through at least the 2nd week of December. Going forward, NCDHHS will publish an updated COVID-19 County Alert System report the 2nd week of every month.
Brunswick County is currently designated as a "yellow" county. To view the latest report along with recommended actions click HERE. Future reports will be posted on the State's Dashboard webpage under "Reports" HERE.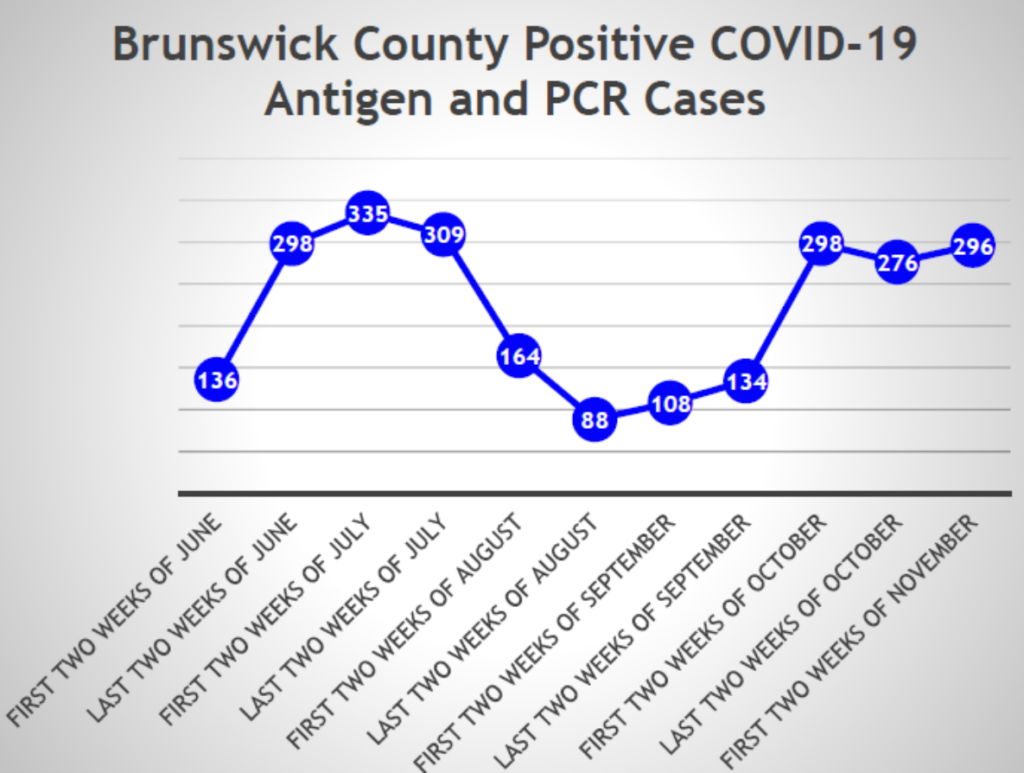 Current Case Numbers for Brunswick County – As of November 23, 2020, there are 2,819 positive cases of COVID-19 among Brunswick County residents. Of the positive cases, 2,182 are considered recovered, 564 are isolating at home, 18 are isolating at a hospital, and 55 are deaths associated to COVID-19.
There are 17 cases involving non-residents who tested positive for COVID-19 while visiting Brunswick County, resulting in their contacts having to quarantine as well; these cases are not reflected in the County's total case counts. Twelve of the cases are considered recovered, none of the cases are currently isolating at home. The County has transferred monitoring for three cases to the individuals' home counties, and two are deaths associated to COVID-19.
On Friday, November 20, 2020, the County released this letter to Brunswick County residents regarding the upcoming holidays. It echoes the State's previous guidance. It urges residents to avoid travel during Thanksgiving and only gather with people from your household.
If you decide to travel or host a family or social gathering, the County recommends that you follow the NCDHHS guidance which is especially crucial if your gatherings include individuals over the age of 65 or who have underlying health conditions:
The best way to reduce your risk of viral transmission is to limit travel during the holidays and limit physical contact with people who do not live in your household.
Being related to someone does not mean you are immune from catching COVID-19 or other viruses from them. You should always practice the 3Ws and wear a face covering, keep 6 feet of social distancing, and wash your hands thoroughly—even when you are around family members.
You should consider having a screening COVID-19 test prior to travel or attending family gatherings. If you do have a screening test, consider the following important information:
– A negative test only gives you information for that point in time. A negative test does not mean you will remain negative at any time point after that test.
– Screening tests may miss some infections, particularly if done using rapid or point of care tests.
– Even if you have a negative test, you should wear a mask, physically distance, avoid crowds and indoor crowded places, wash your hands frequently, monitor yourself for symptoms, and minimize contact with people at high risk of complications of COVID-19.
If you have been recently diagnosed with COVID-19, have symptoms of COVID-19, or have been around a person with COVID-19, then do not host or participate in any in-person gatherings until you complete your isolation or quarantine period.