Key Information:
Further instructions for solid waste and recycling during barge shutdown
Severe weather event Thursday afternoon/evening
Solid Waste & Recycling – The Village is preparing for the upcoming major barge service interruption which is scheduled to take place from March 20, 2021 through March 28, 2021. This is an unusual circumstance that our community is working together to get through. All Islanders can take part in making everything go smoothly during this rare event.
Earlier this week, the Village explained the need to have Islanders reduce household waste production during the barge service interruption. Anything that is placed in your household trash while the barge is down will be hauled to Public Works and will be placed in a dumpster that cannot leave the island until barge service resumes. The last thing we all want to see is trash overflowing out of containers and trucks full of trash in the yard at Public Works. To prevent that from happening, here are a few tips for reducing waste:
Reduce/eliminate the use of paper plates, cups, and disposable cutlery.
Store leftover foods in reusable containers instead of single-use plastic bags and foam containers.
Purchase/use foods that are in bulk or which use less packaging – like fruits and vegetables that are not pre-packaged.
Hold-off on spring cleaning and if you must clean, separate soiled trash (which should go in waste bin) with other "clean" items that can be set aside and recycled/thrown out later.
Hold-off on using bottled water, use reusable water bottles.
Seek opportunities for reuse instead of throwing away.
In addition to reducing waste, the Village is requesting that Islanders hold-off on dropping off recyclables and excess household waste at the compactor. The recycling containers and compacted items will also be held on the island until barge service resumes.
Your collective efforts and cooperation during this time will be greatly appreciated. We are "green" today, let's be green for eleven more!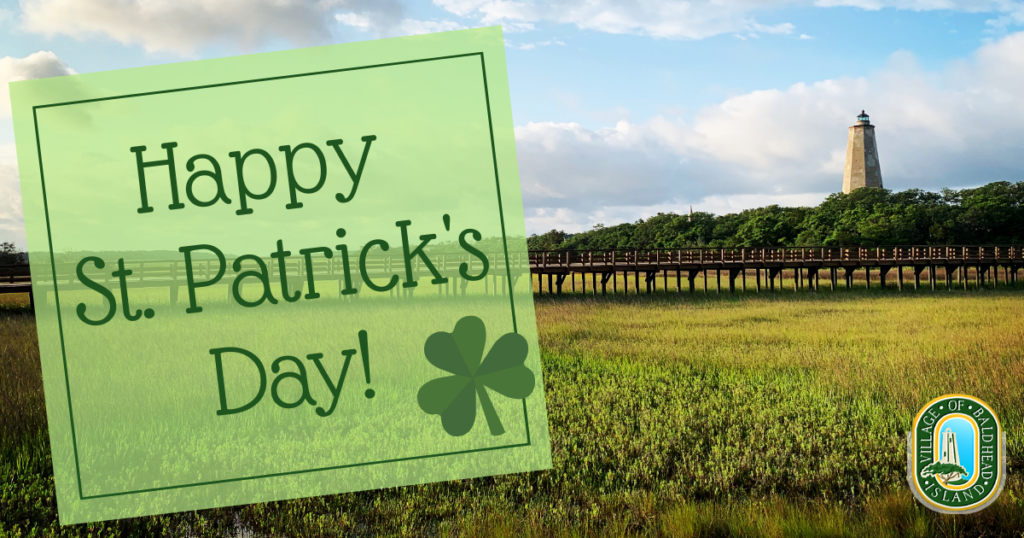 Severe Weather – The National Weather Service (NWS) Forecast Office in Wilmington is predicting that the Wilmington area will experience strong thunderstorms beginning late Thursday afternoon going into late evening. NWS has indicated that widespread, intense, and long-lived severe storms are increasingly likely. Primary threats associated with the storms include damaging winds, strong tornadoes, and large hail. Bald Head Island Transportation, Inc. has advised that ferry service may be interrupted, and that barge service may be halted. Please take this into account as you make travel plans. No watches or warnings are in effect at this time, watches and warnings may be issued.
Find the latest NWS updates at https://www.weather.gov/ilm/
There are several ways to receive severe weather alerts—several of which are available at no cost. It's always best to have several ways to receive alerts, especially at night:
NOAA Weather Radio (NWR): NWR is a nationwide network of radio stations broadcasting continuous weather information from the nearest National Weather Service office. Specially built receivers, which can be purchased at most electronics and large retail stores for less than $40, receive the NWR broadcast 24 hours a day, 7 days a week, and sound an audible alert when official watches and warnings are issued for your area.
Wireless Emergency Alerts (WEA): With WEA, emergency alerts can be sent to your cell phone or mobile device when you may be in harm's way, without need to download an app or subscribe to a service. In addition to other alert types such as AMBER Alerts, this free service will transmit extreme weather warnings to your cell phone, such as Tornado Warnings and Flash Flood Warnings for considerable or catastrophic flooding. The alerts will look like a text message and will typically show the type and time of the alert, any action you should take. WEA messages include a special tone and vibration. If you receive a WEA message, you should follow any action advised by the emergency message. Seek more details from your favorite TV or radio station, NOAA Weather Radio, news website, desktop application, mobile application, or other trusted source of information.
Cell phone apps: There are many great cell phone apps that provide real-time NWS warnings and alerts, some of which are free to download and use, and others that may charge a small fee. A simple search of your app provider will reveal many of these apps.
Emergency Alert System (EAS) and your favorite TV and radio stations: EAS is the message dissemination pathway that sends warnings via broadcast, cable, satellite, and wireline services. EAS may be used by state and local authorities, including the National Weather Service, in cooperation with the broadcast community, to deliver important emergency information such as severe weather information, AMBER alerts, and local incident information targeted to specific areas. In short, when severe weather strikes, it's a good idea to tune to your favorite local TV or radio.
CodeRED Alerts: Sign up for alerts on your cell phone, home phone, unlisted number, or other mobile device HERE.