Key Information:
The proposed FY24 budget has been released.
Public hearing on proposed budget scheduled for May 19, 2024.
Package delay update, please pick up any packages currently at the IPC/PO.
Chief May interviewed by Spectrum News on the importance of golf cart safety.
Upcoming Events:
Commercial Area Planning Task force meeting, tomorrow, Tuesday, May 9, 2023, at 11:00 a.m.
Pub Crawl benefitting the PSA, this Thursday, May 11, 2023, starting around 5 p.m.
Public Safety Day is scheduled for Saturday, May 13, 2023, from 9:00 a.m. to noon at the Department of Public Safety.
Proposed FY24 Budget – The proposed FY24 budget has been released and presented to the Village Council. It can be viewed HERE and includes the Manager's Budget Message (starting on Page 3), slides from the 4/25 budget workshop (Pages 14-52), followed by the suggested budget ordinance and proposed fee schedule (Pages 53-70).
Public Hearing – The Village Council will be conducting a public hearing on the proposed FY24 budget on Friday, May 19, 2023, during its regular meeting, which begins at 10:00 a.m. The meeting will be held in the multipurpose room at the Department of Public Safety. Those who wish to comment on the proposed budget are encouraged to attend this meeting in person. Written comments are due to the Village Clerk by 5:00 p.m. on Thursday, May 18, 2023. The Village Council is expected to adopt the budget at its June regular meeting (Friday, June 16, 2023). The Village must adopt a budget by July 1, 2023, per NCGS.
Package Delay – As previously reported, the barge was scheduled for maintenance last week (May 3-5). BHI Transportation assisted with getting some packages delivered to the island via ferry, but many have not made it to the island. Unfortunately, as of this morning, the barge was on standby.

If you have packages that are at the IPC/PO currently, please pick them up as soon as possible. Check status HERE on our online package tracker. The Village needs more space in the warehouse to accept the backlog of packages that will hopefully be making their way to the island when the barge is back in operation.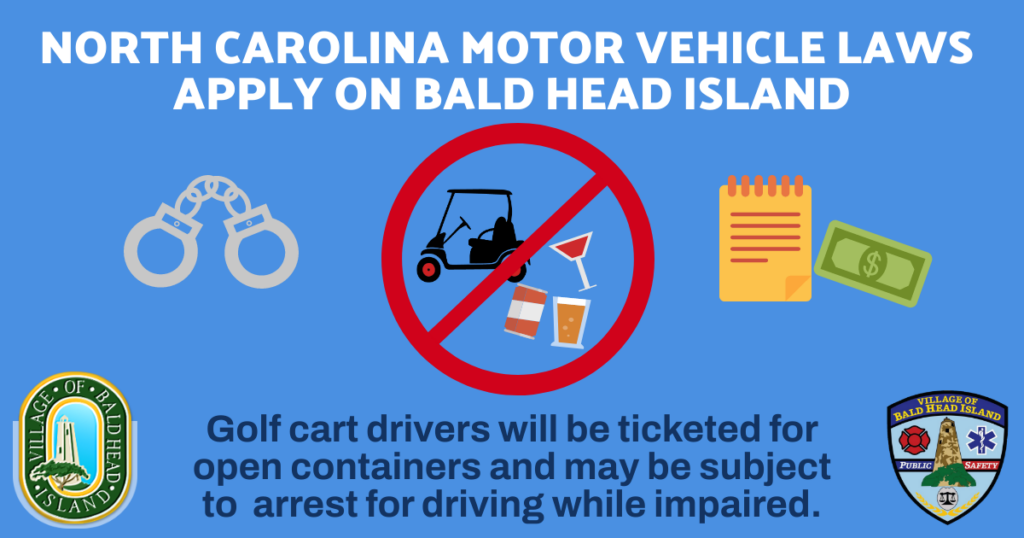 Golf Cart Safety – Last Friday, Chief May was interviewed by Spectrum News regarding golf cart safety. This was in follow-up to an unfortunate accident that occurred in Folly Beach, South Carolina recently. View the interview HERE. View our golf cart safety video HERE. Here are a few safety tips:
Golf cart drivers must have a valid driver's license (unlicensed drivers have caused accidents here – please follow this ordinance, drivers will be ticketed);
Driving while impaired is a violation of North Carolina law – this is the law on Bald Head Island, too; driving with an open alcohol container is also illegal on Bald Head Island;
Use seat belts;
Obey all road signs – especially stop signs;
Avoid quick turns and sudden stops and starts as these can cause passengers to fall out of carts. Broken limbs, life-threatening head injuries and deaths have occurred because of such falls;
The speed limit throughout the Village is 18 mph. Some designated areas have 5 mph limits. Because most golf carts have no speedometer, PLEASE drive SLOWLY and carefully;
Generously share island roadways with pedestrians and cyclists;
Plan ahead – make sure you leave for the ferry on time, so you are not speeding to catch it!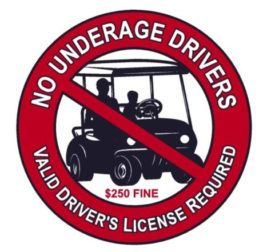 Upcoming Events:
CAPTF Special Meeting – The Commercial Area Task Force (CAPTF) will be meeting tomorrow, May 9, 2023, at 11:00 a.m. in the multi-purpose room in the Department of Public Safety. The agenda can be viewed HERE. Zoom information is HERE.
Pub Crawl – There will be a Pub Crawl with proceeds benefiting the Public Service Auxiliary this Thursday, May 11, 2023. The crawl starts at Jules' around 5:00 p.m., with trams scheduled to take the crawlers next to the BHI Club, BHI Bottle, the Market's Forest Pavilion, then the Shoals Club, and back to Jules. Tickets are $55 each and can be reserved by sending Jules a Venmo @Julesfly5. If you'd like to become a sponsor or if you have any questions, please email Anna Ball.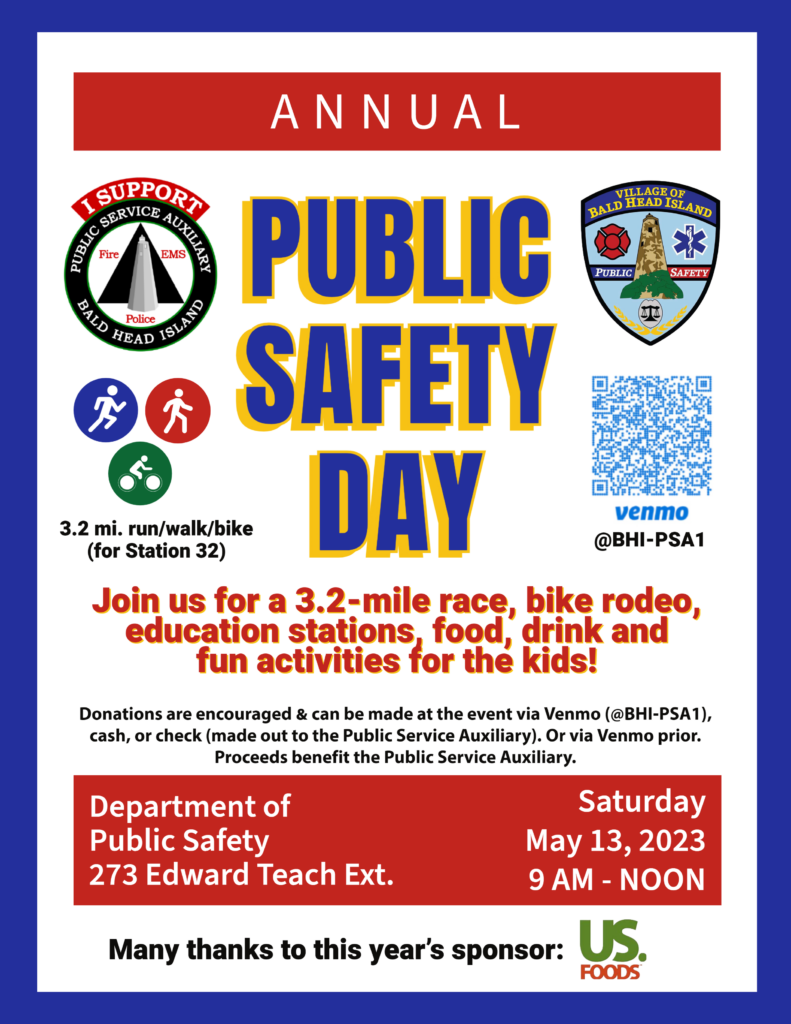 Public Safety Day – Public Safety Day is scheduled this Saturday, May 13, 2023, from 9:00 a.m. to noon, this year. It will be taking place at the Department of Public Safety (DPS) at 273 Edward Teach Extension. The entire community is invited to come out and participate in this annual event which will begin with a 3.2-mile walk/run/bike which will start and end at the DPS. It is 3.2 miles long for Station 32, the Village's fire station number. Our Public Safety Officers will be running in full gear. After the race, there will be a bike rodeo and fun activities for the kids, education stations (including one on hurricane preparedness), food, and drink! Donations can be made at the event via Venmo, cash, or check, made out to the Public Service Auxiliary (PSA), and are greatly appreciated!