Key Information:
It's hurricane preparedness week.
Packages may be delayed later this week due to barge maintenance.
Turtle nesting season began today.
It's shorebird nesting season too!
Reminders & Events:
View our Arbor Day virtual celebration from Friday, April 28.
Pub Crawl benefitting the PSA, Thursday, May 11, 2023, starting around 5 p.m.
Public Safety Day is scheduled for Saturday, May 13, 2023, from 9:00 a.m. to noon at the Department of Public Safety.
A section of Lighthouse Wynd is now closed to vehicle traffic.
Beach wheelchairs can be reserved by the public through the VBHI Department of Public Safety.
Package Delays – The barge will be down for routine maintenance from Wednesday, May 3, through Friday, May 5, 2023. BHI Transportation/Warehouse will be sending over some UPS/FedEx packages received during this time. However, there could be delays for some packages (depending on size/volume). The next scheduled barge run after the maintenance period will be on Monday, May 8, 2023. Please use the package tracker to check on the status of each package.
Hurricane Preparedness Week – It's hurricane preparedness week! The Atlantic hurricane season runs from June 1st to November 30th each year. For North Carolina, the worst storms seem to come later in the season, but now is the time to prepare.
Colorado State University's Tropical Weather & Climate Research Division, which has a well-respected research team, anticipates that the 2023 Atlantic basin hurricane season will be slightly below average. They have forecast 13 tropical storms (a typical year averages about 14) and 6 hurricanes (two major – Category 3-5).
Village officials have already begun preparations including reviewing the Village's Emergency Management Plan (EMP), ensuring contact information is up-to-date, equipment is in working condition, and that the off-island Emergency Operations Center (EOC) contract is renewed for this year.
In addition to the education sessions being offered at several County libraries this week, the Village will be sharing various tips on social media (Facebook/Twitter) throughout the week and will have a hurricane preparedness table at the upcoming Public Safety Day which is scheduled for Saturday, May 13, 2023 (flyer below). Please come by and ask us any questions you may have. In the meantime, check out some of the steps you can take to prepare HERE.
Turtle Nesting Season – Turtle nesting season begins today. This means that the Village will no longer be issuing beach bonfire permits. Please also make sure that you remove all beach equipment from the beach strand between 9:00 p.m. and 8:00 a.m. If you dig holes in the sand, please fill them up before you leave the area. Below are a few other additional tips that will help you avoid receiving a Village citation and more importantly help the endangered turtles.
Shorebird Season – There is also a nesting season for shorebirds. That season is from April 1 to August 31. Shorebird nests are laid directly on the ground, which means they blend in with the surrounding area making them hard to see. Our neighboring beaches have already seen nests this season and BHI can't be far behind. Here are a few reminders from the BHI Conservancy:
Please keep your distance from posted areas.
Be aware of your surroundings.
Keep your dog on a leash.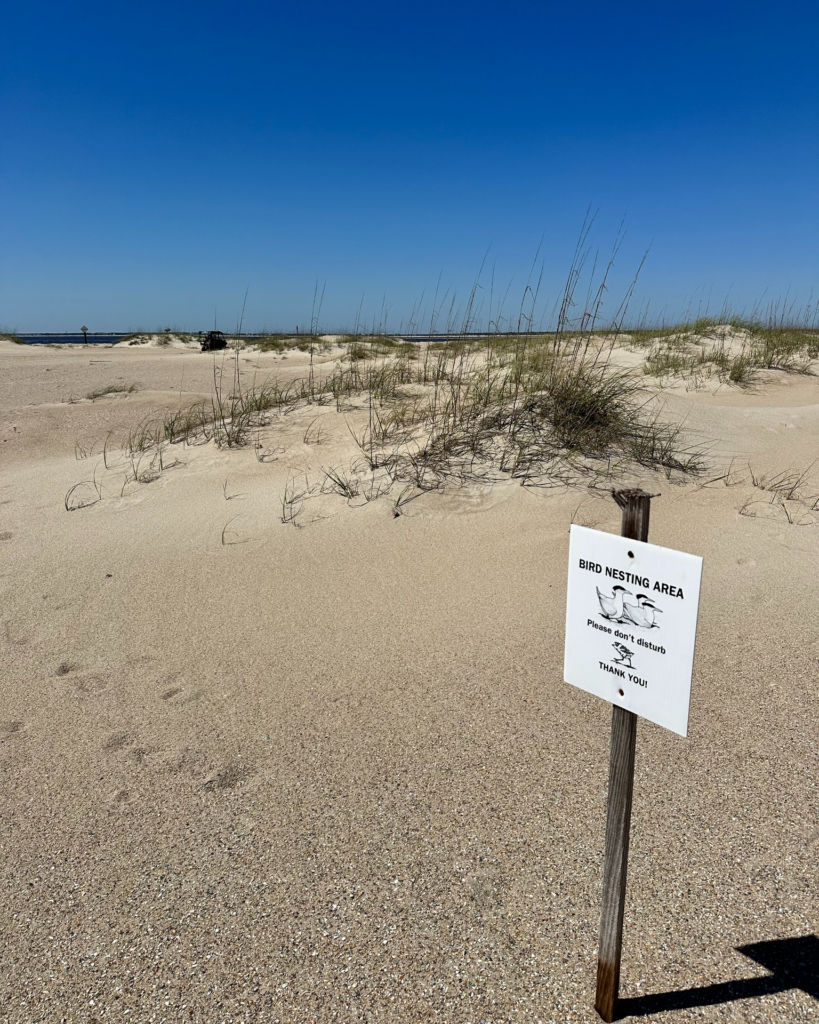 ---
REMINDERS & EVENTS:
Virtual Arbor Day Celebration – If you missed Friday's virtual Arbor Day celebration you can view it HERE.
Pub Crawl – There will be a Pub Crawl with proceeds benefiting the Public Service Auxiliary on Thursday, May 11, 2023. The crawl starts at Jules' around 5:00 p.m., with trams scheduled to take the crawlers next to the BHI Club, BHI Bottle, the Market's Forest Pavilion, then the Shoals Club, and back to Jules. Tickets are $55 each and can be reserved by sending Jules a Venmo @Julesfly5. If you'd like to become a sponsor or if you have any questions, please email Anna Ball.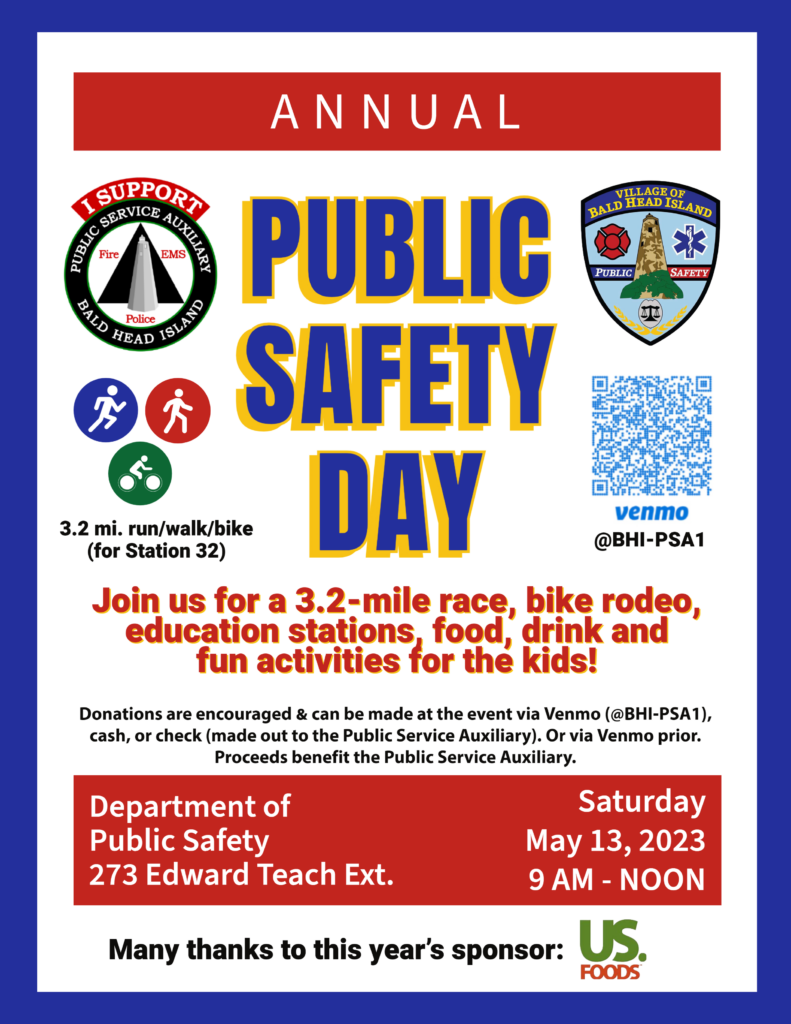 Public Safety Day – Public Safety Day is scheduled for Saturday, May 13, 2023, from 9:00 a.m. to noon, this year. It will be taking place at the Department of Public Safety (DPS) at 273 Edward Teach Extension. The entire community is invited to come out and participate in this annual event which will begin with a 3.2-mile walk/run/bike which will start and end at the DPS. It is 3.2 miles long for Station 32, the Village's fire station number. Our Public Safety Officers will be running in full gear. After the race, there will be a bike rodeo and fun activities for the kids, education stations, food, and drink! Donations can be made at the event via Venmo, cash, or check, made out to the Public Service Auxiliary (PSA), and are greatly appreciated!
Lighthouse Wynd – A section of Lighthouse Wynd is now closed to vehicle traffic. The closed section will remain open for pedestrian traffic until construction work begins for Old Baldy Foundation's campus expansion. The parking area is also still available for the time being.
Beach Wheelchairs – Last week when a few 6th graders from Leland Middle School were on the island for the BHI Conservancy's Barrier Island Botanist field trip, one of the Village's beach wheelchairs was used to help a student access the beach. The Village has several wheelchairs which can be reserved through the Department of Public Safety. The Village received two new wheelchairs which were donated by Jillian's Jitterbug Foundation. More information about reserving wheelchairs can be found HERE.