Code Red Test
UPDATE (posted 10/5 7:30 AM) – The 10/4 test did not go out as planned. We will be trying again on Thursday, October 5, 2023, at 7:00 p.m.
The Village will be testing the CodeRED notification system on Wednesday, October 4, 2023 at 7:00 p.m. to validate the information in the notification database. Here's what you need to know:
There is no need to take action if you receive the call. Emergency personnel are merely testing the system to ensure it is operational as needed, and to encourage additional residents to enroll to receive future notifications.
This process helps us continually improve the system. Testing increases the efficiency of the system and speed at which notifications will be delivered during an actual emergency.
Visit our website to update contact information. If your phone number is not in the database, you will not receive a call when we do launch an important notification.
Residents, property owners, and businesses are encouraged to visit the Village's CodeRED website prior to the system test to update their contact information. Those individuals who have unlisted phone numbers, who have changed their phone number within the past year, and those who use a cellular phone or VoIP phone as their primary number, should make sure the system is updated. The more residents who actively add or update their contact information in the emergency database, the better the Village is able to protect people and property.
To find the Village's CodeRED click HERE or go to the Village website at villagebhi.org. Once you are on the homepage you will scroll down to the Safety section where there is a Notifications box, click Subscribe. The upper right corner of the Village's CodeRED webpage says, "Already have an account?" You will click "Login" to log in to your account and update your information. Questions regarding this system test and CodeRED should be directed to Carin Faulkner, Public Information Officer at 910-457-9700 ext. 1025 or public.information@villagebhi.org.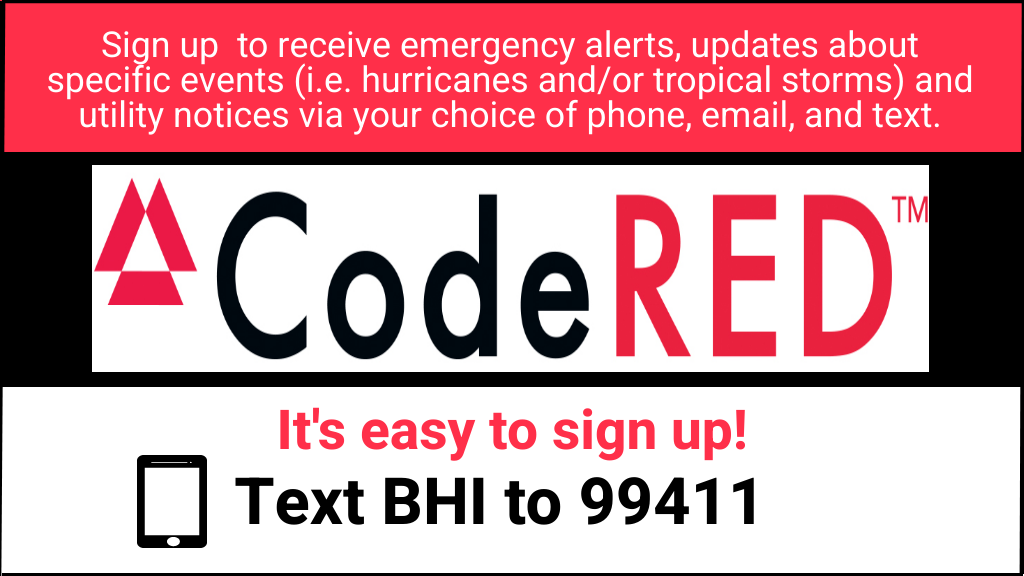 For those who may be unfamiliar, CodeRED is the community notification system that will send alerts concerning time-sensitive and/or emergency information impacting Bald Head Island via phone calls, text messages, and emails.
The Village encourages all Bald Head Island stakeholders to actively participate in emergency preparedness by remaining informed. Safety is a two-way street, so if you haven't, please be sure to register today to receive the information you need, when it matters, regarding events such as:
EVACUATION NOTICES
NATURAL DISASTERS
BOIL WATER ADVISORIES
SEWER/WATER DISRUPTIONS
INCLEMENT WEATHER WARNINGS
Caller ID – When you see the following displayed, you will know the call is from us or CodeRED. If you would like to hear the last message delivered to your phone, simply dial the number back. Please be sure to add these numbers to your telephone contacts for easy identification.
Emergency Notifications: 1-866-419-5000 or Emergency Comm
General Notifications: 1-855-969-4636 or General Comm
Weather Alerts: 1-800-566-9780 or General Comm
Privacy – Your contact information remains private and will only be used for community notifications.
Location -When you sign up, please make sure the correct location of your Bald Head Island property is shown on the map. The Village often uses a mapping feature to only contact an area impacted by certain events such as utility outages.
Join Our Database – To make sure you receive notifications, please register at villagebhi.org or simply text BHI to 99411.
Don't wait! Start receiving notifications that could save your life. Sign up today!