Public Safety Reports
Weekly Reports
The Village of Bald Head Island Department of Public Safety issues a weekly activity report to keep residents informed of what types of calls our agency is responding to on a regular basis. Islanders are encouraged to contact the Department with any information on incidents listed in the reports and report crimes immediately. Please call 911 to report a crime, when you need medical assistance or any circumstance which requires a Public Safety Officer to come to you. Let the operator know you are on Bald Head Island.
---
Monthly Reports
The latest monthly statistics for the Department of Public Safety can be found below, along with a "Message from the Chief" where he describes trends and significant activities that recently took place within the department. To the right, you will find statistics from previous months.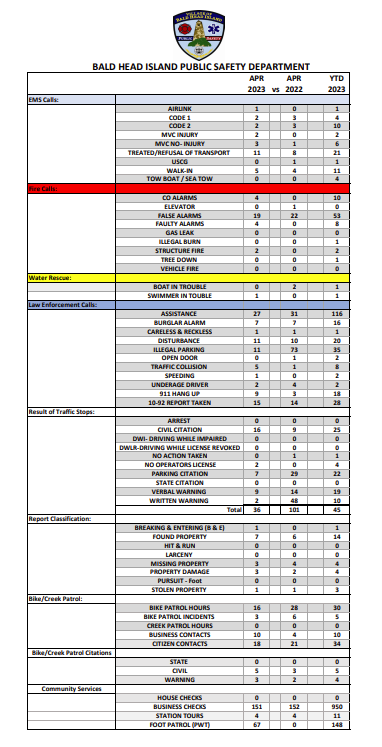 View PDF HERE.
A Message from the Chief
that last weekend's Public Safety Day was a success. He thanked PSO Chip Sudderth and Public Service Auxiliary President Cam McIntyre for their hard work in organizing the event (more info below).
Chief May shared the monthly statistics for the department (HERE). Weekly statistics are posted online each week (HERE).  He noted that there are two structure fires represented in the statistics.  One was the 4/15 on Chicamacomico Way that he reported on last month. The second structure fire was called in as a fire. It was actually a propane heater that was on a second-story deck that had a flame so large it looked like it was a fire. He indicated that the Public Information Officer will follow up with education (see below our information on grilling safety) and the Village will investigate what the current ordinance states and how it may be adjusted to avoid similar hazards.
Chief May emphasized that the department's equipment is not broken, it is functional, but needs upgraded as continuing maintenance on aging equipment can exceed the cost of replacement. He also noted at this time last year the department had 485 calls, this year the department is at 688, which is a 42% increase.