Public Safety Reports
Weekly Reports
The Village of Bald Head Island Department of Public Safety issues a weekly activity report to keep residents informed of what types of calls our agency is responding to on a regular basis. Islanders are encouraged to contact the Department with any information on incidents listed in the reports and report crimes immediately. Please call 911 to report a crime, when you need medical assistance or any circumstance which requires a Public Safety Officer to come to you. Let the operator know you are on Bald Head Island.
Monthly Reports
The latest monthly statistics for the Department of Public Safety can be found below, along with a "Message from the Chief" where he describes trends and significant activities that recently took place within the department. To the right, you will find statistics from previous months.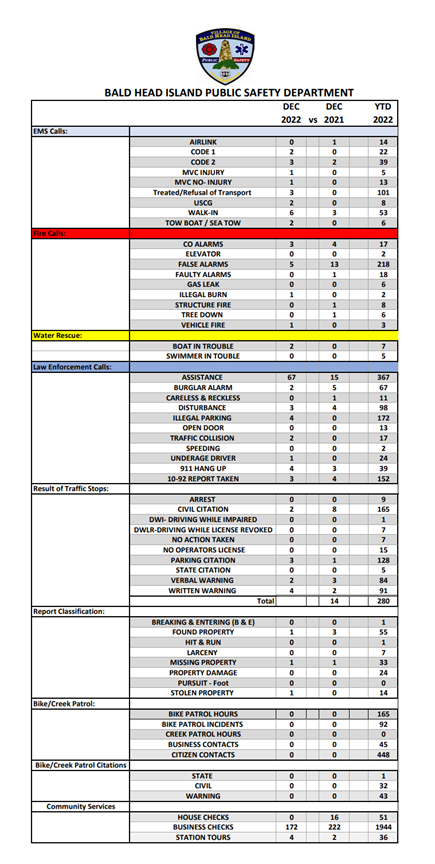 A Message from the Chief
At the January regular Council meeting, Chief May reviewed the monthly statistics. He reported that the ladder truck has returned to the island after being off the island for maintenance and repairs.  Public Safety Officers continue to do a good bit of training during this time of year while the calls for service are slower.  The department continues to utilize the message board and is adding two radars. He said that he looks forward to sharing the department's accomplishments over the year at the annual retreat (February 7 & 8).  He indicated that PSOs continue to patrol for ICE violations and are trying to identify speeders.