Public Safety Reports
Weekly Reports
The Village of Bald Head Island Department of Public Safety issues a weekly activity report to keep residents informed of what types of calls our agency is responding to on a regular basis. Islanders are encouraged to contact the Department with any information on incidents listed in the reports and report crimes immediately. Please call 911 to report a crime, when you need medical assistance or any circumstance which requires a Public Safety Officer to come to you. Let the operator know you are on Bald Head Island.
Monthly Reports
The latest monthly statistics for the Department of Public Safety can be found below, along with a "Message from the Chief" where he describes trends and significant activities that recently took place within the department. To the right, you will find statistics from previous months.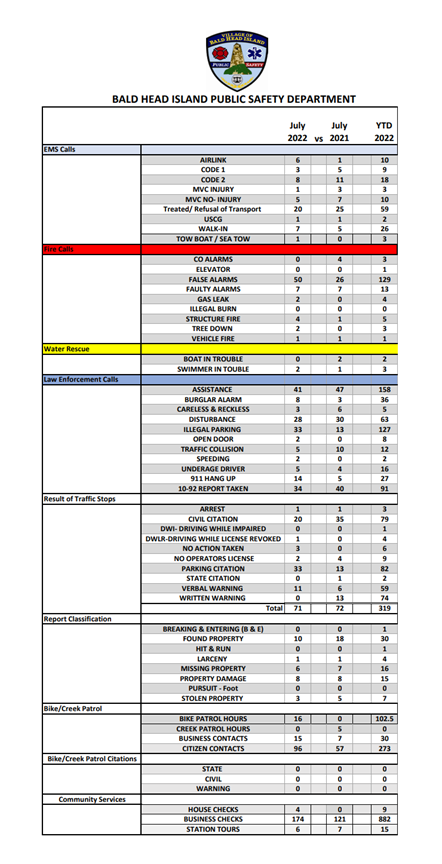 A Message from the Chief
At the 8/19/2022 Village Council Meeting Chief May presented Council with the July statistics for EMS calls, fire calls, water rescue, and law enforcement calls (above).
Chief May explained the statistic on structure fires, which shows four for the month. He explained that one was a lightning strike and the rest were stove fires which do get classified as structure fires. They have gone out and found someone had burned something while cooking which gets counted as a structure fire.
He reported that the bicycle patrol has not had a lot of patrols because they have been busy with other activities. A majority of the bike patrols were for July 4th. He said everything is running steady. He announced that the department is posting its monthly reports on social media, and is also issuing weekly reports which will also get pushed out on social media. He said it sometimes looks like the department is not very busy some days, but when PSOs are not taking calls, they are doing activities like installing Knox boxes and training.