Golf Cart Safety Month
JULY IS GOLF CART SAFETY MONTH!
At its June 17, 2022, Village Council Meeting, the Council adopted a proclamation declaring July 2022 as Golf Cart Safety Month. This is the first year that the Village will be recognizing the month for this cause.
History
The Village of Bald Head Island is not the first place to recognize Golf Cart Safety Month. Golf Cart Safety Month began in Lubbock, Texas after a July 28, 2015, accident involving 9-year-old Luke Siegal. The accident involved another 9-year-old boy. There was no adult supervision, no helmet, and no parent on board. The golf cart tipped over onto Luke's body and nearly took his life. He ended up having three brain injuries and multiple surgeries, which left him unable to use his limbs or voice. Luke's father Tim founded a non-profit called Team Luke which later partnered with another non-profit called Hope for Minds to create "Team Luke Hope for Minds." The group provides resources and support to families with children who have undergone brain surgery.
This Year's Plan
Throughout the month of July, the Village will be flooding the Village's social media channels with our underage driving "villain" campaign. The Village is also having a poster contest for kids ages 5 to 15.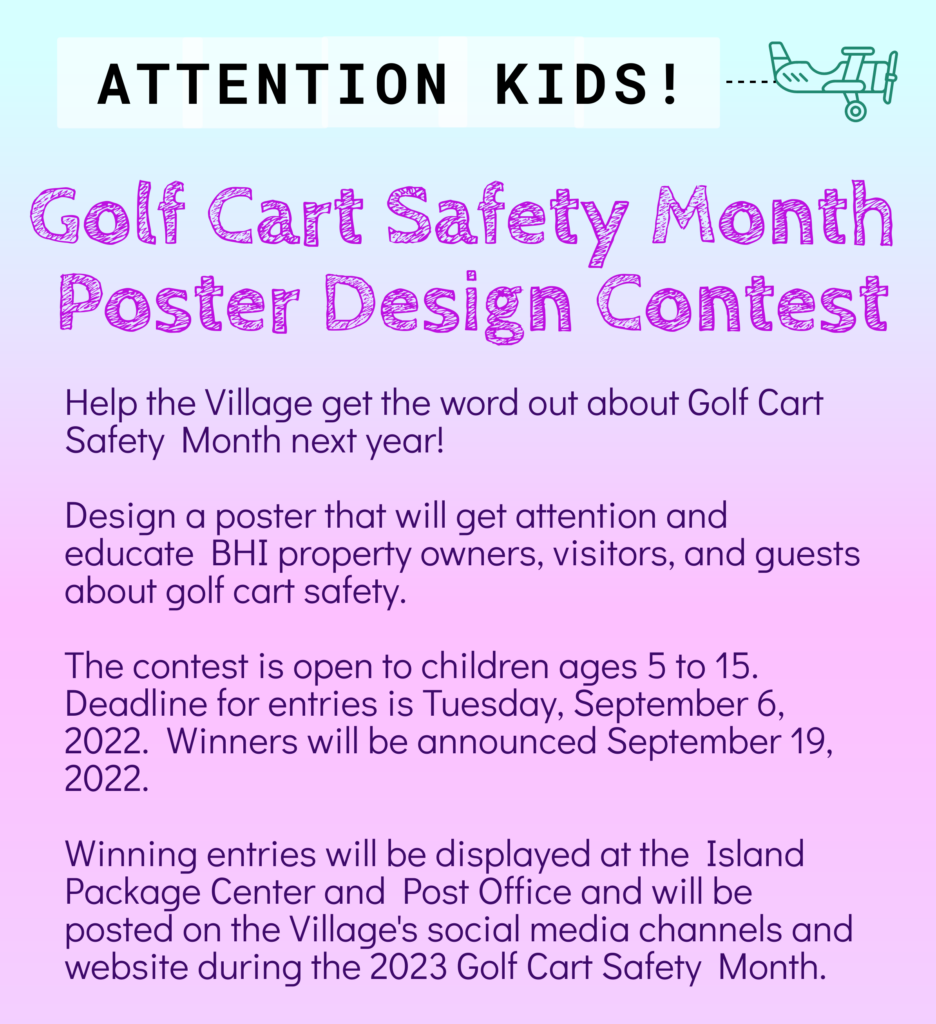 POSTER CONTEST
Golf Cart Safety month is expected to be observed for many years to come and we need the help of the most creative group of Islanders (KIDS!) for next year. We want some eye-catching, colorful, poster designs to help spread the word about golf cart safety in 2023. Kids ages 5 to 15 are eligible to submit poster designs between now and September 6, 2022. Winners will be announced on September 19, 2022. Winning entries will be displayed at the Island Package Center and Post Office and will be posted electronically on the Village's social media channels, website, and appear in the Village's Voice e-newsletter.
To enter:
Create a poster design with a golf cart safety tip, transportation rule, or catchy slogan related to the safe operation of golf carts on Bald Head Island. Including illustrations, unique background, and/or colors will help make your poster "pop." Designs must be submitted on 8 1/2″ x 11″ paper. Mediums allowed: Acrylic paint, watercolors, tempera/poster paint, colored pencils, markers, and crayons.
Fill out the entry form. Download HERE. Hard copies will be available at the IPC/PO.
Submit the artwork with entry form in person to Carin Faulkner, Public Information Officer at Village Hall, or mail to: Carin Faulkner, PIO PO Box 3009, Bald Head Island, NC 28460.
Questions can be sent to public.information@villagebhi.org.
HELP US GET THE WORD OUT!
Share our social media posts with your friends, family, and visitors, who travel to Bald Head Island. You can do this not only during the month of July but all year long. Throughout the year, the Village posts golf cart safety information on its social media channels, and most posts include a link to the video below. We also have a printable flyer that can be downloaded HERE and big round stickers for your golf carts which are available for pick-up at Village Hall.