In this issue:
Recap of Village Council regular meeting.
2021 employee of the year selected.
Village offices will be closed on Thursday, December 23, Friday, December 24, and Monday, December 27 for Christmas. Offices will also be closed on Friday, December 31, for New Year's. The IPC/PO will be open until 6:00 p.m. on Wednesday, December 22, 2021.
Christmas tree disposal at Timbercreek Mulch Site.
Lighthouse Landing fire cause undetermined, the Village reminds folks about the importance of functional monitored smoke detectors.
Village's response to media report on Village employee.
Golf Cart Holiday Parade raises funds for the Brunswick County Food Bank.
The island-wide burn ban was lifted on December 8, beach bonfire permits are being issued again, reminder for applicants.
REMINDERS: Online golf cart registration renewals are due by January 1, 2022, Creek Access permit renewal applications and payments are due by the 15th of January 2022, the next Village Council meeting is on Friday, January 21, 2022, no ICE vehicle use on December 24 & 25th, IPC/PO remains closed on Saturdays until further notice, the US Coast Guard's operating guidelines and restrictions for COVID-19 are still in effect and can be found on the BHI Transportation, Inc. website HERE.
Regular Council Meeting – The Village Council conducted its regular meeting on Friday, December 10, 2021, at 10:00 a.m. Here is a summary of the information shared and the actions that were taken at this meeting:
Village staff gave an update on COVID-19 and recommended no changes to the Village's current protocol. Masks are now optional in Village buildings and recommended for unvaccinated persons. The Village will keep this item on the agenda for next month's meeting for discussion and potential changes.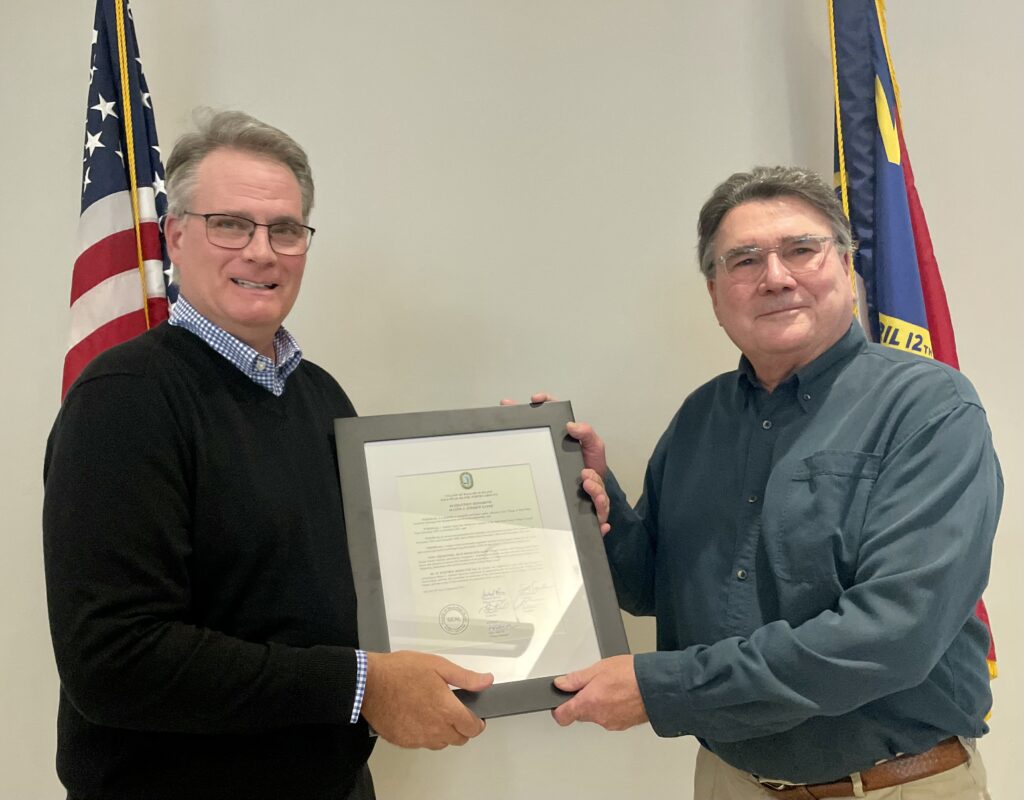 Under new business, the Village Council adopted a Resolution Honoring Those Who Responded During the Lighthouse Landing Fire. Public Safety Director, Alay May, will be personally delivering the signed resolution to those who were honored in this resolution.  The Village Council adopted a Resolution of Appreciation for Mayor J. Andrew Sayre. The Village Clerk administered the oath of office for Mayor Peter Quinn and Councilors Gardner and Hill.  After being sworn-in Mayor Quinn took former Mayor Sayre's seat and presided over the remainder of the meeting. Councilor Gardner nominated Jerry Maggio to fill the unexpired term of former Councilor Quinn.  The nomination was supported unanimously by the Council.  Mr. Maggio was sworn in by the Village Clerk.  Mayor Quinn nominated Mike Brown to continue his service as Mayor Pro Tempore. Councilor Hill was appointed to serve as a delegate to the Cape Fear Council of Governments.  Village Manager Chris McCall will serve as her alternate. The Village Council unanimously adopted the 2022 Organizational Meeting schedule.  Mr. McCall explained that the Village Council typically conducts a retreat early in the year and requested that Village Council provide him with topics for the retreat agenda.  The Village Council unanimously adopted the 2021 General Records Schedule for Local Government Agencies and the 2021 Program Records Schedule for Local Government Agencies issued by the NC Department of Cultural Resources.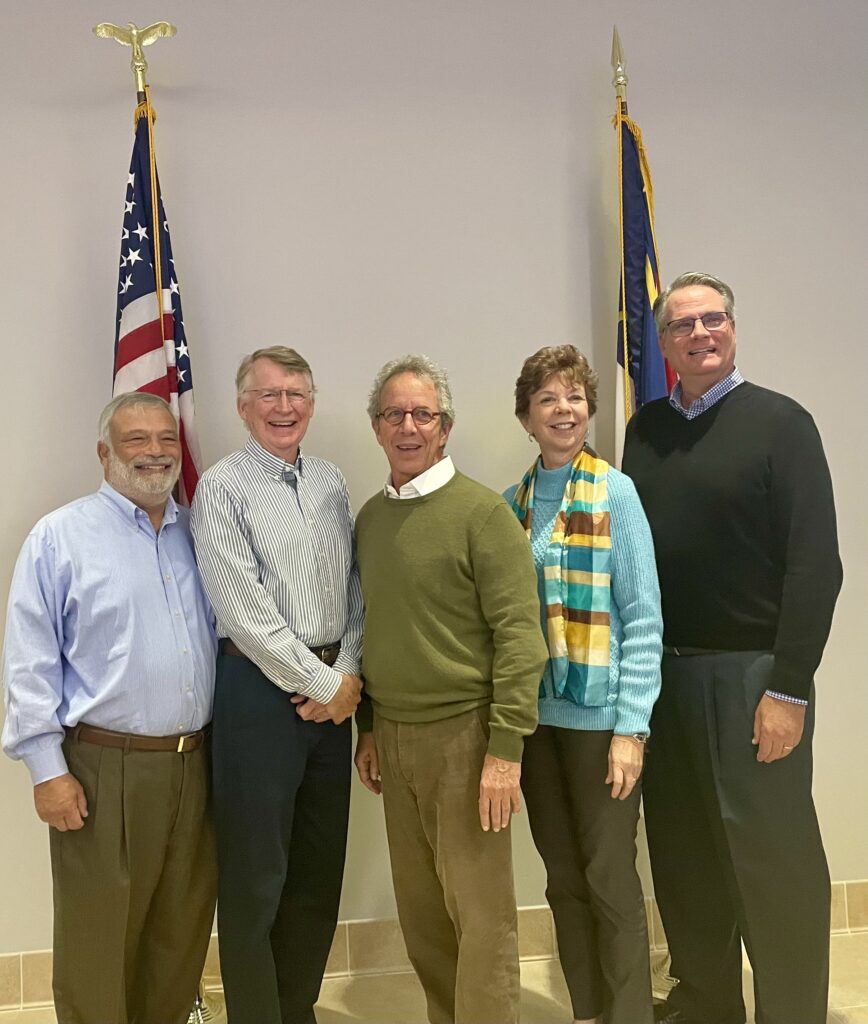 Public Safety Director, Alan May, gave a presentation about the Department of Public Safety's response to the Lighthouse Landing fire. He answered a few questions that had been asked since the fire. He indicated that the Village's ladder truck is in working condition. He said that the public safety officers never lost water supply during the fire, that the audio from the fire was misconstrued, that a line had not been charged (filled with water and pressurized). JP McCann (Public Services Director) confirmed that water demand was met during the entire event and that his staff was monitoring the flow and added more pumps to make sure the pressure never dropped.
The Village Manager, Chris McCall, updated the Council on several items. Below are a few details on the information he shared:
Cell Tower – The new cell tower is up and operational with all cell service providers (AT&T, U.S. Cellular, & Verizon). Plans are underway with getting the old tower removed. It is expected that it should be off the island by December 21, 2021.
New Village Hall – Bids for the construction of the new Village Hall came in higher than expected and the Village will be holding off re-bidding the project until supply issues improve. In the meantime, the Village is looking at ways to accommodate staff in the current Village Hall and will be pressure washing and painting Village Hall to match the IPC/PO building.
ADA Beach Access – The Village continues to work with the Bald Head Association Architectural Review Committee (ARC) to get approval for this project to proceed. The Village has descoped the design and hopes to have all the ARC questions and concerns addressed soon.
Blueprint Brunswick – The Village is required to have a comprehensive plan as part of the updates made to NC General Statute 160D. The Village has been working with Brunswick County on its multijurisdictional plan in hopes to save costs on developing a plan to meet this requirement. The Village has been notified by the County's consultant that additional tasks will need to be completed for the Village to meet the requirements that must be met by July 1, 2022.
Potential Wind Energy Areas – The Bureau of Ocean Energy Management (BOEM) has submitted a supplemental environmental assessment (EA) for the potential Wind Energy Areas (WEAs) off the southeast coast of North Carolina. The Village is working on getting comments submitted in response to the EA and has also assisted staff in drafting a constituent letter to assist the Village with expressing concerns about the proximity of the WEAs. The Village is in support of alternative energy but is concerned about the distance that the areas are from BHI and the impact on our viewshed.
The Assistant Village Manager, Jae Kim, provided some updates here are a few:
Bald Head Woods Reserve – Village staff attended the quarterly Bald Head Woods advisory meeting held by the NC Division of Coastal Management. There was discussion about the recent fire, that there is a potential threat to the maritime forest, and what can be done to mitigate fire in the forest.
RFQ for Landscape Design – The Village issued a Request for Qualification for landscape design services. The RFQ is posted on the Village website and includes the Bald Head Association's landscape guidelines. Proposals are due to the Village on January 14, 2022.
IPC/PO Improvements – IPC/PO staff has completed the layout and design of the existing and expanded space. The new customer access window is finished and will be ready to open once computer equipment is installed.
Grant Funding – Mr. Kim continues to work with staff on preparing of Letters of Interest for grant funding for stormwater improvements on the island.
A full account of these meetings can be found in the minutes which are posted HERE. Typically, minutes are posted with the agenda of the next month's meeting (ex. If you want to read the October meeting minutes, they can be found under the November regular meeting agenda).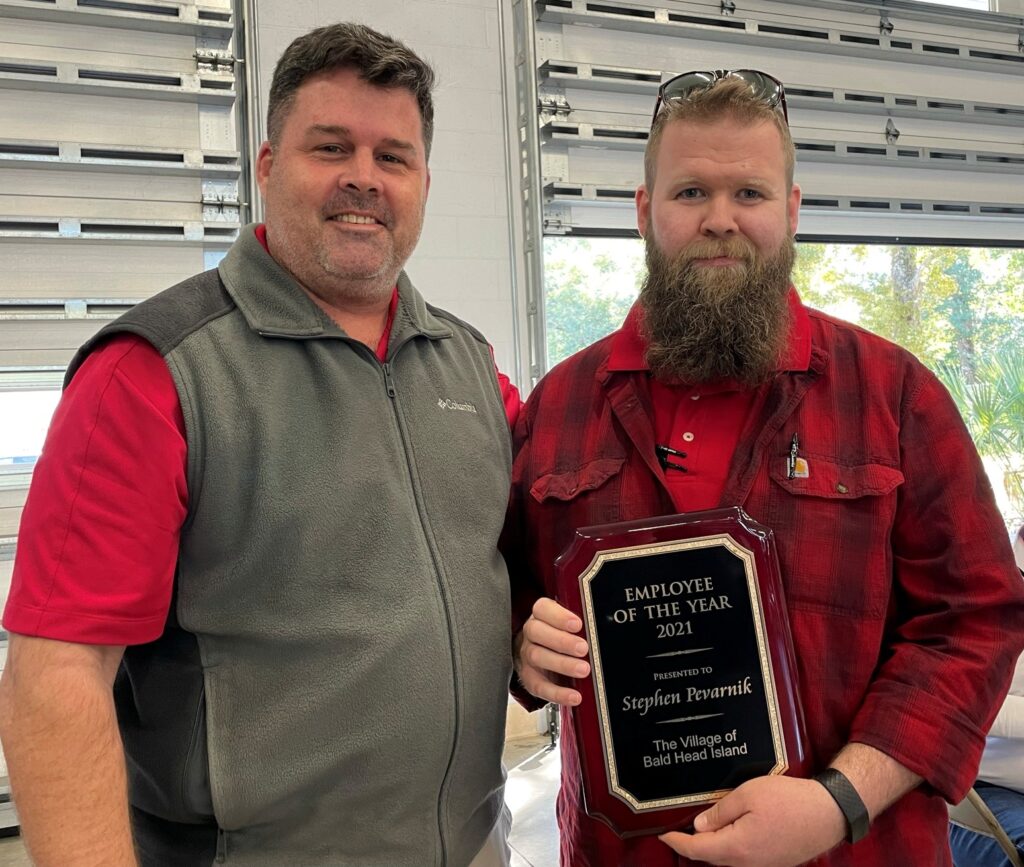 2021 Employee of the Year – This year's Village Employee of the Year award goes to Stephen Pevarnik, Island Postal Specialist in the Island Package Center & Post Office. Stephen exemplifies professionalism through his customer-focused services. He is a role model for all employees who interact with the public and he is a dedicated member of the IPC/PO team. When presenting Stephen with his plaque, Village Manager Chris McCall added, "Stephen has been through changes of leadership in the department and has been the one constant through that change over the last few years." Congratulations Stephen!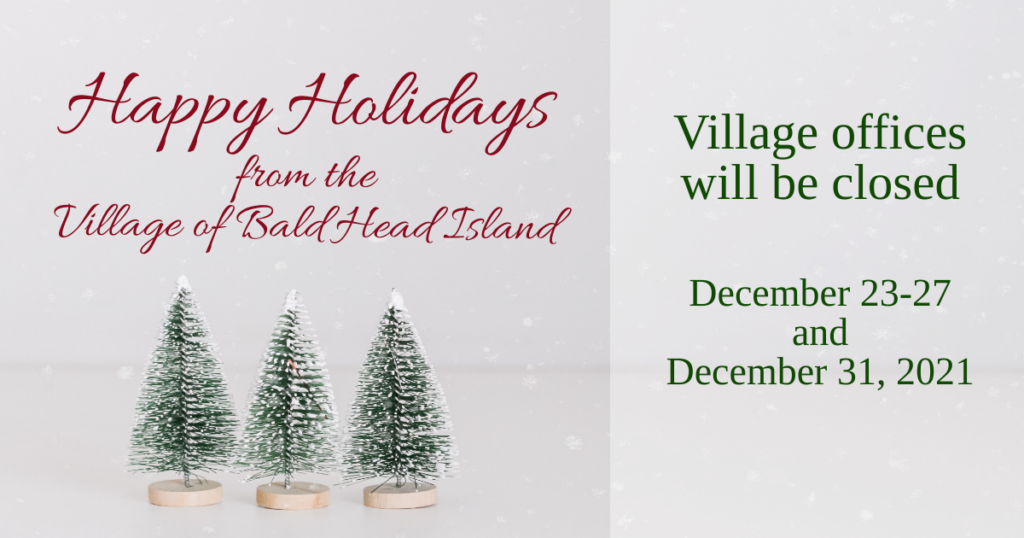 Village Offices Closed – Village offices will be closed on Thursday, December 23, Friday, December 24, 2021, and Monday, December 27, 2021, for Christmas. This includes the Island Package Center and Post Office. The IPC/PO will be open until 6:00 p.m. on Wednesday, December 22, 2021, to give Islanders extra time to pick up packages. Please review our tips for holiday mail and packages HERE.
Bald Head Island Transportation, Inc. has released its 2021 Christmas ferry schedule (HERE) and its New Year's ferry schedule (HERE).
Christmas Tree Disposal – Christmas trees will be accepted at the Village's Timbercreek Mulch site. The Timbercreek Mulch site is located off North Bald Head Wynd between Needle Rush Court and Towhee Court. Click HERE for a map.
Lighthouse Landing Fire – Village officials received the fire marshal's report on the November 20, 2021, fire that destroyed three units in Lighthouse Landing and one and home crofter on North Bald Head Wynd. The full statement was previously announced and the investigation team classified the fire as undetermined and that an electrical malfunction could not be ruled out.
The Village wants to take this opportunity to remind property owners that having a functional monitored smoke detection system is crucial to shortening the response time in the event of a fire at your home. Beginning in January 2009 all newly constructed homes had to have a functioning monitored smoke detection system installed to receive a certificate of occupancy. Other BHI homes would have needed one if a remodel was done after January 2009. These systems are only a few dollars more on your monthly internet bill. For additional information about the Village Ordinance and fire safety, go to our webpage HERE.
Response to Media Report – Recently, a local TV news station broadcasted a story about a public safety officer's personal social media account. The Village does not monitor its employees' personal social media accounts. The Village expects its public safety officers to act professionally and impartially. The Village has no information to suggest that the officer has not acted professionally or impartially while on duty. Internally, the Village has reviewed its personnel policy and is making revisions for social media activity, is enhancing its leadership training, and will be requiring expanded training for all its employees in the areas of anti-bias, diversity, equity, and inclusion. Externally, the Village will be re-emphasizing its commitment to its vision and mission statements and adding a diversity, equity, and inclusion (DEI) statement.
Our Vision: Our vision is nothing less than realizing our team's full potential in providing quality public service through mutual respect, trust, communication, and enhancement of community values.
Our Mission: To work together as a team providing exceptional customer service based on ethical and transparent practices while promoting personal employee growth.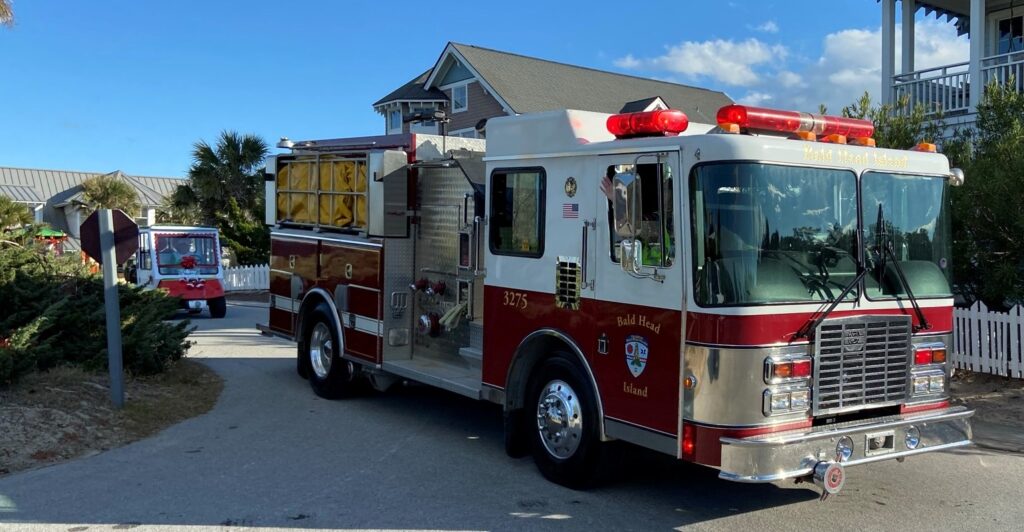 Golf Cart Holiday Parade – The island's first Golf Cart Holiday Parade took place on Friday, November 26, 2021. Carts lined up at the Shoals Club and made their way down South Bald Head Wynd to the BHI Club with a Village of Bald Head Island fire engine leading the way. This event raised money for the Brunswick County Food Bank. Thank you to all who participated, there were some very creative carts! If you missed it, you may view a short video of the procession on the Village's YouTube HERE.
Burn Ban Lifted – The island-wide burn ban was lifted on December 8, 2021, and beach bonfire permits are being issued again. We ask that folks understand that they will receive a call from Public Safety if their permit is approved. It has been the case that several permits have not been approved because of windy conditions. For more information about bonfire permits go to the Village's website HERE.
REMINDERS:
Annual Golf Cart Registration – Annual golf cart registrations are due by January 1st of each year. You can register your golf carts through the online registration portal HERE. If you select the option to pick up the new sticker at the Public Safety Department, please allow at least 48 working hours for processing by administrative staff before going by to pick it up. Note that the 48-hour processing does not apply on weekends and/or holidays. Please try not to put this off until the last minute. If you have any specific questions about the annual registration process, please feel free to contact Elizabeth Gray, Administrative Assistant, at 910-457-5252 or by e-mail at psadmin@villagebhi.org.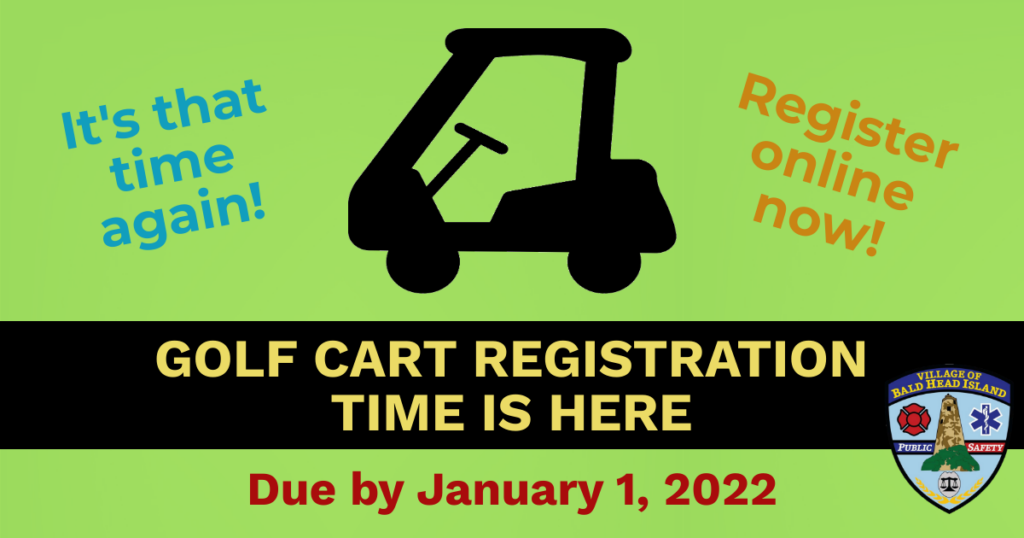 Creek Access Permits – If you already have a space at the Village Creek Access for your vessel (kayaks, canoes, small boats without motors), Creek Access permit renewal applications should be arriving in your mailbox any day now with payment due by the 15th of January 2022. If you would prefer to receive your permit application via email, please contact Darcy at dsperry@villagebhi.org. Please review the information/address on the form and correct it if needed. The permit needs to be filled out in its entirety and returned to the attention of Darcy Sperry. Once payment is received, a permit number will be assigned, and staff will affix the stickers to the vessel for you. Permits are issued per vessel as opposed to per space. If you are interested in using a space at the Creek Access, contact Darcy (dsperry@villagebhi.org or 910-457-9700 ext. 1001) and if there is space available, she will get a space assigned to you once the proper paperwork is filled out and submitted. These spaces are permitted annually at the calendar year.
Next Regular Village Council Meeting – The next Village Council meeting is on Friday, January 21, 2022, at 10:00 a.m. in the multipurpose room at the Public Safety Building. The agenda will be posted HERE. Zoom information for this meeting is posted HERE.
No ICE Vehicle Use on Holidays – Please note that per Village Ordinance, Christmas Eve (December 24), Christmas Day (December 25), and this year, December 31, 2021 (observed New Year's holiday), are considered non-workdays for Internal Combustion Engine (ICE) vehicles. That means that ICE vehicles are prohibited on Village public roads unless they are Emergency Vehicles, Government Vehicles, Official Island Transportation System Vehicles, or have been issued a Special Use Permit.
IPC/PO is closed on Saturdays – The Island Package Center & Post Office remains closed on Saturdays. First-class mail will be delivered to post office boxes every Saturday (not on Christmas Day which falls on a Saturday). When our new staff member is fully trained, the IPC/PO will resume operations on Saturdays. We apologize for the inconvenience.
Mask Guidance for Ferries & Trams – On September 21, 2021, Bald Head Transportation, Inc. announced that US Coast Guard guidelines and restrictions require all employees and passengers (except children under the age of 2) wear a mask: 1. While waiting to board the ferry inside the terminal gate area, 2. While boarding the ferry, 3. While inside the ferry cabin, 4. While disembarking the ferry, 5. While riding in trams. Most importantly, social distancing should be practiced at all times.