Key information:
Clarification: Mayor Sayre did not resign, he is not seeking re-election
Candidate forum hosted by BHA scheduled for October 11, 2021
Village has received a review of BHITA's latest appraisals
Commemoration of the 20th Anniversary of 9/11
Fire hydrant testing
Annual change from chloramines to chlorine
Mayor Sayre Did Not Resign – Last evening, Mayor Sayre sent a message to islanders providing his view of the island's issues at hand and in particular his concerns with the ownership of the ferry system. In the message, he mentioned he was stepping away from government and that was somehow misinterpreted by some, including at least one local media outlet, as an immediate resignation. Mayor Sayre did not resign and fully intends to serve out his term as mayor until December 2021 after serving on the Village Council for 24 years, 12 of them as mayor. His decision not to run again was made in July when he decided not to file for office. The mayoral candidates for the upcoming municipal election are Lou Ann Earnhardt and Peter Quinn. Robert Drumheller, Scott Gardner, Emily Hill, and Nathan McBrayer are running for council.
Candidate Forum – The Bald Head Association (BHA) will hold a Village Council Candidate Forum on Monday, October 11, 2021, at its Association Center (111 Lighthouse Wynd, Bald Head Island). The event will be in-person (barring any changes due to COVID safety protocols), live-streamed, and recorded. Once the time is finalized, BHA will send out announcements to members. The BHA is asking for member input on topics of interest to discuss at the forum. Send your "Top 5 Topics" to BHA at info@BaldHeadAssociation.com, with "Top 5 Topics" in the subject line, submissions will be accepted through September 20, 2021. Please direct any questions about the 2021 municipal election to the Brunswick County Board of Elections at 910-253-2620 or elections@brunswickcountync.gov. Visit the Brunswick County Board of Elections HERE for election information.
Review of BHITA's Latest Appraisals – The Village has received an independent review of the Bald Head Island Transportation Authority's latest appraisals of the Deep Point Ferry Terminal and Parking Facility and the Bald Head Island Ferry Terminal. The review has been forwarded to the Local Government Commission (LGC) and the Bald Head Island Transportation Authority chair. It can be viewed HERE. Additional documents associated with the BHITA can be found HERE.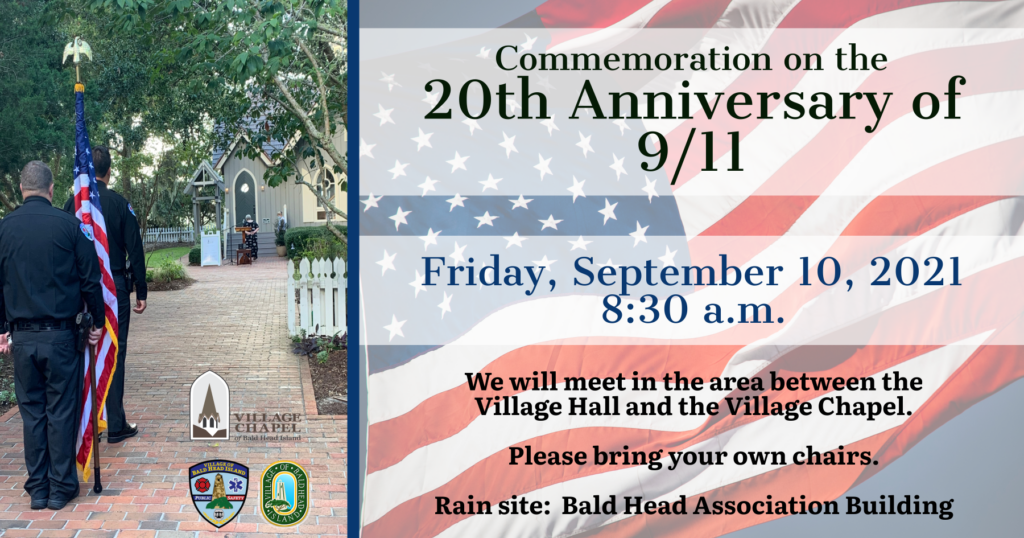 Commemoration of the 20th Anniversary of 9/11 – Please join us tomorrow, Friday, September 10, 2021, at 8:30 a.m. in the area between the Village Hall and the Village Chapel to commemorate the 20th anniversary of 9/11. Please bring your own chairs and umbrellas. This event is sponsored by The Village Chapel of Bald Head Island and the Department of Public Safety of Bald Head Island.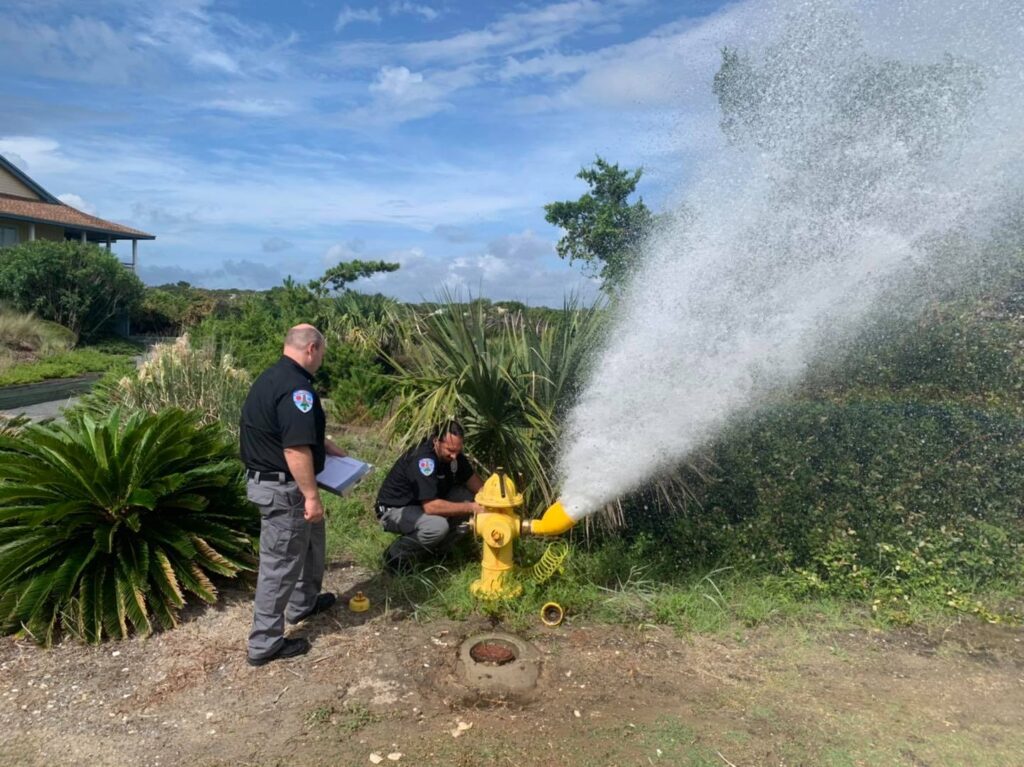 Hydrant Testing – The Department of Public Safety will be testing hydrants during the month of September. During this time, please use caution when traveling the roadways. Periodic water discoloration may be seen in areas where they are testing.
Annual Change from Chloramines to Chlorine – The annual change from chloramines to chlorine will be taking place from September 15th through late October/early November 2021. Utilities customers are advised that the change may result in some discoloration and the presence of sediment in your water. These conditions are not harmful and should be of short duration. View the Village's full notice HERE for more information.