In this issue:
Recap of Village Council regular meeting
Fall paving begins this week
BHI is a participating municipality in the Southeast Water Level Initiative
Sea oat harvesting helps BHI and coastal NC dune systems
Village receives flood rating recertification
Brunswick County donates a vehicle to the Village
Flu & COVID-19 booster vaccine clinic on November 13, 2021
Public Works assists with installation of replacement birdhouse at BHI marina
PSO Homick runs the Badwater Cape Fear race and raises donations for the PSA
Annual PSA Chili Supper Fundraiser scheduled for 11/12 from 4-6 p.m.
An update from Duke Energy
REMINDERS: Halloween trick-or-treating to take place this Saturday from 1-3 p.m., IPC/PO will be closed on Saturdays until further notice, annual change from chloramines to chlorine.
COVID-19:
No changes in State mandates.
Vaccinations are still available to everyone ages 12 and up. Brunswick County announced it is offering third doses for immunocompromised persons. The County began administering Moderna & J&J boosters on October 25, 2021.
The Public Safety Building is closed to the public (except for public meetings). Masks are required in all Village buildings regardless of vaccination status.
The US Coast Guard's operating guidelines and restrictions are still in effect and can be found on the BHI Transportation, Inc. website HERE.
Regular Council Meeting – The Village Council conducted its regular meeting on Friday, October 22, 2021, at 10:00 a.m.  Here is a summary of the information shared and the actions that were taken at this meeting:
The Village Council approved a proclamation for 2021 National Colonial Heritage Month which is recognized during the month of October.  Village staff gave an update on COVID-19 and recommended no changes with the Village's protocol requiring masks in all Village buildings.  The Public Safety Building will remain closed to the public except for public meetings.  The Village Council conducted a public hearing on the ordinance regulating helicopter landings. There were no public comments.  The Village adopted the ordinance unanimously.
Under new business, the Village Council unanimously adopted a budget ordinance amendment to increase stormwater fund appropriations by $139,700 to $266,000 which will allow stormwater maintenance to take place on the Village's side (already funded) and the BHI Club's side. The Village Council unanimously approved the Brunswick County Emergency Services Franchise & Agreement.
Assistant Village Manager, Jae Kim, updated the Council on several items. Below are a few details on the information he shared:
Grant Funding – The Village's letter of interest for stormwater management was not selected, neither was the letter for public facilities through the BRIC program.  Grantors indicated that the Village may be eligible for additional COVID-19 funding.  Staff will be meeting with a grant specialist to look at the breakdown of scoring on the Village's submission so that changes can be made for future submittals.
Island Package Center/Post Office Staffing – Village staff are interviewing candidates for the 3rd full-time position in the IPC. Once this staffing is in place and trained the IPC/PO should resume its normal schedule (reopen on Saturdays). The Village Manager added that Mr. Kim will be overseeing the IPC/PO since there is no longer a supervisor position.  The Village is closely looking at revenues and staffing needs as the package numbers have dropped.  He also indicated that the Village has met with staff at the Southport Post Office and the Deep Point warehouse to improve the timeliness of package delivery to the island.
Water Level Sensors – Staff met with Dr. Nicole Elko who represents the American Shore & Beach and Preservation Association's (ASBPA) effort to install low-cost tide gauges along the east coast. Dr. Elko inspected the Village's water level sensor and she surveyed the Village's critical elevation point, Dock A at the ferry landing, which gets covered in water when there are unusually high tides.  More information on this program can be found below.
Beach Monitoring – As part of the Beach Monitoring Program, McKim and Creed will conduct the fall beach profile surveying, which includes all 80 monitoring profile lines and the 5 transect lines. Also, orthophotographs (aerial imagery) will be executed by GPI Geospatial, Inc. Annual monitoring reports are typically received by the Village in June or July each year and are posted on the Village's website.
Sea Oat Harvesting – Coastal Transplants, an experienced agricultural and horticultural company with knowledge of native and wetland plants in barrier island communities harvested sea oats last week. The Village has received plants from this company over several years and doing so has helped ensure a healthy dune system on the island. During times of harvesting there will be personnel from Coastal Transplants walking within the vegetative dune areas to retrieve the sea oat seedlings but know that these folks are trained not to step or trample on existing vegetation while working in the dune.
The Public Services Director, JP McCann gave some updates here are a few details:
Utilities
The refurbishment project for five of the Village's wastewater collection system duplex lift stations was rebid on October 21, 2021, this is budgeted in the FY22 budget at $530,000.
An additional 10 lift stations will need to be refurbished and those will be used with enterprise funds like the first five in the FY23 and FY24 budgets. (Note: Staff have a better idea of the projected costs for the remaining lift stations in FY23 & FY24 based on the bids received for the 1st phase of this multi-year project).
The 2% annual increase on utility rates will be able to cover needed repairs to the system on the smaller lift stations (23) as these will cost less than the other lift stations.
Repairs to the smaller lift stations will be made with a combination of in-house staff and outside contractors.
WW Plant odor is being addressed.
Staff continues to work with McKim & Creed on the WWTP expansion, an application for the NC Water Infrastructure's State Revolving Fund (SRF) was submitted with the assistance of McKim & Creed.
Public Works
FY20/FY21 asphalt paving projects are underway.
Description of the Village's previous paving plan and the current one which uses an evaluation tool and in which several roads are paved each year.
Road pothole and shoulder repairs are ongoing.
Public Works and Contractor Services areas are in transition, as well as the Timber Creek Mulch site.
A new work unit, Facilities, Grounds, and Motor Fleet started working on motor fleet and equipment schedules, these will include suggested replacement for all items.
Update on the Contactor Service area redesign.
A full account of these meetings can be found in the minutes which are posted HERE. Typically, minutes are posted with the agenda of the next month's meeting (ex. If you want to read the August meeting minutes, they can be found under the September regular meeting agenda). Updates on various projects on the island can be viewed on the Village Projects webpage HERE.
Fall Paving –The Village's paving contractor mobilized last week, finished up some non-Village projects, and started paving on Kinakeet Way today. The plan is to start in this area and work their way from east to west off the island.  The streets that will be paved include:
Kinakeet Way from SE Beach Drive to Federal Road
South Bald Head Wynd (top of hill to Federal Road)
Bald Head Island Conservancy intersection
East entrance of Palmetto Cove to stop sign at Federal
Ibis Roost
Coquina Trail
North Bald Head Wynd at public Creek Access
Click HERE for maps.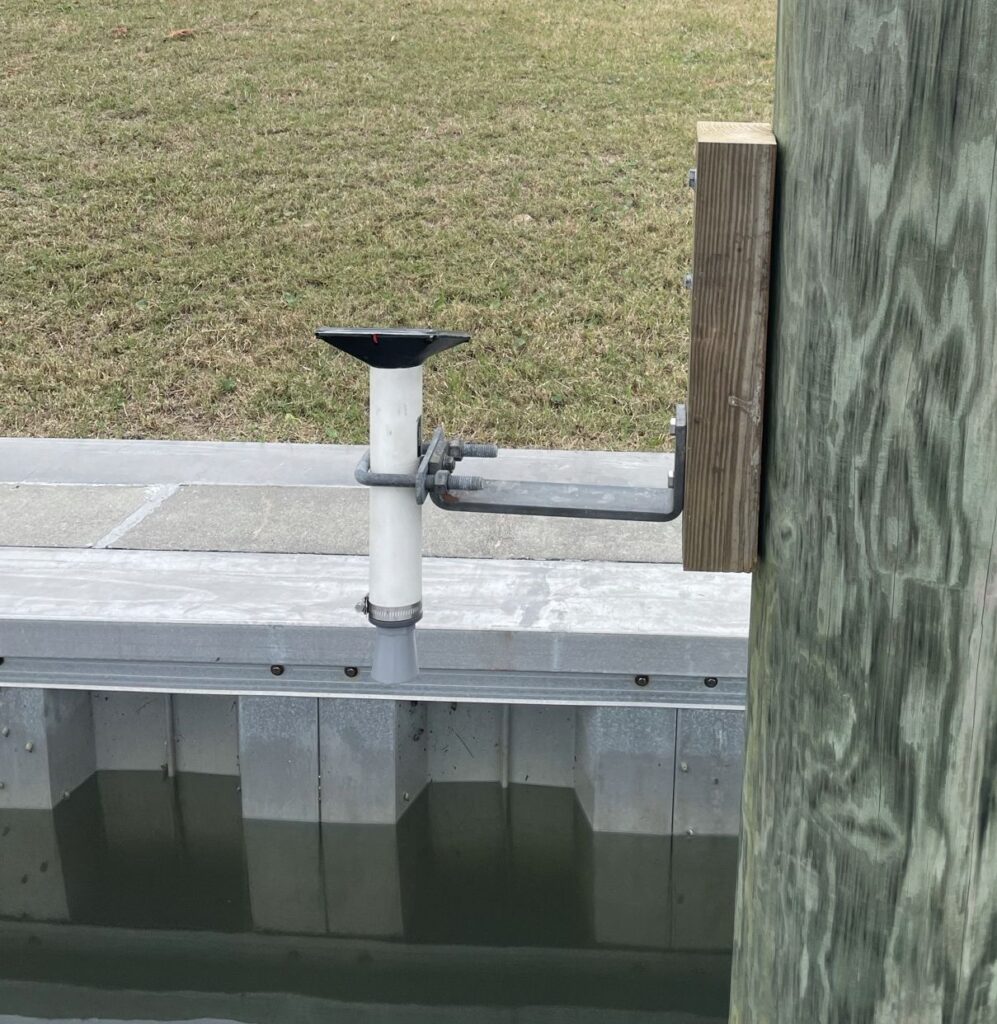 Water Level Sensor –Bald Head Island is one of several coastal communities throughout the U.S. that is participating in the Southeast Water Level Initiative. The initiative includes the installation of low-cost water level sensors which will provide real-time high-resolution and high-frequency flood data that coastal communities can use to plan for and respond to flood emergencies, and design resilience and adaptation strategies for the long-term effects of sea-level rise and the projected increase in flooding.  The data will be open-source, free, and publicly available for download. To observe water-level data, sign-up for a free account HERE.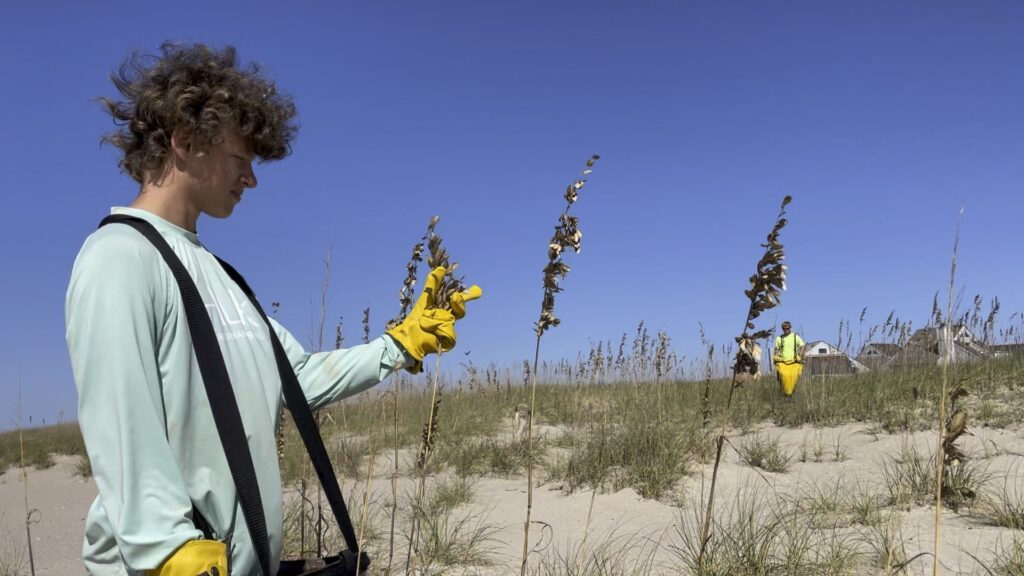 Sea Oat Harvesting – Coastal Transplants was on the island last week to harvest sea oats. They have been cultivating seeds and planting sea oats on Bald Head Island and along the North Carolina coast for several years. The sea oats trap windblown sand which helps build up and stabilize the dune system. Coastal Transplants operates out of nearby Bolivia, NC. They have been harvesting sea oats at BHI over the last few years. They typically harvest on the dunes near the Bald Head Island Club where there are no oceanfront properties landward of the dune. If you see folks with large satchels and gloves on the dunes, they are harvesting sea oats. This usually takes place in the fall after planting season.
Flood Rating Recertification –Last year, the Village received its first rating as a Class 7 Community Rating system (CRS) classification from the National Flood Insurance program. The Village has learned that it has received its annual CRS recertification and remains at a Class 7 rating. This means all Federal flood insurance policyholders on Bald Head Island are eligible for a 5-15 percent discount on their NFIP premiums.  This information has been sent to all Write Your Own (WYO) Principal Coordinators and National Flood Insurance Program Direct Servicing Agents.  Since this is a fairly new designation for BHI, you may want to follow up with your insurance agent to make sure that the discount is applied at renewal. 
The CRS is a voluntary program for recognizing and encouraging community floodplain management activities exceeding NFIP standards. In addition to reducing flood insurance premiums, participation in the program aims to reduce flood damage to property, strengthens and supports the insurance aspects of the NFIP, and encourages a comprehensive approach to floodplain management. Each year, the Village must verify that it is continuing to perform the activities that are being credited by the CRS by submitting an annual recertification.
Donated Vehicle – As a result of the Village's partnership with Brunswick County Sheriff's Department, the Village has accepted a donated vehicle (a 2009 Dodge Charger) which is planned to take the place of the old Ford Escape that has been used for law enforcement related transports from Deep Point marina to the Brunswick County Detention Center in Bolivia, NC.
Flu & COVID-19 Booster Vaccine Clinic– Brunswick County Health Services will not be doing flu outreach as it has in past years. As an alternative, Island Time Medical Wellness and Galloway Sands in cooperation with the Village will host a flu and COVID-19 booster vaccine (Moderna only) clinic on Saturday, November 13, 2021, from 10:00 a.m. to 4:00 p.m.  The clinic will take place at the Public Safety Building (273 Edward Teach Ext.). There is space for 125 people. Insurance and Medicare will be accepted and processed through Galloway Sands. The cash price for high-dose flu is $86 and the regular flu dose is $45. Preliminary paperwork will need to be completed and will be available later this week.  Please call 910-477-6848 to reserve an appointment.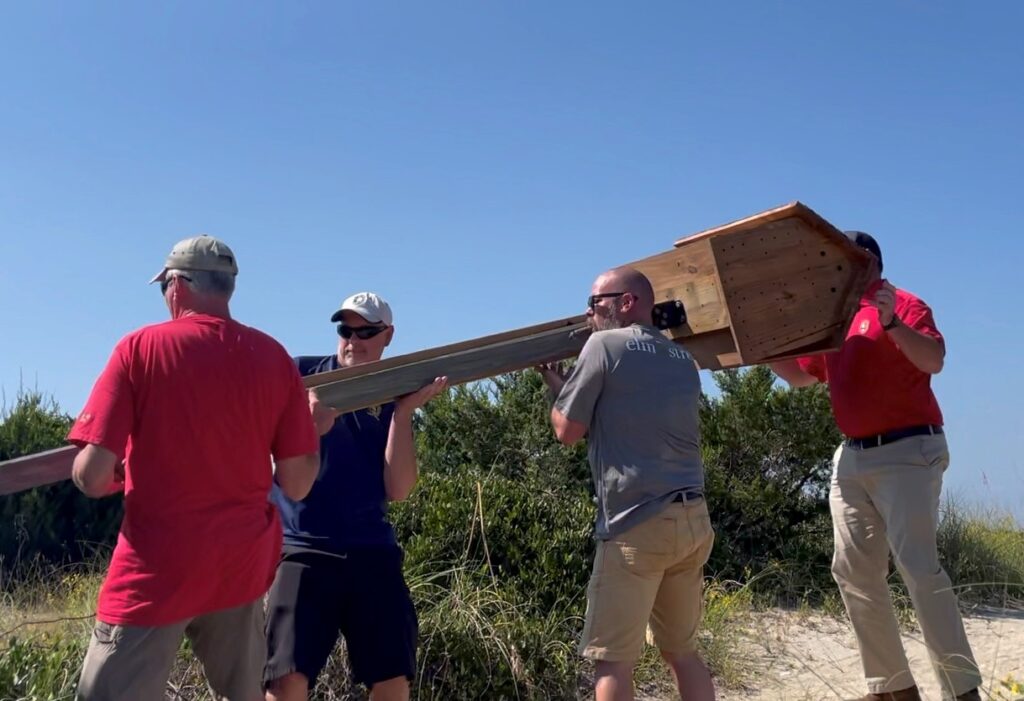 New Birdhouse at BHI Marina – After Hurricane Florence destroyed the birdhouse at the marina, Bald Head Island resident Nancy Giacci went to social media looking for someone to replace it.  Jim McKinistry stepped up and built a new one. Jim, with the help of Village Manager Chris McCall, and Mike Harris, and James Wooten from Public Works, lifted the martin house into place on October 15, 2021. Unfortunately, the post split upon lifting the birdhouse, so it is temporarily braced until a new post is installed by Public Works.  Jim made a mini version for Village Hall too!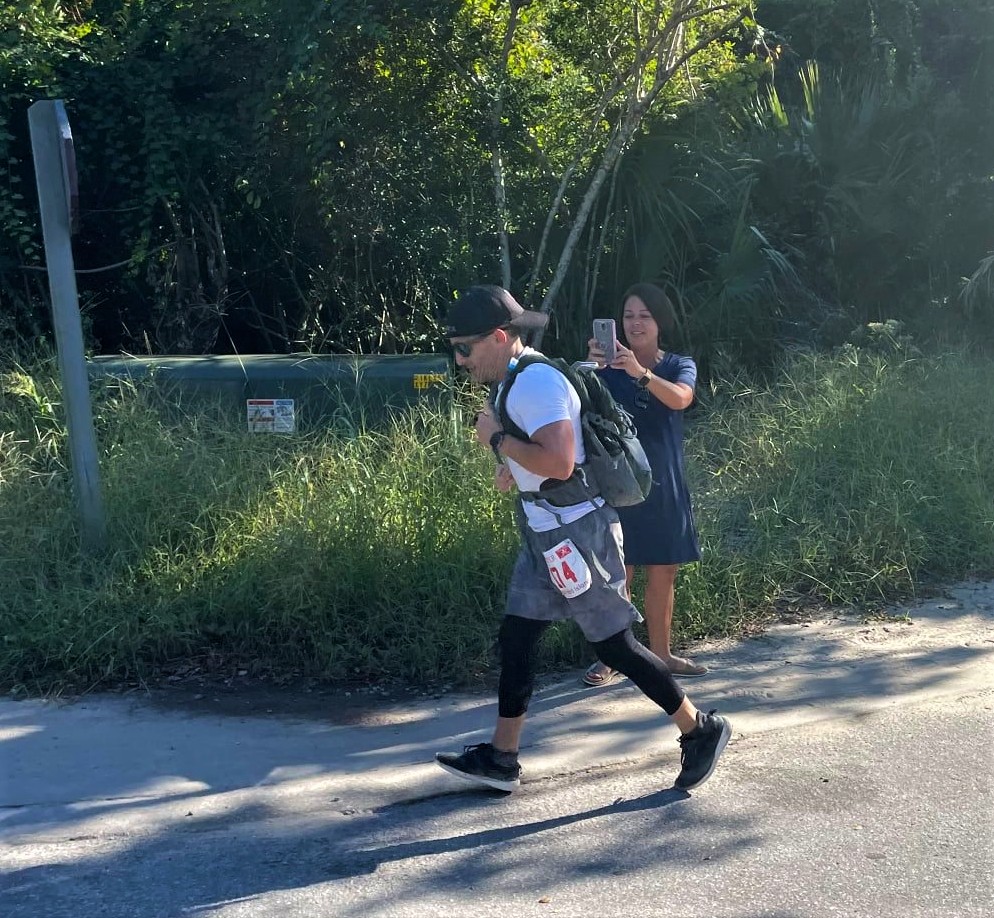 PSO Raises Funds for PSA – Public Safety Officer Paul Homick took on the challenge and ran in the Badwater Cape Fear Race on October 2, 2021, to raise funds for the Public Safety Auxiliary. The hope was to raise enough funds to purchase additional wheelchairs and a state-of-the-art cardiac machine. Officer Homick ran through streets, wooded trails, and the beach, and ended up completing over half of the 51-mile race by completing over 30 miles. In doing so, he raised $6,960 in donations. Thank you to everyone who generously donated to this cause.  For more information about the PSA, including how to make a donation go HERE.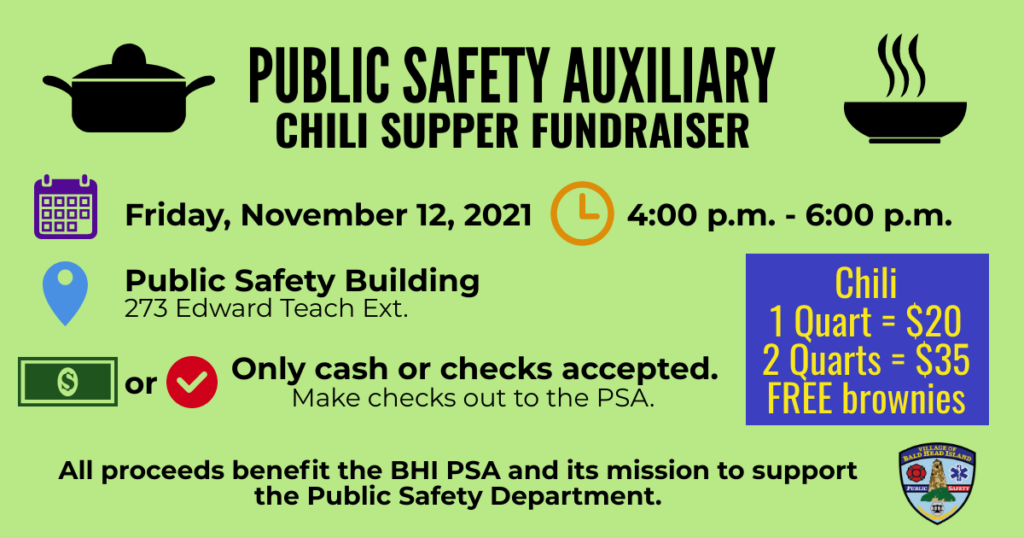 Annual PSA Chili Supper – The Public Safety Auxiliary is having its annual Chili Supper Fundraiser on November 12, 2021, from 4:00 p.m. to 6:00 p.m. at the Public Safety Building (273 Edward Teach Ext.). Proceeds will go to the Bald Head Island Department of Public Safety. Only cash and checks (made out to the PSA) will be accepted. Homemade chili will be $20 for one quart and $35 for two quarts and free brownies will be provided.
Duke Energy Update (submitted by Duke Energy) – Duke Energy is working hard to complete a multi-year power grid improvement project that will help harden our system serving Bald Head Island to storms and allow for isolation of outages and remote automatic repairs.
We have custom engineered automatic switchgear that is a first of its kind for Duke Energy in the Carolinas. Our vendor recently learned of some operational improvements that they want to incorporate in the equipment before we install it on the island.
We do appreciate the patience from those of you who were impacted by unplanned outages this month. The major improvements with custom automatic switchgear will help mitigate similar equipment risks in the future.
If you have questions or feedback, you are welcome to contact Danielle Peoples at Danielle.Peoples@duke-energy.com.
The Village receives regular updates from Duke Energy which will be shared with our e-newsletter subscribers and posted on the Village's "Village Projects" webpage HERE.
REMINDERS:
Halloween 2021 on BHI – Trick or treating will take place on Saturday, October 30, 2021, from 1:00 p.m. to 3:00 p.m. A list of addresses of those who will be handing out candy will be available for pick up at the Maritime Market on October 29, 2021.  View these safety tips if you plan on participating this year. 
IPC/PO is closed on Saturdays – Until further notice, the Island Package Center & Post Office is closed on Saturdays. First-class mail will be delivered to post office boxes every Saturday. When staffing levels are back up, the IPC/PO will resume operations on Saturdays. We apologize for the inconvenience.
Annual Change from Chloramines to Chlorine – The annual change from chloramines to chlorine occurs on or shortly after September 15 through the end of October/early November. The Utilities Department indicated that this activity will be happening this week. Notices were included in the August utility bills. For more information, view the full notice HERE.
COVID-19
The State of North Carolina has not implemented any new restrictions since the end of July. Some local communities in North Carolina have been reinstating mandates. As of today, Brunswick County has not reinstated any mandates.
Vaccines – All persons aged 12 and older are eligible to receive COVID-19 vaccines (12-17 are eligible for Pfizer only). The COVID-19 vaccines are free. Brunswick County announced that it would begin offering third doses for immunocompromised persons starting August 24, 2021, and recently announced that Moderna and J&J boosters will be available starting October 25, 2021, for qualifying individuals. The State's vaccine finder at myspot.nc.gov provides information on where folks can receive a shot. More information about vaccines can be found at YourSpotYourShot.nc.gov.
Brunswick County Case Numbers – North Carolina recently transitioned from the County Alert system map to CDC's COVID-19 community transition map. According to the CDC, Brunswick County is still in "red" this month (it was in red in August and September too). That means that the county has a high transition rate and there have been over 100 cases per 100,000 persons in the past 7 days.
Case numbers were typically updated daily on Brunswick County's dashboard on THIS WEBSITE.  The County experienced technical issues and this site will direct citizens to the State's COVID-19 dashboard until the County dashboard is up and running.
Village's Response – To protect first responders, the Village has closed the Public Safety Building to the public. Please contact the Department of Public Safety for any administrative needs prior to coming to the building (910) 457-9700 or psadmin@villagebhi.org. You may be asked to transact your business outside. For all other Village buildings (Village Hall, IPC/PO, Contractor Services) masks are required (regardless of vaccination status).
Mask Guidance for Ferries & Trams – On September 21, 2021, Bald Head Transportation, Inc. announced that US Coast Guard guidelines and restrictions require all employees and passengers (except children under the age of 2) wear a mask: 1. While waiting to board the ferry inside the terminal gate area, 2. While boarding the ferry, 3. While inside the ferry cabin, 4. While disembarking the ferry, 5. While riding in trams. Most importantly, social distancing should be practiced at all times.