In this issue:
Recap of annual Village Council retreat
Recap of Village Council regular meeting
Old marina park dock demolition is currently underway
Marina channel maintenance is expected to begin Monday, 2/28
Next planning board special meeting scheduled for Thursday, 3/3
Planned power outage for East Beach, Conservancy, Shoals Club area on 3/8
Latest on the artifact, presumed shipwreck, on South Beach
Regulations on pine straw and residential sprinklers are being considered
Islanders to be surveyed to gauge interest in an "Are You Okay?" program
An update from Duke Energy
REMINDERS: Island-wide shredding event (3/7), Cape Fear Badwater race (3/19), N-95 masks available at Village Hall, free at-home COVID-19 tests available, IPC/PO remains closed on Saturdays, mask guidance on ferries.
Village Council Retreat – The Village Council conducted its annual retreat on Friday, February 16, 2022. A range of topics was presented and discussed including:
Shoreline Management
Update from Greenburg Traurig (Government Law & Policy Practice Advocate)
Update from Duke Energy on its Grid Improvement Project
Wastewater Treatment Plant Expansion Update
Public Services
BHI Conservancy Environmental Contract Overview
Old Baldy Museum Campus Design Effort
Planning Initiatives for FY23
Human Resources
Public Safety
Finance
A full written recap of the retreat can be viewed HERE. The retreat was broadcast via Zoom and recorded. The video can be viewed on YouTube via a playlist HERE. Those interested can view the meeting in full or by topic.
Some of these topics will be revisited as the Council works on the FY23 budget. The first workshop will take place on April 29, 2022, and other workshops could be scheduled later, if necessary. The workshops will be open to the public and will be noticed on the Village's bulletin board, website, and via the sunshine list.
Regular Council Meeting – Immediately after the retreat the Council conducted its regular meeting for the month of February. Here is a summary of the information shared and the actions that were taken at this meeting:
Under old business, the Village Manager updated the Council on the status of COVID-19. He reported that the governor had encouraged all schools and local governments to end their mask mandates. The state is transitioning from universal masking to encouraging vaccination in response to COVID-19. This does not change the mask guidelines on the ferries since that is based on U.S. Coast Guard guidance.
Under new business, the Village Council adopted several budget ordinance amendments and an ordinance to amend and close the capital fund ordinance for the improvements to the Island Package Center and Post Office, which closed out that capital project and transferred remaining funds back to the general fund. The Village Council unanimously appointed Ginnie White to fill the unexpired term of former Councilor Mike Brown. Mayor Pro Tem Gardner made the nomination and gave an extensive overview of her background and qualifications. He said, "Ginnie has a passion for Bald Head Island, its uniqueness, environmental stewardship, beauty, and its people and she wants to be a part of managing for its growth. Her interest, knowledge, dedication, experience, and judgment are well noted. She is a strategic thinker and takes a long and broad view on issues she considers. She represents the type of council person we need at this time." White was not present at the Council meeting. The Village is hoping to administer the oath of office at the next regular Village Council meeting on March 18, 2022.
A full account of these meetings can be found in the minutes which are posted HERE. Typically, minutes are posted with the agenda of the next month's meeting (ex. If you want to read the December meeting minutes, they can be found under the January regular meeting agenda).
Old Marina Park Dock Demo – The marina park dock sustained significant damage from Hurricane Isaias. The Village had been waiting on a FEMA inspection and then FEMA funding to demolish and replace the dock. Demolition of the old dock is currently underway. In the meantime, the Village has installed a temporary access and floating dock directly behind the rental office and restrooms at the park. Plans are to replace the temporary structure with a more permanent "t-dock" configuration in this location. This is going to require a major permit from the State and will take some time to obtain before the Village can put this project out for construction bids. Construction of the new dock will likely take place next fall/winter season.
Marina Channel Maintenance – The Village's dredging contractor is scheduled to begin maintenance of the marina channel entrance and the sand bypass area as soon as next Monday, February 28, 2022. The Village receives a grant from the State through the Shallow Draft Navigation Channel Dredging fund which pays for 2/3 of the cost of this maintenance.
Planning Board Special Meeting on 3/3 – The Planning Board's previously scheduled special meeting has been rescheduled for March 3, 2022, at 10:00 a.m. This meeting includes hearings on two rezoning requests. To receive notices from the Village regarding any special meeting or public hearings for the Village's boards and committees, please contact the Village Clerk at village.clerk@villagebhi.org to be added to the Village's sunshine list. Please put "sunshine list" in the subject of your correspondence. For more information about this planning board meeting, please go to the Planning Board webpage HERE.
Planned Power Outage on 3/8 – There will be a planned power outage on Tuesday, March 8, 2022, at 4:00 p.m. (the rain date is 3/9 at the same time). This outage is expected to last no more than one hour unless something unforeseen occurs. This will only affect customers at the following locations: Station House Way (including the Shoals Club) Federal Road (BHI Conservancy), E Beach Drive, Cape Creek Rd, and Dogwood Ridge Rd. Duke Energy will be notifying affected customers and has informed the Village as a courtesy and to help get the word out.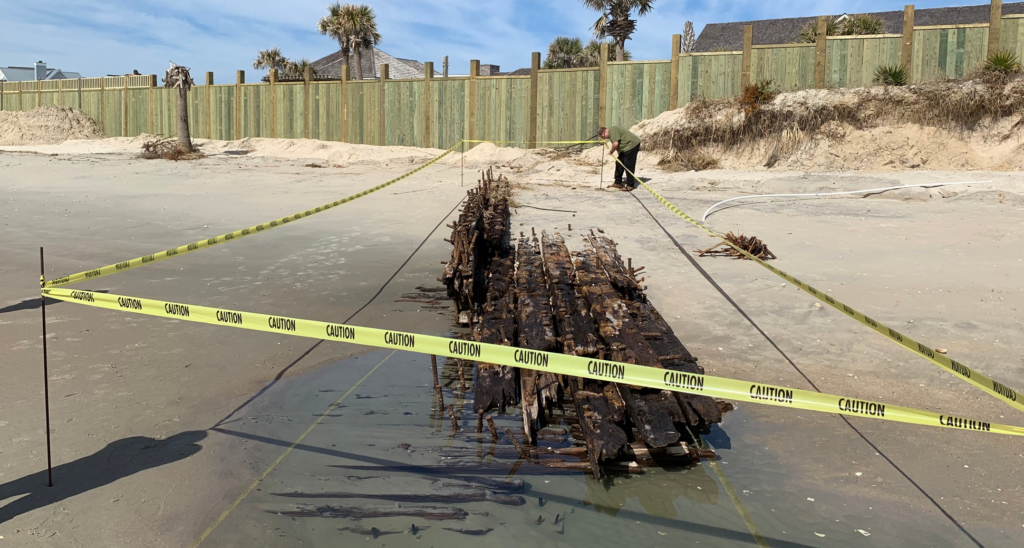 South Beach Artifact – After back-to-back severe winter weather events in late January, an artifact, presumed to be from an old shipwreck was uncovered along South Beach near the Shoals Club. The artifact's condition and location pose a public safety risk. The remnants include dozens of rusty metal pieces, some of which protrude from the remaining wood. Depending on the tide, pedestrians and emergency vehicles cannot get around it.
Archaeologists from the State gathered physical data from the artifact last week. It may take some time for the State to identify the origins of the shipwreck. What will happen to the artifact from this point forward is unknown. The Village has long supported efforts to protect historic artifacts that are found on Bald Head Island to perpetuate its cultural heritage. If it can be removed, the Village will be required to apply for a permit from the State to remove it.
In the meantime, the Village has cautioned folks to be cautious when walking in this area and to not allow children to walk in the area unsupervised. Caution tape was put up but likely did not last long due to the strong wind, tides, and wave action. Please let your family members, visitor, and guests know to be careful out there.
Regulations to be Considered – There was discussion at last week's annual retreat about two proposed policy changes, one for prohibiting pine straw and the other requiring residential sprinkler systems. These proposals are being made in consideration of making the island as fireproof as possible in the wake of the Lighthouse Landing fire.
As Council continues to consider these policies, please feel free to provide feedback, as well as input on any other issues you may find important. You can email all members at once by going to the Village Council webpage HERE and clicking on the "Email the Mayor & Council button." Per current Council policy, all ordinance changes require a public hearing. Please sign up for the sunshine list to receive public hearing notices directly via email.
Are You Okay? Program – The Village is considering offering a program similar to the Are You Okay? Program used in many municipalities and counties around the country. In many places, the program is a telephone reassurance service designed to enhance the quality of life for older adults, or adults with disabilities, who live alone or are at risk of sudden illness, falls, accidents, and/or social isolation. Depending on the level of interest on BHI, this could be an automated system, or if just a few folks, a way for the Village to partner up individuals to be responsible for checking in on one another, and if there is a problem, they can call 911, or if there are other needs, help line them up with the Chapel (for visits, groceries, medication delivery, etc.).
Please be on the lookout for future communication from the Village asking if you or your loved one would be interested in this service.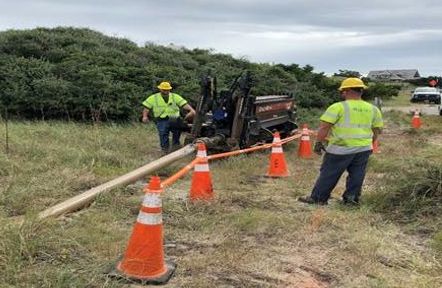 Duke Energy Update (submitted by Duke Energy) – Duke Energy is working hard to complete a multi-year power grid improvement project that will help harden our system serving Bald Head Island to storms and allow for isolation of outages and remote automatic repairs.
While a lot of the visible work on the island is concluding in the new year, there are important updates to our operating systems taking place now so we can fully leverage these upgrades in the near future.
We are also anticipating the need for some small, isolated planned outages as we configure the new equipment. We will work to communicate this in advance to impacted customers.
We appreciate the community's patience and support as we continue this work in 2022.
If you have questions or feedback, you are welcome to contact Danielle Peoples at Danielle.Peoples@duke-energy.com.
The Village will be receiving regular updates from Duke Energy which will be shared with our e-newsletter subscribers and posted on the Village's "Village Projects" webpage HERE.
REMINDERS:
Island-wide Shredding Event – The next island-wide shredding event is on Monday, March 7, 2022. The shred truck is available for Island business entities and individual homeowners to dispose of outdated documents. The shred truck will be parked at the Village's Marina Park (the old tent site) at approximately 11:00 a.m. and will leave on the 3:00 p.m. barge, so please come by before 2:30 p.m. The cost for disposal will be $10 per box of material (ex. a standard banker's box or a wine box). Make your checks payable to the Bald Head Island Conservancy. The backup date is Wednesday, March 9th in case the barge is suspended due to weather.
Cape Fear Badwater – The next Cape Fear Badwater Ultra Running Race is scheduled for Saturday, March 19, 2022. This all-day race will take place on several Village wynds, and Public Safety will be providing traffic control for this event. Other activities for the participants will be taking place on the Island beginning Friday through Sunday. Approximately 150 runners (registration is capped at 200) from 21 states and 8 nationalities are expected to participate this year. More information about the race can be found HERE.
Free N95 Masks – Federally provided N95 masks are available at Village Hall, as supplies last. These supplies do not include child-sized masks at this time. Brunswick County Health and Human Services dispersed its full allocation of N95 masks to several of its municipal and senior center partners to improve access countywide. Learn more about N95 and other types of masks HERE. To learn more about where to find free N95 masks in Brunswick County go HERE.
Free At-Home COVID-19 Tests – Every home in the U.S. is eligible to order four free at-home COVID-⁠19 tests. The tests are completely free. Orders will usually ship in 7-12 days. Order your tests now so you have them when you need them. Order your tests through the United States Postal Service (USPS) at covidtests.gov. Find local testing sites HERE.
IPC/PO is closed on Saturdays – The Island Package Center & Post Office remains closed on Saturdays. First-class mail will be delivered to post office boxes every Saturday. On the heels of having our two newest employees trained, one of our long-time IPC employees has had to go on leave. We are hoping to have all four employees at 100% soon so we can start rotating staff back onto a Saturday work schedule. We apologize for the inconvenience.
Mask Guidance for Ferries & Trams –The mask guidance that was announced back in September 2021 is still in effect. US Coast Guard guidelines and restrictions require all employees and passengers (except children under the age of 2) wear a mask: 1. While waiting to board the ferry inside the terminal gate area, 2. While boarding the ferry, 3. While inside the ferry cabin, 4. While disembarking the ferry, 5. While riding in trams. Most importantly, social distancing should be practiced at all times.