In this issue:
Recap of Village Council regular meeting.
Sandbag project underway.
Memorial Day info – Village offices closed, ferry schedule, chapel event.
It's beach safety week! Make sure you inform your family, visitors, and guests of what they can do to be safe while enjoying BHI beaches.
Mark your calendars for Public Safety Day – June 15, 2022, at Marina Park 10-3 (tentative).
Village supervisors complete UNC School of Government course.
Public Safety staff's recent achievements.
Updated guidance on 911 calls.
An update from Duke Energy.
REMINDERS: Pine straw ordinance is now in effect, N-95 masks available at Village Hall, free at-home COVID-19 tests available, IPC/PO remains closed on Saturdays.
Regular Council Meeting – The Village Council conducted its regular meeting on Friday, May 20, 2022, at 10:00 a.m. Here is a summary of the information shared and the actions that were taken at this meeting:
The Village Council unanimously approved the Consent Agenda which included a resolution approving the NC Department of Environmental Quality Division of Water Resources local water supply plan and the memorandum of understanding with Dosher Hospital to operate the medical clinic at the Department of Public Safety this summer. This year, the clinic will begin operating on May 31, 2022, and will operate through September 2, 2022, hours of operation will be 9:00 a.m. to 2:30 p.m. Monday through Friday. The clinic will be closed on July 4th. Patients are encouraged to call and make an appointment prior to visiting the clinic at (910) 457-5252.
Under New Business the Village Council conducted a public hearing on the proposed FY 2022-2023 budget, a public hearing on a proposed text amendment for schools (action on this item was postponed to allow for a more specific definition of a school), unanimously approved the preliminary subdivision plat for Cape Fear Station, adopted several ordinances to re-organize the beach capital fund into a special revenue fund, adopted a budget amendment to account for immediate equipment purchasing needs in light of supply chain issue delays, and approved the annual audit contract.
The Village Manager and Department Heads provided updates here are a few:
Chief May reported that the Department of Public Safety has increased enforcement of ICE permits and illegal parking near the marina and barge landing areas. In anticipation of Public Works' new sign-making machine becoming operational, there will be new signage placed in the Harbour Village neighborhood to allow for improved enforcement of the various parking regulations in this area. Increased communications with contractors who are unloading/loading are addressing the early morning issues in this area. A new "yield" sign will be installed on the timber bridge to caution drivers to slow down before they enter the pedestrian crossings. The area on the marina side becomes a heavy traffic area for pedestrians in the peak season and is a safety concern. Chief May indicated that the department will be applying for grant funds for signboards and will request to borrow the speed wagon from Southport to assist with public education and enforcement of speeding and other common violations.
Public Services Director JP McCann reported that the new sign-making machine should be operational this week as the last step is getting the power hooked up. The old CONEX boxes at the Contractor Services campus are scheduled for permanent removal by the end of this month. New site traffic patterns will be initiated by June 1st. View the full departmental report HERE.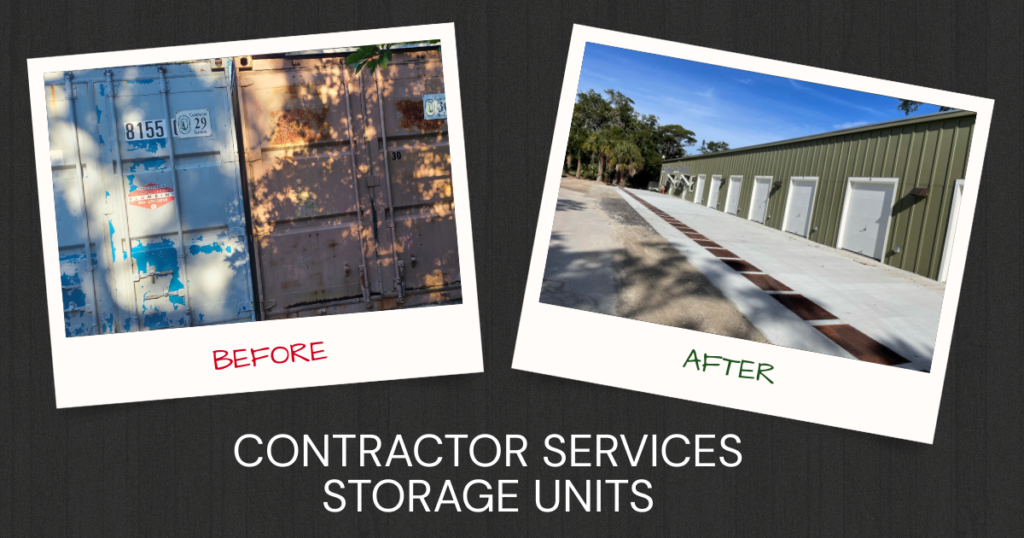 Mr. McCall reported that he and Mayor Quinn will be looking into a second location for the ADA beach access. The Village is working with several parties on the clean-up of the Timber Creek Mulch site and the relocation of Island Contracting to the site to improve the management of the site. He indicated that Village staff is working on refining its rental agreements for the use of the public parks (Marina Park and Village Common Park). He acknowledged Bruce Marek, the engineer representing the Shoals Club, for his efforts in coordinating with the Village to obtain the CAMA and Army Corps of Engineers permits for the Shoals Club's sandbag project (more information below).
The Assistant Village Manager, Jae Kim, provided an update on the Island Package Center and Post Office. He reported that the package count for the month of April showed an increase of 11.5% over last year. For USPS mail, the post office receives an average of 3-5 totes per day with 1-2 being solely 1st class mail to service approximately 650 mailboxes (PO Box and virtual boxes combined). He reported that the scanning, labeling, and shelving of packages as they arrive is leading to efficiencies in which packages are available for distribution before they show up in the system on a more frequent basis. The only downside to this is that sometimes a customer will receive an email to pick up a package that they have already picked up. The IT department is assisting with the implementation of new warehousing management software and scanning tools which will further increase the efficiency. The Village is still conducting interviews to fill the vacancies and has made one full-time hire contingent on passing the background check and drug screen. The IPC/PO will re-open on Saturdays when it is fully staffed. The Village wishes to thank customers for their continued patience through the recent staffing issues.
A full account of these meetings can be found in the minutes which are posted HERE. Typically, minutes are posted with the agenda of the next month's meeting (ex. If you want to read the March meeting minutes, they can be found under the April regular meeting agenda).
Sandbag Project Underway – The Village has obtained State CAMA (Coastal Area Management Act) and Army Corps of Engineers Structural Erosion Control/Emergency Sandbag Permits to assist the Shoals Club with its efforts to stabilize the shoreline erosion at 100 Station House Way. This area of the island is eligible for this permit as part of the State Ports Inlet Management Areas. This allows daylight placement of sandbags after daily clearance from the Bald Head Island Conservancy Turtle Patrol.

A 500-foot section of shoreline will be inaccessible during construction so getting from south beach to east beach or vice versa will not be possible during work hours for the duration of the project. This project started on Friday, May 20, 2022, and is expected to take one and a half months. For your safety, please give clearance to work areas. The Village will provide updates throughout the project.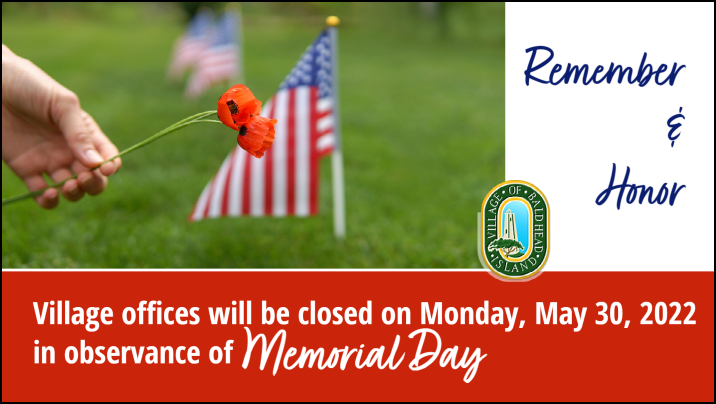 Memorial Day – Village offices will be closed on Monday, May 30, 2022, in observance of Memorial Day. This includes the Island Package Center and Post Office. USPS first class mail will still be delivered to PO boxes on Saturday, 5/28. This Monday is an ICE vehicle holiday, an exception will be the Village's solid waste removal contractor, GFL. GFL will begin its first week of Thursday and Friday pick-ups for the peak season next week (see schedule and route info HERE).
Bald Head Island Transportation, Inc. has released a Memorial Day Passenger Ferry Notice (see HERE) which indicates BHIT will be running two boats during the Memorial Day rush, on Friday afternoon and early evening, and on Memorial Day through much of the day. Since Monday is a holiday, there will be no contractor ferry running that day. Please visit www.baldheadislandferry.com for detailed ferry schedule information.
The Village Chapel is hosting a Memorial Day ceremony on Monday, May 30 at 11:00 a.m. to honor service members who have died in service to their country. The guest speaker for this year's event is Alan Briggs, a Vietnam Veteran who served in the U.S. Navy, and who is the board president of the Bald Head Association. This annual event, which includes Veterans who are island property owners, is open to all. Masks are optional and outdoor seating is available in the Chapel courtyard.
Beach Safety Week – It's National Beach Safety Week! National Beach Safety week begins the Monday before Memorial Day and ends seven days later on Memorial Day. The United States Lifesaving Association (USLA) sponsors this week to remind beachgoers to use caution in the aquatic environment. Please take a moment to view our video HERE, or our beach safety webpage HERE and share this information with your family, guests, and visitors.
Rip Currents – According to the National Weather Service Wilmington (NWS), rip currents are the main cause of weather deaths in the coastal Carolinas. Nationally, the USLA estimates they cause 100 drownings a year. NWS says approximately 80% of those who die in rip currents live outside the coastal area and males are five times as likely than females to drown in a rip current in the Carolinas.
The Carolinas average about 8 rip current related deaths per year and 27% of those are bystanders, people trying to help a swimmer in distress, often without a floatation device. If you see a swimmer in trouble, you should first call 911. Public accesses on BHI are equipped with floatation devices, if and only if you think you can keep yourself safe while helping someone else, you enter the water. Never enter the water to rescue someone without a floatation device and without calling 911 first.
Everyone who swims in the ocean should be familiar with how to swim when caught in a rip current or "break the grip of a rip." Click HERE to view a video that illustrates what swimmers should do. Click HERE to view the NWS rip current safety webpage for additional information.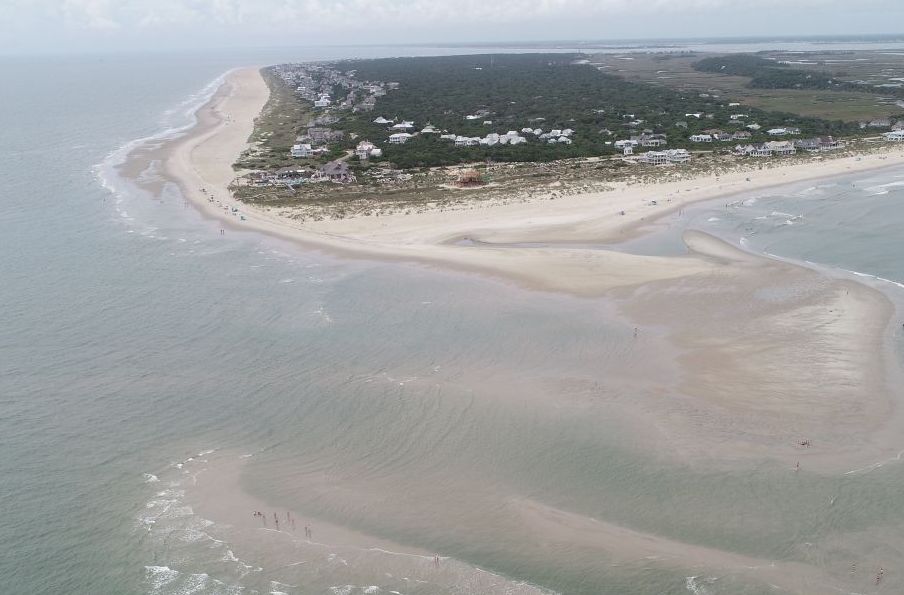 South Beach Hazards – Last year, the Village shared the aerial photo above on social media that showed several folks wading in the shoals on the east end of South Beach. The Village cautioned folks about wading in this area. It is where our Public Safety Officers are called to the most for water rescues. Oftentimes the tide comes in and people find themselves in deep water before they know it. Folks are advised not to go out further than they are prepared to swim back.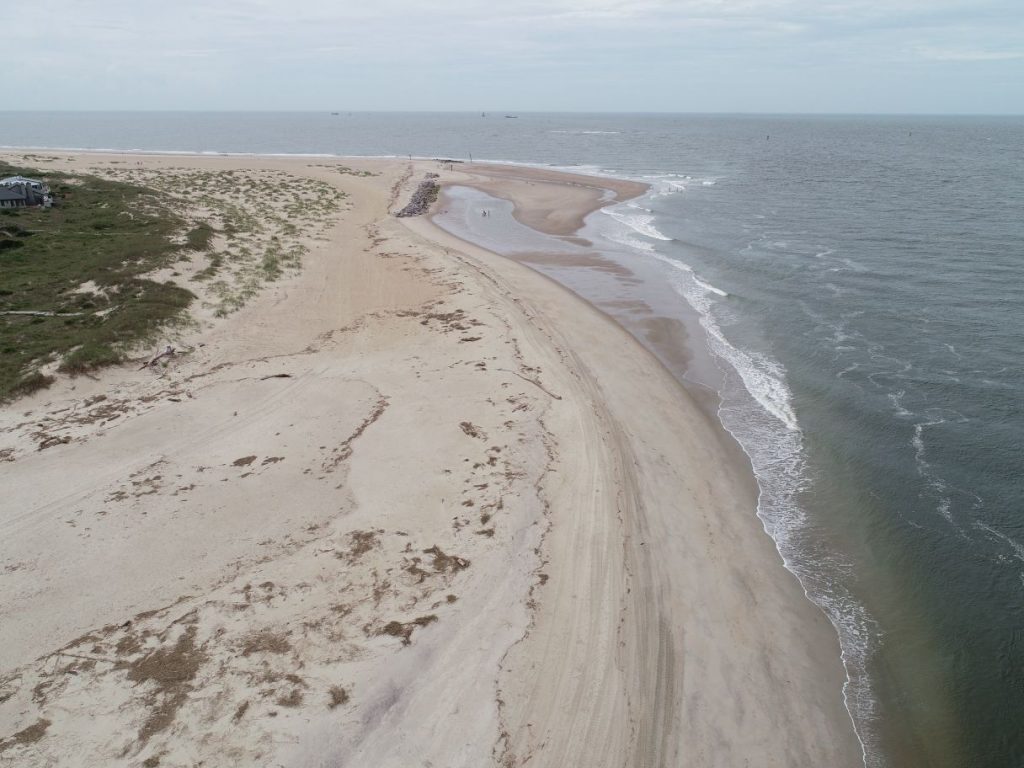 In addition to the east end, the Village was notified by a concerned citizen and representatives from the state port that the shoal is building up on the west end of South Beach near the terminal groin which is attracting beachgoers. The problem is that when a ship (even a small ship) passes that area a hydrodynamic effect occurs which violently draws the water out from shore and back into shore. This can be very hazardous for swimmers. Please pass this on to your family, visitors, and renters.
Public Safety Day – The Department of Public Safety will be hosting Public Safety Day on Wednesday, June 15, 2020, between 10:00 a.m. and 3:00 p.m. (tentative). Along with Bald Head Island's public safety personnel and apparatus, they'll have Brunswick County Sheriff's Office marine patrol boats, Airlink, Marine Fisheries, NC Wildlife, food, and activities for folks to enjoy at the Marina Park.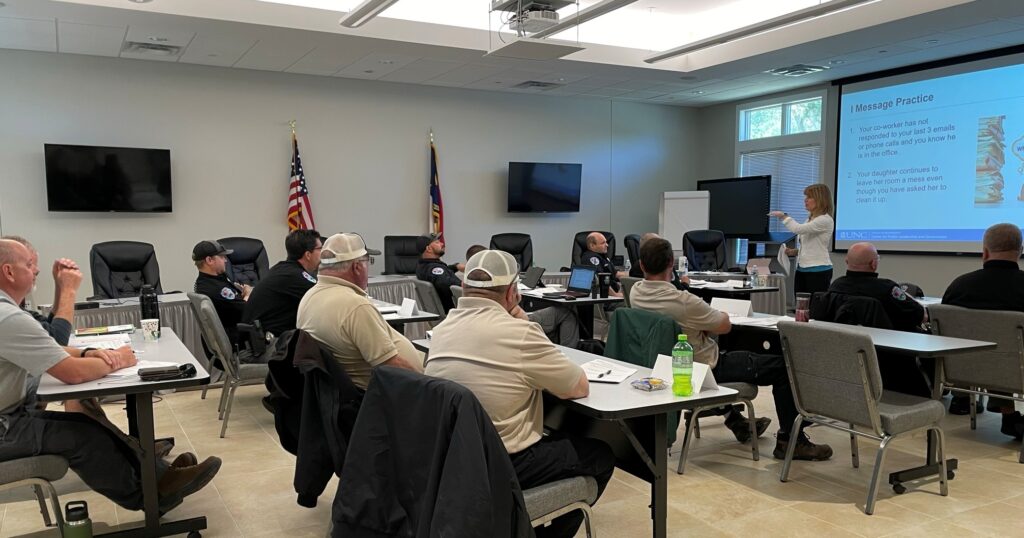 Supervisors Course – Several Village employees with a supervisory role completed the UNC School of Government's Fundamental Supervisory Practices course earlier this month. This course was taken over several months and is designed to provide supervisors with the critical knowledge and skills needed to be effective supervisors. Some of what the participants in the course learned included knowing more about themselves and their management style, and how that impacts their effectiveness, the critical employment laws that impact the workplace and how to create a safe, professional, and harassment-free workplace, how to work effectively in a diverse multi-generational workforce, and how to create an inclusive environment.
Public Safety Achievements – Lieutenant Scott Anderson recently received his drone pilot certificate. Having a pilot on staff will increase the Village's capabilities by allowing us to use drones to perform aerial surveys, assist with water rescues, and help with disaster response and recovery efforts. Congratulations Scott!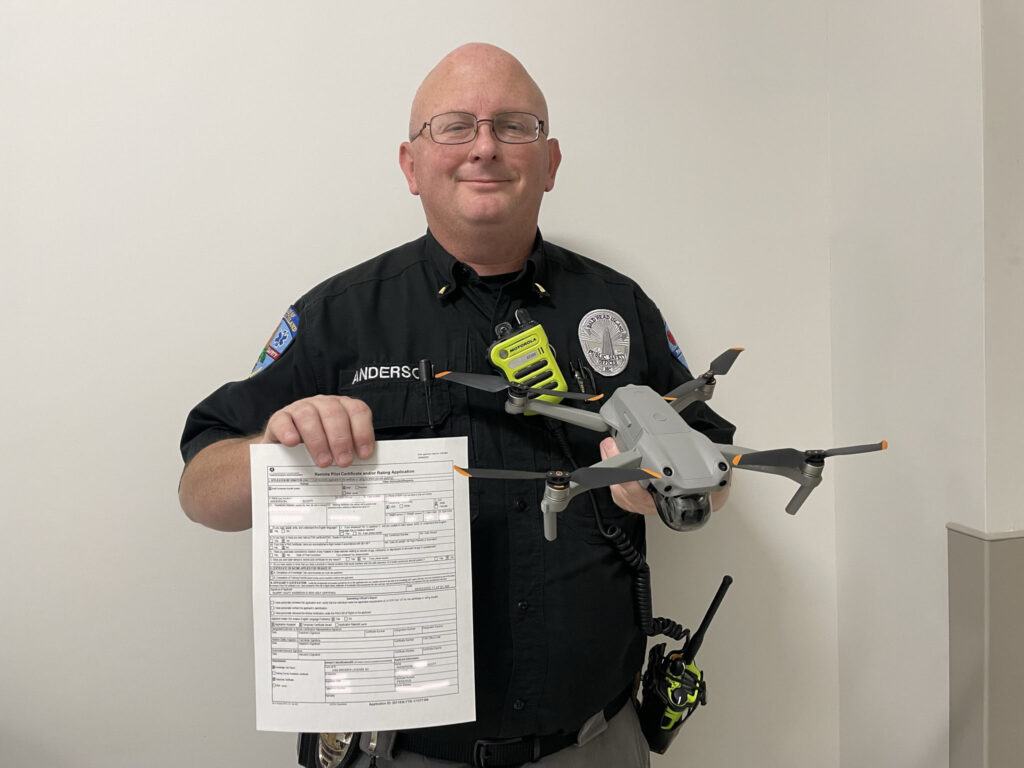 Lieutenant Steven Barger successfully completed the process that awarded him the professional designation of "Fire Officer" (FO). He is one of only 636 FOs worldwide! Congratulations Steve! For more information view our media release HERE.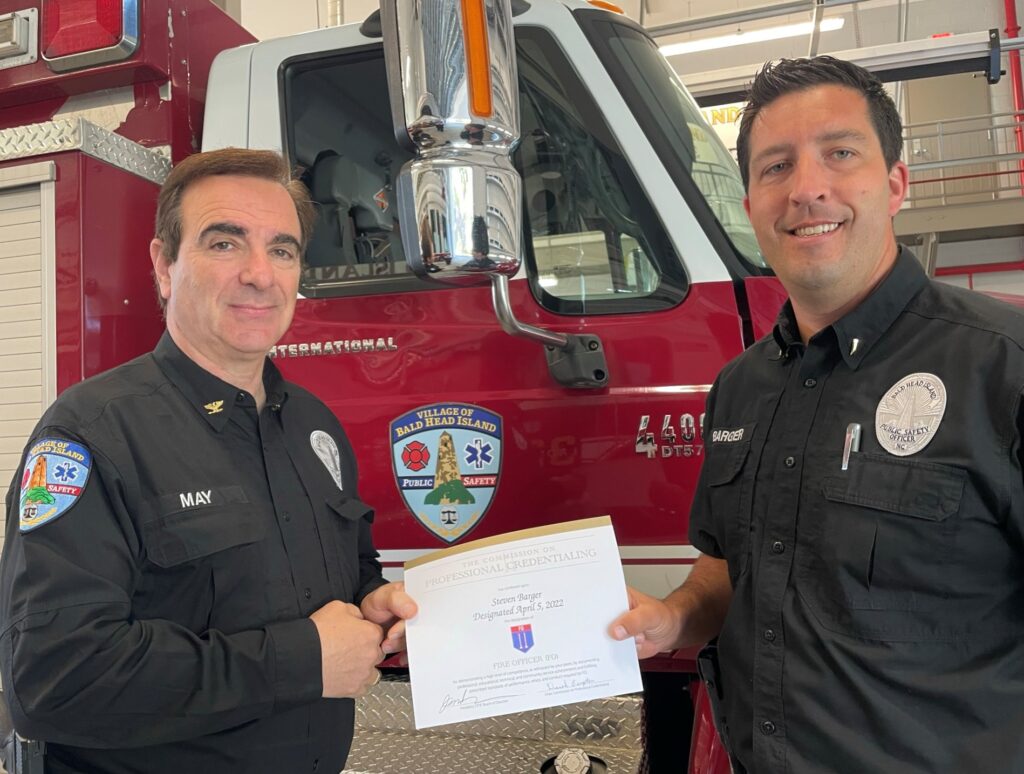 Updated 911 Guidance – The Village has been receiving inquiries from homeowners regarding how to call 911 if they are not on the island. The Village had previously advised folks to call the local 911 center where they are located, and that local center will have to go through a few steps to connect to Brunswick County 911 Call Center.
We checked with Brunswick County and were advised that this is one of the rare times the non-emergency phone number of (910) 253-7490 should be called. When you call, explain to the operator that you are calling from outside of Brunswick County, but that you own property on BHI, and you are reporting a possible crime (for example a suspicious person on your doorbell camera). This will be the quickest way for Public Safety to be dispatched. Remember, in almost all other circumstances when you need an officer to respond, CALL 911. These calls are recorded and are used for statistical purposes in determining how to allocate resources for the department and better serve YOU! For more information about calling 911 on BHI read our article HERE.
In addition to this update, the Village wanted to pass on information that was recently posted by the Brunswick County Sheriff's department in regard to accidental calls to 911. The message reads as follows:
If you're out enjoying the beach in your favorite beach chair this summer, please avoid putting your cell phone in the cup holder of your chair or follow the steps in THIS ARTICLE to turn the auto call option off – specifically on iPhones. Once again, as summer is approaching and the weather is beginning to warm up, our 911 Center is getting an increase in accidental calls.
If you do accidentally call 911, please do not hang up. Stay on the line and let the telecommunicator know it was an accidental call and you are safe. Please help us by passing this information along to family, friends, and neighbors.
Update from Duke Energy – Duke Energy is working hard to complete a multi-year power grid improvement project that will help harden our system serving Bald Head Island to storms and allow for isolation of outages and remote automatic repairs.
While a lot of the visible work on the island is wrapping up, there are important updates to our operating systems taking place now so we can fully leverage these upgrades in the near future.
You may continue to see our Duke team and contractors working in the following areas:
Fort Homes Trail area – Underground boring scope added to the project this year to complete back feeding option to enhance the overall project
South and West Baldhead Wynd areas – Cable pulling rigs and testing continue in this area
BHI Clubhouse – Switchgear upgrade and underground boring work
We are also anticipating the need for some small, isolated planned outages as we configure the new equipment. We will work to communicate this in advance to impacted customers.
We appreciate the community's patience and support as we continue this work.
If you have questions or feedback, you are welcome to contact Danielle Peoples at Danielle.Peoples@duke-energy.com.
The Village receives regular updates from Duke Energy which will be shared with our e-newsletter subscribers and posted on the Village's "Village Projects" webpage HERE.
REMINDERS:
Pine Straw Ordinance – Last month, the Council adopted an ordinance to regulate the use of combustible landscaping materials. The ordinance went into effect on May 1, 2022 (see the Village's announcement HERE for more info).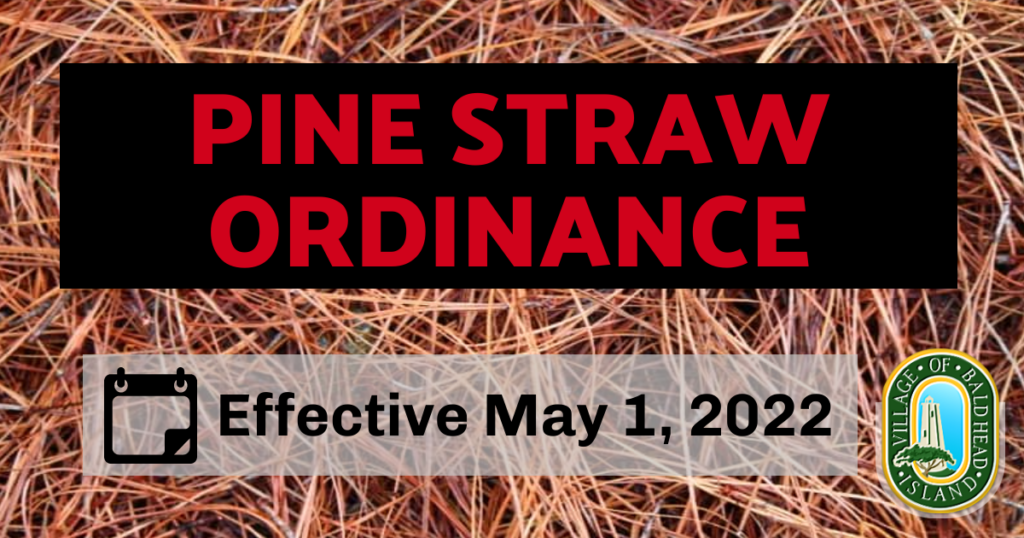 Free N95 Masks – Federally provided N95 masks are available at Village Hall, as supplies last. These supplies do not include child-sized masks at this time. Brunswick County Health and Human Services dispersed its full allocation of N95 masks to several municipal and senior center partners to improve access countywide. Learn more about N95 and other types of masks HERE. To learn more about where to find free N95 masks in Brunswick County go HERE.
Free At-Home COVID-19 Tests – Every home in the U.S. is eligible to order four free at-home COVID-⁠19 tests. The tests are completely free. Orders will usually ship in 7-12 days. Order your tests now so you have them when you need them. Order your tests through the United States Postal Service (USPS) at covidtests.gov. Find local testing sites HERE.
IPC/PO is closed on Saturdays – The Island Package Center & Post Office remains closed on Saturdays. First-class mail will be delivered to post office boxes every Saturday. We apologize for the inconvenience.