In this Issue:
The Village receives its first NFIP Community Rating Service class rating of 7 which will qualify BHI property owners for insurance discounts
A brief recap of the 9/18 regular Council meeting
New Village Council member
Hurricane Isaias debris removal update
9/11 Ceremony of Remembrance
Seasonal ferry schedule changes begin October 1, 2020
Voting in the 2020 election
REMINDERS – Golf cart registrations, annual chloramines to chlorine, drone flying, flu shot event, 2020 Census.
COVID-19:
Current case numbers for Brunswick County
Phase 2.5 could last until October 2, 2020
Please wear a face covering while in Village Hall and the IPC/PO
NFIP CRS Rating: After a few years of preparing, the Village of Bald Head Island has finally achieved a "Class 7" Community Rating System (CRS) classification from the National Flood Insurance Program. This means all Federal flood insurance policyholders on Bald Head Island are eligible for a 5-15 percent discount on their NFIP premiums. This community class change will become effective on October 1, 2020, and this information has been sent to all Write Your Own (WYO) Principal Coordinators and National Flood Insurance Program Direct Servicing Agents. Since this is a new designation for BHI, you may want to follow-up with your insurance agent to make sure that the discount is applied at renewal.
The CRS is a voluntary program for recognizing and encouraging community floodplain management activities exceeding NFIP standards. In addition to reducing flood insurance premiums, participation in the program aims to reduce flood damage to property, strengthens and supports the insurance aspects of the NFIP, and encourages a comprehensive approach to floodplain management. Each year, the Village must verify that it is continuing to perform the activities that are being credited by the CRS by submitting an annual recertification. In addition, the Village can continue to improve its class rating by undertaking new mitigation and floodplain management activities that earn more points.
Council Meeting Recap – The Village Council conducted its regular meeting on Friday September 18, 2020, at 10:00 a.m. Under New Business, the Village Council appointed Scott Gardner to fill the vacancy left by Councilor Jim Bonica (more information below), adopted a proclamation honoring Dr. Robert Timmons, adopted a proclamation recognizing this week as Constitution Week, adopted a resolution to Protect the Environmental and Economic Future of North Carolina's Coast (to urge President Trump to add NC/the mid-Atlantic area – to this memorandum), discussed the format of future Village Council meetings, changed the October regular meeting date to October 23, 2020, decided not to participate in the NC Marketing Credit program in favor of allowing communities whose revenues were more hard hit by COVID-19 to receive assistance, and adopted a budget amendment to transfer additional funds to Village Facilities Fund to continue the facilities improvements at the Contractor Services and Public Works campus.
The Village Manager updated the Council on several projects to include the new cell tower, contractor services site improvements, stormwater management, this fall's street maintenance and repair, IPC/PO improvements, utility communications upgrades, and Duke Energy's project. For up-to-date information about these projects and others, visit our Village Projects webpage HERE. Village staff updates this page regularly as we receive information and answer questions from the public.
A full account of these meetings can be found in the minutes which are posted HERE. Typically, minutes are posted with the agenda of the next month's meeting (ex. If you want to read the May meeting minutes, they will be found under the June regular meeting agenda).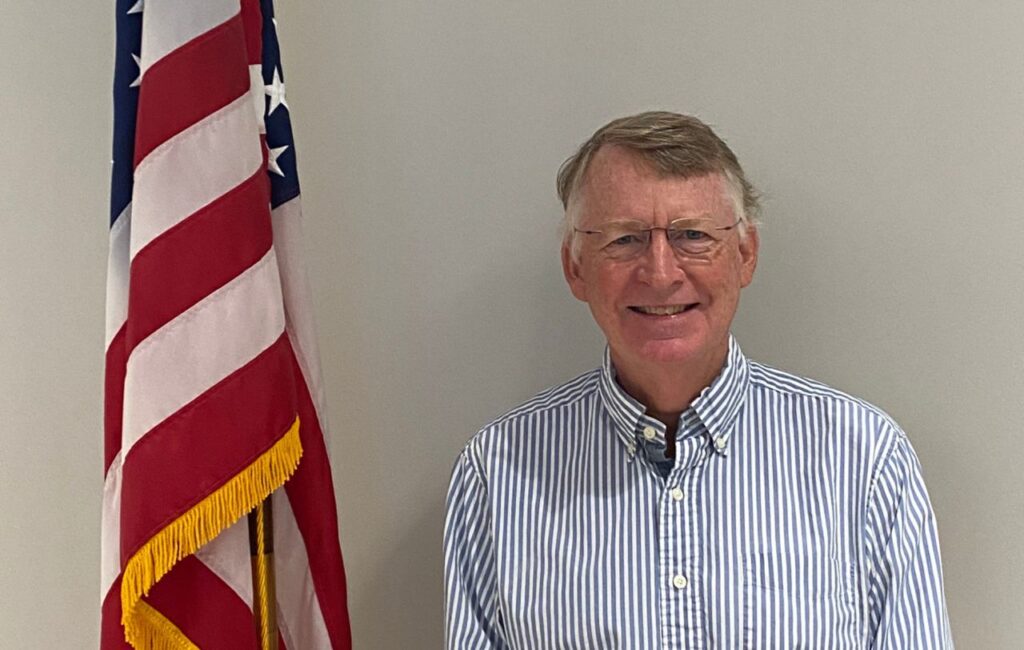 New Village Council Member – Scott Gardner was appointed Village Councilor at the Village of Bald Head Island's regular Village Council meeting last Friday. Councilor Gardner was nominated by Mayor Pro Tem Mike Brown and the vote to appoint him was unanimous (he was the only person nominated). Gardner and his wife Anne have owned property on Bald Head Island since 1997. Gardner is a retired executive with Duke Energy with over 30 years of service ranging from operations to more recently government affairs. On the island, Gardner and his wife have been involved with the various island entities. Gardner served six years on the Bald Head Island Club board, during his last year he was president of the board. At the Village, among other things, he was active in the Hurricane Florence Task Force and has served on the Planning Board. Brown said, "in my working with Scott, as a leader, I note that he is a strategic thinker, very open and takes a balanced approach to the various island interests and is looking forward to working with the Council and working in a collaborative effort to do what is best for the island." Councilor Gardner's term ends in 2021.
Hurricane Isaias Debris Removal: As of Friday, September 18, 2020, the Village's debris management contractor removed approximately 10,000 cubic yards of vegetative debris.
The Village would like to thank Susan Panousis, who is supervising the debris monitoring efforts, and other volunteers for their hard work. Thank you to Jay Adams, Brewse and Trisha Bernard, Jeanmarie Dellosso, Becky Guijarro, Tom Locke, Daniel Rex, and Craig Stanley who have been assisting Susan with debris monitoring. Thank you to Public Safety volunteers Brewse Barnard, Jim Bourdon, Cindy Early, and Mary Mears who have assisted with traffic control.

9/11 Ceremony of Remembrance: On the 19th anniversary of the attacks, the Village Chapel held a ceremony of remembrance for those who lost their lives in the September 11, 2001, terrorist attacks, the First Responders who died trying to save them, and those service members who have died since that time in defense of our freedom. Bald Head Island Public Safety officers were on hand to ring the chapel bell 19 times. Outgoing Assistant Village Manager Jeff Griffin gave a few remarks and the flag at Village Hall was lowered.
Seasonal Ferry Schedule: Bald Head Island Transportation, Inc. has released the seasonal ferry schedule it will be as follows:
Beginning on Thursday, 1 October 2020, the Regular Passenger Ferry will not make the 11:30 AM departure from the Island or the 12:00 PM departure from Deep Point, Monday through Thursday.
Also, beginning Thursday, 1 October 2020, the Contractor Ferry will not make the 5:30 PM departure from Deep Point or the 6:00 PM departure from the Island. Contractor tickets will be accepted from Contractors on the 5:30 PM and 6:30 PM regular ferry departures from the Island, Monday through Thursday.
Please consult current ferry schedules at www.baldheadislandferry.com for full details.
Voting in the 2020 Election: It is now 41 days until election day and Brunswick County Board of Elections has experienced a surge in requests for absentee ballots.  Please note that for this election only, absentee ballots do not require a notary to verify signatures.  All that is required is a witness aged 18 or older and that person does not have to be a notary. Islanders should not wait until the last minute to mail in your ballot since mail on the island can be delayed for a number of reasons.
If you choose to go to the polls, the Board of Elections is taking several precautions to keep folks socially distanced and areas clean to prevent the spread of COVID-19. Some polling places have changed this year to larger venues in order to spread out polling booths and accommodate voters. The polling place for Bald Head Island citizens has not changed. Citizens are encouraged to contact Brunswick County Board of Elections for any questions about voting. The Board of Elections website includes a comprehensive list of FAQs.
REMINDERS
COVID-19 Update
Current Case Numbers for Brunswick County – As of September 21, 2020, there are ­­­­1,554 positive cases of COVID-19 among Brunswick County residents. Of the positive cases, 1,429 are considered recovered, 92 are isolating at home, 7 are isolating at a hospital, and 26 are deaths associated to COVID-19.
There are 17 cases involving non-residents who tested positive for COVID-19 while visiting Brunswick County, resulting in their contacts having to quarantine as well; these cases are not reflected in the County's total case counts. Twelve of the cases are considered recovered, none of the cases are currently isolating at home. The County has transferred monitoring for three cases to the individuals' home counties, and two are deaths associated to COVID-19.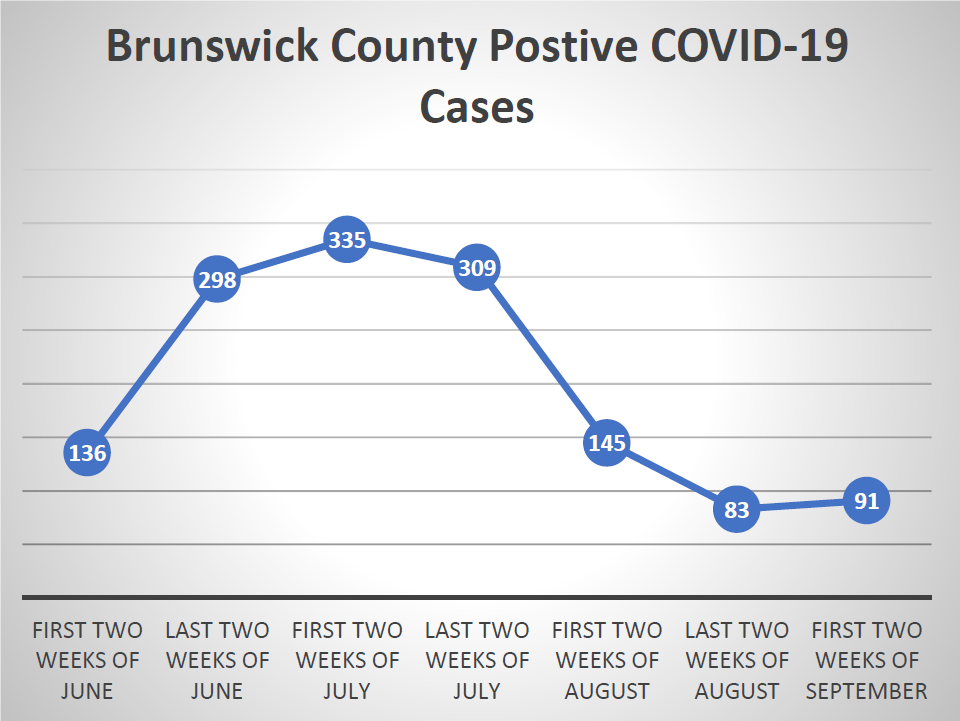 Last week, Brunswick County health services indicated that the number of cases per day has dropped significantly over the last few weeks and the percentage of positive tests has also dropped down to the 2-3% range. North Carolina's percentage positive number has also gone down to 5% which is the target number NCDHHS Secretary Mandy Cohen had set for the State some time ago.
NC could be in Phase 2.5 until October 2, 2020 – North Carolina transitioned into Phase 2.5 on September 4, 2020. This phase will last until at least October 2, 2020 unless the Governor repeals, replaces or rescinds his executive order by another executive order. Under this phase vulnerable populations are encouraged to stay at home. Per the Governor's Phase 2.5 Executive Order most folks still must wear face coverings/masks in indoor and outdoor public places where social distancing is not possible. The age requirement under Phase 2.5 will include children down to age 5 (it was age 11). Other changes from the Phase 2 order include:
Limits on mass gatherings will increase to 25 people indoors and 50 outdoors.
Playgrounds will be allowed to open.
Museums and aquariums can open at 50 percent capacity.
Gyms and other indoor exercise facilities can open at 30 percent capacity.
Capacity limits at restaurants and personal care businesses like hair and nail salons will stay the same. An additional Executive Order extended the 11 p.m. curfew on alcohol sales to October 3, 2020. Bars, nightclubs, movie theaters, indoor entertainment and amusement parks will remain closed. Large venues will still be subject to mass gathering limits.
FAQ's about the Phase 2.5 Executive Order can be found HERE.
The Village strongly recommends that folks continue to practice the 3 W's while in public and to be courteous to others.
Face Coverings in Village Buildings – Please remember to wear a face-covering while you are in the Island Package Center/Post Office and Village Hall. The Village is seeing increased foot traffic in both buildings and there is more staff present on the island so we would like to be careful not to have any of our workforce exposed. Outside of times when public meetings are held, the Public Safety Building remains closed to the public, and business is transacted by appointment only to protect our first responders. Flu shots will be given in the bays of the Public Safety Building (please go to the back of the building).