In this issue:
Recap of annual Village Council retreat.
Recap of Village Council regular meeting.
Planned power outage tomorrow.
Guidance on Knox Boxes.
BHI Named a 2022 Tree City USA by the Arbor Day Foundation.
NC Dept. of Environmental Quality holding a public meeting on private well testing for PFAS.
EVENTS & REMINDERS: Submit your input on the draft Commercial Area Master Plan by Friday, February 24, 2023, Cape Fear Badwater race (3/18)
Village Council Retreat – The Village Council conducted its annual retreat on Tuesday February 7 and Wednesday February 8. A range of topics was presented and discussed including:
Shoreline Management
Update from Greenburg Traurig (Village's Government Law & Policy Practice Advocate)
Update from Duke Energy on the future of energy in NC and its Grid Improvement Project
BHI Conservancy Environmental Contract Overview
BHI Comprehensive Long-Range Planning
Island Managers Forum
Village Department Head Presentations (Public Services, Finance, Public Safety, Human Resources, Public Information, Information Technology, and Development Services)
FY24 Prioritization Discussion
A written recap of the retreat can be viewed HERE. The retreat was broadcast via Zoom and recorded. The broadcast can be viewed HERE on YouTube and is broken down by topic. 
Some of these topics will be revisited as the Council works on the FY24 budget. The first workshop will take place on April 25, 2023, and other workshops could be scheduled later, if necessary.  The workshops will be open to the public and a notice will be posted at Village Hall, on the Village website, and sent to the sunshine list. 
Regular Council Meeting – Immediately after the second day of the retreat the Council conducted its regular meeting for the month of February. Here is a summary of the information shared and the actions that were taken at this meeting:
The consent agenda passed unanimously. It included minutes and a resolution awarding Robert Miller his badge and service sidearm. Miller served the Village of Bald Head Island Public Safety Department from September 30, 2015, until January 31, 2023.
Under new business, the Village Council adopted a resolution authorizing the Village to participate in the North Carolina Investment Pool and an ordinance establishing a special revenue fund for the collection and disbursement of fines and penalties. There was discussion on the installation of a butterfly garden on the property adjacent to the Village's Marina Park. The owners are preparing a list of plants that will be used and are checking with the Bald Head Association to make sure they are not invasive. The owners would like to temporarily use the water source at the park to water the plants as they are established. The Village Council requested to see plans to determine if the garden would interfere with the park.
Under the manager's report, Mr. Boyett reported that changes to his current permitting software is causing some issues with functionality, and he will be looking into changing software. He is expecting to view some demos and get some pricing. In follow-up to his retreat presentation, he said that sprinkler systems equate to a 5-10% discount on insurance.
Chief May reported that the Public Safety Officers continue to do a good bit of training during this time of year while the calls for service are slower. The department continues to get positive feedback about the radar sign, and he said that they will continue to change the location periodically. He said that the department has recently provided several rides to folks who have had their golf carts break down. He reported that Lt. Barger and PSO Sudderth will be running the Badwater race this year (31 miles of it). They are currently training for it and working on the plans for the next Public Safety Day which is expected to include a 3.2-mile race – for our Station 32.
In follow-up with questions received during his retreat presentation regarding possible contamination of recycling bins, JP McCann, Public Services Director reported that approximately one load of recycling per year gets rejected by the recycling facility.
IPC/PO Update –December package counts that came through the IPC/PO facility:
3,757 Total packages for January 2023 with a -21% decrease from the month before (4,758 packages).
9.7% decrease from the year prior when there were 4,160 total packages from January 2022.
Saturday's usage has averaged 24.75 customers since starting in January 2023.
UPS Contract Update – Status: ongoing.
FedEx (Ground) Contract Update – Status: ongoing.
Landscaping Project Update – Mr. Kim reported that the landscaping contractor would be transporting plants to the island and will be planting them over the next few weeks.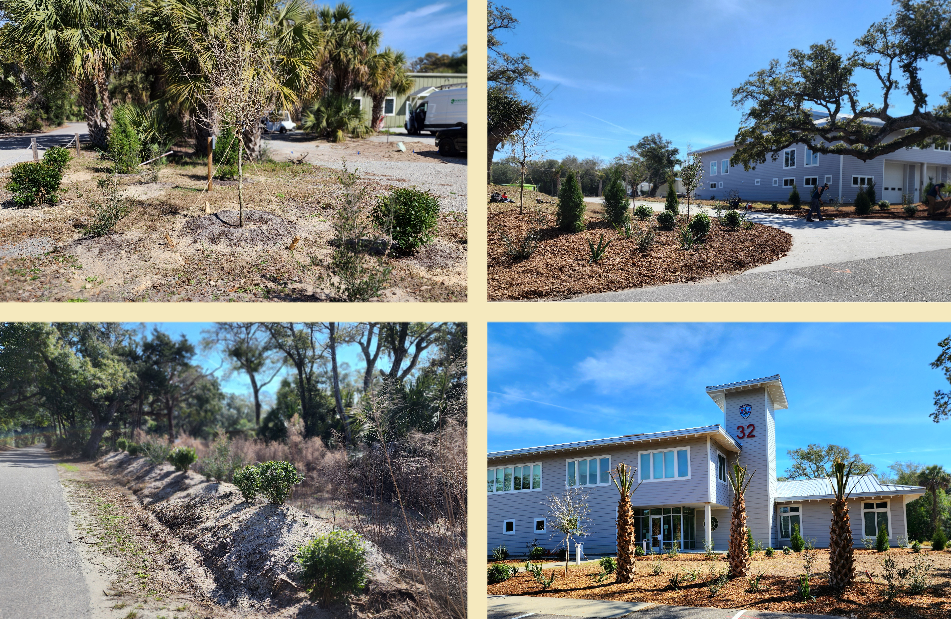 Shoreline Protection – The estimated date of completion for the WHNC (Wilmington Harbor Navigation Channel) Maintenance Dredging Project is now April 5th with 10 weather/mechanical downtime days included. They are now dredging Bald Head Island Reach 2. The updated estimated quantity before dredge was 760,000 cubic yards. The estimated material removed through January 30, 2023, was 71,675 cubic yards. The remaining material is estimated at 688,325 cubic yards.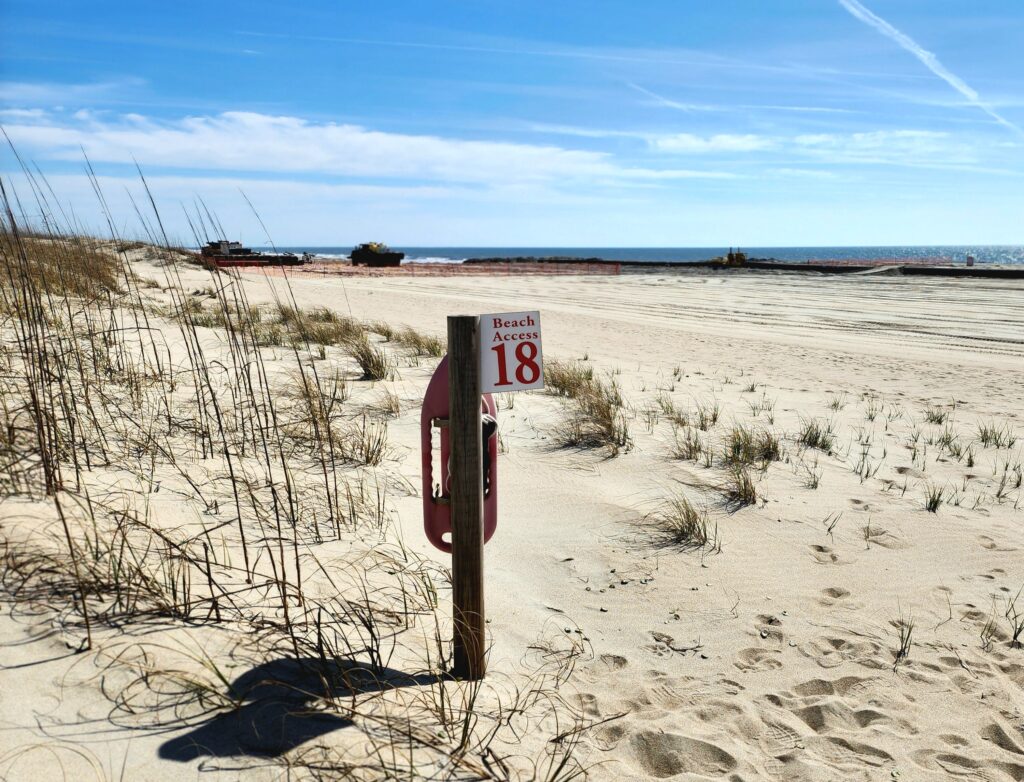 Please help the construction crew by being mindful of the construction fencing and signage. Do not go beyond any signage or barriers as doing so may place yourself and others in harm's way.
More information on this project, including a progress map and regular updates, can be found on the Village's website HERE.
Fort Holmes Historic Sign Update – Last month a resident (Rex Cowdry) brought up an issue with the wording on the Fort Holmes historic sign marker located behind Island Package Center off of Ballast Stone Alley. Mr. Kim said that he reached out to Chris Webb, Executive Director with Old Baldy to inquire about the origins of the sign. She informed him that Chris Fonvielle worked on the project. He's an author and retired history professor from UNCW. Mr. Kim is following up with him.
A full account of these meetings can be found in the minutes which are posted HERE. Typically, minutes are posted with the agenda of the next month's meeting (ex. If you want to read the December meeting minutes, they can be found under the January regular meeting agenda).
Planned Power Outage – There will be a planned power outage tomorrow in the vicinity of Lighthouse Landing, Colonel Rhett Trail and Dowitcher Trail starting at 10:00 a.m. and lasting about one hour. Affected property owner have been notified by Duke Energy. Per Duke Energy, there are going to be a few more planned outages before the grid improvement project wraps up at the end of March. The Village is not always notified of outages, so please make sure you are signed up to receive notifications from Duke Energy. You can sign up online HERE.
Knox Boxes – Knox boxes are small, steel boxes that are attached to the address bollards and homes on Bald Head Island. The box holds a key and an information sheet and can only be opened by the Public Safety Department with a secure key. Knox boxes give first responders access to your home or business in an emergency. First responders will be able to access your property when it matters most. Removing barriers to entry reduces injuries to responders and minimizes property damage.
New Property Owners: Check around your front entry and the address bollard to see if you have a knox box. If you have one, you will need to make sure that a copy of your current key and contact information are placed inside the box. You will need to fill out THIS FORM and return it to the Department of Public Safety with a copy of your current key. You can do this between 9:00 a.m. and 3:30 p.m. Monday through Friday. The Public Safety building is located at 273 Edward Teach Extension. If you do not have a knox box or you cannot locate one, please contact Public Safety to see if one has been purchased for your address. You can do that by calling (910) 457-5252 or emailing psadmin@villagebhi.org the PS administrative assistant. If there is not a box for your home, you will need to order one from the company. Then you will need to complete, THIS FORM, and bring a copy of the current key to the Department of Public Safety. To order a knox box go to the company website HERE. The correct box for BHI will be delivered to the Department of Public Safety.
Homes Near the Beach: The Village is finding that knox boxes that are located near the ocean are corroding over time. Please check your knox box to see if it looks corroded. If you are not sure, or if you need Public Safety to check it for you, you must submit a request so that we can obtain access to your property. You can have yours checked by emailing Chip Sudderth at csudderth@villagebhi.org.
If your knox box needs to be replaced you will need to order a new one from the company (website HERE) and provide the Department of Public Safety with a copy of your current house key and the completed FORM.
All Property Owners: For the knox box program to be successful we need your help in making sure the keys and contact information in the box are up to date and that your knox box is not rusted or corroded so that it can be accessed if it is ever needed.
PLEASE NOTE: Public Safety will not use the Knox box for any other reason. Public Safety cannot unlock your door to allow homeowners, relatives, guests, or renters into the home if they are locked out.
If you have any questions, please contact the Department of Public Safety at (910) 457-5252 or psadmin@villagebhi.org.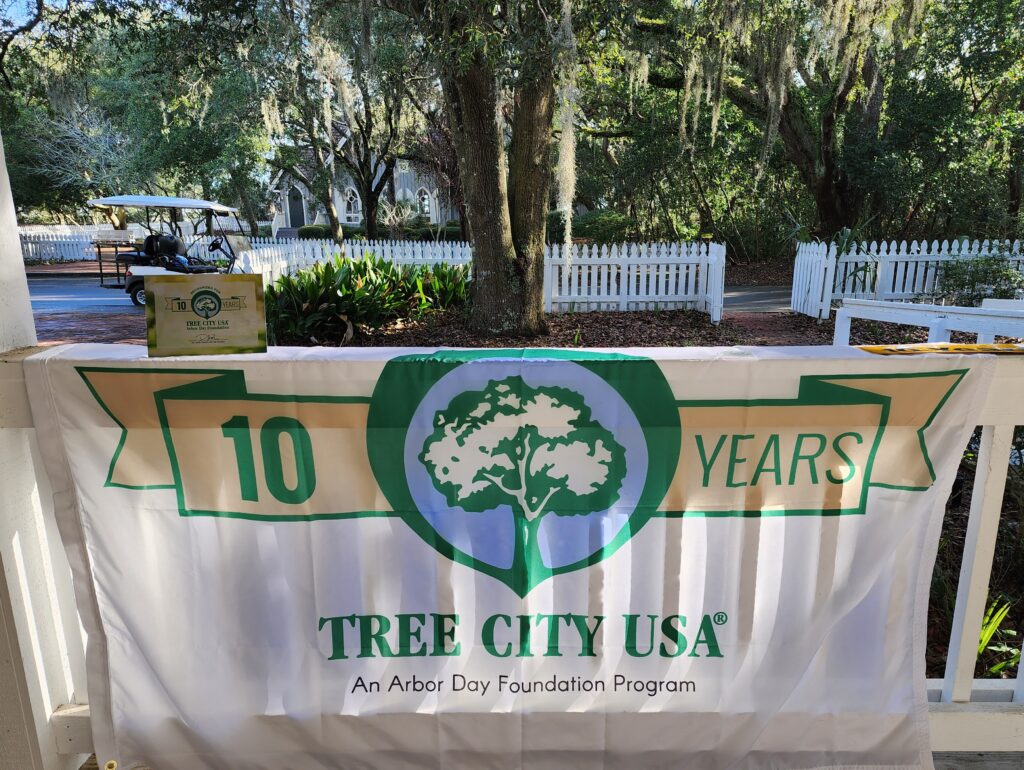 Tree City USA – For the 10th year in a row, Bald Head Island was named Tree City USA. On February 6, 2023, the Arbor Day Foundation released its list of cities who received this honor for their commitment to effective urban forest management. To achieve this recognition, the Village had to meet the program's requirements which includes having a tree care ordinance, dedicating an annual community forestry budget of at least $2 per capita, and hosting an Arbor Day observance and proclamation. Over the last two years, the Village has created videos (here and here) in celebration of Arbor Day. This year, the Village plans on celebrating in a more hands-on manner, by installing an "appreciation tree" in the Island Package Center and Post Office. Stay tuned for more information in mid-April.
NCDEQ Public Meeting – NC Department of Environmental Quality is holding a community information meeting on February 28 in Rocky Point, NC. DEQ staff will share updates on private well sampling for PFAS contamination in Pender, Columbus, New Hanover, & Brunswick counties. DEQ staff will also answer questions from the public. More information here: http://bit.ly/LCFWells
REMINDERS:
Input on Commercial Area Master Plan – If you were not able to the Commercial Area Master Plan Committee's (CAMPC) February 16th meeting in person or online, a recording of the broadcast can be viewed online. The video is posted at the bottom of the CAMPC webpage HERE. The CAMPC is accepting input on the draft plan through next Friday, February 24, 2023. There is a contact button below the video on the CAMPC webpage that enables you to email all the committee members at once.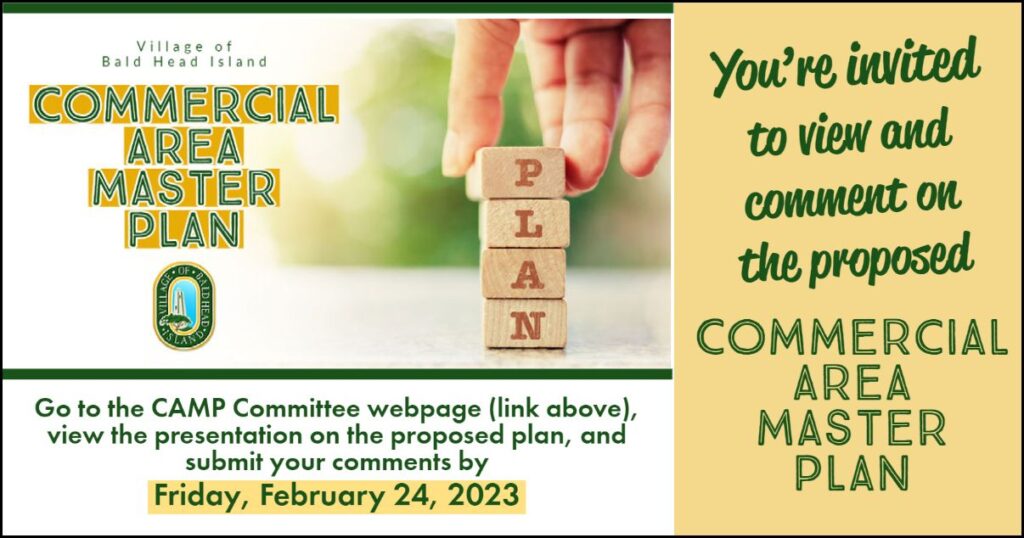 Cape Fear Badwater – The next Cape Fear Badwater Ultra Running Race is scheduled for Saturday, March 18, 2023. This all-day race will take place on several Village wynds, and Public Safety will be providing traffic control for this event. Other activities for the participants will be taking place on the Island beginning Friday through Sunday. Approximately 140 runners (registration is capped at 200) are expected to participate this year. More information about the race can be found HERE.