In this Issue:
A brief recap of the 1/15 regular Council meeting
Village's response to BHITA moving forward with LGC approval
Marina channel entrance maintenance to begin this week
An update from Duke Energy
An opportunity to provide input on the Southeastern NC Regional Hazard Mitigation Plan
REMINDERS: Wilmington Harbor Maintenance Project, free mulch still available at Island Mini Storage, annual golf cart registration
COVID-19:
North Carolina will remain under a modified stay at home order through January 29, 2021
Current Brunswick County case numbers
Brunswick County updates vaccination plans to provide vaccines to people 65 and older.
REMINDER: Village Hall remains closed to the public until further notice
Council Meeting Recap – The Village Council conducted its regular meeting on Friday, January 15, 2021, at 10:00 a.m.
Under Old Business, the Village Council continued to discuss its concerns with the process of transferring ownership of Bald Head Island Transportation, Inc. to Bald Head Island Transportation Authority (BHITA). See the item below regarding Council's follow-up to this discussion. There was a discussion on the lack of bids received for the construction project at Contractor Services to build storage buildings and the office building. The Village will be putting it out for bid a second time. Construction is expected to start in February.
Under New Business, the Village Manager and Council discussed possible topics for the upcoming annual Council retreat which will be taking place on February 2, 2021 (the February regular Council meeting will take place immediately after). Topics included organizational structure changes in the Public Safety, Public Works, and Utilities departments wastewater treatment plant capital needs, required updates to the Village's development ordinance, road paving prioritization method, Hurricane Florence Task Force action item updates (including stormwater management), proposed glass crusher, and a shoreline protection update. Village Council appointed Councilor Hill to serve as the Village's delegate to the Cape Fear Council of Governments. The Village Manager requested that Council extend the emergency pandemic paid sick leave policy for Village employees, it expired on December 31, 2020, and provides 80 hours of emergency sick leave for employees under certain conditions. Village Council adopted this policy update unanimously.
The Village Manager updated the Council on several items to include COVID-19, BHI marina channel maintenance, the Wilmington Harbor Maintenance project, stormwater management, and the Crown Castle cell tower. Updates that are not specifically mentioned in this issue of the Village's Voice, can be viewed on the Village's projects webpage HERE.
A full account of these meetings can be found in the minutes which are posted HERE. Typically, minutes are posted with the agenda of the next month's meeting (ex. If you want to read the December meeting minutes, they will be found under the January regular meeting agenda).
BHITA Update – At last Friday's regular Council meeting the Village Council continued to discuss its concerns with the process of transferring ownership of Bald Head Island Transportation, Inc. to Bald Head Island Transportation Authority (BHITA). As a result, the Council submitted THIS LETTER to Treasurer Folwell indicating that some of the Council's concerns have not been addressed and requesting that the Local Government Commission (LGC) defer consideration of Bald Head Transportation Authority's bond application for a period of not less than six months.
The Village Council also requested that during the six-month period the BHITA should:
Provide access to public records via an electronic document room or similar platform;
Conduct public meetings to provide details and information concerning the proposed transaction. These meetings should occur, at a minimum, in Southport and at Bald Head Island (should pandemic conditions permit), and/or via Zoom or similar technology;
Provide an opportunity for verbal and written questions and comments from the public concerning the proposed transaction; and
Provide a process for Authority consideration and meaningful response to questions, input and concerns from the public.
Marina Channel Maintenance – The Village has received additional grant funding from the State's Shallow Draft Inlet Fund to continue to perform maintenance dredging at the Bald Head Island Marina channel entrance. This work will begin this week and will last approximately two weeks. Material from the channel and the bypass area on the south side of the channel will be placed on the shoreline along Row Boat Row beginning at the most northern point that the Village is permitted to place sand which is near the area of the "twin towers." This work will not affect the operation of the ferries and barge.
Duke Energy Update (submitted by Duke Energy) – Duke Energy is working hard to make sure the energy infrastructure serving the Bald Head Island community can reliably serve customers now and in the future. Improvements will help harden our system to storms and allow for isolation of outages and remote automatic repairs.
There are some key upgrades coming this year to complete the comprehensive enhancements for the island's electrical grid.
We'll soon be adding three automatic switches that have been custom manufactured for the island. This solution is a first of its kind for Duke Energy in the Carolinas and will allow us to automatically reroute power with the underground system.
We continue to appreciate your patience as we've worked hard to upgrade the island's energy grid. We're committed to restoring work locations and managing impacts to the island's natural environment. We'll keep you informed of our final phases of the improvements.
If you have questions or feedback, you are welcome to contact Danielle Peoples at Danielle.Peoples@duke-energy.com.
The Village will be receiving regular updates from Duke Energy which will be shared with our e-newsletter subscribers and posted on the Village's "Village Projects" webpage HERE.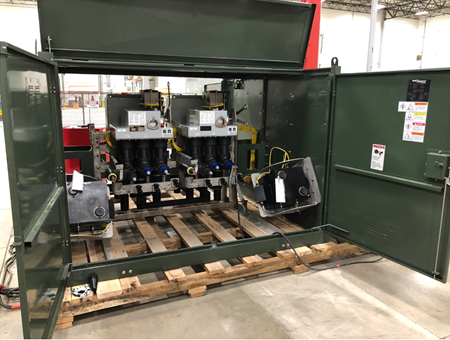 Public Meeting on the Southeastern NC Regional Hazard Mitigation Plan – A final draft of the Southeastern NC Regional Hazard Mitigation Plan is available for review and your feedback is requested regarding this plan. An online public meeting will be held on Thursday, January 28, 2021 from 6:00 p.m.– 7:00 p.m. to present the plan and its findings and recommendations and to answer any questions about the plan from the public. Feedback received at this meeting will be reviewed, considered, and potentially used to modify the plan if needed.
Registration is required so if you are interested in attending this meeting, please sign up at the link provided below.
https://zoom.us/j/98414113440?pwd=YjZUbWk5Y1JBNWgxdTJUbXl4aTRwUT09
A draft of the plan can be viewed at the following link: Southeastern NC Regional Hazard Mitigation Plan
Should you have any questions about the plan, or if you are unable to attend the public meeting, but wish to have your comments considered, please email Nathan Slaughter at nslaughter@espassociates.com or call 919-415-2726.
The Village Council will be considering adoption of this plan at its February 2, 2021 regular meeting.
REMINDERS
Wilmington Harbor Maintenance Project – This project was projected to begin construction today, January 19, 2021. The dredge Ohio has arrived and sand pumping could start any time now. Please follow the Village's updates on THIS WEBPAGE. If you have property near the project area and will have renters, this page will give them an idea of what to expect during construction.
Free Mulch – Mulch still available for pick-up at Island Mini Storage (2 Edward Teach Extension).
Annual Golf Cart Registration – Annual golf cart registrations are due by January 1st of each year. If you have still not registered your golf carts, you can do so through the online registration portal HERE. If you select the option to pick up the new sticker at the Public Safety Department, please allow at least 48 working hours for processing by administrative staff before going by to pick it up. Note that the 48-hour processing does not apply on weekends and/or holidays. Please be patient as it is currently taking a while to process registrations before they are mailed. The Village Public Safety Department typically has a grace period up until February 1st before citations are issued.

If you have any specific questions about the annual registration process please feel free to contact Elizabeth Gray, Administrative Assistant, at 910-457-5252 or by e-mail at psadmin@villagebhi.org.
COVID-19 Update
NC Under a Modified Stay at Home Order through January 29, 2021 – Under this order people must stay at home between 10 p.m. and 5 a.m. Travel to and from work; to obtain food, medical care, fuel or social services; or to take care of a family member is exempted. Certain businesses are required to close to the public from 10 p.m. until 5 a.m. each night. For more information view THIS FLYER or these FAQs.

Current Case Numbers for Brunswick County – As of January 19, 2021, there are 5,792 positive cases of COVID-19 among Brunswick County residents. Of the positive cases, 4,548 are considered recovered, 1,143 are isolating at home, 19 are isolating at a hospital, and 82 are deaths associated to COVID-19.
The latest NC County Alert System report indicates that 84 out of 100 counties in North Carolina are "red" which indicates critical community spread. Brunswick County is included in the red counties.
Case numbers are updated daily on Brunswick County's dashboard on THIS WEBSITE.
Vaccine Availability – Last Thursday, North Carolina Department of Health and Human Services announced that all health care workers and anyone 65 years and older will be next to receive COVID-19 vaccines after updating its vaccination plan in response to new guidance from the Centers for Disease Control and Prevention. In response, Brunswick county announced that Brunswick County Health Services, Novant Health and Dosher Memorial Hospital are updating their vaccination plans to align with the state plan. However, individuals are asked to remain patient as vaccine availability still remains limited in Brunswick County.
At this time, the County is asking that community members ages 65 and older and health care workers who are interested in receiving the COVID-19 vaccine sign up for a Novant Health MyChart account. Signing up for a MyChart account does not mean you will immediately receive a notification to schedule an appointment. You will be contacted through your MyChart account and your registered email when you can start scheduling an appointment.
The number of appointments available at the clinic depends on the number of vaccines the state sends to the county every week. Most appointments at the vaccination clinic are already booked through Friday, Jan. 22, so individuals who create an account now should anticipate that any available appointments they are notified about will fall after this date.
To read the County's full announcement on the expansion of vaccine to 65+ individuals click HERE. Additional information about vaccines in Brunswick County can be found on the County's vaccine webpage HERE.
REMINDER
Village Hall – Out of an abundance of caution, due to recent exposure and increased positive COVID-19 cases in Brunswick County, Village Hall has been closed to the public until further notice due to minimal staffing with remote-flex work schedules. If you have business with the Village, we ask that you please use our online options, e-mail, or call for an appointment. Please call 910-457-9700 and the auto-attendant will direct you to the appropriate department. General questions can be e-mailed directly to public.information@villagebhi.org. Utility payments are to be dropped off in the box on the porch at Village Hall. Notary services are available at the IPC/Post Office.