Key information
COVID-19 Updates:
North Carolina will be under a modified stay at home order effective Friday, December 11, 2020, through January 8, 2021
Current case numbers for Brunswick County
Brunswick County is now orange and has "substantial community spread" according to the COVID-19 County Alert System
Village Hall remains closed to the public
Reminders:
Village Council regular meeting tomorrow at 11:00 a.m.
Free mulch still available at Swan's Quarter
Annual golf cart registrations are due by January 1, 2021
COVID-19 UPDATES
Modified Stay at Home Order – Today, Governor Cooper announced that he has signed an executive order (E.O. 181) that will place the state under a modified stay at home order and will require nighttime closure for certain businesses and activities for all North Carolinians during overnight hours, effective Friday, December 11, 2020, at 5:00 p.m. The executive order will be effective through January 8, 2021, unless the Governor repeals, replaces, or rescinds his executive order with another executive order.
Major changes under this order include:
Certain businesses and facilities are ordered to close to the public between 10:00 p.m. and 5:00 a.m. (the "Night-Time Public Closure Period").
This includes restaurants (with exceptions for take-out and delivery, as noted below), bars, entertainment venues, parks, museums and aquariums, certain retail establishments, and other businesses and facilities specified below and in the Order.
All individuals in North Carolina must stay at home or the place they will remain for the night between 10:00 p.m. and 5:00 a.m. (the "Stay at Home Period"), unless an exception applies.
The sale and service of alcoholic beverages is prohibited for on-site consumption between the hours of 9:00 p.m. and 7:00 a.m.
Events or convenings outside of the home must end by 10:00 p.m. and guests must leave the establishment and travel home or to the place where they will stay for the night.
The capacity limitations on certain businesses, indoor and outdoor gathering limits, and other public health measures implemented by previous executive orders are extended through January 8, 2021.
Restrictions and requirements that remain under this order include:
The gathering limits remain at ten (10) individuals for indoor settings and fifty (50) individuals for outdoor settings.
The limitations on certain businesses, sanitation standards, and other public health restrictions outlined in the Phase 3 Executive Order and NCDHHS Guidance remain in effect.
A face covering is still required in all public indoor settings if there are non-household members present, regardless of the individual's ability to maintain social distance. Face coverings continue to be required in public outdoor settings if individuals are unable to maintain six feet of social distance from non-household members.
Retail business locations with more than 15,000 square feet of interior space must continue to have a worker at each entrance open to the public, who is responsible for enforcing the executive orders' face covering and capacity limitations.
Click HERE to review the executive order. Click HERE to review the Frequently Asked Questions about this order.
Brunswick County Case Numbers – As of December 8, 2020, there are 3,422 positive cases of COVID-19 among Brunswick County residents. Of the positive cases, 2,671 are considered recovered, 673 are isolating at home, 12 are isolating at a hospital, and 66 are deaths associated to COVID-19.
There are 22 cases involving non-residents who tested positive for COVID-19 while visiting Brunswick County, resulting in their contacts having to quarantine as well; these cases are not reflected in the County's total case counts. Thirteen of the cases are considered recovered, none of the cases are currently isolating at home. The County has transferred monitoring for three cases to the individuals' home counties, and two are deaths associated to COVID-19.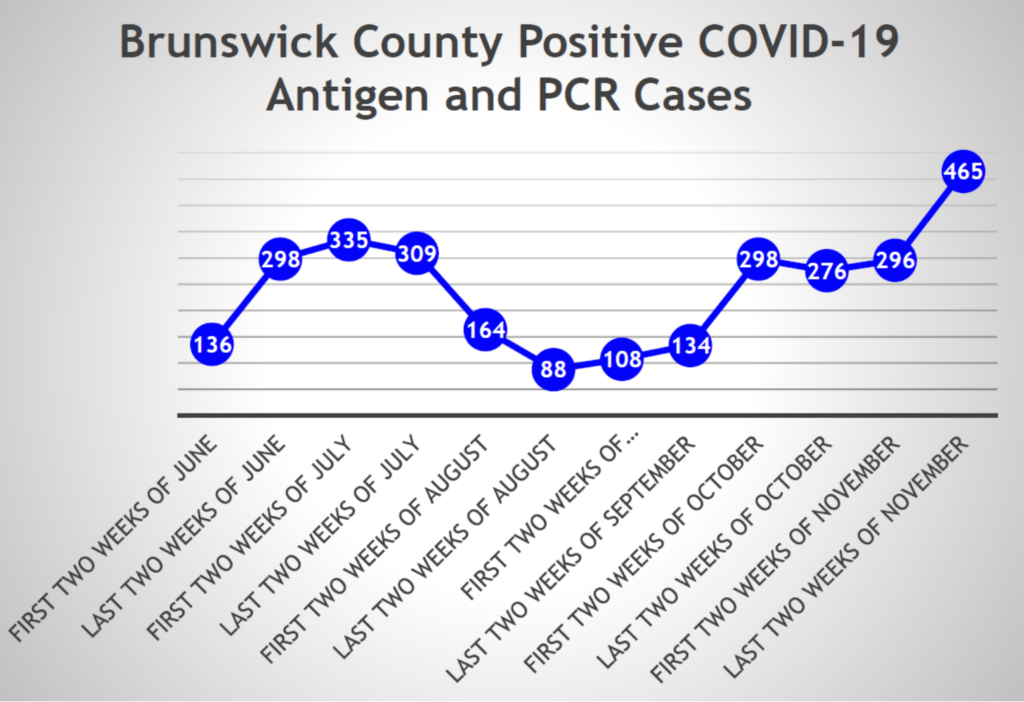 County Alert Status – Brunswick County is now identified as an orange county or a county that has "substantial community spread" according to the COVID-19 County Alert System latest report. There are now 48 counties that are identified as red, or with critical community spread. That has more than doubled from the 20 red counties identified on November 23rd before the Thanksgiving holiday. There are 34 orange counties as compared to 42 counties in the last report.
The state has reported more than 400,000 COVID-19 cases since the pandemic began in March with 4,670 new cases on Tuesday. The seven-day average for new daily cases is a record-high 5,234. Hospitalizations have also been steadily rising statewide according to the News & Observer.
Village Hall – Out of an abundance of caution, due to recent exposure and increased positive COVID-19 cases in Brunswick County, Village Hall has been closed to the public until further notice due to minimal staffing with remote-flex work schedules. If you have business with the Village, we ask that you please use our online options, e-mail, or call for an appointment. Please call 910-457-9700 and the auto-attendant will direct you to the appropriate department. General questions can be e-mailed directly to public.information@villagebhi.org. Utility payments are to be dropped off in the box on the porch at Village Hall. Notary services are available at the IPC/Post Office.
REMINDERS
Council Meeting – The next Village Council regular meeting is tomorrow, December 9, 2020, at 11:00 a.m. The agenda can be found HERE. Space is limited in the meeting room due to COVID-19 restrictions. Those interested can listen-in by calling 1-855-369-0450 use pin # 41787483.
Mulch – Mulch is now available for pick-up at the Swan's Quarter site FOR FREE (Swan's Quarter is next to Bald Head Island Club).
Annual Golf Cart Registration – Annual golf cart registrations are due by January 1st of each year. You can register your golf carts through the online registration portal HERE. If you select the option to pick up the new sticker at the Public Safety Department, please allow at least 48 working hours for processing by administrative staff before going by to pick it up. Note that the 48-hour processing does not apply on weekends and/or holidays. If you have any specific questions about the annual registration process please feel free to contact Gloria Agnew, Administrative Assistant, at 910-457-5252 or by e-mail at psadmin@villagebhi.org.