POST-STORM
Debris – Like Hurricane Dorian, Isaias did not cause enough damage to require collection of construction debris or hazardous waste like golf carts and batteries. Residents are to place vegetative storm debris ONLY on the side of the road. The Village will be picking up debris on public roads and private roads. Make sure debris piles do not block the road or anyone's visibility while driving. Do not cover bollards or any utility/communication equipment. There is no need to put in individual work orders as Public Works and the debris management contractors will make their way through the Village and do more than one pass.
For non-vegetative debris please contact a contractor (BHA has a list of providers). Public Works will not be accepting any non-vegetative debris including C&D and treated wood.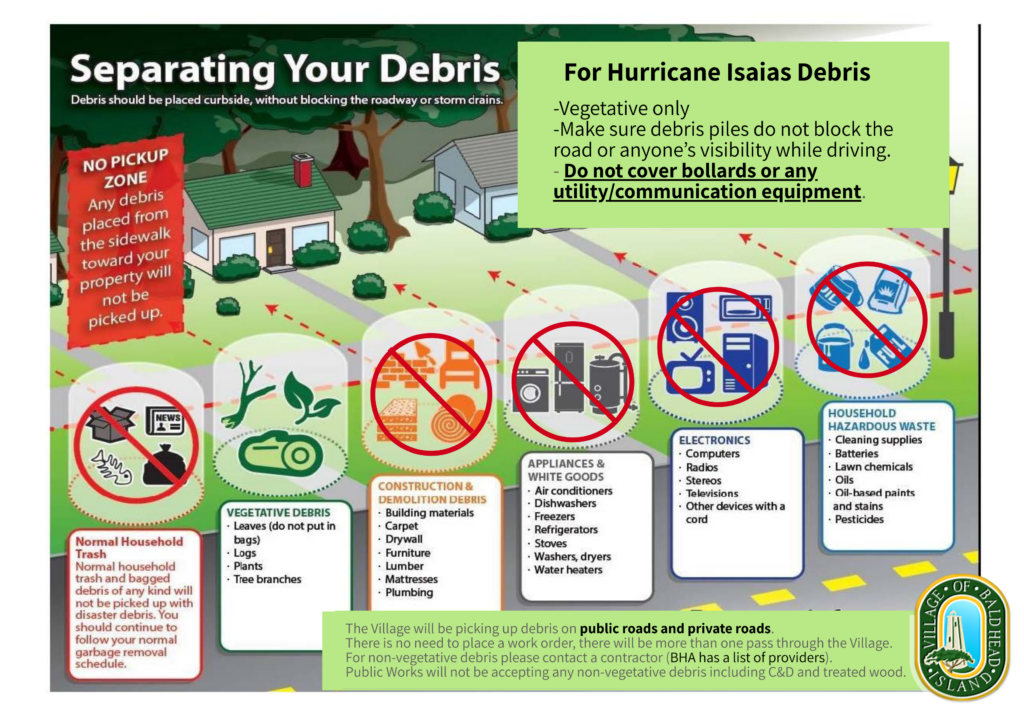 Click HERE to download the flyer.
Damage Assessment – The damage assessment is complete and is entered into the Crisis Track system. Here are the results:
Residential: Commercial:
115 properties affected 1 property affected
8 properties have minor damage
10 properties have major damage
Total damage estimate: $989,500
Individual property owners who received damage as a result of Hurricane Isaias can still self-report their damages by clicking HERE.
These damage assessments are used to compile data that is then used by the State of North Carolina to determine if the damages from Hurricane Isaias have reached a level that would qualify Brunswick County for any federal assistance. Federal Assistance can be either Public Assistance (PA) relating to infrastructure and government services (as well as some non-profit agencies) or Individual Assistance (IA) which is assistance that directly assists the residents of the county.
Federal Programs and funding are typically not made available without these damage assessments. Homeowners will still need to report damages to their individual insurance companies and will still have to apply to any programs that become available.
Tornado – National Weather Service Wilmington was on the island yesterday to survey the area. According to the Public Statement posted last night, "the survey team found significant damage to swaths of vegetation which started near the East Beach area of Bald Head Island where a strong waterspout moved onshore. The tornado caused damage to homes including roof loss and blown in windows as it moved toward the northwest. The tornado moved across Bald Head Creek into the Dogwood Ridge Trail area where some of the most extensive damage was found. The tornado then crossed portions of Cape Creek and across the Cape Fear River coming onshore again near West Bay St.[Southport]." NWS determined that the tornado rated as an EF2 with an estimated maximum wind speed of 115 mph. Click HERE to view a map with links to some photos taken by NWS during the survey.
Swimming is not advised for Brunswick Beaches – Brunswick County beaches, including Bald Head Island, are under a precautionary advisory due to the conditions from Isaias which could cause increased levels of harmful bacteria in our coastal waters that can cause illness. More information about the advisory HERE.
UPDATE: The State will not be able to give the "all clear" until early next week as samples come in. This advisory is not a law, so it is not illegal to swim. It is advising folks to make an educated decision before they go in the water. As days go by after the storm, there is less risk. There is also less risk the further away you are from Oak Island (which is where the storm surge was bad). If you do go in the water and experience GI issues or rash tell your physician where you were swimming. Call 910-457-9700 ext. 1025 if you have any questions.
THE ADVISORY WAS LIFTED ON 8/11/2020
https://deq.nc.gov/news/press-releases/2020/08/11/precautionary-swimming-advisory-lifted-waters-brunswick-county