Key information:
Major barge service interruption March 20 – March 28
USACE Colonels tour Wilmington Harbor Maintenance Project
COVID-19 Update
NC remains under an executive order including a mask mandate through March 26, 2021
Vaccinations are still being given to Groups 1 through 3, Group 4 set to begin 3/24.
Brunswick County Case Numbers
Reminders:
Road work set to begin soon, look for scheduling updates and road closings/detour info
Village Hall remains closed to the public until further notice
Major Barge Service Interruption – Bald Head Island Limited, LLC, has announced that required barge ramp maintenance is scheduled to take place March 20, 2021, through March 28, 2021. Limited is asking barge customers to stock up as much as possible prior to March 20, 2021. Only essential items will be carried to the island on the passenger ferry during the maintenance period. This includes bulk quantities of perishable food items, emergency repair items, as opposed to construction or maintenance items, which will not be allowed on the ferry. Pre-staging of refrigerated trucks on-Island may be required.
The Village is preparing for this service interruption as it will impact solid waste and recycling service and the Island Package Center and Post Office. Islanders should not expect any changes in solid waste removal service as the Village is expecting to have extra containers on-hand to handle what would normally be transported off-island. BHI Limited's warehouse has indicated that it will do everything it can to get all packages delivered to the IPC daily during the maintenance period. The exception to this will be larger items like TVs, mattresses, and any items that are greater than 48" and/or will not fit in a dolly.
Wilmington Harbor Maintenance Project – Last week, leaders from the United States Army Corps of Engineers (USACE) came to Bald Head Island to tour the Wilmington Harbor Maintenance Project. South Atlantic Division Commander, Colonel Jason Kelly, and Wilmington District Commander, Colonel Ben Bennett met with Mayor Sayre and discussed the ongoing dredging operations which are being performed by Great Lakes Dredge and Dock via a contract with the USACE.
As of yesterday, Great Lakes Dredge and Dock had just passed Beach Access 26B and are located near the west end of Brown Pelican Trail. According to USACE's latest map, the project will be completed by March 30, 2021. Please follow the Village's updates on THIS WEBPAGE. The page includes progress maps and photos of the project site and is being updated by the Army Corps of Engineers and Village staff regularly.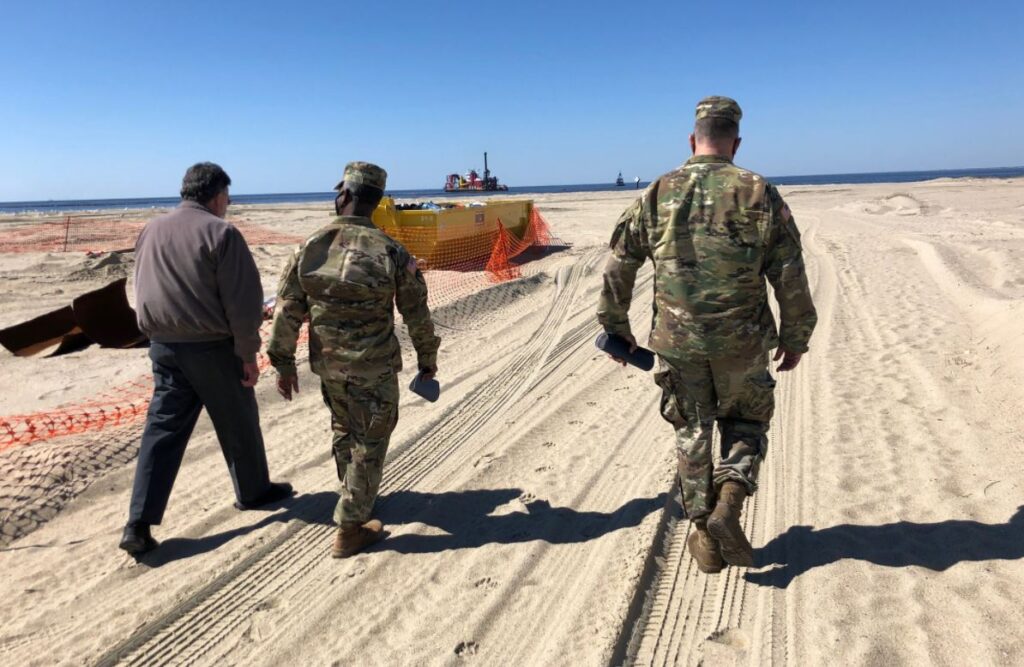 COVID-19 UPDATE
North Carolina continues to be under an executive order which will expire on March 26, 2021, at 5:00 p.m. The Executive Order includes a mask mandate and limits the number of people who may gather indoors at 25, 50 remains the limit for outdoors. Safety protocols such as masks, social distancing, and frequent handwashing will continue to be important to keep numbers down until folks are fully vaccinated.
Today, Governor Cooper and NCDHHS Secretary Mandy Cohen announced that there has been a drop in new cases, hospitalizations, and percent positive rates in North Carolina over the last few weeks. Cooper reported that over 1.1 million North Carolinians have been vaccinated from COVID-19 since the state began offering vaccinations in mid-December.
Vaccinations – The State has moved to Group 3 for COVID-19 vaccinations. The NCDHHS has announced plans for how the state will move to Group 4. Adults from Group 4 Adults who are at a high risk for exposure and increased risk of severe illness will be eligible to receive a COVID-19 vaccine starting Wednesday, March 24, 2021.
The State has developed a tool to help you determine which vaccine group you are in. You can access the "Find My Vaccine Group" tool HERE. More vaccine information can be found on the NCDHHS website HERE and Brunswick County's website HERE. The State's COVID-19 vaccine help center number is 888-675-4567.
Brunswick County Case Numbers – The latest NC County Alert System report indicated that 6 out of the 100 counties in North Carolina are "red" 34 are "orange", and 60 are "yellow." Brunswick County has moved from orange to yellow since the last report. Yellow means there is significant spread in the community.
Case numbers were typically updated daily on Brunswick County's dashboard on THIS WEBSITE. The County experienced technical issues and this site will direct citizens to the State's COVID-19 dashboard until the County dashboard is up and running.

REMINDERS
Road Work – The Village has contracted with a paving company to resurface several Village roads. A schedule has not been worked out yet. Updates from the Village regarding road closings and detours will be sent to Village's Voice subscribers and posted on social media.
Village Hall – Out of an abundance of caution, Village Hall has been closed to the public until further notice. If you have business with the Village, we ask that you please use our online options, e-mail, or call for an appointment. Please call 910-457-9700 and the auto-attendant will direct you to the appropriate department. General questions can be e-mailed directly to public.information@villagebhi.org. Utility payments are to be dropped off in the box on the porch at Village Hall. Notary services are available at the IPC/Post Office.