Key information:
Wilmington Harbor Maintenance Project Update
The ADA beach access is built!
Join us in celebrating Arbor Day.
Reminders & Events:
Village offices closed tomorrow (4/7) for Good Friday.
Traffic pattern changes will be in effect on Easter Sunday near Lighthouse Wynd.
CAPTF seeking input on the commercial area design guidelines through April 17, 2023.
Next Village Council regular meeting is on Friday, April 21, 2023.
Beach bonfire season ends 4/30.
A section of Lighthouse Wynd is now closed to vehicle traffic.
Wilmington Harbor Maintenance Project Update – Marinex is currently working to get all the submerged pipeline removed. That will take a day or two more and then they will proceed with removing the equipment from the BHI shoreline. They will be using escorts when moving all equipment to ensure public safety.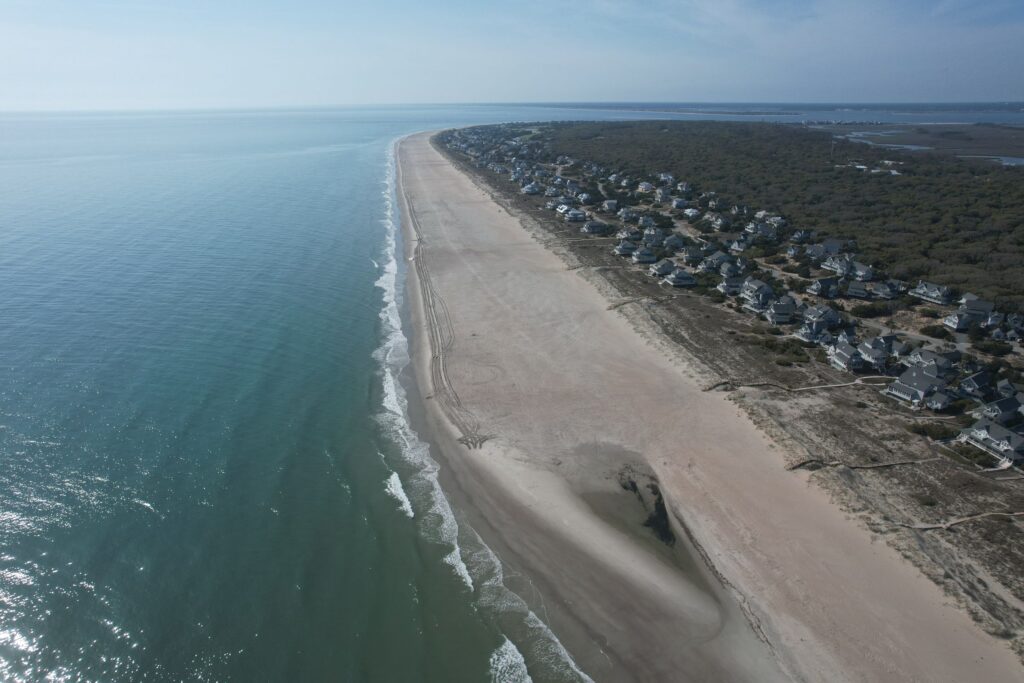 ADA Beach Access – The ADA beach access was completed back in February 2023 and folks are reporting that it is getting a lot of use! If you are not familiar, this project started quite a long time ago with the Village receiving a public access grant from the NC Division of Coastal Management to construct an access to replace the one at Beach Access #15 which had become inaccessible due to the dune growing over the sand path.
The new access is now located at Beach Access #24. The entrance is on South Bald Head Wynd just past the intersection at Muscadine Wynd. The Village has a parking lot on the Muscadine side of South Bald Head Wynd and that lot has been cleaned up a bit and other improvements will be made in the future to include better accommodation for six-seater carts. One comment we have received from the public is that the vegetation on the parking lot obstructs the view of the lot from oncoming vehicles to those who may be walking or pulling out of the parking lot. The Village will be addressing this very soon. HERE is a slideshow with additional photos of the new access.
The Village has beach wheelchairs available for public use. Last year, the Village received two brand new chairs which were donated to us from Jillian's Jitterbug Foundation. Reservation information can be found HERE.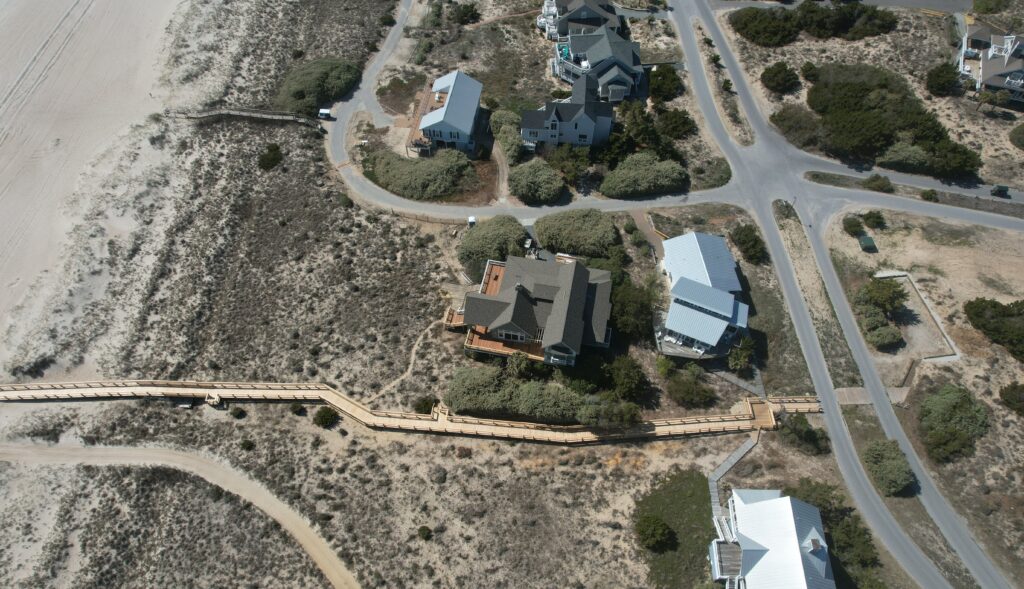 Arbor Day – Arbor Day is on April 28th this year. The Village kicked off its celebration of this day with a formal reading of the Arbor Day Proclamation by Mayor Quinn at the last Village Council meeting on March 22, 2023. At that meeting, we announced that the Village will be celebrating Arbor Day with an interactive Appreciation Tree. The tree is now up in the Island Package Center and Post Office. Please come by and take a leaf from the basket and write down your thoughts about what trees mean to you. There are slots on the tree branches that will hold the leaves. We will be taking the leaves down on April 24 and compiling them for a virtual presentation that will be released on Arbor Day. This activity will help the Village qualify for Tree City USA designation; which the Village has earned for the last ten years. If you will not be on the island to participate in this activity, you may send your thoughts to public.information@villagebhi.org to be included in the presentation.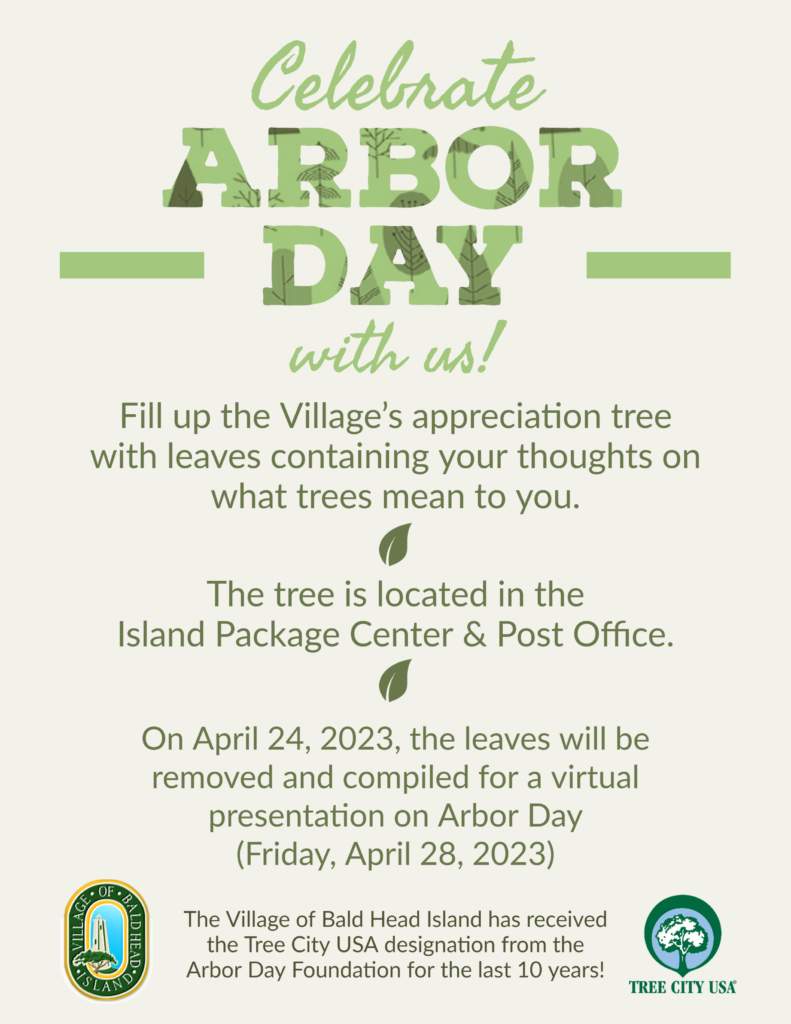 REMINDERS & EVENTS
Good Friday – Village offices will be closed tomorrow, Friday, April 7, 2023, in observance of Good Friday. This includes the Island Package Center & Post Office, although they will be open on Saturday. This holiday is also a non-workday for internal combustion engine (ICE) vehicles. No ICE vehicles are allowed on Village streets unless the vehicle has a special use permit.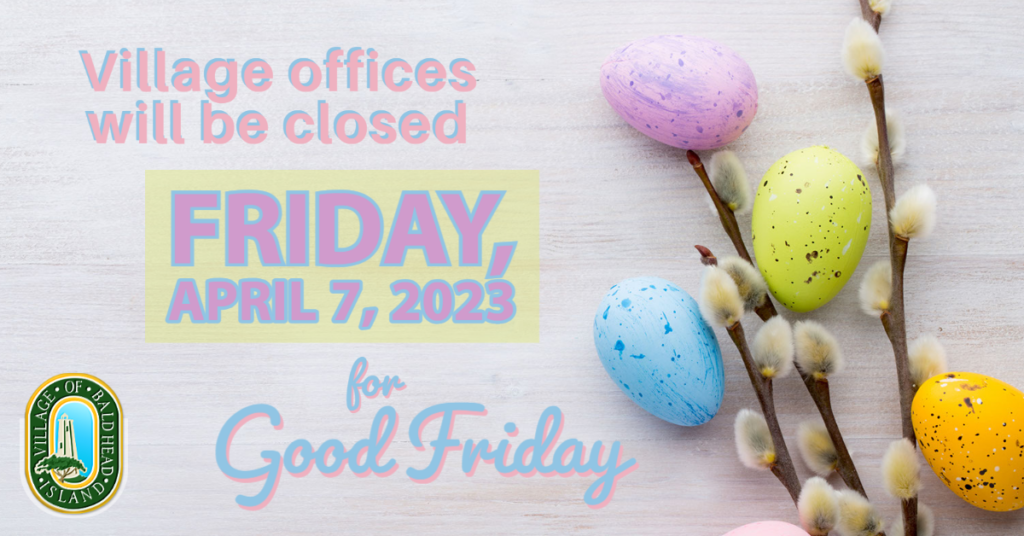 Easter Service Traffic Pattern – The Bald Head Island Chapel will be performing three separate Easter services, including a sunrise service on Sunday, April 9, 2023. The Department of Public Safety will be present in the Lighthouse Wynd area to conduct traffic control and parking measures to ensure a continuous flow of traffic through Lighthouse Wynd. Traffic control and flow will be as follows:
The entrance to Lighthouse Wynd/Easter Services will only be allowed at Lighthouse Wynd/North Bald Head Wynd (NBHW), all other access points will be closed to incoming traffic.
Once a vehicle enters Lighthouse Wynd there will be Public Safety Officers and volunteers to direct the vehicle where to park.
Lighthouse Wynd will be two (2) row parking, Ballast Stone Alley will be one (1) row parking.
Once a service starts, all access to Lighthouse Wynd will be closed off until the end of the service allowing us to get all the parked vehicles out before letting vehicles enter for the next service.
If you arrive early for the next service and Lighthouse Wynd is closed off, please pull to the side of NBHW and wait for the entrance to be opened.
Comments on Commercial Area Design Guidelines – The Commercial Area Planning Task Force (CAPTF) is seeking input on the commercial area design guidelines through April 17, 2023. More details in our recent announcement HERE.
Village Council Meeting – The Village Council regular meeting is on Friday, April 21, 2023. There will be a public meeting held during this meeting on the Blueprint Brunswick 2040 Plan (view public notice HERE). The agenda for this meeting will be posted HERE. Zoom information can be found HERE.
Beach Bonfire Season – Beach bonfire season ends on April 30 each year. As a reminder, a permit is required to have a bonfire on the beach Permit applications are accepted Monday through Friday between 8:00 a.m. and 3:00 p.m. (except Village holidays). Applications can be emailed or delivered in person to the administrative assistant at the Public Safety Building (psadmin@villagebhi.org, 273 Edward Teach Extension). More info HERE.
Lighthouse Wynd – As reported earlier, a section of Lighthouse Wynd is now closed to vehicle traffic. The closed section will remain open for pedestrian traffic until construction work begins for Old Baldy Foundation's campus expansion. The parking area is also still available for the time being.