Key Information:
Solid waste pick up has been behind this week.
Starting this Saturday (7/15), the IPC/PO will be closed from 11:00 to 11:30 AM on Saturdays during peak season.
Golf cart safety tips.
Reminders:
Solid Waste – GFL, the Village's solid waste contractor, has been down one truck and short personnel this week. This has caused delays in pick-up of solid waste. GFL has been on the island the entire week and will continue to pick-up today and tomorrow (regular trash days) and may also be on the island Saturday to get caught up. Any updates will be posted on the Public Works webpage (HERE) and on social media (HERE and HERE). Thank you for your patience
IPC/PO Hours – Beginning this Saturday, the Island Package Center and Post Office will be closing from 11:00 a.m. to 11:30 a.m. on Saturdays. These hours will be in effect yearly between Memorial Day and Labor Day. This change is being implemented to allow staff time for lunch.
Golf Cart Safety Awareness Month – July is Golf Cart Safety Awareness Month, and the Village is pleased to recognize the artists and share the artwork that was submitted for last year's contest. The artwork is now up in the Island Package Center & Post Office. If you look up right as you walk in the door you will see it hanging above the PO boxes.
Here are a few tips from our silver medal winning artist, Reese:
Don't take your eyes off the road.
Don't stick your leg out of the golf cart!
Don't stand up while the golf cart is moving.
Don't horseplay on the golf cart.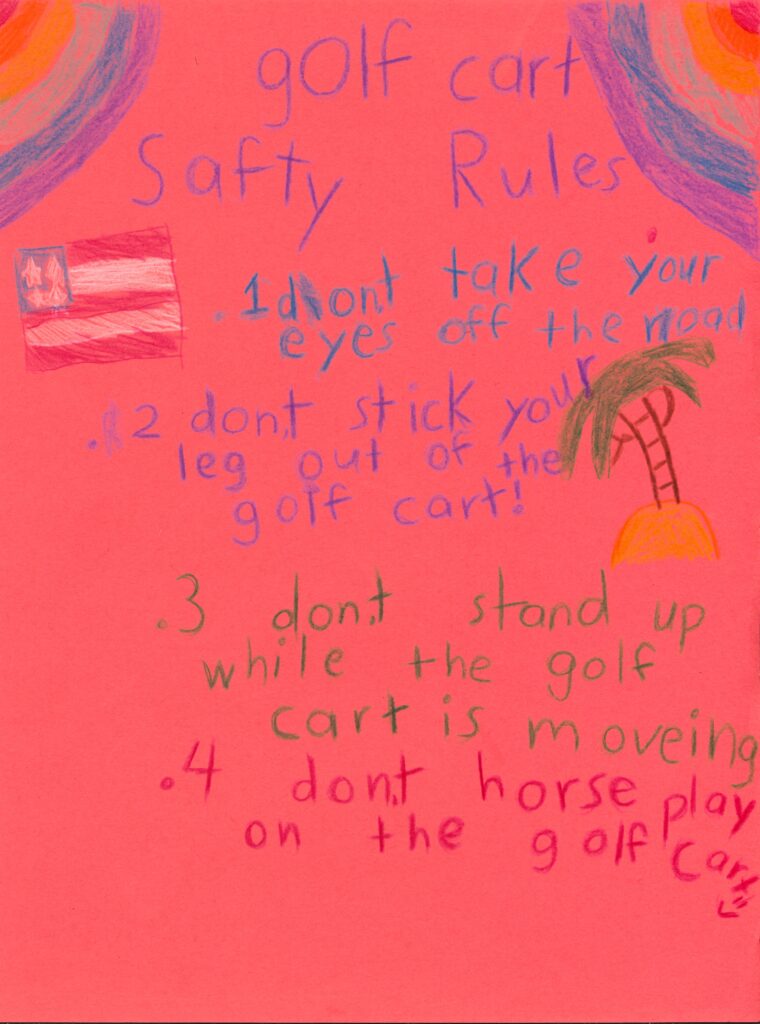 Check out more golf cart safety tips HERE.