Key Information:
Activities going on this weekend – Pirate Invasion & Lighthouse Day Weekend.
Opportunity for the public to weigh in on NC Rate Bureau's request for a 50.6% rate increase for dwelling policies.
Offshore wind surveys to take place between August 16 & 31.
NCDHHS urges caution after 3 deaths due to vibrio this summer.
Non-PO Box holders, please check to see if you have first-class mail at the Post Office.
Scam alert! Text message and email phishing scams you need to know about.
Reminders
The next regular Village Council meeting is on August 18, 2023, at 10:00 a.m.
The Village is accepting applications to fill a vacancy on the Planning Board. Deadline is August 11, 2023.
Village Chapel school supplies drive and pet food collection.
Pirate Invasion – The 2023 Pirate Invasion will be taking place starting today, Friday August 4th through Sunday August 6th. There are many activities planned so please check out the detailed schedule HERE. As the pirates are arriving and when they have their battle, you may hear some loud "booms" that sound like gunfire near the marina.
Lighthouse Day Weekend – Lighthouse Day Weekend is also taking place starting today, Friday August 4th through Sunday August 6th. There are many activities planned to celebrate Lighthouse Day which is officially Monday, August 7. View the full event schedule HERE.
Rate Bureau's Rate Increase Request – The NC Rate Bureau has requested a 50.6% rate increase for dwelling policies in the state of North Carolina, according to a recent release from the NC Department of Insurance. Dwelling policies are not homeowners' insurance policies. The policies are offered to non-owner-occupied residences of no more than four units, including rental properties, investment properties, and other properties that are not occupied full time by the property owner.
The public has an opportunity to submit comments to the NCDOI regarding this rate request. The deadline is August 25, 2023. The details on submitting comments are in the media release HERE.
The Village and the Bald Head Association are considering making comments on behalf of property owners. Stay tuned for additional information.
Offshore Wind Surveys – Carolina Long Bay Offshore Wind lease holders, TotalEnergies and Duke Energy will be performing surveys in the offshore wind lease area between August 16 and August 31. The survey details have been submitted to the U.S. Coast Guard for publication in the District 5 and 7 Notice to Mariners.
This is a collaboration between the two lease holders, TotalEnergies Renewables USA, LLC (TotalEnergies), holder of Lease OCS-A 0545 and Cinergy Corp.*, a direct non-regulated subsidiary of Duke Energy (Duke Energy), holder of Lease OCS-A 0546, to conduct a geophysical survey to collect data for the future deployment of met-ocean buoys within the Carolina Long Bay Offshore Wind lease areas.
This survey activity is part of the standard, early-stage evaluation process and is expected to last three to five days, depending on weather conditions. The survey will inform data required by the Bureau of Ocean and Energy Management (BOEM) of the lease holders for site assessment planning.
The leaseholders will be updating the Village on this survey activity and other project development news as the project continues. You can view updates and background on the Village's Wind Energy Project webpage HERE and the latest newsletter from the NC TOWERS Offshore Wind Task Force which was just released yesterday, HERE.
NCDHHS Vibrio Awareness – The NC Department of Health and Human Services (NCDHHS) recently published a release warning the public of the potential dangers of having open cuts or wounds open to saltwater or brackish water. This is in response to three deaths due to vibrio infections in North Carolina residents. You can view the entire release from the NCDHHS HERE to learn more about the infection and the department's recommendations.
Pick-Up First-Class Mail – Residents who do not have a PO Box can collect first class mail at the Island Package Center counter. The IPC/PO holds this mail for only TWO WEEKS. After that time, it will be returned to the sender. If you have been receiving mail at the IPC/PO for your BHI address, please pick it up in a timely manner so that it does not get sent back.
Additionally, the IPC/PO receives mail that is unexpected or unwanted that is never picked up, is continuously received, and repeatedly sent back to the sender. The IPC/PO would rather you, as the unintended/unwanted recipient, pick up the mail before it goes back AND communicate to the sender that this is either not the appropriate address or that you don't want the mail or solicitation anymore. This will save time and trees. Thank you for your help!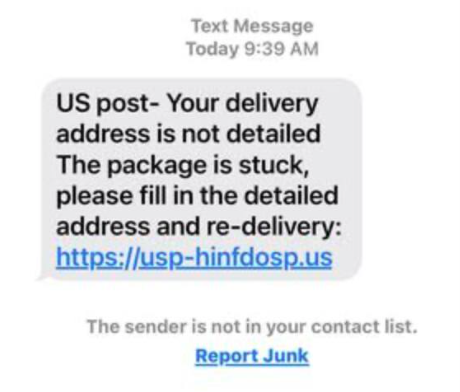 Scam Alert – Scammers often try to get you to click on links in text messages by promising you something. They may promise free prizes, gift carts, or coupons – but they're not real. They may offer you a low or no interest credit card – but there's no deal and probably no card. Scammers also send fake messages that have information about your account or a transaction and tell you that they've noticed some suspicious activity on your account – but they haven't. They claim that there's a problem with your payment information – but there isn't. They even send a fake invoice and tell you to contact them if you didn't authorize the purchase, but this is also a scam.
One of the scams that the Village IPC/PO was recently made aware of is one that sends you a package delivery notification – but it's fake.
For more information about spam text messaging and phishing scams, go to the Federal Trade Commission website HERE.
REMINDERS & EVENTS
Next Regular Council Meeting – The next regular Village Council Meeting is scheduled for August 18, 2023, at 10:00 a.m. in the multi-purpose room in the Department of Public Safety (273 Edward Teach Ext.). The agenda will be posted HERE. Zoom information to listen-in remotely can be found HERE.
Planning Board Vacancy – The Village is accepting applications to fill a vacancy on the Planning Board. The deadline is August 11, 2023. To find out more about what the Planning Board does and to download the application go to the Planning Board webpage HERE.
Village Chapel Donation Collections – The Village Chapel of Bald Head Island is hosting a school supplies drive from July 23 to August 20 more details HERE. They are also collecting pet food for Paws Pantry more details HERE.