Key Information:
The Bald Head Island Transportation Authority (BHITA) is meeting tomorrow (3/16) at 9:15 a.m.
COVID-19 mask guidance on the ferries has changed, still required in the cabin, optional outside.
Road closure this Saturday (3/19) for the Badwater Cape Fear race. (see correction below)
Marina channel maintenance began yesterday (3/14).
Clarification on Blueprint Brunswick 2040 and scope of the comprehensive plan formulation in light of upcoming community open house set for 3/23.
REMINDERS:
Barge service will be suspended beginning tomorrow, 3/16 through 3/18 and will resume on Monday, 3/21.
Show your support for our PSOs who are running the Badwater race this Saturday to raise funds for the PSA.
Next Village Council meeting (3/18).
New checked baggage limit effective 4/1/22.
N-95 masks available at Village Hall.
Free at-home COVID-19 tests available.
IPC/PO remains closed on Saturdays, mask guidance on ferries.
BHITA Meeting – The Bald Head Island Transportation Authority (BHITA) is meeting tomorrow (3/16) at 9:15 a.m. Below is the information for the public to listen in remotely.
Join by phone (dial or tap)
+14156550001,24474566903# US Toll
+442031988143,24474566903# UK Toll
Join with the following meeting link:
Click or tap to Join the meeting
Note: Audio connection type can be changed to "Call me" or "I will call in" to modify
audio quality based on device or network in use.
COVID-19 Mask Guidance on the Ferries – Yesterday (3/14), Bald Head Island Transportation, Inc. released the following announcement:
In accordance with updated US Coast Guard COVID operating guidelines and restrictions, all passengers (except children under the age of 2) must continue to wear a mask while inside the ferry cabins. Mask wear is optional in outdoor areas of the ferry, the ferry terminals, and while riding trams. Passengers are encouraged to continue to practice social distancing whenever possible. Thank you for your consideration and cooperation in helping our employees and customers remain healthy and safe. The Coast Guard COVID operating guidelines can be viewed HERE (link to latest guidance).
Road Closure for Badwater Cape Fear (3/19) – There will be a road closure and Public Safety will be on-site doing traffic control on Saturday, March 19, 2022, for the Badwater Cape Fear race. The full road closure will be on South Bald Head Wynd from Stede Bonnet Wynd east to Federal Road. Last year, there was a half lane closure, this year to ensure the safety of the runners, Public Safety will close off the entire road in that section. Traffic posts will be visible.
CORRECTION: Traffic will be redirected along the race route, in particular, traffic to East Beach will be redirected from Federal Road down Kinnakeet Way. There will be a redirection of traffic near Loggerhead Trail off of South Bald Head Wynd. Vehicles will be directed away from the BHI Conservancy area. View map HERE (rerouting areas in yellow, blue Xs are for porta-john locations).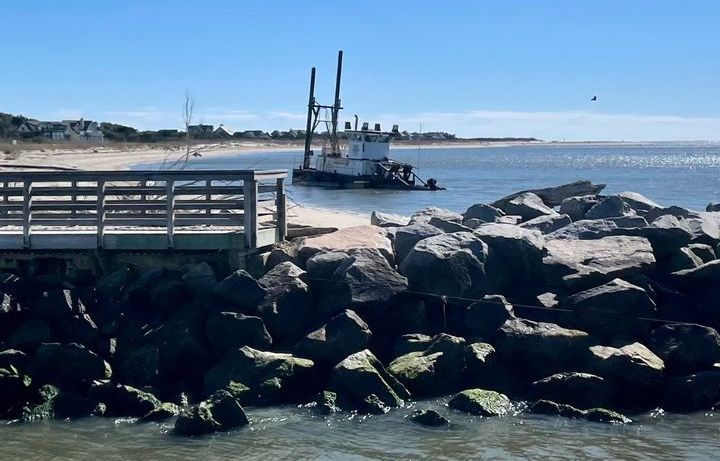 Marina Channel Maintenance – The Village's dredging contractor arrived yesterday (3/14) to begin maintenance of the marina channel entrance and the sand bypass area. This maintenance dredging keeps the marina channel entrance navigable for the ferries, barge, and other vessels. An additional benefit is that the material removed from the channel and the sand bypass area is placed on the shoreline in front of homes on Row Boat Row. The Village receives a grant from the State through the Shallow Draft Navigation Channel Dredging fund which pays for 2/3 of the cost of this maintenance.
Clarification on Comprehensive Plan – The Blueprint Brunswick 2040 Project began in 2020. The Village of Bald Head Island joined Brunswick County and several other small municipalities in Brunswick County in this project, which will result in a comprehensive plan for the county and participating municipalities. The Village was expecting cost savings while meeting the new requirements in the NC General Statutes (160D) which require municipalities to have an updated comprehensive plan by July 1, 2022. Islanders were invited to attend virtual and in-person workshops in the fall of 2020 and to provide input via a survey from October 2020 through February 2021 as part of this project. The County received over 3,400 responses.
At the end of 2021, the Village was approached by the County, and it was explained that some more work would need to be done by the Blueprint Brunswick planning consultants so that the participating municipalities specifically would have a product that satisfies the 160D requirements. The Village Council approved the additional work in January.
The purpose of the upcoming meetings (the open houses 3/23 and 4/14) is to clarify the information already collected, provide another opportunity for citizens to provide input, and refine the maps that will be used for a more individualized plan to meet the 160D requirements prior to the deadline. If you are unable to attend the meetings, the Village will be providing information to review, comment cards will be available in the IPC/PO, and an email address will be provided for citizens to send comments electronically. Stay tuned for more details.
REMINDERS:
Barge Closure – The BHI Barge will be side-lined for maintenance on March 16, 17, and 18, so the only barge deliveries to the island that week will take place on Monday & Tuesday – assuming no wind/wave or weather postponements. Mail and packages are expected to be delivered via the ferry and should not impact delivery times.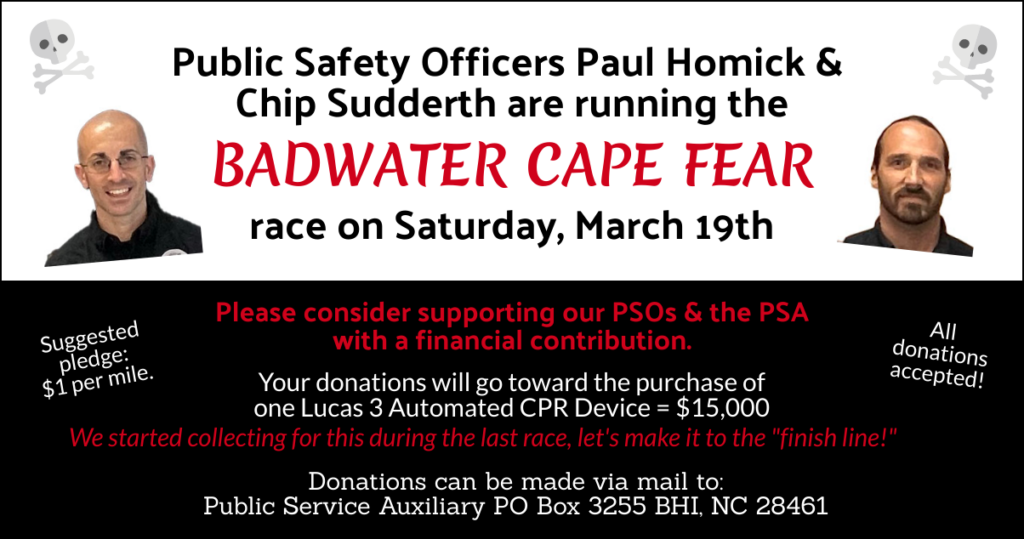 Support our PSOs and the PSA – Two of the Village's Public Safety Officers, Paul Homick and Chip Sudderth will be participating in the Badwater Cape Fear race to support the Public Service Auxiliary. The hope is to raise enough funds to purchase one Lucas 3 CPR device (the cost is $15,000). PSO Homick started collecting for this piece of equipment during the last race, let's help them "make it to the finish line" this time! The suggested pledge is $1 per mile though all donations will be accepted. Donations can be made via mail to: Public Service Auxiliary, PO Box 3255, Bald Head Island, NC, 28461.
Village Council Meeting – The next regular Village Council meeting is on Friday, March 18, 2022, at 10:00 a.m. The agenda will be posted HERE. Zoom information can be found HERE. There will be a public hearing on a rezoning request for 86 Keelson Row (Case R-2022-1). Islanders may recall that there were two rezoning requests before the Planning Board, the second request for 1.1 AC Clarendon Manor House (Case R-2022-2) was withdrawn by the applicant. View the public notice HERE for instructions on how to be heard at the public hearing.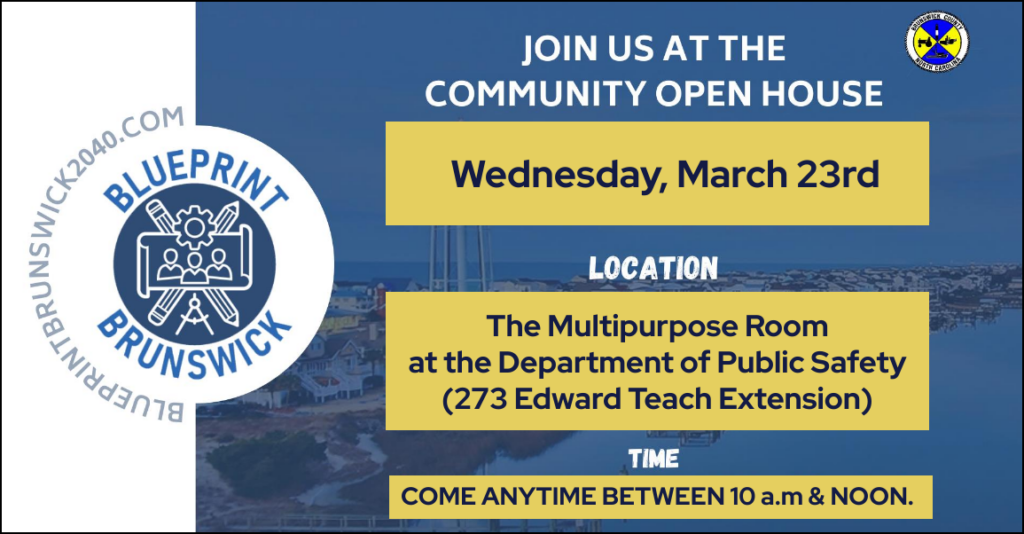 Open House – Please join us for an open house to gather additional input on the vision and goals for the future of BHI. The open house will take place in the Multipurpose Room in the Department of Public Safety you can drop by anytime between 10:00 a.m. and noon.
A second meeting scheduled for April 14, 2022, beginning at 2:00 p.m. will be used to refine the Village's land use map and place types applied to the parcels within the Village. Questions about these meetings can be sent to public.information@villagebhi.org.
Checked Baggage – On February 25, 2022, Bald Head Island Transportation, Inc. (BHIT) provided initial public notification as required by law of a change in checked-baggage policies ordered by the North Carolina Utilities Commission (NCUC). The NCUC order becomes effective April 1, 2022. You can find the full statement and access the NCUC order HERE.
Free N95 Masks – Federally provided N95 masks are available at Village Hall, as supplies last. These supplies do not include child-sized masks at this time. Brunswick County Health and Human Services dispersed its full allocation of N95 masks to several of its municipal and senior center partners to improve access countywide. Learn more about N95 and other types of masks HERE. To learn more about where to find free N95 masks in Brunswick County go HERE.
Free At-Home COVID-19 Tests – Every home in the U.S. is eligible to order four free at-home COVID-⁠19 tests. The tests are completely free. Orders will usually ship in 7-12 days. Order your tests now so you have them when you need them. Order your tests through the United States Postal Service (USPS) at covidtests.gov. Find local testing sites HERE.
IPC/PO is closed on Saturdays – The Island Package Center & Post Office remains closed on Saturdays. First-class mail will be delivered to post office boxes every Saturday. On the heels of having our two newest employees trained, one of our long-time IPC employees has had to go on leave. We are hoping to have all four employees at 100% soon so we can start rotating staff back onto a Saturday work schedule. We apologize for the inconvenience.
---