Key Information:
Independence Day Info – Village offices closed, ferry schedule, golf cart parade, fireworks are prohibited on BHI, where to see fireworks.
Development moratorium for commercial districts is now in effect for an initial period of 60 days.
July is Golf Cart Safety Month
REMINDERS: Water conservation alert, drone surveys, Dosher Clinic on BHI is open, N-95 masks available at Village Hall, free at-home COVID-19 tests available via mail, IPC/PO remains closed on Saturdays.
Independence Day – Village offices will be closed on Monday, July 4, 2022, in observance of the Independence Day holiday. The Island Package Center & Post Office will also be closed on Monday (7/4). ICE vehicles are prohibited on Village public roads on observed holidays unless they are Emergency Vehicles, Government Vehicles, Official Island Transportation System Vehicles, or have been issued a Special Use Permit.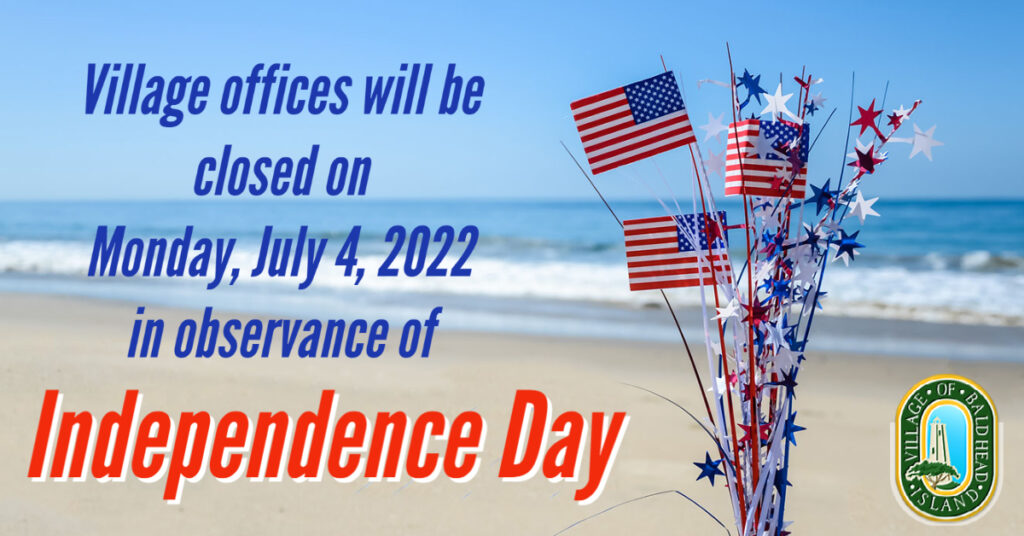 Golf Cart Parade – This year's 4th of July Golf Cart Parade will be taking place on Monday, July 4, 2022, beginning at 10:00 a.m. If you need to register a cart for this event go HERE (registration ends at 2:30 p.m. on 7/3). The official parade route has been posted online HERE. Public Safety will be present for crowd and traffic control. The intersection at the Timber Bridge/Lighthouse Wynd will be closed for a few minutes.
Ferry Schedule – Bald Head Island Transportation, Inc. has announced that it has canceled the 8:30 p.m. ferry from Bald Head Island and the 9:00 p.m. ferry from Deep Point due to the fireworks display off Southport. The contractor ferry will not be running on Monday, July 4, 2022. The passenger ferry will begin departures from Deep Point at 6:00 a.m. that day.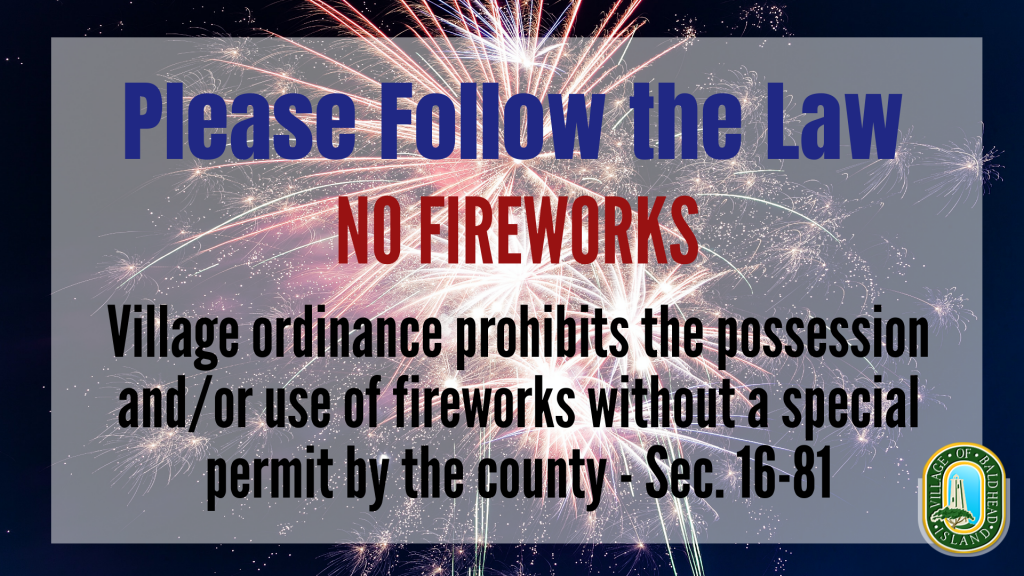 Fireworks are Prohibited – The possession and use of fireworks are prohibited on BHI. This includes sparklers. If you need a firework fix, there are three local displays to view (see below). ENJOY!
Professional permitted fireworks displays in Brunswick County include:
Traffic Control – The marina area gets quite congested for folks to view the Southport fireworks. Public Safety will be in this area for crowd control and traffic control. The Timber Bridge will be used for one-way traffic into the harbor area until 8:45 p.m., at that time, the bridge will be closed to all traffic. Traffic exiting the harbor will come through the barge landing area. The Timber Bridge will reopen after the fireworks display. Normal traffic flows will continue on all other roads.
Development Moratorium – This afternoon, the Village Council had a special meeting and public hearing and unanimously adopted an ordinance adopting a development moratorium applicable to certain property located in commercial districts. The full ordinance can be read HERE. The moratorium will initially be in place for 60 days. If more time is needed, the Village Council is required to advertise and conduct another public hearing and to adopt a resolution to extend the moratorium.
Among the reasons set out in the ordinance, the moratorium is "necessary to promote consistent and reasoned development of the island, preserve island aesthetics, protect limited island resources, and further the zoning goals of the Village as expected to be expressed in the Blueprint Brunswick 2040 plan, by maintaining the status quo in the Moratorium Area." The moratorium area includes all undisturbed property within the Village's jurisdictional boundaries that is zoned for commercial use as of the date of adoption of this Ordinance, subject to a few exemptions that are set out in NC General Statute and development that is conducted by a public utility or public agency in the furtherance of public interest.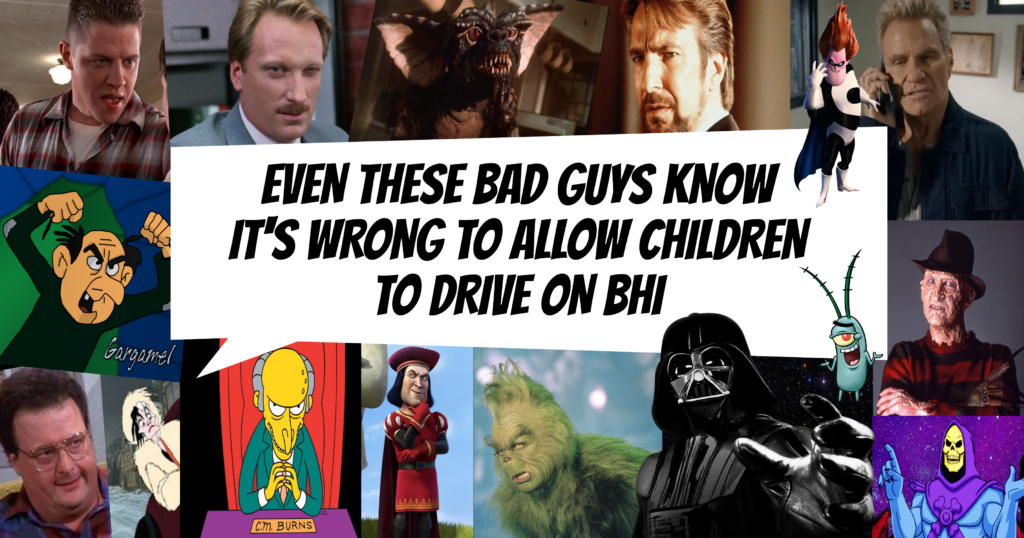 Golf Cart Safety Month – At its June 17, 2022, Village Council Meeting the Council adopted a proclamation declaring July 2022 as Golf Cart Safety Month. Village Staff wanted to have a way to get the word out about underage driving on BHI. In the process of generating ideas, they discovered that there is a municipality that already recognizes Golf Cart Safety Month.
Golf Cart Safety Month began in Lubbock, Texas after a July 28, 2015, accident involving 9-year-old Luke Siegal. The accident involved another 9-year-old boy. There was no adult supervision, no helmet, and no parent on board. The golf cart tipped over onto Luke's body and nearly took his life. He ended up having three brain injuries and multiple surgeries, which left him unable to use his limbs or voice. Luke's father Tim founded a non-profit called Team Luke which later partnered with another non-profit called Hope for Minds to create "Team Luke Hope for Minds." The group provides resources and support to families with children who have undergone brain surgery.
Throughout the month of July, the Village will be flooding the Village's social media channels with our underage driving "villain" campaign. We will also soon be advertising a poster contest for children up to the age of 15. The winners' artwork will be used for next July's campaign.
REMINDERS:
Water Conservation Alert – Brunswick County remains under a Stage 1 Water Alert. Under this level of alert, water system customers are requested to make voluntary adjustments to their water usage habits to appreciably reduce peak demands. (A peak demand of under 80% of system production and distribution capacity is targeted). Irrigation demands represent the bulk of non-essential water use, so a primary way that customers can reduce water usage is to limit irrigation. Additional guidance on specific ways to reduce water usage can be found HERE.
Drone Surveys – The Bald Head Island Conservancy will be performing drone surveys to map beach vitex on the island. This work should be complete by the end of August. Flights will be conducted around mid-day. More info HERE.
Dosher Clinic – Dosher Medical-Bald Head Island is now open for minor illness and injury patients for the 2022 summer season. The clinic at the Bald Head Island Public Safety Building, 273 Edward Teach Extension, is open Monday through Friday, with clinic hours from 9 am – 2:30 pm. Patients are encouraged to call ahead, and patients with respiratory illnesses are required to call before entering the building. Everyone who enters the clinic will be required to wear a mask. To contact the clinic, call 910-457-5252. The clinic will be open through September 2, 2022, and will be closed on July 4, 2022.
Free N95 Masks – Federally provided N95 masks are available at Village Hall, as supplies last. These supplies do not include child-sized masks at this time. Brunswick County Health and Human Services dispersed its full allocation of N95 masks to several municipal and senior center partners to improve access countywide. Learn more about N95 and other types of masks HERE. To learn more about where to find free N95 masks in Brunswick County go HERE.
Free At-Home COVID-19 Tests – Every home in the U.S. is eligible to order four free at-home COVID-⁠19 tests. The tests are completely free. Orders will usually ship in 7-12 days. Order your tests now so you have them when you need them. Order your tests through the United States Postal Service (USPS) at covidtests.gov. Find local testing sites HERE.
IPC/PO is closed on Saturdays – The Island Package Center & Post Office remains closed on Saturdays. First-class mail will be delivered to post office boxes every Saturday. We apologize for the inconvenience.