The U.S. Army Corps of Engineers contracted with Marinex Construction to provide maintenance dredging of the Wilmington harbor inner ocean bar. Approximately 1,000,000 cubic yards of the dredged material will be placed on South Beach on Bald Head Island. The dredge Savannah arrived Wednesday afternoon and is located near Battery Island. Yesterday, Village staff had a pre-construction meeting with representatives from the Corps and Marinex Construction. If the weather cooperates, Marinex should start pumping sand on South Beach in approximately nine days.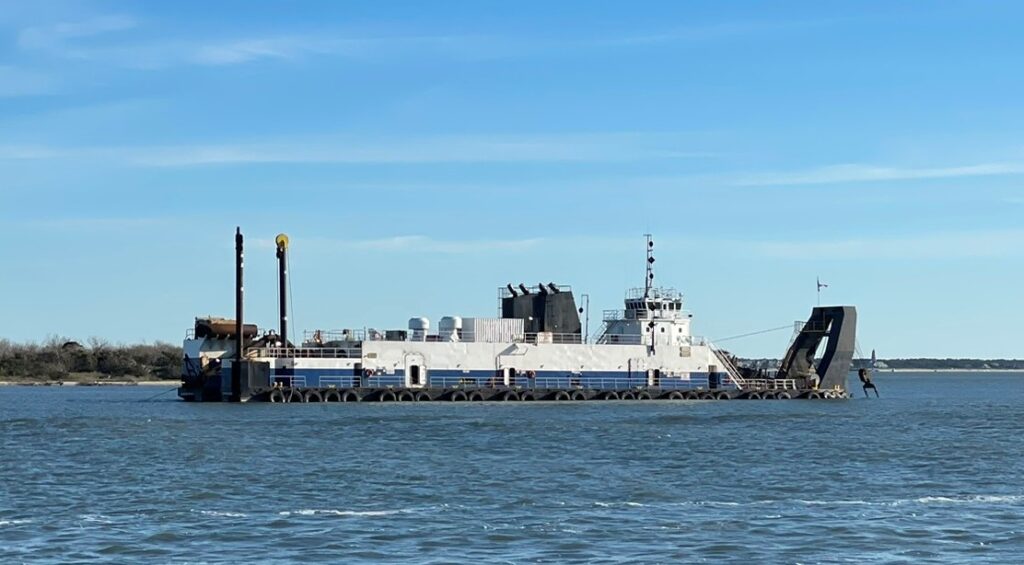 The material will first be placed near Sandpiper Trail (Beach Access 11) and could reach the Killegray Ridge area on South Bald Head Wynd (about 200 yards west of Beach Access 32). Sand placement should take about three months, though the project's schedule is dependent on weather and mechanical impacts.
The Village has created a webpage (HERE) to post project information including a progress map, photos, and updates. The Village will also regularly post updates on its social medial channels (see our media page HERE). If you have not experienced a shoreline restoration project on Bald Head Island or will have renters or visitors here is what to expect:
The beach will remain open except for the areas of immediate construction where a 1,000-foot section of the beach will be closed at any given time when nourishment is underway. Due to the many variables associated with the construction progress, such as mechanical or weather impacts, it is extremely difficult to forecast when the contractor will have a particular section of the beach closed. There will be a large pipe that carries the sand slurry down the beach and heavy excavation equipment which will be working 24/7 until the project is completed. There will be noise from the large machinery 24/7, this will include the "back-up signals" from the machines and lighting which are required for the safety of the crew. Sand ramps will be spaced along the beach (approximately every 400 feet) to allow beachgoers to walk over the pipe and access the ocean.
Please help the construction crew by being mindful of the construction fencing and signage. Do not go beyond any signage or barriers as doing so may place yourself and others in harm's way.