In this issue:
Update on BHI transportation system
Recap of Village Council regular meeting
Stage 1 Water Conservation Alert in effect for Brunswick County
Burn ban issued for unincorporated Brunswick County, the Village issues one for BHI
Construction at the Creek Access and Marina Park
Vial of Life Relaunch
Check your deck!
An update from Duke Energy
REMINDERS: Village offices closed 5/31/21 for Memorial Day holiday, Terrapin Device, BHI Transportation announcements (including Memorial Day ferry schedule), drone flights, CTP survey
COVID-19:
NC lifts most mandatory mask mandates, all mandatory capacity, gathering limits and social distancing requirements, effective immediately
Vaccinations are now available to everyone ages 12 and up
Brunswick County case numbers
Village Hall and the Public Safety administrative office have reopened to the public. Masks are required for all visitors (unvaccinated and vaccinated) in the Public Safety Building, Village Hall, and IPC/PO and Contractor Services.
Transportation System Update – As previously reported, the Local Government Commission met on May 4, 2021, and during this meeting, the Commission tabled the BHI Transportation Authority's (BHITA) proposed $56,144,303.30 revenue bond financing to purchase the transportation assets of BHI Limited and operate the authority. The Commission agreed to discuss and prepare a list of the Commissioners' specific questions at the Commission's June 1 meeting and expressed that they would like to see the three parties (BHITA, Village, and Seller) work together. The parties may also submit their proposed questions in advance of the June 1 meeting. Since the Commission's May meeting, the Village has received THIS LETTER from the BHITA and the Village has sent THIS MEMO to the Commission.
Regular Council Meeting – The Village Council conducted its regular meeting on Friday, May 21, 2021, at 10:00 a.m. Here is a summary of the information shared and the actions that were taken at this meeting:
Under Old Business the Village Council unanimously approved the Memorandum of Understanding with Dosher Memorial Hospital to provide medical services on Bald Head Island at the Public Safety Building. The clinic will run from June 1, 2021, through September 3, 2021. The hours will be 9:00 a.m. to 2:30 p.m. Monday through Friday. Due to the existence of COVID-19 in the community, on-island staff will consist of a medical assistant or nurse who will have a telehealth connection to a doctor on the mainland. The Village Council discussed the current COVID-19 response and to protect employees, determined it would be best to require all visitors (unvaccinated or vaccinated) to wear masks in Village buildings, this includes the Public Safety Building, IPC/PO, Village Hall, and Contractor Services. The Council will review this policy monthly. The Village Council approved a parking enforcement agreement with Bald Head Island Limited, LLC to allow for the Village to enforce parking in the area of the Barge and the Ferry Landing (this is renewed annually). The Village Council discussed a request to close a section of Lighthouse Wynd. Council instructed the Village Attorney to prepare a document which includes the Village's concerns, one of which is being able to review a site plan which includes parking and the redesign of the nearby intersection. The Village Council discussed the need to have landscape and architectural design standards for commercial buildings on the island. Village Staff will need to follow-up to see if the Village has the authority to impose such standards.
Under New Business the Village Council adopted a resolution approving financing terms for the Contractor Services installment financing, a resolution authorizing LGC application for Contractor Services installment financing, a budget amendment for expansion of the Island Package Center, a budget amendment to pay off the Marina Park Loan #2, a resolution for acceptance of American Rescue Plan funds, a resolution in opposition to issuance of wind energy leases within 24 nautical miles of North Carolina's shores, and the Village's storm debris management contracts. The Village Manager gave the FY2021-2022 budget presentation. No tax increase was recommended. A public hearing on the FY22 budget will be held during the June 18, 2021 regular council meeting. There was discussion about the safety issues at the intersection of Federal Road and South Bald Head Wynd. The Village Council requested that Staff try out several samples of "rumble strip" type treatments for that intersection.
The Village Manager updated the Council on several items to include the new handicap beach access, the Frying Pan shoals borrow site, new cell tower, Sandpiper Trail, stormwater management efforts, hurricane preparedness, proposed fees for the IPC/PO, and the contractor services improvement project. Village Staff provided an update on donation collections, road maintenance, and solid waste collection.
Handicap Access – The engineered drawings for the new handicap beach access were finalized with the removal of the gazebo. The project is currently out for bids with a lumber and an engineered wood option and Staff is working on the CAMA permit. Until this access is constructed, the Village is directing those who need access to use the vehicle accesses at BA #11, #24B, #35, #42, with BA #42 as the preferrable option since it is a shorter distance to the beach. Public Safety has a beach wheelchair available for use by the public details can be found HERE.
Frying Pan Shoals Borrow Site – The Village's consultants have submitted additional data to the regulatory agencies to assist with the permitting to use Frying Pan Shoals as a long-term borrow site for future shoreline protection projects. The Village received a letter from Division of Marine Fisheries indicating there was not sufficient data provided to support issuance of a permit and that the regulatory agencies prefer that the Village wait for the Bureau of Ocean Energy Management to complete a study of the area which is yet to be funded.
Cell Tower – The new cell tower is up, and Crown Castle and its contractor will be back on the island in early June to install the micro pile and bracing, this process should take a week or two. It is expected that all cell providers should be transferred to the new tower by 2022 and the old tower removed shortly thereafter.
Sandpiper Trail – The Village's land management consultant recommended that the Village provide the Army Corps of Engineers with a plan for accessing the properties. The Village is still waiting on the wetland delineation from the Corps and this submittal will hopefully get things moving. Trams still will not go all the way down Sandpiper Trail and Public Works continues to remove sand from the road regularly.
Stormwater Management – The bypass lagoon improvements are likely to be completed this winter due to the cost of installing a temporary cart bridge.
Hurricane Preparedness – Village Staff and EOC (Emergency Operation Center) Team will be conducting two half-day tabletop exercises during the first part of June. Day one is expected to cover pre-storm preparation and the decision-making process for evacuation. Day two is expected to cover response and transition into recovery.
IPC/PO Fee Options – The Village Manager indicated that options for fees at the Island Package Center and Post Office are being discussed. Staff is planning on rolling out its new hand-held scanning system on June 1st.
Contractor Services – The Contractor Services improvements are still a work in progress. Contractors are planning on removing some material that had been placed around trees in the construction area which was not suitable. Spoils for the stormwater basin are being used to build a berm and plantings will be added to buffer the area between the Contractor Services campus and Federal Road.
Donation Collection – Village Staff announced that Habitat for Humanity will be coming to the island on a regular basis to pick-up donations. This will relieve staff of the travel time associated with delivering the donations off-island.
Road Maintenance – The Village's contractor was having a difficult time scheduling transport of asphalt over on the barge, the delay has pushed too far into the peak season, so the Village Council requested that the maintenance be rescheduled for this fall.
Solid Waste – Village Staff are working on a plan to manage the excess waste that is being accumulated by contractors in the Contractor Services lot by having them secure their own dumpsters and has made some modifications to the ramp at the compactors to prevent contractors from dumping at the compactor. A solution needs to be made to address the needs of the management companies who use the compactor for solid waste associated with rental turnover. There are discussions about phasing in 96-gallon carts to replace the current residential waste receptacles.
The Village Council went into to closed session to consult with the attorney regarding property acquisition. No action was taken.
Stage 1 Water Conservation Alert – The Village is monitoring the current drought level, which is considered moderate, and is asking Villagers to please use water wisely. Brunswick County has issued a Stage 1 Water Conservation Alert and is requesting customers to be diligent and use water wisely now and through the Memorial Day and Independence Day (July 4) holidays. A unified application of voluntary water reductions by all water system users in Brunswick County can help to avoid mandatory water restrictions, the County has provided the following ways to reduce water usage:
Those who irrigate their property to please follow this recommended irrigation schedule:
Odd address numbers: Tuesday/Thursday/Saturday
Even address numbers: Wednesday/Friday/Sunday
No irrigation on Mondays
Defer all non-essential water use (lawn irrigation) to outside the peak demand hours of 5 a.m. to 11 a.m., preferably after nightfall.
Do not overwater your yard. One inch of water per week in the summer will keep most types of grass healthy. To determine how long you need to run your sprinkler to provide 1-inch of water, place straight-edged cans at different distances from your sprinkler and time how long it takes to fill an average of 1-inch of water in each can. Water occasionally but deeply to encourage deeper rooting that makes grass more drought/heat tolerant.
Install rain shut-off devices on automatic sprinkler systems.
Do not water pavement and impervious surfaces.
Limit lawn watering to that necessary for plant survival. Water lawns outside of the peak demand hours of 5 a.m. to 11 a.m.; preferably after nightfall.
Water shrubbery the minimum required. Water shrubbery outside of the peak demand hours of 5 a.m. to 11 a.m. Use drip irrigation systems in shrubbery beds and around trees to prevent water loss through evaporation.
Use abundant mulch around trees and shrubs to retain moisture.
Plant drought-tolerant grasses, trees, and plants.
Adjust mower height to a higher setting to retain moisture.
Limit the use of clothes washers and dishwashers and when used, operate fully loaded. Operate dishwashers outside of the peak demand hours of 5 a.m. to 11 a.m., preferably after nightfall.
Limit vehicle washing to a minimum. Use commercial car washes that recycle water.
Use shower for bathing rather than bathtub and limit shower to no more than five minutes.
Inspect and repair all faulty and defective parts of faucets and toilets. Pay attention to dripping sounds.
Do not leave faucets running while shaving, brushing teeth, rinsing, or preparing food.
Do not wash down outside areas such as sidewalks, driveways, patios, etc.
Install water-saving showerheads and other water conservation devices.
Install water-saving devices in toilets such as early closing flappers.
Limit hours of water-cooled air conditioners.
Keep drinking water in a container in the refrigerator instead of running water from a faucet until it is cool.
Fill or top off swimming pools only from dusk until dawn.
Cover pool and spas when not in use to prevent evaporation.
Use disposable and biodegradable dishes where possible.
Burn Ban – Brunswick County has issued a burn ban and the Village is following suit with the same. Effective immediately all burning within 100 feet of any structure is banned within the Village of Bald Head Island. The ban does not apply to charcoal or gas grills provided fire safety precautions are taken. As mentioned with the water conservation alert, Brunswick County is experiencing a moderate drought. In addition, the county has a high fire danger index rating from the North Carolina Forest Service. The current and future weather forecast indicate conditions that are not favorable to open burning. As a reminder, the Village has ceased issuance of beach bonfire permits for the turtle nesting season (May 1 through November 15).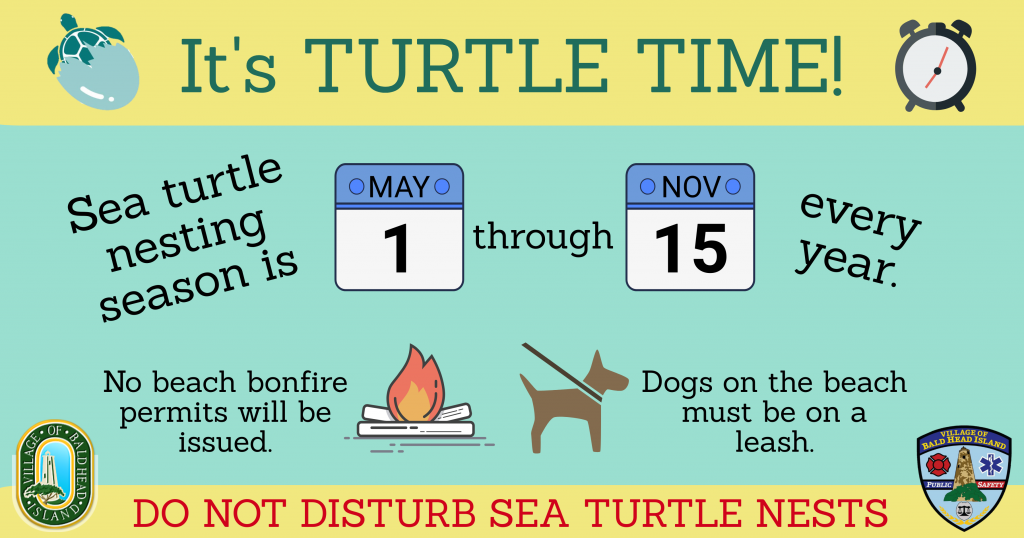 Creek Access & Marina Park – The gazebo at the Village's creek access will be getting a new roof installed in the coming weeks. This area will be marked off so that the public cannot access the worksite. This should not affect access to the boat ramp and dock at this location. Work to replace the damaged dock at the Marina Park should also begin soon. A temporary walkway, ramp, and floating dock will be installed for folks to enjoy this season until a more permanent t-dock structure can be permitted and built for the long-term. Removal of the damaged dock will likely take place in the next fiscal year after FEMA funds are received. Kayak rentals will continue operating at the Creek Access and Beach Access #1 until construction is completed.
Vial of Life Program Re-Launch – A medical emergency may come with little warning and may make it difficult for a person to think clearly or possibly even unable to speak. Emergency personnel who respond to help the person need to know important information such as the person's name, medications being taken, allergies to medications, current and past medical conditions, hearing, and vision difficulties, and who to notify about the emergency.
The Department of Public Safety is re-launching the Vial of Life program and is now giving folks the option to participate in the File of Life program as an alternative. Both programs are simple and allow individuals to have medical information ready for emergency personnel to reference during an emergency.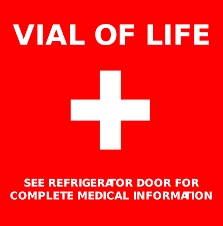 For Vial of Life, a person completes a form which is then folded up and stored in an empty vial or pill bottle in the refrigerator. A Vial of Life bright red sticker is placed on the refrigerator door to alert the BHI Public Safety emergency responders that a vial is stored inside.
For File of Life, a person completes a form, folds it up, and places it in the magnetic file folder. The bright red magnetic folder is then affixed to the refrigerator door to alert the BHI Public Safety emergency responders to the information in the file.
Islanders can stop by the Department of Public Safety to pick up a vial, a blank form, and the sticker/magnet for your refrigerator Monday through Friday from 9:00 a.m.- 2:00 p.m. If you have already participated in the Vial of Life program, please take a moment to review your Vial of Life form to make sure it is up to date, if it is not, you can update it at the Department of Public Safety or download the form. The Village will be using one form for both programs so that the Public Safety Officers only need to be familiar with one form.
A special thank you to Walgreens located at 5098 Southport Supply Rd SE in Southport for generously donating the vials for the Vial of Life program.
Check Your Deck! – The corrosive nature of the coastal environment can take a heavy toll on wood and fasteners and it's important to routinely inspect the condition of your property and take any necessary corrective action. There are many licensed general contractors and home inspectors that would be happy to assist.
In accordance with North Carolina law, the Village inspects any new construction and significant repairs or renovations at the time the work is completed but does not engage in routine, periodic inspections. This responsibility ultimately falls on the property owner, although the Village's building inspector will inspect any property for which a specific complaint is received. To assist our property owners, Village staff has prepared a simple, helpful Citizen's Guide to Deck Safety. This flyer includes a graphic illustrating typical deck construction along with illustrations of common problems and other helpful tips.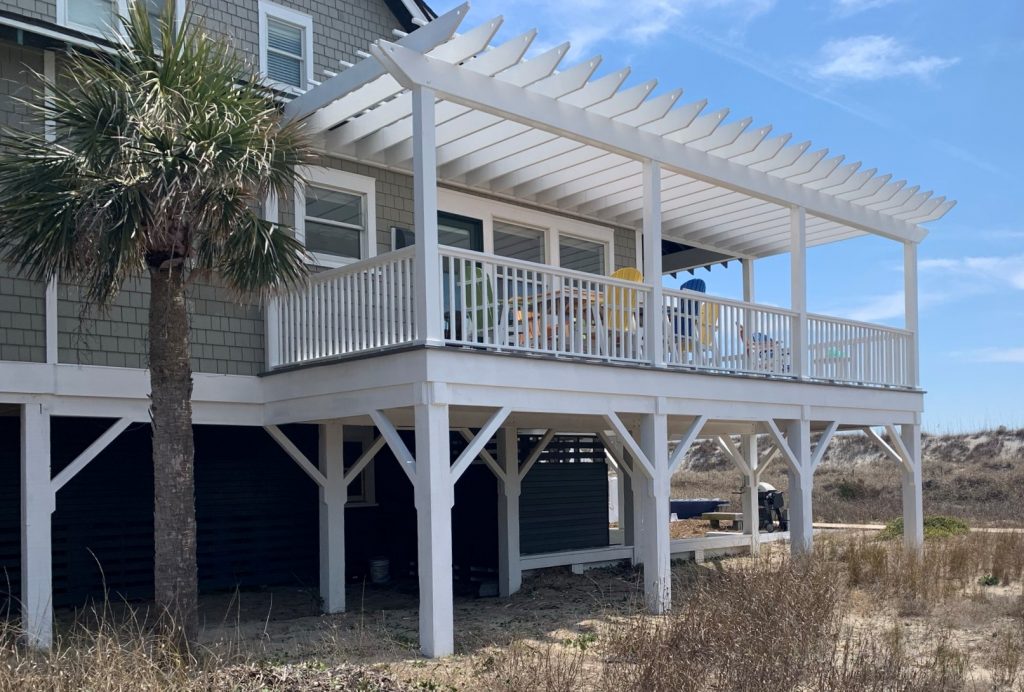 Additionally, it's important for everyone (property owners and visitors) to be mindful of the number of people gathered on a particular deck or section of deck.
If you have questions or need additional information or assistance, please contact the Village's Development Services Administrator Stephen Boyett at (910) 457-9700 ext. 1004 or sboyett@villagebhi.org.
Duke Energy Update (submitted by Duke Energy) – Duke Energy is working hard to make sure the energy infrastructure serving the Bald Head Island community can reliably serve customers now and in the future. Improvements will help harden our system to storms and allow for isolation of outages and remote automatic repairs.
The key components of the work include:
Creating an unground self-healing system with the ability to isolate outages and create back feeding options. Nearly all transformers on the island will now have back-feed options that were not previously available.
Upgrading and replacing underground power lines and equipment along with the additional switches to improve reliability and outage restoration across the island.
Upgrading the island's meters to smart meters with automatic technology that allows us to monitor the system remotely.
We continue to appreciate your patience as we're working hard to upgrade the island's energy grid. We plan to have this multi-year project on the island completed by the end of the year.
If you have questions or feedback, you are welcome to contact Danielle Peoples at Danielle.Peoples@duke-energy.com.
The Village will be receiving regular updates from Duke Energy which will be shared with our e-newsletter subscribers and posted on the Village's "Village Projects" webpage HERE.
REMINDERS:
Memorial Day – Village offices, including the IPC/PO, will be closed on Monday, May 31, 2021, for the Memorial Day holiday.
Terrapin Excluder Devices (TEDs) – The N.C. Marine Fisheries Commission has designated Bald Head Island as a Diamondback Terrapin Management Area (DTMA). TEDs were required in ALL crab pots in DTMAs by March 15, 2021. To make a crab pot terrapin safe, install a TED at the base of each funnel in your crab pot. Attach each corner of the TED to the funnel using wires, hog rings or zip ties. You can order TEDs from the Bald Head Island Conservancy by emailing conservation@bhic.org. More information about protecting the diamondback terrapins can be found on the Conservancy's website HERE and their flyer HERE.
Drone Flights – The Bald Head Island Conservancy will be conducting drone flights to image beach vitex throughout the summer during the growing season (when it's green). They will be starting on the west side of the island and will work their way east. Flights will be conducted around mid-day. For more information, please view THIS information sheet.
CTP Survey – Brunswick County, its municipalities (including Bald Head Island), Cape Fear Rural Planning Organization, Grand Strand Area Transportation Study Metropolitan Planning Organization, and NCDOT have created a steering committee to start the Brunswick County Comprehensive Transportation Plan (CTP). The CTP steering committee wants feedback from residents and visitors of the county to help create the Vision, Goals, and Objectives as well as to guide the entire CTP process. Your input will help guide this plan. Please participate in THIS SURVEY or pick up a paper copy in the IPC/PO. The survey will be open until June 9, 2021.

A big THANK YOU to all who have participated thus far, the survey has received a significant number of responses (over 3,700!) which is unique for a survey of this type!
COVID-19
On May 14, 2021, Governor Cooper announced that the state is completely lifting most mandatory mask mandates, all mandatory capacity, gathering limits, and social distancing requirements, effective immediately. The mask mandate will remain in effect on public transportation (which means the Bald Head Island Transportation, Inc. ferries and trams), in childcare, in schools, in prisons, and in certain public health settings. The state continues to recommend that unvaccinated people wear masks and is strongly urging them to get vaccinated.
View the latest Executive Order HERE.
View the FAQs HERE.
Vaccines – Brunswick County Health Services announced that it is now vaccinating everyone 12 and up. For more information, view the County's media release HERE. The State's vaccine finder at myspot.nc.gov also provides information on where folks can receive a shot. More information about vaccines can be found at YourSpotYourShot.nc.gov.
Brunswick County Case Numbers – The latest NC County Alert System report indicated that there are no "red" counties, 19 are "orange", 56 are "yellow", 24 are "light yellow", and 1 is "green." Brunswick County is currently light yellow. Light yellow means there is moderate impact on county hospitals and that the case rate was 10-19 cases per 100,000 people in the last 14 days.
Case numbers were typically updated daily on Brunswick County's dashboard on THIS WEBSITE. The County experienced technical issues and this site will direct citizens to the State's COVID-19 dashboard until the County dashboard is up and running.
Village Offices Reopening, Masks Required – Village Hall reopened to the public on Monday, April 26, 2021. The administrative office at Public Safety reopened on Monday, May 17, 2021. Per Council instruction, all visitors (unvaccinated or vaccinated) are required to wear masks in Village buildings, this includes the Public Safety Building, IPC/PO, Village Hall, and Contractor Services. The Council will review this policy monthly.