In this issue:
Recap of Village Council regular meeting.
Volunteers are needed for the Village's Beach Access Parking Study.
IPC/PO is upgrading its software. Please pick up all packages by Friday and make sure you are using your PO Box or your island home address.
New beach forecast webpage and information available for your family, friends, visitors, and guests.
The Village's Annual Drinking Water Quality Report has been released.
Please help our community partners by participating in the 2022 Community Health Opinion Survey.
An update from Duke Energy.
REMINDERS: Golf Cart Safety Month, water conservation alert in effect, beach vitex drone surveys to take place through August, NC Utilities Commission files order for a hearing on VBHI v. BHIT/BHIL, Dosher Clinic on BHI is open, N-95 masks available at Village Hall, free at-home COVID-19 tests available via mail, IPC/PO remains closed on Saturdays.
Regular Council Meeting – The Village Council conducted its regular meeting on Friday, July 15, 2022, at 10:00 a.m. Here is a summary of the information shared and the actions that were taken at this meeting:
During the public comment period, Jordyn Matthews gave a presentation to the Village Council on Bald Head Bottle, a bottle shop that she is expecting to open up in a commercial building that is currently under construction. This business use is permitted at the proposed location so no action by the planning board or council is required. The consent agenda passed unanimously. It included meeting minutes, a proclamation recognizing August 7, 2022, as National Lighthouse Day, and a resolution amending the Village's personnel policy to add two additional holidays to the employee holiday schedule (Juneteenth and a floating holiday).
Under old business, the Village Council approved an agreement for landscape architecture and planning services for the Village's Gateway Area Master Plan. The agreement is with ColeJenest & Stone which was selected from proposals received from other firms. A budget amendment for these services is forthcoming.
Under new business, the Village Council received a presentation from staff on a Beach Access Parking Study. The study will be looking at all of the public beach accesses on the island to determine areas of high occupancy and overflow and to inform the Village on future steps it would need to take to meet needs as the island experiences new development.
Below are a few items that were shared during the Manager's Report.
The Assistant Village Manager, Jae Kim, provided an update on the following:
Marina Channel Dredging – Coastal Dredging completed the dredging of the marina channel over two weeks ago. They spent more time on the bypass area where the sand builds up next to the southern jetty. It is hoped that additional cleaning out of the bypass area will prevent having to dredge as frequently. This also resulted in more sand in front of the homes on Row Boat Row. The Village submitted the paperwork for reimbursement from the State. The State pays 66.67% as part of the shallow draft inlet grant program.
Exposed Columns Near Shoals Club – Mr. Kim said he reached out to Gordon Watts (Tidewater Atlantic Research) regarding exposed brick columns, which were believed to be parts of the base of the old Captain Charlies bath houses. He is waiting to hear back from Mr. Watts. On another note, the Village is also waiting for the final report from TAR on the exposed shipwreck.
Inspection of Geotextile Groinfield Tubes – Staff conducted an initial inspection of the groinfield tubes on South Beach last week per the request of our coastal engineer. Due to tides, the seaward tips of the tubes could not be inspected which will have to be rescheduled to document with photographs. The recent exposure of a section of the tubes has generated some inquiries from the public and the Village would like to reemphasize that the purpose of the tubes is to help mitigate erosion on South Beach and that it is a violation of Village ordinance (Sec. 10-163) to walk upon, traverse, come in contact with, or conduct any activity on the tubes.
IPC/PO Update – Mr. Kim gave an update on June package counts that came through the IPC/PO facility:
8,661 – Total packages for June, had 8,068 the year prior.

Yearly package count to 67,311.
He reported he is tentatively scheduling the new software/handheld training/transfer on Monday, June 18, 2022. Please see the information below regarding some assistance that is needed from customers to make this transition.
Village Manager, Chris McCall, provided an update on the following:
BHI Academy – Mr. McCall reported that he has been in contact with the BHI Academy folks and that it is now up to them to submit a special use permit application. This would be the next step in the process to get approval from the Village. Special use permit applications go to the planning board for consideration.
Shoreline Protection – The Village's contractor has begun working toward the Jaybird Shoals borrow site permit. The Village is seeking a permit to use this site for the next Village-funded shoreline restoration project. Underwater archaeology work still needs to be completed. Afterward, the Village will apply for the permit from the Division of Coastal Management (DCM). The process may require an environmental impact statement (EIS) or an environmental (EA). The EA would mean a shorter timeframe. The Shoals Club is awaiting a post-construction visit from DCM before proceeding with additional dune repair work and dune planting.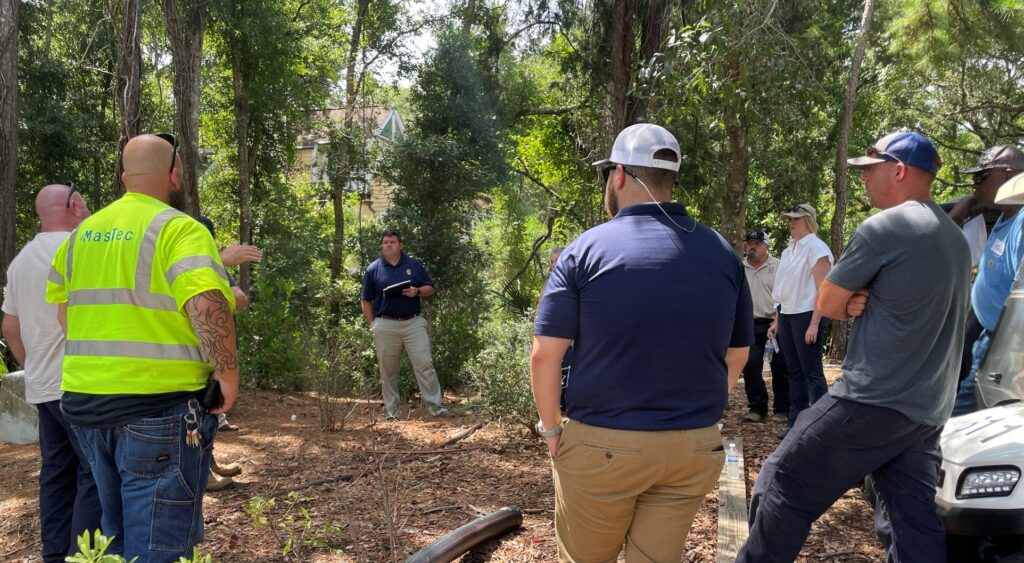 Duke Energy Project – Village staff met with representatives from the Bald Head Association (BHA), Duke Energy, and its contractor Mastec for a pre-construction site visit at the BHA's wildlife overlook. This site will be used to install one of three new switchgears on the island. Construction will include the addition of a 9 ft. x 9 ft. concrete pad in approximately the same area as the existing "big green box." The switchgear will replace the green box and is expected to be a bit wider and taller.
Plans are in place to trim a few of the surrounding trees. There may be at least one small tree and a few bushes removed so that the equipment can get in and out. Permits will be acquired prior to any trimming and removal. Duke Energy will be in contact with the BHA on replanting the area with compatible species which should screen the equipment over time. Although there must be some space left open to allow access for maintenance.
Work is expected to take about a week. They are hoping to do this work in early to mid-August. The work will only take place during the day so that the public can still enjoy the overlook as it often does near sundown. The construction area will be marked off to prevent folks from entering. A lane closure on Stede Bonnet Wynd will be required at certain times. The Village will be sure to communicate all further details to the public.
A full account of these meetings can be found in the minutes which are posted HERE. Typically, minutes are posted with the agenda of the next month's meeting (ex. If you want to read the April meeting minutes, they can be found under the May regular meeting agenda).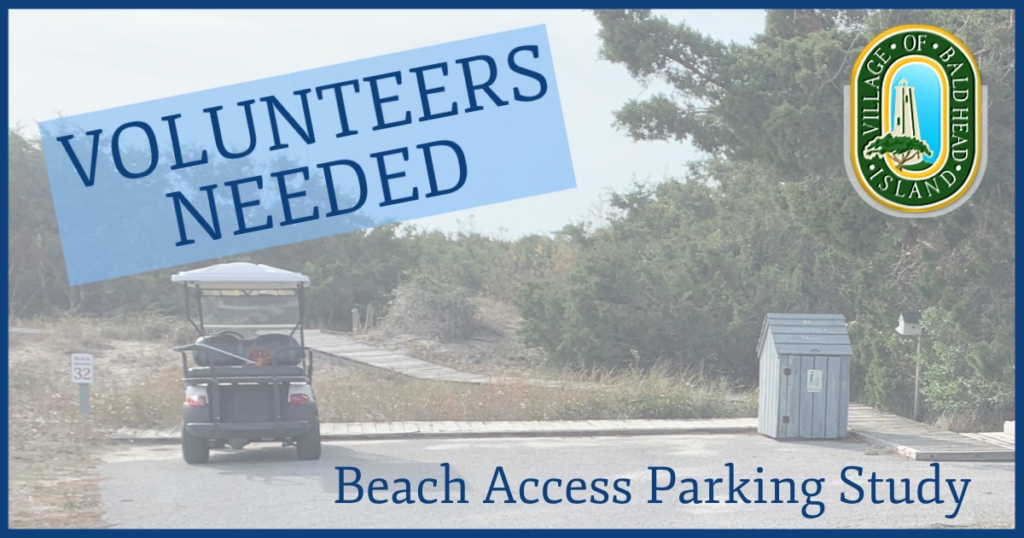 Volunteers Needed – As the Village continues to develop, we need to make sure we are planning for the future needs of our residents, property owners, visitors, and guests. Parking is a need that we anticipate will grow as the Village reaches build-out. The Village is hoping to get the help of at least eight islanders who can visit three or more beach accesses every day or two to record the number of golf carts at each access at various times of the day. The Village would like to discover which public beach accesses fill to capacity, which overflow, and when. We hope to use this data to determine short-term and long-term solutions to address beach access parking on the island. Volunteers can record their data in Google sheets or turn the information into staff for data entry. If you are interested or have any questions, please contact Carin Faulkner at public.information@villagebhi.org.
IPC/PO Upgrade – The Village's Island Package Center and Post Office is upgrading its software and will need some assistance from customers in order to make it as seamless a transition as possible. If you have packages at the IPC, we are asking that you please pick them up by the close of business this Friday, July 22, 2022.
All incoming mail and packages must have a unique identifier to ensure that packages are tracked and received in a timely manner. If you have a post office box, please make sure all incoming mail has that number on it. If you do not have a PO box, your BHI property address needs to be on all incoming mail and packages. We have customers that are using the IPC/PO address (104 Lighthouse Wynd) for incoming mail and packages. This is no longer acceptable and will not be compatible with our new software system.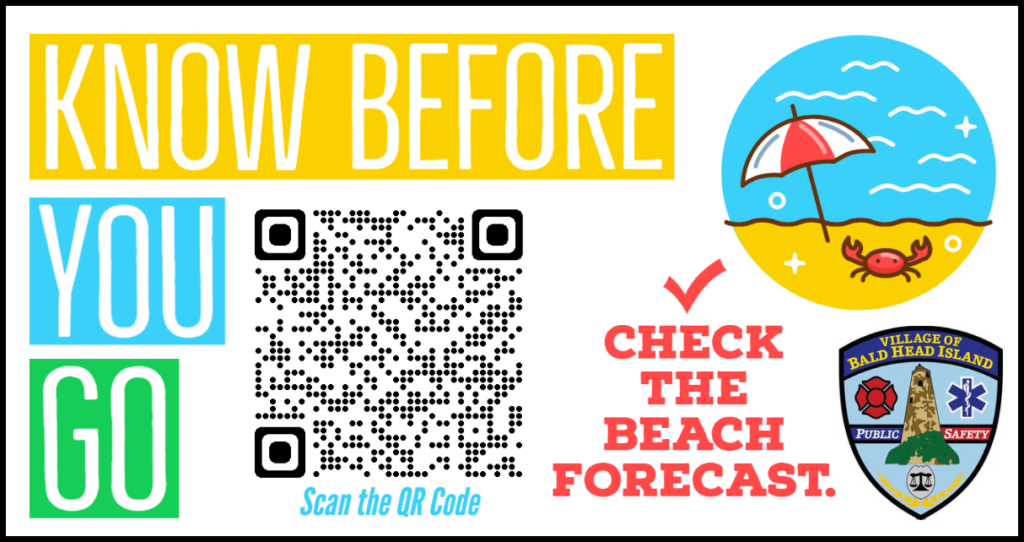 New Beach Forecast Webpage – The Village has created a new webpage that will be just the start of its plans to help better communicate to Islanders and their families, friends, visitors, and guests about rip current risks. In light of several drowning deaths at nearby beaches this year, this information is critical to the safety of all who decide to swim in the ocean. The webpage can be found HERE. It includes a snapshot of the National Weather Service's "Beach Forecast Webpage" and its rip current risk map and links to the NWS surf forecast webpage and the BHI Conservancy's weather station data.
The Village often shares the NWS Wilmington social media posts regarding rip current risks on its Facebook and Twitter channels. We also have "Break the Grip of the Rip" brochures available to the public at Village Hall and the Department of Public Safety. There are links to the brochure and beach safety videos on the Village's updated "beach safety" webpage HERE.
The Village will be adding a QR code to written materials and to beach access signage. Scanning the code will take folks directly to the beach forecast webpage. There are plans to also expand the "today's fire danger" sign near the marina to also include "today's rip current risk."
2021 Drinking Water Quality Report – Last month the Village released the 2021 Annual Drinking Water Quality Report. Consumers should have received a copy with the latest utility bill. If you missed it, you can view it online HERE.
2022 Community Health Opinion Survey – Brunswick County Health Services, in partnership with Dosher Memorial Hospital, Novant Health Brunswick Medical Center, and the Brunswick Wellness Coalition, has officially launched the 2022 Community Health Opinion Survey (CHOS). As a unified front, the organizations are asking residents to provide their opinions about the community health needs in Brunswick County by taking part in the CHOS.
This anonymous and confidential survey is part of the Community Health Needs Assessment (CHNA), which is conducted every three years to identify and prioritize health-related needs among county residents, set an action plan to address those needs, and improve the overall health of our community.
Through September 2, 2022, residents can complete the survey digitally. Residents also have the option to complete the survey using paper copies that are available at Village Hall. Estimated completion time for the survey is 15 minutes and all responses will remain confidential. Link to the survey HERE. More information HERE.
Update from Duke Energy – Duke Energy is working hard to complete a multi-year power grid improvement project that will help harden our system serving Bald Head Island to storms and allow for isolation of outages and remote automatic repairs.
We've recently completed work in the area of Fort Holmes Trail and near the clubhouse at the end of the island.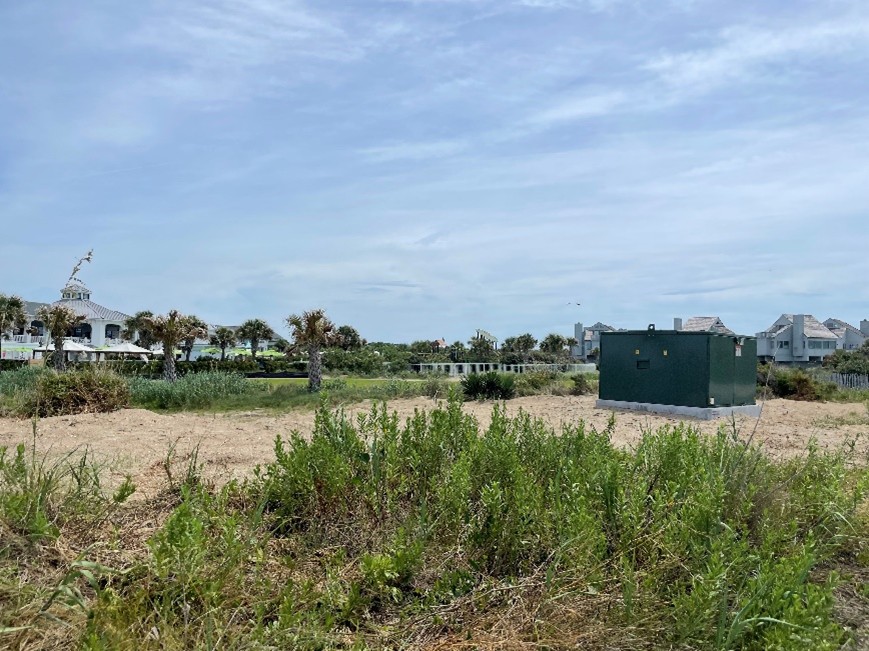 Our next priority is installing some of the final, large switchgear equipment custom designed for Bald Head Island. We're coordinating upcoming work at the overlook area with the Village and Bald Head Association.
We appreciate the community's patience and support as we continue this work.
If you have questions or feedback, you are welcome to contact Danielle Peoples at Danielle.Peoples@duke-energy.com.
The Village receives regular updates from Duke Energy which will be shared with our e-newsletter subscribers and posted on the Village's "Village Projects" webpage HERE.
REMINDERS:
Golf Cart Safety Month – It is still Golf Cart Safety Month, and we hope you are learning about golf cart safety and spreading the word through our social media posts, flyers, and stickers.  Our flyers and stickers are still available for pick-up at Village Hall and will be year-round while supplies last!  Also, do not forget about our poster contest!  We are accepting entries through September 6, 2022.  More info HERE.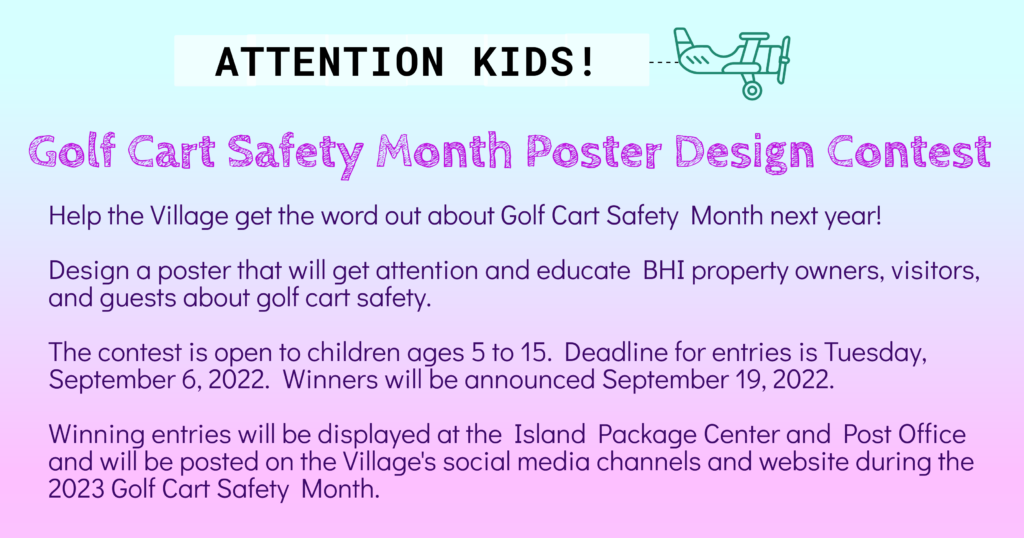 Water Conservation Alert – To ensure adequate water is available for essential needs, Brunswick County has declared a Stage 1 Water Conservation Alert. Water conservation alerts affect all customers of public water systems anywhere in Brunswick County, including Bald Head Island. Users have been asked to be diligent in using water wisely. Additional guidance on specific ways to reduce water usage can be found HERE.
Drone Surveys – The Bald Head Island Conservancy will be performing drone surveys to map beach vitex on the island. This work should be complete by the end of August. Flights will be conducted around mid-day. More info HERE.
NCUC Hearing – Last Friday, June 17, 2022, in follow up to the Village's petition to the NC Utilities Commission to regulate parking and the barge, the NC Utilities Commission filed an order scheduling a hearing and establishing procedures for the matter of the Village of Bald Head Island v. Bald Head Island Transportation, Inc. and Bald Head Island Limited, LLC. The hearing is scheduled for Monday, October 10, 2022, at 2:00 p.m. in Commission Hearing Room 2115, Dobbs Building, 430 North Salisbury Street, Raleigh, North Carolina. Click HERE for the full NCUC order, including procedures and deadlines.
Dosher Clinic – Dosher Medical-Bald Head Island is now open for minor illness and injury patients for the 2022 summer season. The clinic at the Bald Head Island Public Safety Building, 273 Edward Teach Extension, is open Monday through Friday, with clinic hours from 9 am – 2:30 pm. Patients are encouraged to call ahead, and patients with respiratory illness are required to call before entering the building. Everyone who enters the clinic will be required to wear a mask. To contact the clinic, call 910-457-5252. The clinic will be open through September 2, 2022.
Free N95 Masks – Federally provided N95 masks are available at Village Hall, as supplies last. These supplies do not include child-sized masks at this time. Learn more about N95 and other types of masks HERE. To learn more about where to find free N95 masks in Brunswick County go HERE.
Free At-Home COVID-19 Tests Mailed to You – Every home in the U.S. is eligible to order four free at-home COVID-⁠19 tests. The tests are completely free. Orders will usually ship in 7-12 days. Order your tests now so you have them when you need them. Order your tests through the United States Postal Service (USPS) at covidtests.gov. Find local testing sites HERE.
IPC/PO is closed on Saturdays – The Island Package Center & Post Office remains closed on Saturdays. First-class mail will be delivered to post office boxes every Saturday.