In this issue:
Recap of Village Council regular meeting. Including the Village's acceptance of a donated e-bike for the bike patrol, an update on the Wilmington Harbor Inner Ocean Bar project, ladder truck update, and commercial development moratorium extension.
Surf zone measurements of the Shoals Club area to occur this week.
Reminders & Events:
A special meeting of the Planning Board is scheduled for March 28, 2023, at 10:00 a.m.
The 2nd Annual Johnston Coastal Sustainability Symposium will take place on Tuesday, April 4, 2023.
Village offices will be closed on Friday, April 7, 2023. Expect traffic flow changes near the Village Chapel on Easter Sunday (April 9, 2023).
Bring Home the Light Meet & Greet on Saturday, April 8, 2023.
The next Duke Energy siren test is scheduled for Wednesday, April 12, 2023.
Online occupancy tax payment option is now available.
---
Regular Council Meeting – The Village Council conducted its regular meeting on Friday, March 17, 2023, at 10:00 a.m. Here is a summary of the information shared and the actions that were taken at this meeting:
Under public comment, there were no written or in-person comments for the Council.
The consent agenda passed unanimously.  It included regular session minutes, Council retreat minutes, a proclamation declaring April 22, 2023, Earth Day, a proclamation declaring April 28, 2023, Arbor Day, a resolution declaring surplus property and authorizing disposal, a resolution accepting donation of a QuietKat Apex E-bike and a Mayor's Monarch Pledge Day proclamation.
Prior to adopting the consent agenda, a few items were presented to the public. First, Ms. Faulkner, Village Public Information Officer provided an overview of the Village's plans to celebrate Arbor Day, which will include an interactive Appreciation Tree, that will be installed in the Island Package Center and Post Office. This activity will help the Village qualify for Tree City USA designation; which the Village has earned for the last ten years. Mayor Quinn then read the Arbor Day proclamation aloud. Second, the new QuietKat Apex E-bike was presented to the Village by Julie Showalter, Betsi Stephen, and Anna Ball from the Public Service Auxiliary. Many thanks to Cape Fear Customs, Jules' Salty Grub & Island Pub, and the Public Service Auxiliary for the generous donation!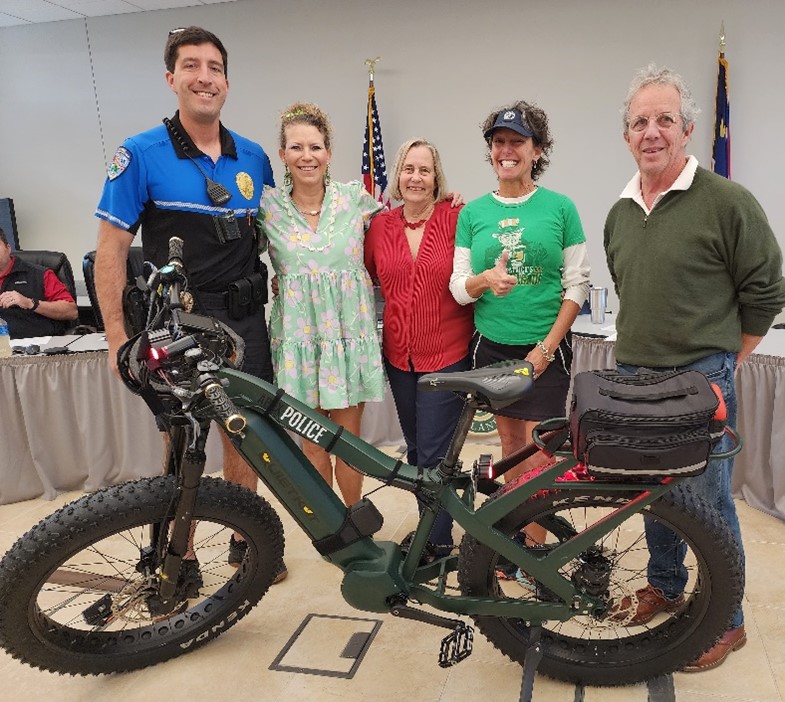 Under old business, Mayor Quinn provided an update on the butterfly garden. There is a group of folks who have approached the Village about installing a butterfly garden at Marina Park. The Village met with the group. The Bald Head Association's Garden Club will oversee it. Public Works is going to help with supplying temporary irrigation and will help on an as-needed basis. Mayor Quinn then gave an update on the commercial area master plan. He formally announced that the preliminary presentation and feedback made it clear that the name of the plan did not fit its purpose, so the name was changed to the "existing commercial site plan analysis." He suggested that the Village Council adopt a new name for the committee, Commercial Area Planning Task Force. He said that the plan that was presented was thought of as a dictated plan of what was going to happen, instead, the intent was to show what could happen if nobody stepped in. Changing the name of the group to task force shows that this is not a one-shot deal, and it will be going on for a while. The Village Council voted to adopt the new name for the CAMP Committee, and it was formally changed to the Commercial Area Planning Task Force. Minutes from the Commercial Area Planning Task Force's meeting from Monday (March 20, 2023) will be posted on the Existing Commercial Site Plan Analysis webpage HERE. To be notified of future meetings, please sign up for the Village's "sunshine list" by contacting Darcy Sperry at village.clerk@villagebhi.org.
The Village Council conducted a public hearing on the proposed extension of the commercial development moratorium. Two options were presented to the Council. Both options would extend the moratorium for 9 months (through December 15) as recommended by the Commercial Area Master Plan Committee (now named Commercial Area Planning Task Force). The first option did not allow for any development on unimproved property regardless of development type. The second option would allow for residential construction to occur on the property if it is currently permitted on that property. One written public comment was received and provided to the Council. Four citizens provided comments in person on the proposed moratorium ordinance. The Village Council voted unanimously (4-0) to extend the commercial development moratorium which includes not allowing for any development on unimproved property in a zone that allows commercial development regardless of development type.
Under new business, the Village Council adopted a budget amendment for the water/sewer fund, adopted a resolution accepting the dedication of the public easement known as Surfman John Price Alley, adopted a resolution authorizing the execution of a lease between the Village and Riverside Adventure Company of portions of revised Lot 1 and revised Lot 2, Quartermaster Row, and adopted a resolution authorizing the Village Manager to lease the Marina Park for terms of one year or less. There was a discussion regarding the proposals received for auditing services. The Village Council voted to continue using the same auditor (Barry Padgett and Chandler, PLLC) for another year.
Below are a few items shared in the Manager's Report:
Public Safety – Chief May shared the monthly statistics for the department (HERE). He was asked about the status of the new ladder truck. Delivery of the new truck is expected in January 2024. The Village has received drawings of the truck which can be viewed HERE and HERE. Updates on the status of the truck will be posted on the Village's "Village Projects" webpage HERE. The Village received an email stating that the Village's FEMA grant extension has been granted through March 15, 2024, this includes $1.78 million that would be used for the purchase of four Public Safety vehicles. The Village intends to re-bid the contracts for the vehicles.
Public Services – JP McCann, Public Services Director shared the monthly statistics for the department (HERE). He announced that several employees have recently completed training. Mike Harris has completed 10 modules of the Facilities Management certification program. David Morales and Kenneth Atkinson have passed the State exam for cross-connection control and are now certified. Mr. McCann and Ian Carico have passed the exam for wastewater biological II. Mr. Carico will be the new backup ORC (operator in responsible charge).
Shoals Club Erosion Update/Village Support – Mr. McCall reported that Village staff including Erik Olsen attended the BHI Club Shoals Beach Erosion Ad-Hoc Committee meeting earlier this week to offer information and answer questions about the Village's experiences with erosion and the use of sandbag revetments as temporary erosion control structures. Erik provided some insight and reemphasized recommendations presented at the annual Council Retreat concerning the Village's efforts on the 2025 private renourishment project.
Short-term options were discussed with a petition for a variance by the CRC to increase the size of the existing sandbag wall increasing the base width to 40′ feet and a maximum height of 12′ feet above grade.
Recommendations were followed up with the Club Manager for legal representation with someone experienced in coastal matters as an attorney will have to represent the Club before the Commission.
Jay Bird Shoals (JBS) Borrow Site NEPA/EA Process – Work continues on the 2025 Village renourishment project to obtain the JBS borrow site permits from the State and Army Corps of Engineers. Staff executed the proposal from Davey Group (formerly Land Management Group) to move forward on the environmental assessment process required by the Corps. Mr. McCallnoted that we included a projected budget of $75k for this effort given work previously done on the borrow site for the previous 2018-2019 the cost proposal came in at $56k.
MAPS Salary & Pay Classification Study Update – A special meeting has been set for April 5th at 10:00 a.m. for the Village Council to receive a presentation from Becky Veazy with the MAPS Group on the report and recommendations.
Cyber Security Assessment Update – The NC Army National Guard has indicated that the assessment report will be finalized and available on March 29, 2023. Staff will work to have a presentation ready at the April 21st Council meeting.
The Assistant Village Manager, Jae Kim, provided an update on the following:
Landscaping Project – Mr. Kim reported that MonFrere installed all plants and trees minus the Lomandra (ornamental grass, quantity – 50), which is unavailable until April due to its perennial growth habit. They will coordinate with Brian Jenest once they are acquired and then with Village Public Works staff on timing. He indicated that a temporary irrigation system was purchased, and installation began on 3/8 by Public Works staff. Water will be released at a rate of 2 GPH for small plants and 7-10 for trees. Clock timers will be set to run multiple daily cycles to achieve 4-10 GPH per plant overnight. Public Works will check for proper operation every day until the system design and durability have proven successful. Then, it will be checked weekly.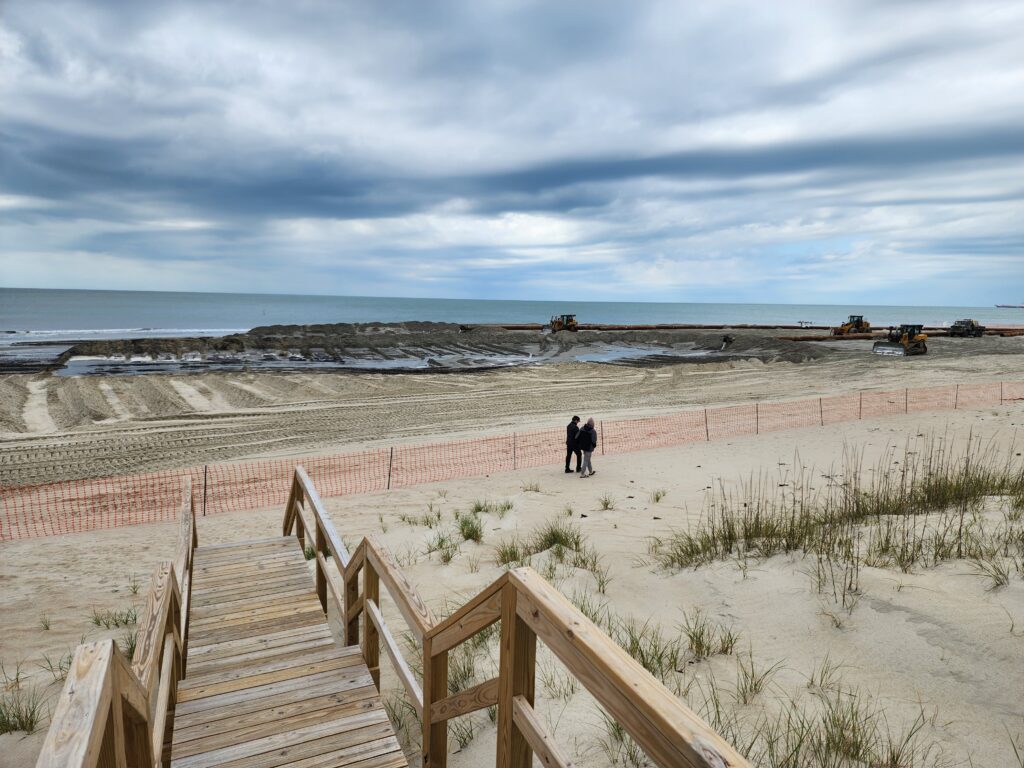 Shoreline Protection – Mr. Kim updated the Council on the Wilmington Harbor Inner Ocean Bar project.
Quality control & environment: material continues to be roughly 95% sand as the dredge moves through AS1 (split of BHI Reach 2 into two sections).
Dredge Savannah finished all work in AS2 and moved into AS1. Production increased significantly while working to clear the heavy bank in AS1 but will slow during the cleanup pass. Removing roughly 30,000 cubic yards a day.
BHI Reach 2: Quantity before dredge was 760,000 Cyds. Estimated removed through 3/13 was 557,881 Cyds. Material remaining as of 3/13 was 202,119 Cyds.
The estimated date of completion is April 3, 2023. This includes 15 dig days (workdays) and approximately 5 weather/mechanical downtime days. Marinex could potentially finish all work by the end of the week of March 20, 2023, if the weather cooperates.
Project updates and FAQ can be found HERE and on the Village's social media channels.
Mr. Kim reported that he and other Village officials will be attending the Offshore Wind open house which took place last night (3/21 from 4-7 p.m.). The open house was presented by the NC Taskforce for Offshore Wind Economic Resource Strategies (NC TOWERS). Its purpose was to provide an opportunity to connect with members of the NC TOWERS task force and with offshore wind experts. It provided a chance to have one-on-one talks with experts in an informal setting. Time was scheduled for interactive sessions and Q&A. The Village will be reporting on the latest status of the wind energy project in the next few weeks. You can also stay up to date by checking the Village's Wind Energy Project webpage HERE.
IPC/PO Update – February package counts that came through the IPC/PO facility:
3,944 total packages for February 2023 with a 4.9% increase from the month before (3,757 packages)
11.9 % decrease from the year prior when there were 4,478 total packages from February 2022.
Contracts – UPS contract status is ongoing. FedEx (Ground) contract status is ongoing.
The Village is still reviewing applications for the fourth FTE employee for the IPC/PO.
AIA (Asset & Inventory Assessment) Grant Update – Mr. Kim announced that per the latest funding round updates on DEQ's website, February 2023 State Water Infrastructure Authority-funded projects (projects from Fall 2022 funding round approved by the Authority on Feb. 21, 2023) indicate the Village of Bald Head Island will receive $253,000 for the sewer AIA and $253,000 for the water AIA.
These awards require procurement of services, so there will be an RFQ for this project. Also, we expect to receive the official award letter from the state, which is the Letter of Intent to Fund (LOIF) with outlines of the next steps and milestones. Once received, staff will come back with further details for Council on the grant project with a scope of work.
Staff Accomplishments – Mr. Kim announced that Zachary Hewett, Finance Director, has been appointed to serve on the Brunswick Community College Board of Trustees. He was sworn in last month. Article HERE.
A full account of these meetings can be found in the minutes which are posted HERE. Typically, minutes are posted with the agenda of the next month's meeting (ex. If you want to read the December meeting minutes, they can be found under the January regular meeting agenda).
---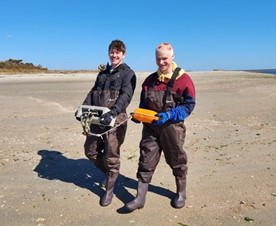 Surf Zone Measurements – From March 23 through March 25 a group of four UNCW undergraduate Coastal Engineering and Oceanography students and three faculty members in the Department of Physics and Physical Oceanography, will be visiting the island as part of a class research project to document the coastal dynamics around Frying Pan Shoals. They will be placing instruments in the surf zone and on the shoals to measure waves, currents, and changes to the water depth caused by sediment transport. The instruments will all be marked with surface floats. The project is part of a larger effort to collect data and build models to understand how Frying Pan Shoals changes through time.
---
Reminders: & Events:
Planning Board Meeting – A special meeting of the Planning Board is scheduled for March 28, 2023, at 10:00 a.m. in the multi-purpose room at the Department of Public Safety. The agenda can be viewed on the Planning Board webpage HERE.  Items include a few subdivisions/recombinations, a review, and recommendation of Blueprint Brunswick 2040, an update on the Commercial Area Planning Task Force, and the special use permit application for BHI Academy.
2nd Annual Johnston Coastal Sustainability Symposium – Join the BHI Conservancy on Tuesday, April 4, 2023, for presentations by experts in a variety of coastal and sustainability fields There is no cost to attend, but please register by emailing Dr. Chris Shank (shank@bhic.org). Spaces are limited. More info HERE.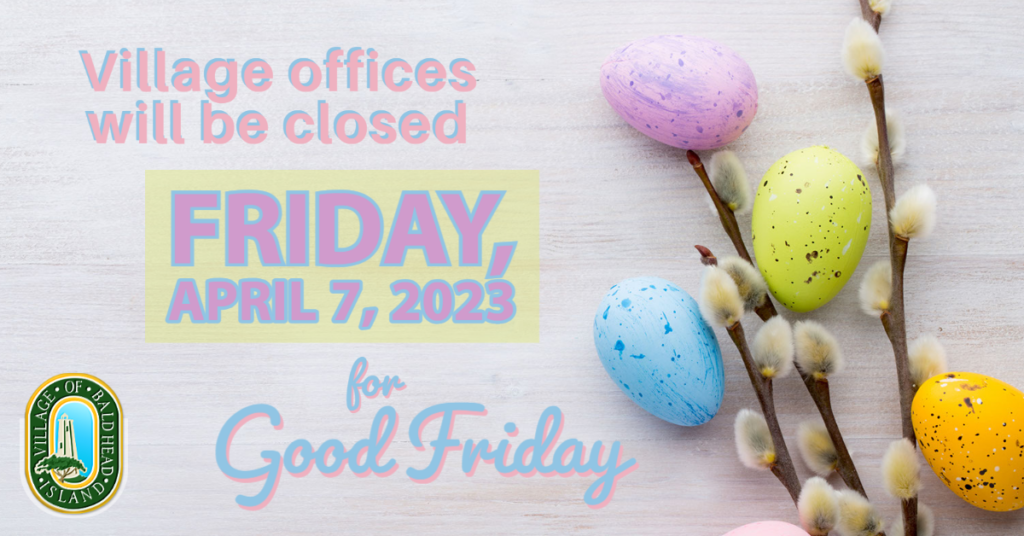 Village Offices Closed – Village offices will be closed on Friday, April 7, 2023, in observance of Good Friday. The Island Package Center and Post Office will also be closed that Friday but will be open on Saturday, April 8, 2023 (10 a.m. – 3:00 p.m.).
Islanders should expect traffic pattern changes and/or road closures on Easter Sunday (April 9, 2023) near the vicinity of Lighthouse Wynd as we accommodate the estimated 800 folks who will be visiting the Village Chapel for the three services taking place that day.
Bring Home the Light Meet & Greet – Join the Old Baldy Foundation on Saturday, April 8, 2023, from 1:00 p.m. to 4:00 p.m. to preview plans for the new Interpretive Center. You will be able to ask questions and see how you can become involved in making the Old Baldy Campus Expansion possible. More info HERE.
Siren Test – Duke Energy will be testing outdoor warning sirens around the Brunswick Nuclear Plant on Wednesday, April 12, 2023. The full-volume, 5-30-second test is scheduled between 10 a.m. and 11 a.m. No public action is required. More info can be found HERE.
Pay Occupancy Taxes Online – Property rental owners can now pay occupancy taxes online. Notification letters should have been delivered to property rental owners by February 28, 2023. If you did not get your notification letter, please contact the Village at taxes@villagebhi.org or blt.str.support@govos.com to request an activation code and account number. Also, please check your spam folder and add blt.str.support@govos.com to your safe sender list.
More details are available in the notice sent with the utility bills (view HERE). For additional information, please email taxes@villagebhi.org.
This method is optional. Property rental owners who wish to continue to use paper submissions can still do so if they prefer.