In this issue:
Recap of Village Council regular meeting.
Diane Mesaris receives Governor's Volunteer Service Award.
Pollinator garden groundbreaking an Earth Day success!
Commercial Area Planning Task Force update.
Reminders & Events:
Budget workshop scheduled for tomorrow, Tuesday, April 25, 2023, at 8:30 a.m.
View our virtual Arbor Day celebration on Friday, April 28.
Beach bonfire season ends 4/30.
Turtle nesting season begins 5/1.
Brunswick County Emergency Services is hosting hurricane preparedness presentations for residents May 1–5.
Pub Crawl benefitting the PSA, Thursday, May 11, 2023, starting around 5 p.m.
Public Safety Day is scheduled for Saturday, May 13, 2023, from 9:00 a.m. to noon at the Department of Public Safety.
Island Package Center & Post Office Reminders – Package tracker, FedEx/UPS delivery days, 30-day return policy, dogs in the IPC/PO.
A section of Lighthouse Wynd is now closed to vehicle traffic.
---
Regular Council Meeting – The Village Council conducted its regular meeting on Friday, April 21, 2023, at 10:00 a.m. Here is a summary of the information shared and the actions that were taken at this meeting:
Under public comment, there were no written or in-person comments for the Council.
The consent agenda passed unanimously.  It included regular session minutes from March 17 and special session minutes from April 5.
Under old business, the Council received an update on the Brunswick County Comprehensive Transportation Plan. A draft plan is available online. Online comments on the draft will be accepted May 1 – May 15. In-person public input sessions are scheduled for May 2, 4, and 9. More information HERE. The Village Council unanimously adopted a resolution adopting a classification and pay plan for Village employees.
The Village Council conducted a public hearing on the Blueprint Brunswick 2040 Plan. After hearing from the public, the Council unanimously adopted the plan to include a few minor map changes which will be submitted before the plan is finalized and sent to the Division of Coastal Management, as required.
Under new business, the Village Council received a presentation from First Tryon Advisors on the financial model that the firm has been working on for the Village.  The Village Council approved two subdivision preliminary plats (HERE and HERE) that were submitted by Bald Head Island Limited.

Below are a few items shared in the Manager's Report:                                                             
Development Services – Mr. Boyett presented the monthly statistics. There was discussion with staff and Council regarding traffic issues related to limited space to use as laydown areas for construction projects.Staff will continue to be proactive in communicating preferred laydown areas with contractors to prevent traffic impacts, with the acknowledgement that some areas of the island simply do not have sufficient space.Staff will be working on a draft policy for the next Council meeting.
Public Safety – Chief May announced that he and a few Public Safety Officers attended the award ceremony in which Diane Mesaris received the Governor's Volunteer Service Award (more below). He provided a timeline of the Department of Public Safety's (DPS) response to a structure fire that occurred on Chicamacomico Way on the morning of Saturday, April 15, 2023. The call came in at 11:38 and at 12:53 the DPS was packed up and leaving the scene. The cause of the fire was undetermined with a possible electrical origin. The fire was contained to the structure (a crofter) and there was minimal damage. (Read Chief May's full report HERE).
The DPS takes lessons from every incident and this one had some educational components:
We encourage households to have a monitored alarm system.
Have your sprinkler systems inspected annually.
It is helpful to have your address numbers in a contrasting color to the house trim color to aid in locating specific addresses.
Purchase a Knox Box or examine existing Knox Boxes for rust or corrosion.
Chief May shared the monthly statistics for the department (HERE).
Public Services – JP McCann, Public Services Director shared the monthly statistics for the department (HERE).

The Village Manager gave an update on the dog park. The Village and the Bald Head Association are coordinating and working on formalizing who does what at the park. The BHA owns the land but found some documentation that indicates the Village may have some responsibility for maintaining it. He said that the Village is going to spray for fleas, ticks, and poison ivy. Mr. McCann said that he will continue to work with the stakeholder group to identify needs and determine what the Village can or cannot provide in the future with our personnel and assets.
Mr. McCann reported that the new fuel dispensers are installed at Contractor Services. They are now working to get the software programmed. The pumps are operational, and fuel will be tracked manually until the software is up and working. The above-ground fuel tanks were inspected prior to installation.
Mr. McCann reported that the lift station upgrades were expected to begin two weeks ago, but that there has been a delay. All equipment is staged and ready. He reported that the parking lot near the new ADA access is being expanded so that six-seater carts can fit in the lot and more carts can park there. Staff is making signs and has already trimmed back the vegetation to improve the visibility in this area.
IPC/PO Update –March package counts that came through the IPC/PO facility:
6,441 Total packages for March 2023 with a 63% increase from the month before (3,944 packages)
10.1% increase from the year prior when there were 5,850 Total packages from March 2022
This large increase is a sign of a busy start to the season.
Landscaping Project – MonFrere installed the lomandra (ornamental grass, quantity – 50), which was the final part of the landscaping project during the last week of March. The final check for the project is being processed this week to close out the project. Public Works staff completed installation of the temporary irrigation and the lomandra will be hand watered.
Shoreline Protection
Wilmington Harbor Inner Ocean Bar Project – Marinex completed the dredging project the first week of April on-time. Then took a couple of weeks to pull pipe and equipment from the beach and area. An estimated 1,134,000 cubic yards of sand was placed on the shoreline of Bald Head Island's south beach. The project was a success with no complications or issues.
Channel Maintenance Dredging – Coastal Dredging, LLC will be working as the contractor on this project. They plan to have their equipment ready and staged by mid-May and stated that the project should be completed before Memorial Day. All of the material that is dredged will be placed on the shoreline in front of Row Boat Row.
Shoals Club Erosion – The Village will continue to be supportive of the Shoals Club's efforts to address the severe erosion on the shoreline. The Village is expected to attend the meeting with adjacent property owners/stakeholders and assist in any way it can.
Permits for 2025 Beach Nourishment Project – The Village is in the process of submitting applications to the Division of Coastal Management and the Army Corps of Engineers. The Village expects to have a pre-application scoping meeting.
AIA (Asset & Inventory Assessment) Grant – The Village received a letter from the Division of Water Infrastructure stating that they received our AIA grant program application and that the State Water Infrastructure Authority approved our project as eligible to receive grant funding from ARPA (American Recovery Plan Act) and the State's Reserve Program (SRP). A Request for Qualifications (RFQ) for general on-call engineering services was scheduled for 4/19 and a firm will be selected next week by the selection committee (Public Services staff). The selected firm will assist us in moving forward on this grant project. The next step includes the submittal of a preliminary project scope that includes cost estimates and schedules. Once the Division project manager approves the scope, they will send a grant agreement and full packet to the Village. At that point, staff will have a resolution and project grant ordinance to present to Council for approval. This will hopefully be on the Council's May regular meeting agenda.
Legislative Update – The Village is working with its legislators and government affairs consultants at the state level on an erosion control structure bill amendment and securing funding for public safety communications equipment and the wastewater treatment plant expansion. Staff has also been bringing Mike McIntyre up to speed on the Village's position on wind energy and its efforts to permit Frying Pan Shoals as a borrow site for future beach nourishment projects.
Dosher Clinic on BHI – The Village received notice from Dosher Memorial Hospital that due to staffing shortages, they will not be able to have a clinic on the island this season. This will not impact the Village's current procedures for addressing walk-in non-emergent patients. The Village will continue to notify patients about their options to include the on-island provider and mainland providers when necessary. In addition, some medical providers and insurance companies have telemedicine options that individuals may wish to explore prior to staying on the island. As always, if you are experiencing a medical emergency, please call 911 and let the operator know you are on Bald Head Island.
A full account of these meetings can be found in the minutes which are posted HERE. Typically, minutes are posted with the agenda of the next month's meeting (ex. If you want to read the March meeting minutes, they can be found under the April regular meeting agenda).
---
Governor's Volunteer Service Award – On April 17, 2023, Chief May, Captain Gibson, Captain Swanson, and Lt. Steven Barger attended the Governor's Volunteer Service Award Ceremony at Brunswick Community College where Public Safety Volunteer Captain Diane Mesaris was honored as a recipient of the award. Ten of the volunteers that were nominated in Brunswick County were selected from a large pool of worthy nominees.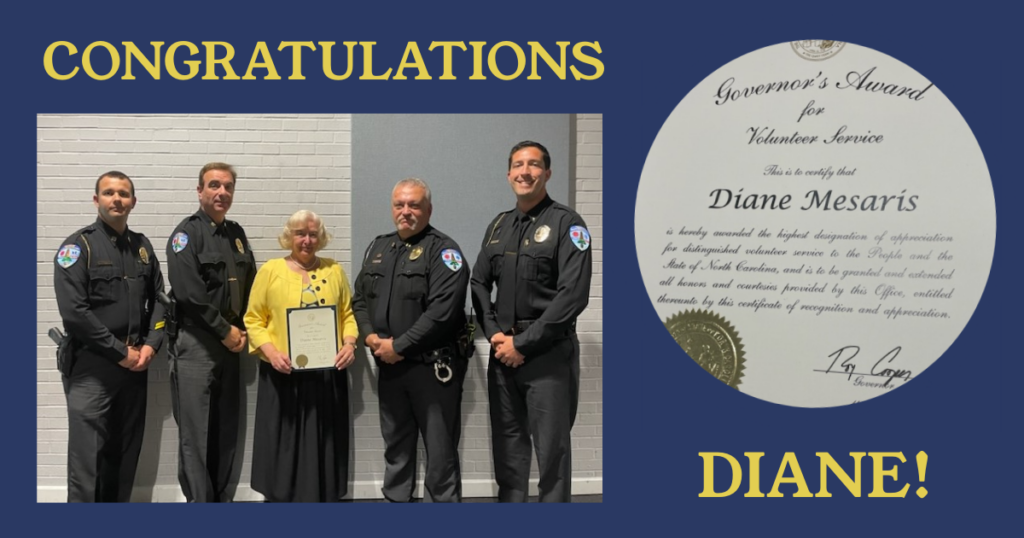 In the nomination from Chief Alan May, Chief May said, "I believe Diane is the best choice for the award because she consistently displays our agency's values of professionalism, integrity, respect, and service" and "Diane encourages the people she works with to commit to personal development and to avail themselves of the tools to enable them to care for our community. Any success I have with the volunteer contingent is because of Diane's continued commitment to the group and the Bald Head Island community as a whole." Congratulations Diane!
Pollinator Garden Groundbreaking – On Saturday, April 22, smiles outshined the sun for the groundbreaking of the pollinator/butterfly garden at the Village's Marina Park. Mayor Quinn and a few of our Public Safety officers were in attendance. The garden is co-sponsored by the BHI Garden Club, the Village, and BHA and the goal is to bring back the endangered monarch butterflies as well as many other local pollinators to BHI. What a great way to celebrate Earth Day! Read Mayor Quinn's Monarch Pledge HERE.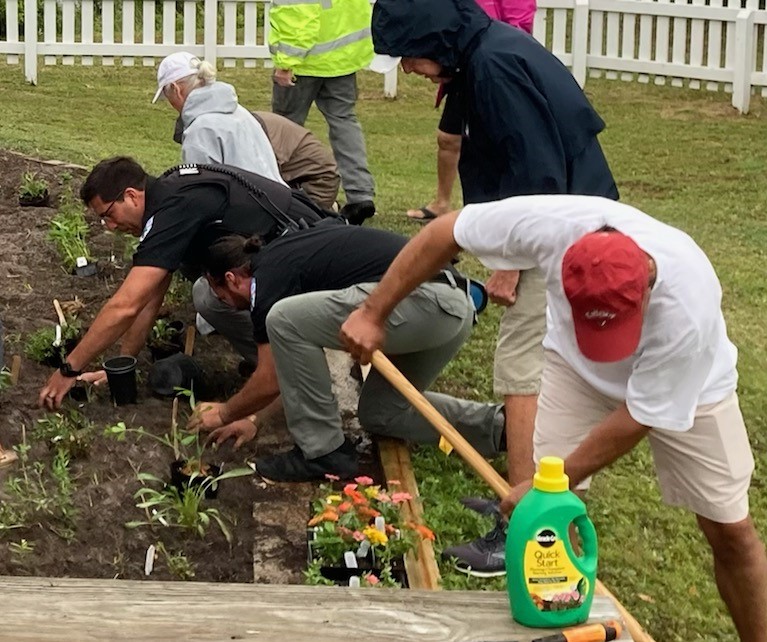 CAPTF Update – The Commercial Area Planning Task Force (CAPTF) met on April 20, 2023, to review the comments received on the first draft of the commercial design guidelines and the second draft. Additional changes will be made to the document and when that is available, the task force is expected to reach out to the public and contractors specifically with an opportunity to provide comments. Thank you to all who submitted comments so far, your input is valuable to the process. If you would like to be informed about future CAPTF meetings, please contact Darcy Sperry, Village Clerk (village.clerk@villagebhi.org) to be added to the Village's "Sunshine List."
Reminders: & Events:
Budget Workshop – The Village Council will be having a special meeting/budget workshop tomorrow (Tuesday, April 25) at 8:30 a.m. This meeting is open to the public and can be attended in person in the multipurpose room at the Department of Public Safety or via Zoom. The agenda is posted HERE. Zoom information can be found HERE.
Arbor Day Celebration – Thank you to all who contributed to the Appreciation Tree! The Village will be posting a virtual celebration on Arbor Day, which is this Friday, April 28, 2023, on our social media channels. Please check Facebook, Twitter, YouTube, and Instagram on Friday!
Beach Bonfire Season – Beach bonfire season ends on April 30 each year; therefore, no more applications will be accepted after this Friday, April 28, 2023. More info HERE.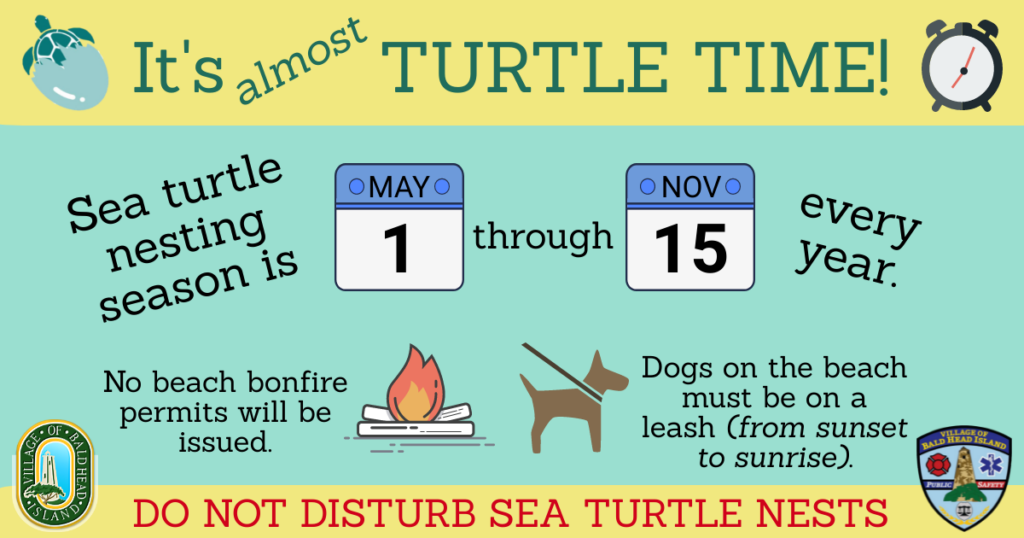 Turtle Nesting Season – Turtle nesting season officially begins on May 1 each year. As the nesting season begins, the Bald Head Island Conservancy would like to remind everyone to be mindful of the beach and its natural inhabitants during the summer months. Here are a few tips from BHI Conservancy's Sea Turtle Biologist Paul Hillbrand (full article HERE):

1) Only RED light is allowed on BHI beaches at night (per Village Ordinance Sec. 10-83 (a)). Sea turtles rely on the darkness of the beach and the relative brightness of the ocean to nest and find their way to the sea. White light confuses and misorients both, nesting females and hatchlings. Turtle Central has red flashlights or headlamps.
2) BHI Conservancy asks for all outdoor & indoor lights projecting onto the beach to be turned off.
3) Do not disturb nesting sea turtles or hatchlings.
– If you observe either a nesting sea turtle or hatchling on the beaches this summer, turn off all lights (even RED), keep quiet, and watch at a respectable distance to not alter their natural behavior.
– If you see a nesting female, hatchling, or injured sea turtle, please call BHIC's Wildlife Response Hotline at 910-457-0089 x5.

4) Completely fill in ALL holes and flatten sand structures on the beach. Holes can trap sea turtles and are a safety hazard for humans.

5) Remove ALL property and litter from the beach. Beach chairs, tents, umbrellas, etc., can entangle and even injure nesting sea turtles and are required to be removed from the beach between 9:00 p.m. and 8:00 a.m. year round (per Village Ordinance Sec. 10-165).
6) Dogs must be on a leash from sunset to sunrise (per Village Ordinance Sec. 4-521).
Follow the BHI Conservancy's social media accounts to find out more information, @bhiconservancy on Facebook, Instagram, & Twitter.
Hurricane Preparedness Presentations for Residents – Hurricane season is almost here, and Brunswick County wants to make sure our residents are prepared and ready. Residents are invited to attend special presentations on hurricane preparedness at four Brunswick County Libraries during the first week of May (May 1-5), which coincides with Hurricane Preparedness Week and Resilient and Thriving Brunswick Week. Brunswick County Emergency Services staff will show you how to make a personal hurricane preparedness plan for you and your family during these presentations. RSVPs are not required, and all sessions are open to everyone. Details HERE. BHI hurricane preparedness information HERE.
Pub Crawl – There will be a Pub Crawl with proceeds benefiting the Public Service Auxiliary on Thursday, May 11, 2023. The crawl starts at Jules' around 5:00 p.m., with trams scheduled to take the crawlers next to the BHI Club, BHI Bottle, the Market's Forest Pavilion, then the Shoals Club, and back to Jules. Tickets are $55 each and can be reserved by sending Jules a Venmo @Julesfly5. If you'd like to become a sponsor or if you have any questions, please email Anna Ball.
Public Safety Day – Public Safety Day is scheduled for Saturday, May 13, 2023, from 9:00 a.m. to noon, this year. It will be taking place at the Department of Public Safety (DPS) at 273 Edward Teach Extension. The entire community is invited to come out and participate in this annual event which will begin with a 3.2-mile walk/run/bike which will start and end at the DPS. It is 3.2 miles long for Station 32, the Village's fire station number. Our Public Safety Officers will be running in full gear. After the race, there will be a bike rodeo and fun activities for the kids, education stations, food, and drink! Donations can be made at the event via Venmo, cash, or check, made out to the Public Service Auxiliary (PSA), and are greatly appreciated!
The PSA would like to thank US Foods for its generous sponsorship of this year's event!
IPC/PO Reminders – As the Island Package Center and Post Office continues to get increasingly busy over the coming months, the Village wants to remind folks of a few items.
Package Tracker – Since the timing of the arrival of FedEx/UPS packages to the island is dependent upon the arrival of the packages at Deep Point relative to the barge running (which can be delayed by weather and does NOT run on Saturdays & Sundays) the best way to know if a package is on the island is to check its status using the Village's package tracker. The package tracker can be accessed online HERE. Please note, the Village no longer sends out messages about package status to customers that do not have a PO box.

30-Day Return Policy – All packages that are not picked up within 30 days are automatically returned to the sender, no exceptions.

Perishable Items – Try to order your perishable items so they're delivered earlier in the week because, with the barge schedule and weather, you don't want them getting stuck in Deep Point for the weekend.

Dogs in the IPC/PO – Dogs are the responsibility of the owner when they are on Village property. Please clean up after your dog and always keep it under your control. The IPC is small, and the Village would prefer only one dog in the building at a time.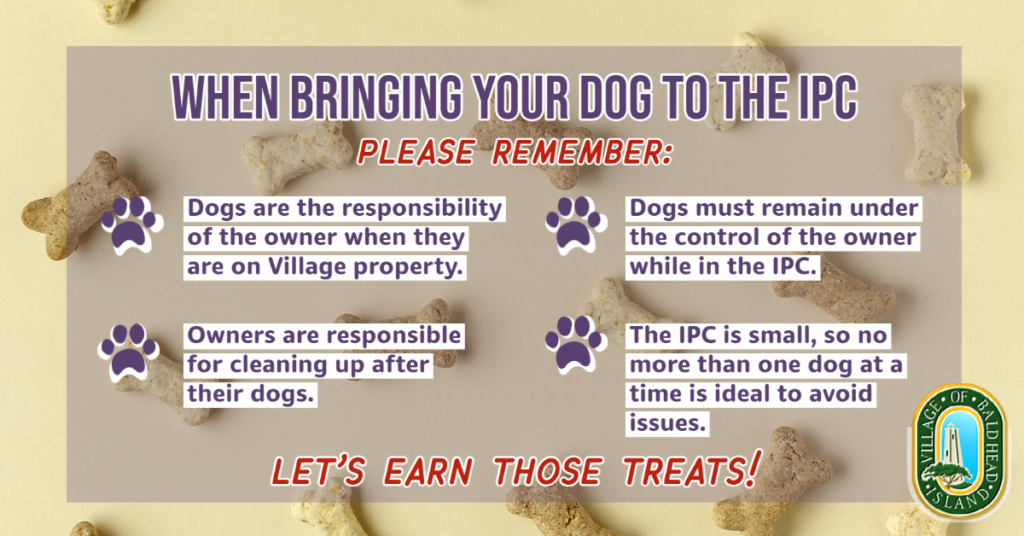 Lighthouse Wynd – A section of Lighthouse Wynd is now closed to vehicle traffic. The closed section will remain open for pedestrian traffic until construction work begins for Old Baldy Foundation's campus expansion. The parking area is also still available for the time being.