In this Issue:
A brief recap of the 12/9 regular Council meeting
Blueprint Brunswick 2040, you can provide input on BHI and Brunswick County's future
An update from Duke Energy
Changes to bulk pick-ups from Public Works
Christmas ferry schedule
Fire safety tips for the winter and holidays
Christmas tree disposal at Timbercreek Mulch site
Farewell to two long-time Village employees
REMINDERS: Free mulch available at the Swan's Quarter site, Wilmington Harbor Maintenance project begins 12/20, Village offices and IPC/PO closed on 12/24, 12/25 & 12/28, IPC/PO will be open late on 12/23, free mulch available at the Swan's Quarter site, annual golf cart registration due 1/1/2021, ICE vehicle use is prohibited on Village holidays
COVID-19:
North Carolina will remain under a modified stay at home order through January 8, 2021
Follow the 3 W's and NCDHHS and Brunswick County Health Services guidance
Current Brunswick County case numbers
REMINDER: Village Hall remains closed to the public until further notice
Council Meeting Recap – The Village Council conducted its regular meeting on Wednesday, December 9, 2020, at 11:00 a.m. The Village Council received public comment regarding the condition of the island relative to Duke Energy's project. The Council indicated that the Village would address this issue when Duke Energy's projects are completed as Duke Energy tends to revisit areas even after it appears they are done working. Duke Energy will be providing the Village with regular updates on its projects. The first update can be viewed later in this issue and addresses restoration efforts.
Under Old Business, the Village Council received a status update from BHI representatives on the Bald Head Island Transportation Authority Board on the Authority's recent actions toward acquiring the ferry system and other transportation-related assets. Under New Business, the Village Council approved a budget amendment for additional improvements associated with the contractor services project, a resolution setting the 2021 Council meeting dates, and a resolution setting the 2021 Planning Board/Board of Adjustments meeting dates. In 2021 regular council meetings will be held at 10:00 a.m. on the third Friday of every month except for February and December. The Council will conduct its regular meeting and annual retreat on February 2nd (this meeting usually runs the entire day). The Village Council discussed a request for information related to a BHI property owner's effort to establish an ABC store on the island. The Village will be providing the property owner with some of the information requested and will not be providing a formal request from the Village at this time.
The Village Manager updated the Council on several items to include the Wilmington Harbor project (see this WEBPAGE for the latest updates), the Marina Channel Maintenance project, the Crown Castle cell tower, Brunswick Blueprint 2040 (more information below), and the Village's permit application for the Frying Pan Shoals borrow site.  For up-to-date information about many of these items and others, visit our Village Projects webpage HERE. Village Staff updates this page regularly as we receive information and answer questions from the public.
A full account of these meetings can be found in the minutes which are posted HERE. Typically, minutes are posted with the agenda of the next month's meeting (ex. If you want to read the September meeting minutes, they will be found under the October regular meeting agenda).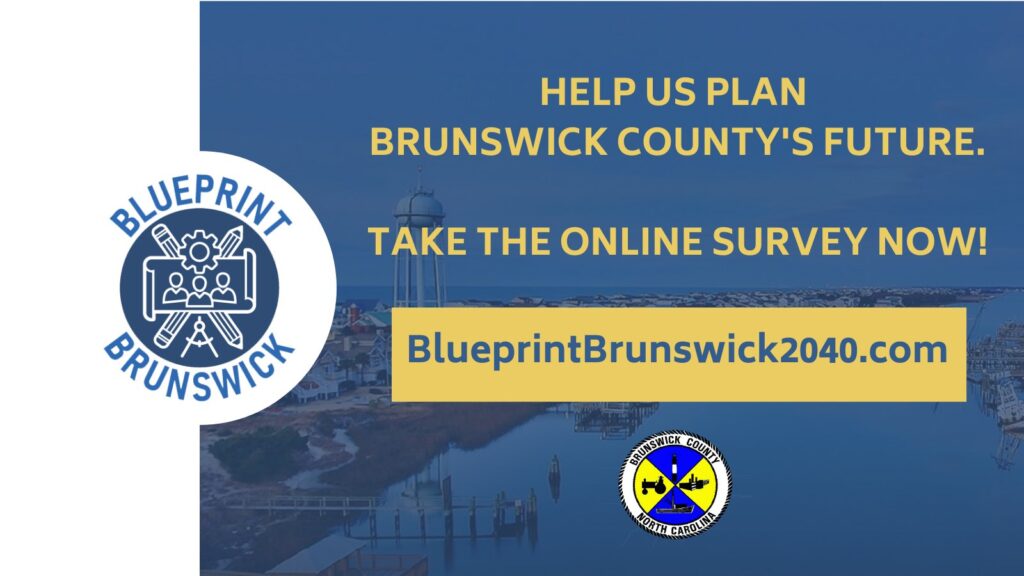 Blueprint Brunswick 2040 – Brunswick County is currently working on two plans, a Comprehensive Land Use Plan and Parks and Recreation Master Plan, which will guide future growth, decisions, and investments in infrastructure and services within Brunswick County. The Village of Bald Head Island is one of several Brunswick County municipalities that will be included in these plans. The County has conducted several community meetings (which can be viewed online HERE) and stakeholder group meetings. Earlier this week planners conducted a conference call with Mayor Sayre and Village staff who provided input on several topics to include traffic issues in Southport, concerns with deepening of the Wilmington Harbor channel, flooding of primary roads, shoreline protection support from the County, and the Smithville tax district. Village Council members will be adding additional input, but input from individual Bald Head Island citizens is needed and is a valuable component of the plan's development. It is YOUR plan. Please take some time to complete the online survey HERE or pick up a hard copy in the IPC/Post Office. Citizens have until January 1, 2021, to respond.
Duke Energy Update (submitted by Duke Energy) – Duke Energy is working hard to make sure the energy infrastructure serving the Bald Head Island community can reliably serve customers now and in the future. Improvements will help harden our system to storms and allow for isolation of outages and remote automatic repairs.
The key pieces of work completed to date include replacing and extending the main underground power lines on the island, upgrading switchgear, adding new switching equipment that can automatically reroute power and installing new smart meters. In addition, we're enhancing approximately 50 overhead power poles and installing approximately 30 new poles on the overhead portion of the main line that begins in Smithville and runs submarine to the island.
Our work remaining that is scheduled to be completed in 2021 includes these key improvements:
Adding three automatic switches that are being custom manufactured for the island. This solution is a first of its kind for Duke Energy in the Carolinas.
Upgrading switches serving the southeast portion of the island and connecting the existing underground lines to create isolation of outages and the ability to reroute power.
We truly appreciate the patience of the island residents and guests as we've worked hard to upgrade the island's power grid. We're committed to restoring work locations and managing impacts to the island's natural environment. We'll keep you informed of our final phases of the improvements.
If you have questions or feedback, you are welcome to contact Danielle Peoples at Danielle.Peoples@duke-energy.com.
The Village will be receiving regular updates from Duke Energy which will be shared with our e-newsletter subscribers and posted on the Village's "Village Projects" webpage HERE.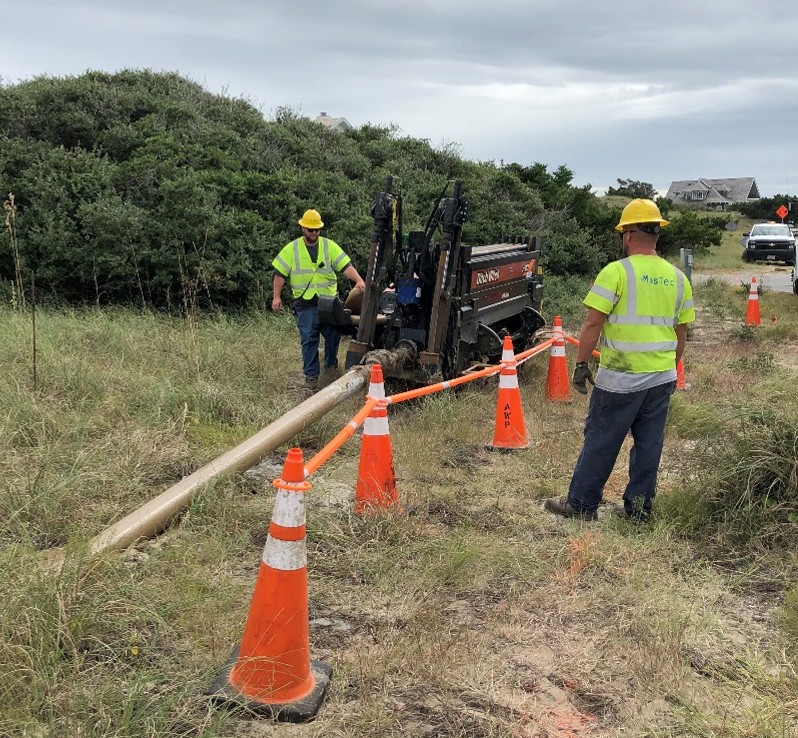 Bulk Pick-Ups – The Village's Public Works Department will pick up larger items that residents cannot haul to the Public Works facility. Beginning this month (December 2020), bulk item pick-ups are limited to two items. Items must be left outside for pick-up. If you need more than two items hauled away or assistance moving items out of your home, please contact a local mover. The BHA has a list of local movers on their website HERE.
When the Village originally started providing this service there were far fewer folks on the island and some of the residents were elderly and unable to move the items themselves. With the recent increase in home sales and service impacts related to COVID-19 demand has surpassed the Village's currently available resources.
If you need to schedule a pick-up call the Village's Customer Service Representative at 910-457-9700 ext. 1000. The representative will take your payment over the phone along with your contact information which is then given to Public Works to contact you to schedule the pick-up. Please provide the Village with enough notice so that Public Works can schedule your pick-up. Special pickups are $50.00. Mattresses are $80.00 each. Mattresses cannot be dropped off at Public Works, they must be picked up by the Village.
Christmas Ferry Schedule – Bald Head Island Transportation, Inc. has released the following 2020 Christmas ferry schedule: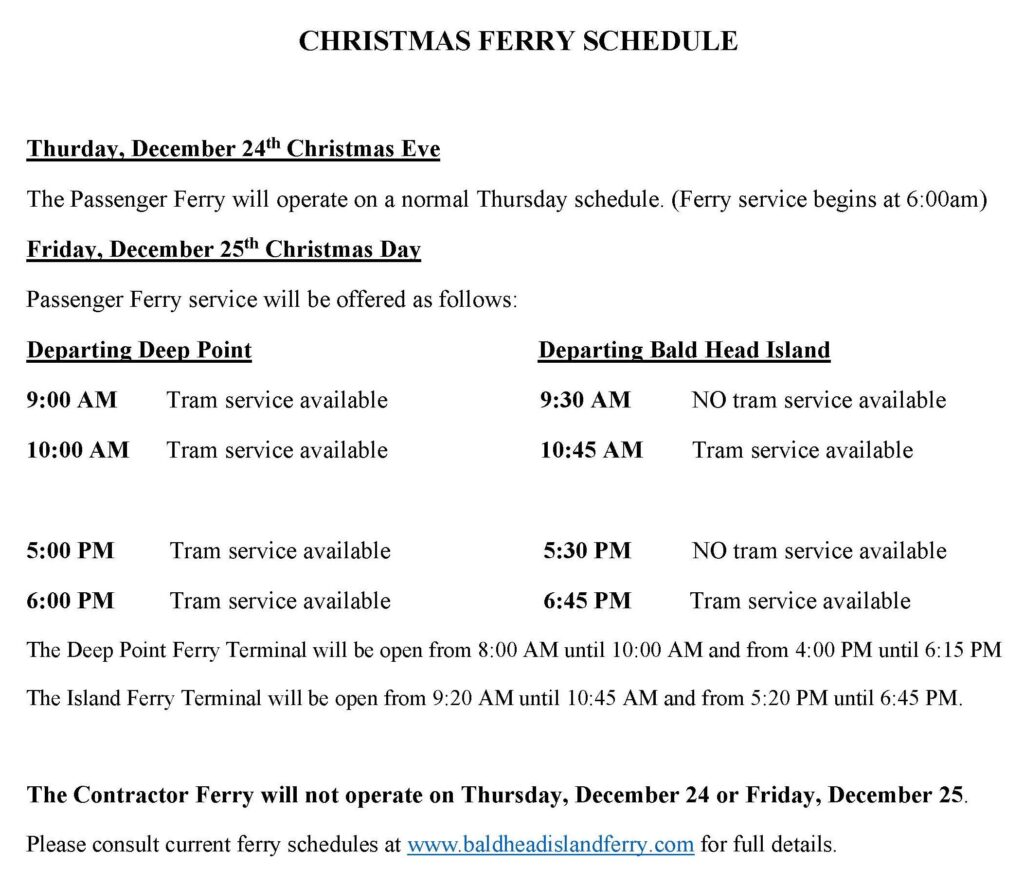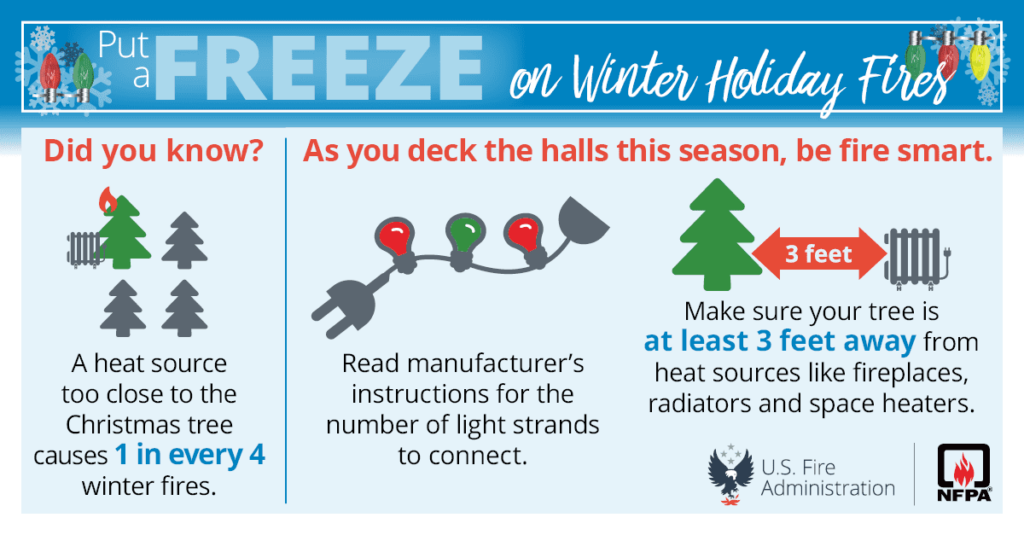 Fire Safety Tips – Fires are a preventable safety hazard for all homeowners, no matter where you live. Fire prevention is exceedingly important on Bald Head Island for two reasons. One, its remote location which makes mutual aid fire response slower. Two, the maritime forest, it takes up a large amount of the island's landmass and is close to many residential structures.
Please consider the following safety information from the U.S. Fire Administration and National Fire Protection Association (NFPA) as you decorate for the holidays and use heating equipment to keep warm this winter.
Heating Safety – 1 in 7 home fires and 1 in every five home fire deaths involves heating equipment.
Follow these tips for heating your home and preventing a house fire:
Have a qualified professional clean and inspect your chimney and vents every year.
Store cooled ashes in a tightly covered metal container and keep it outside at least 10 feet away from your home and any nearby buildings.
Plug only one heat-producing appliance (like a space heater) into an electrical outlet at a time.
Keep anything that can burn at least 3 feet away from any heat source.
Decoration Safety – More than 1/3 of home decoration fires are started by candles. The top three days of the year for home candle fires are Christmas, New Year's Day, and New Year's Eve. A heat source placed too close to the Christmas tree causes 1 in every 4 winter fires.
Follow these tips for decorating to prevent a house fire:
Check holiday lights each year for frayed wires or excessive wear. Throw away light strands with frayed or pinched wires.
Read manufacturer's instructions for the number of light strands to connect. NFPA recommends that you do not link more than three strands of holiday lights
Turn off all your holiday lights before going to bed or leaving your home.
Only use decorations that are flame-retardant or not flammable.
Make sure your tree is at least 3 feet away from heat sources like fireplaces, radiators, and space heaters.
Water your live Christmas tree daily to keep it from becoming dry.
Get rid of your Christmas tree after Christmas or when it is dry (BHI residents can dispose of trees at the Timbercreek Mulch site – more info below).
Keep candles 12 inches away from things that can burn.
Place candles in a sturdy candleholder that will not tip over
Never leave a burning candle unattended.
Think about using battery-operated flameless candles. These candles can look, smell, and feel like real candles.
Christmas Tree Disposal – Christmas trees will be accepted at the Village's Timbercreek Mulch site. The Timbercreek Mulch site is located off North Bald Head Wynd between Needle Rush Court and Towhee Court. Click HERE for a map.
Farewell to Two Village Employees – The Village has already said goodbye to the first, and a week from today will be saying goodbye to a second long-time Village employee who will be leaving the Village for retirement.
Kennith Bowling, the Village's Utilities Director has retired. Ken's last day on the island was November 19, 2020. He ran the island's Public Utilities for 15 years before it was acquired by the Village. His official start-date with the Village was December 30, 2005, making his employment with the Village also 15 years for a total of 30 years working for Bald Head islanders. Ken's co-workers said that he was very proud of the number of years he served on the island. As he was reaching the last months of working on the island Ken spoke often about his new motorhome. He's probably on the road now.
Gloria Agnew, the Village's Administrative Assistant in the Public Safety Department will be retiring as well. Her last day is next Friday, December 18, 2020. Gloria started working for the Village in April 2007 as a Finance Clerk processing payroll and accounts payable. After serving the Village for almost 14 years, Gloria said, "I have enjoyed my years at the Village, I have worked with some fantastic people and have met some great people in the BHI community." She is looking forward to spending time with her husband, parents, children, and grandchildren.
J.P. McCann began working for the Village on October 28, 2020, as the Village's Public Services Director. This is a new position with the Village which combines the department head role for Utilities and Public Works, so McCann will serve as Bowling's replacement. Agnew's replacement, Elizabeth Gray began working this past Wednesday, December 9, 2020. Islanders who will be picking up their golf cart registration stickers will get to meet her soon.
Typically, the Village will invite the public to celebrate occasions such as these, unfortunately COVID-19 capacity restrictions have prevented that for these devoted retirees.
REMINDERS
Wilmington Harbor Maintenance Project – This project is projected to begin construction on December 20, 2020, and conclude on or about February 9, 2020, please follow the Village's updates on THIS WEBPAGE. If you have property near the project area and will have renters, this page will give them an idea of what to expect during construction.
Village Offices Closed for the Holidays – Village offices will be closed on December 24, 25, 28, and January 1, 2021, for the holidays.
IPC/PO Operations – For the holidays, the IPC/Post Office will be closed on the same days as Village offices (listed above).  The IPC/PO will be open until 6:00 p.m. on Wednesday, December 23, 2020. The IPC/PO will also be open on Saturday, December 26 during normal hours (10 a.m. – 3 p.m.).
Free Mulch – Mulch still available for pick-up at the Swan's Quarter site (Swan's Quarter is next to Bald Head Island Club).
Annual Golf Cart Registration – Annual golf cart registrations are due by January 1st of each year. You can register your golf carts through the online registration portal HERE. If you select the option to pick up the new sticker at the Public Safety Department, please allow at least 48 working hours for processing by administrative staff before going by to pick it up.  Note that the 48-hour processing does not apply on weekends and/or holidays.  If you have any specific questions about the annual registration process please feel free to contact Elizabeth Gray, Administrative Assistant, at 910-457-5252 or by e-mail at psadmin@villagebhi.org.
No ICE Vehicle Use on Holidays – Please note that per Village Ordinance, Thursday, December 24, 2020, Friday, December 25, 2020, Monday, December 28, 2020, and Friday, January 1, 2021, are considered non-workdays for Internal Combustion Engine (ICE) vehicles. That means that ICE vehicles are prohibited on Village public roads unless they are Emergency Vehicles, Government Vehicles, Official Island Transportation System Vehicles, or have been issued a Special Use Permit.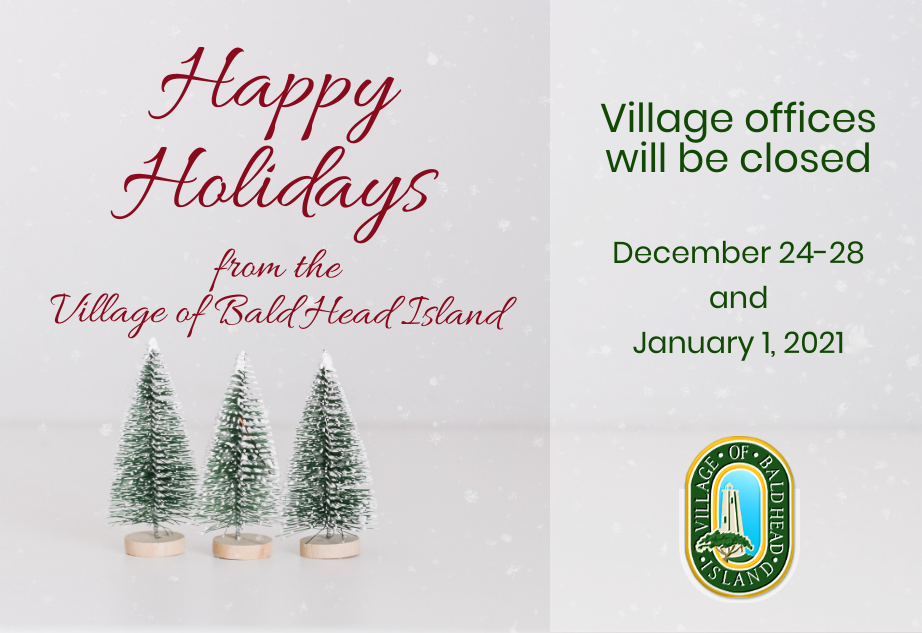 COVID-19 Update
NC Under a Modified Stay at Home Order– As announced by the Village on Tuesday, December 8, 2020, Governor Cooper issued a new executive order which places the state under a modified stay at home order beginning December 11, 2020, at 5:00 p.m.  This order is expected to be in effect through January 8, 2021. 
The previous capacity limitations on certain businesses, indoor (10) and outdoor gathering limits (50), and other public health measures implemented by previous executive orders are extended through January 8, 2021. This likely means that many planned holiday events on the island will need to be canceled. While gatherings of individuals from different households are not encouraged, events that can meet the capacity limits must end by 10:00 p.m.
All individuals in North Carolina must stay at home or the place they will remain for the night between 10:00 p.m. and 5:00 a.m. (the "Stay at Home Period"), unless an exception applies. Exceptions include travel to or from a place of work; perform work at their workplace when the worker's presence is required by the worker's employer; travel for work purposes; obtain food, medical care, fuel, or social services; travel from a business that closed at or after 10:00 p.m.; travel to a business that will open at 5:00 a.m.; travel to take care of a family member, friend or pet in another household; travel to or from a religious service; travel necessary for personal safety; and travel into or out of the state. The ferry schedules will not be impacted by this order.
The order does not affect most restaurants on the island, many of which will remain closed during the order, or regularly close at or before 10:00 p.m. Restaurants that may re-open before the expiration of the order must be closed between 10:00 p.m. and 5:00 a.m. (except for take-out and deliveries). The sale and service of alcoholic beverages are prohibited for on-site consumption between the hours of 9:00 p.m. and 7:00 a.m. under the order. A face covering is still required in all public indoor settings if there are non-household members present, regardless of the individual's ability to maintain social distance. Face coverings continue to be required in public outdoor settings if individuals are unable to maintain six feet of social distance from non-household members.
Click HERE to review the latest executive order. Click HERE to review the Frequently Asked Questions about this order.

Follow the 3 W's & Guidance from CDC, NCDHHS & BCHS – With the holidays in full swing and the population on the island increasing, the Village would like to remind folks to please follow the 3 W's. Folks are still experiencing a high level of anxiety about the virus and we should all be respectful of others. That includes being mindful of how to make others feel safe while they are in public. If you are symptomatic, whether you have tested positive or negative for COVID-19 please stay home, no matter what your health status is, you do not want to expose any type of illness to others.
All COVID-19 positive patients and their contacts are contacted by Brunswick County Health Services regarding their status and isolation/quarantine protocols. All patients and contacts must follow these protocols. Please do not make assumptions about other islanders regarding their COVID-19 status. Respect others' privacy as you would like others to respect yours. If you feel that someone may be sick and they are in public, do all you can to protect yourself by following the 3 W's. Think twice before sharing the health status information of individuals with others, especially without the permission of the individual.
In this time of giving, check on your neighbors and fellow islanders to see if they are feeling well and if they need assistance picking up groceries or other essentials.  With limited Village staff on the island due to COVID-19 and the holidays, the Village encourages any island groups or individuals in organizing volunteer efforts to assist others (with minimal contact) during this time.  If you are not well and are not able to find assistance as far as picking-up mail/packages for the IPC/PO, you can contact Gina Hinson (ghinson@villagebhi.org  or 910-457-9700 ext. 1013) and the IPC/PO will arrange delivery options as discretely as possible.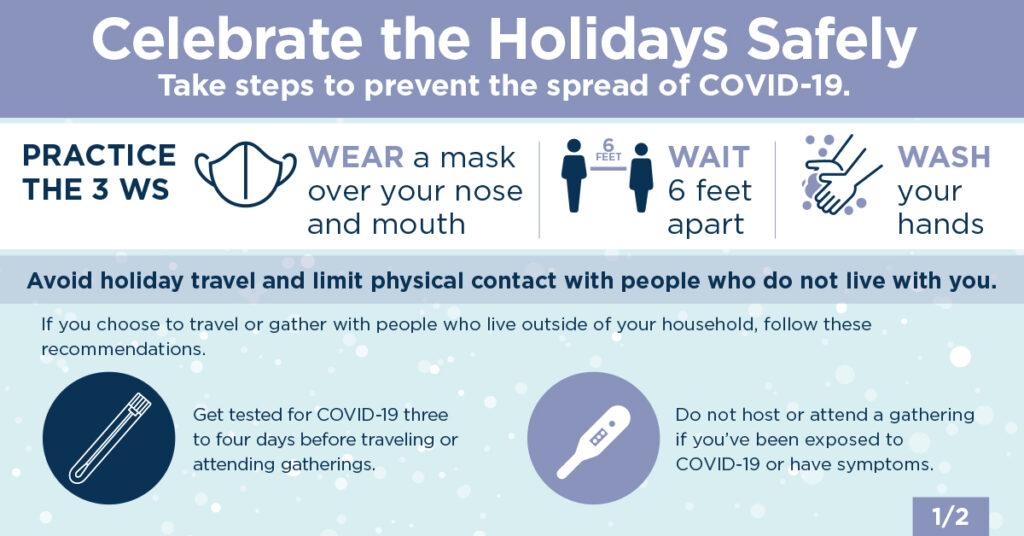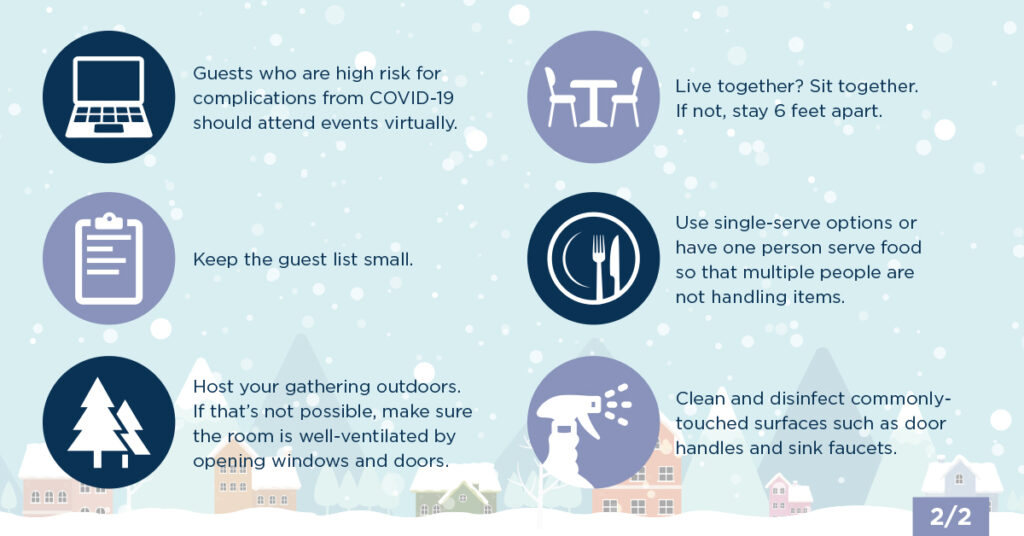 Current Case Numbers for Brunswick County – As of December 11, 2020, there are 3,572 positive cases of COVID-19 among Brunswick County residents. Of the positive cases, 2,809 are considered recovered, 683 are isolating at home at 473 different homes, 14 are isolating at a hospital, and 66 are deaths associated to COVID-19.
There are 22 known cases involving non-residents who tested positive for COVID-19 while visiting Brunswick County, resulting in their contacts having to quarantine as well; these cases are not reflected in the County's total case counts. Thirteen of the cases are considered recovered, four of the cases are currently isolating at home. The County has transferred monitoring for three cases to the individuals' home counties, and two are deaths associated to COVID-19.
As reported earlier this week, Brunswick County has been designated an orange county according to the State's COVID-19 County alert system which means there is substantial community spread. The County sent out THIS update today and the snapshot below which indicates that the County has started to see the impact of Thanksgiving gatherings in the latest trends.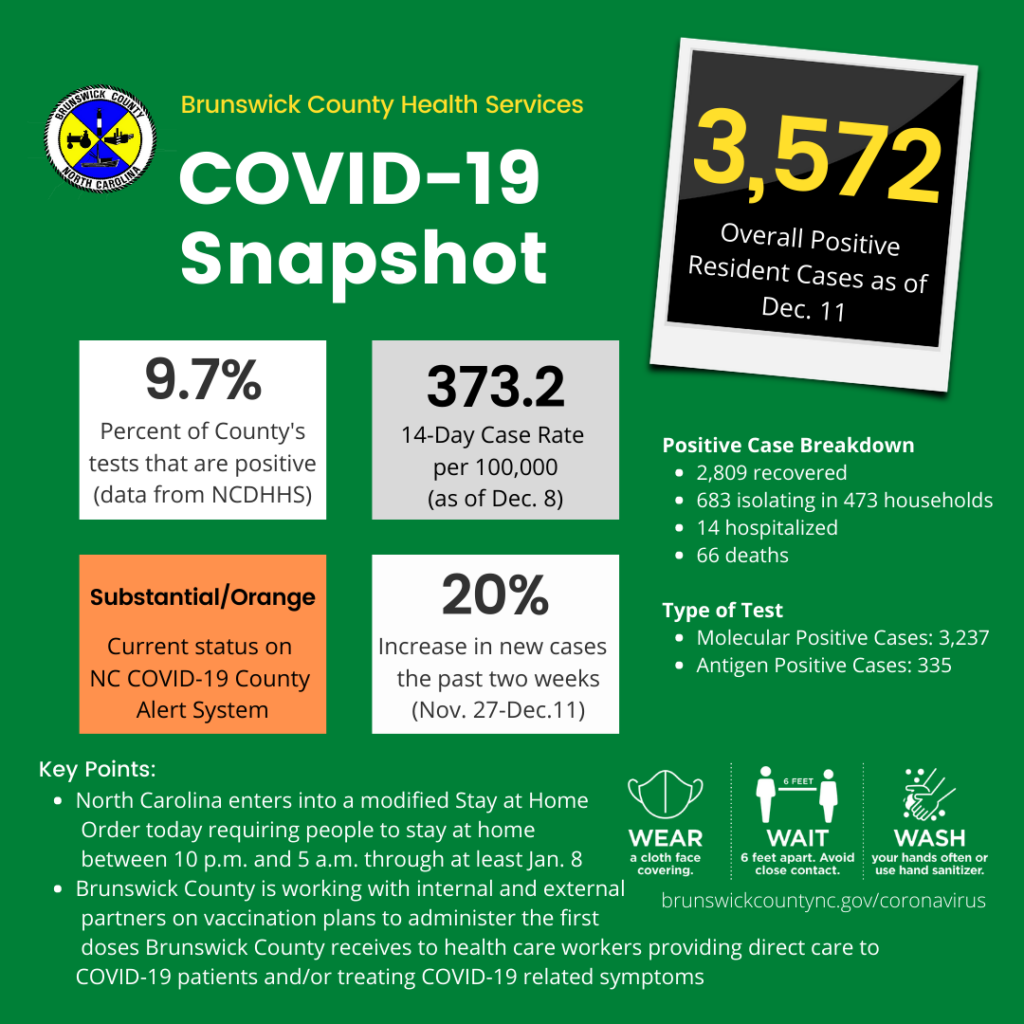 REMINDER
Village Hall – Out of an abundance of caution, due to recent exposure and increased positive COVID-19 cases in Brunswick County, Village Hall has been closed to the public until further notice due to minimal staffing with remote-flex work schedules. If you have business with the Village, we ask that you please use our online options, e-mail, or call for an appointment. Please call 910-457-9700 and the auto-attendant will direct you to the appropriate department. General questions can be e-mailed directly to public.information@villagebhi.org. Utility payments are to be dropped off in the box on the porch at Village Hall. Notary services are available at the IPC/Post Office.