Key information:
AT&T/Bell South service disruption planned for Thursday, April 1st
North Carolina continues to ease COVID-19 restrictions and announces accelerated timeline for Group 4 and 5
REMINDERS: Contractor Services Project, Wilmington Harbor Maintenance Dredging Project update, Comprehensive Transportation Plan (CTP) survey, golf cart registration enforcement, Village offices will be closed on April 2, 2021 in observance of Good Friday, Village Hall remains closed to the public until further notice
AT&T/Bell South Service – AT&T/Bell South will be replacing copper telephone line on the island on Thursday, April 1, 2021, weather permitting. Not all customers will be losing connectivity at once and the disruption for each set of customers is expected to last no more than 15 minutes. This maintenance will trigger a lost communications alert for residential/commercial customers with monitored fire alarms that are on the AT&T system. The monitoring service will contact customers by phone notifying them of the communications failure. The maintenance will not trigger a dispatch to Public Safety.
COVID-19 Update – Last week, Governor Cooper announced that the state will continue to ease some COVID-19 restrictions. The latest Executive Order took effect on March 26, 2021 and will be in effect through April 30, 2021. The state's general mask mandate remains in effect. Some of the updates include increasing the mass gathering limit to 50 people indoors and 100 people outdoors, lifting the restriction on the late-night sale of alcohol for on-site consumption, increasing capacity limitations on all businesses, and lifting the cap on the number of individuals who can gather at any one time in certain indoor spaces, such as bars. Read the Order's FAQs HERE.
North Carolina's trends continue to show improvement and as of last week, 31.7% of North Carolinians over the age of 18 have received at least one dose of COVID-19 vaccine. The State announced an accelerated timeline for moving to Groups 4 and 5 for vaccine eligibility with the remainder of Group 4 eligible March 31 and all adults eligible beginning April 7. According to the latest NC County Alert System report Brunswick County remains in the "yellow" group, which means there is significant spread in the community. View Brunswick County's dashboard on THIS WEBSITE.
REMINDERS:
Contractor Services Project – The Contractor Services Project remains a work in progress and the Village continues to receive communications regarding the amount of vegetation that has been removed in this area. As reported in February, the vegetation was cleared in order for the Village to include the required stormwater basins per the Village's Department of Environmental Quality (DEQ) permit. The clearing will enable the Village to see what there is to work with in terms of topography and grade elevations for further assessing the shape and configuration of the basins in working around the existing trees and other specimen trees. Once the basins are installed and signed off by DEQ engineers, the Village will let the understory grow back. There are no plans to routinely cut back the understory.
Wilmington Harbor Maintenance Dredging Project – Great Lakes Dredge and Dock continues to make great progress down South Beach, making it further east than previous WHMP projects. As of this morning, sand placement was near Captain Charlie's Point Road and approaching Beach Access #36. GLDD is expected to complete dredging in approximately 4 days (April 2, 2021). Demobilization from the beach could take up to two weeks.

Please follow the Village's updates on THIS WEBPAGE. If you have property near the project area and will have renters, this page will give them an idea of what to expect during construction.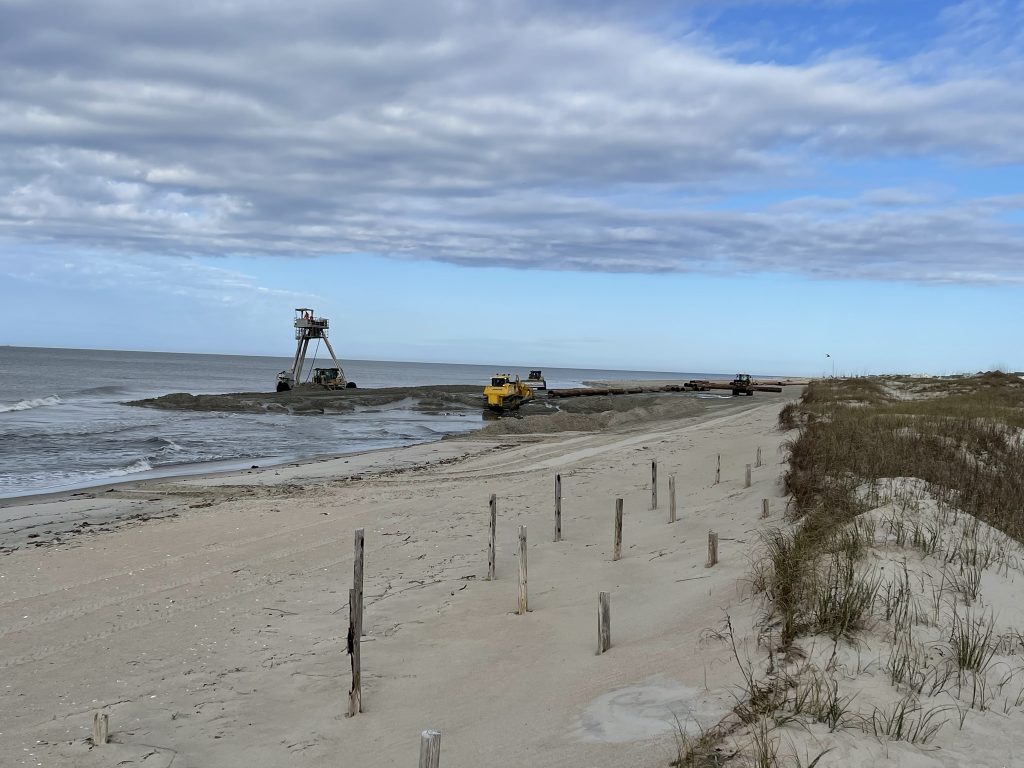 CTP Survey – Brunswick County, its municipalities (including Bald Head Island), Cape Fear Rural Planning Organization, Grand Strand Area Transportation Study Metropolitan Planning Organization, and NCDOT have created a steering committee to start the Brunswick County Comprehensive Transportation Plan (CTP). The CTP is a 25–30-year long range multimodal transportation plan that will assess Brunswick County's existing and future transportation needs including roadways, bicycle, pedestrian, transit, and rail facilities and services.

The CTP steering committee wants feedback from residents and visitors of the county to help create the Vision, Goals, and Objectives as well as to guide the entire CTP process. Your input will help guide this plan. Please participate in THIS SURVEY or pick up a paper copy in the IPC/PO. The survey will be open from March 11 to June 9.
Golf Cart Registration Enforcement – The Department of Public Safety has increased enforcement on golf cart registrations. All carts are due to be registered by January 1st each year. Unregistered vehicles are a safety concern and officers on patrol will take notice of late or expired registrations and it may result in a citation. If you have not registered your cart(s), please do so now, you can do it online HERE.
Village Offices Closed 4/2/2021 – Village offices, including the IPC/PO will be closed on Good Friday, April 2, 2021. Note: ICE vehicles, other than those issued a special-use permit, are not permitted to drive on Village roads on Easter Friday per Chapter 28, Sec. 28-75(a)(3).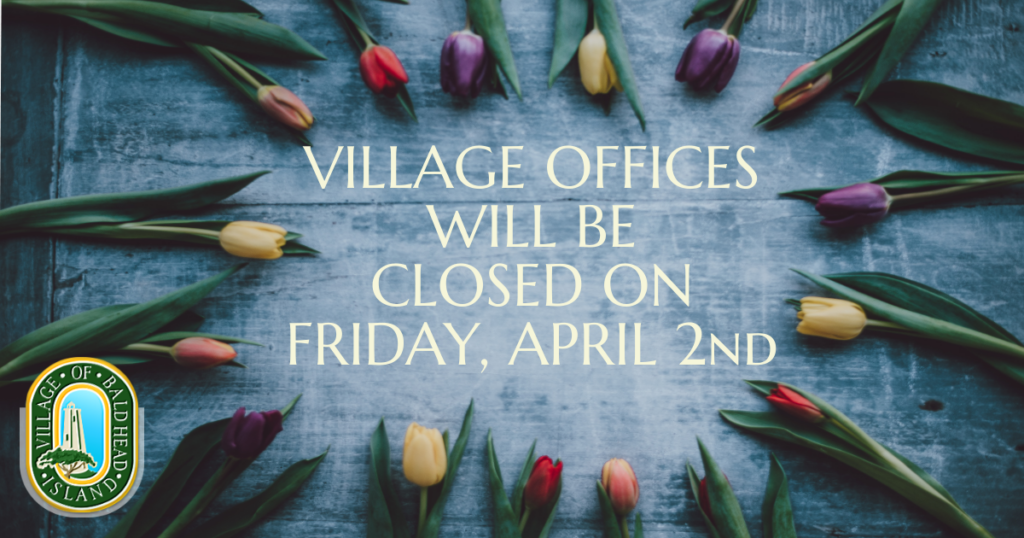 Village Hall – Out of an abundance of caution, due to exposure and increased positive COVID-19 cases in Brunswick County, Village Hall has been closed to the public until further notice due to minimal staffing with remote-flex work schedules. If you have business with the Village, we ask that you please use our online options, e-mail, or call for an appointment. Please call 910-457-9700 and the auto-attendant will direct you to the appropriate department. General questions can be e-mailed directly to public.information@villagebhi.org. Utility payments are to be dropped off in the box on the porch at Village Hall. Notary services are available at the IPC/Post Office.