Hurricane Ian is expected to bring a variety of impacts to the Carolinas by the end of the week. A Tropical Storm Warning is now in effect south of Litter River Inlet (SC). Additional Watches/Warnings may be required soon. Please check the National Weather Service Wilmington briefing page for the latest HERE (a 6 p.m. briefing is pending).
Potential Impacts:
Heavy rain with localized flooding.
Gusty winds to tropical storm force (strongest across northeast SC).
Storm surge/coastal flooding & beach erosion.
Rip currents & rough surf.
Isolated tornadoes.
Timing:
Heavy rain/flooding – Thursday night through early Saturday.
Gusty winds – Thursday through Friday night.
Coastal flooding & erosion – Each high tide Thursday through Saturday.
Rip currents & rough surf – Through Saturday.
Isolated tornadoes – Friday through Saturday morning.
What you need to do:
Prepare for wind – please secure any loose items on your property such as furniture (contractors have been notified to do the same on work sites and Contractor Services lot).
Prepare for loss of power (see guidance below).
Stay out of the water – rip currents and rough surf will impact our area through Saturday.
Prepare for a possible tornado – educate yourself on preparing for a tornado and staying safe during and after a tornado HERE.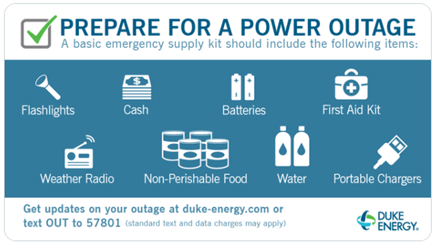 If your power goes out here is some guidance:
Call Duke Energy if your power is out or text OUT to 57801. The outage map is based on customer calls. Keep the outage number handy it is 1-800-419-6356
If you are able to get on the internet, check the outage map for estimated restoration time and updates HERE.
Sign up for Duke Energy alerts by texting REG to 57801 or enroll online HERE for text, phone, or email alerts.
More power outage tips at Ready.gov HERE.
What the Village is doing:
The Village is still keeping an eye on the forecast and track of the storm and is following the updates from the National Weather Service. Staff will be participating in a conference call with Brunswick County Emergency Services and its other local partners tomorrow (Thursday) afternoon.
Village operations will run normally tomorrow. Barge service may be suspended at any time Thursday and Friday (it does not operate on weekends) and may delay the delivery of UPS and FedEx packages. USPS mail is not expected to be interrupted and will be put up tomorrow and Friday.
Bald Head Island Transportation, Inc. will be updating their website throughout the event and as necessary, so please check for their latest status HERE (check current status and/or general information, announcements).
Check out our new media webpage HERE, for instructions on how you can stay informed. This page includes our current Twitter feed so you can see what the Village is posting even if you don't use social media as well as details on all of the other channels, we use to keep you informed.