Key Information:
Join us on Wednesday, March 23, 2022, between 10 a.m. and noon for an open house to gather input for the Village's comprehensive plan.
New checked baggage limit announced by Bald Head Island Transportation, Inc.
Public Safety to conduct ICE permit saturation patrol starting at noon tomorrow.
Ladder truck test drive postponed.
Barge maintenance will suspend service March 16-18.
Two of our PSOs will be running the Badwater Cape Fear race on March 19, please consider a pledge/donation for the PSA to purchase CPR equipment.
REMINDERS: Next Village Council meeting (3/18), N-95 masks available at Village Hall, free at-home COVID-19 tests available, IPC/PO remains closed on Saturdays, mask guidance on ferries.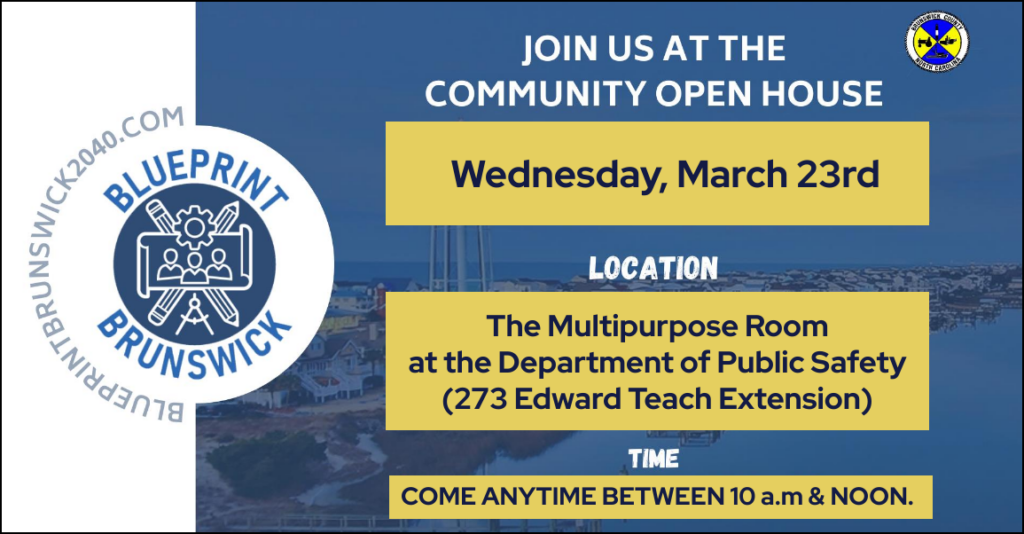 Open House –Please join us for an open house to gather additional input on the vision and goals for the future of BHI. The open house will take place in the Multipurpose Room in the Department of Public Safety you can drop by anytime between 10:00 a.m. and noon.
A second meeting scheduled for April 14, 2022, beginning at 2:00 p.m. will be used to refine the Village's land use map and place types applied to the parcels within the Village. Questions about these meetings can be sent to public.information@villagebhi.org.
Checked Baggage – Bald Head Island Transportation, Inc. (BHIT) wants to make sure that Islanders know about the changes ahead for the ferry system, including the upcoming changes to the checked-baggage policies. Below is a statement from BHIT.
On February 25, 2022, Bald Head Island Transportation, Inc. (BHIT) provided initial public notification as required by law of a change in checked-baggage policies ordered by the North Carolina Utilities Commission (NCUC). The NCUC order becomes effective April 1, 2022. However, please note that well in advance of formal implementation of the new baggage policies and prior to strict enforcement, BHIT will communicate any process changes affecting passengers. During the 2022-2023 timeframe, BHIT anticipates implementing numerous process changes necessary to improve service delivery, increase reliability, and enhance the customer experience. BHIT will initially focus on internal processes before expanding to baggage and passenger delivery operations, tram reservation integration, and electronic ticketing. BHIT will share all process changes affecting the traveling public well in advance of implementation.
ICE Permits –The Department of Public Safety will be performing a saturation patrol on Village wynds tomorrow beginning at noon to check internal combustion engine (ICE) vehicles for ICE permit compliance. ICE vehicles that travel on Village streets must have an annual or daily permit. Annual permits are issued beginning July 1, so vehicles that have been on the island have had plenty of time to comply.
Ladder Truck –As previously reported, the Village will be advertising for public bids on the Village's new ladder truck. That ad will be published tomorrow (March 10, 2022). One manufacturer offered to bring a truck over for a test drive to see how the truck will do with navigating the narrow tree-lined wynds. The truck was supposed to visit the island today but was delayed by fog.
Barge Closure – The BHI Barge will be side-lined for maintenance on March 16, 17, and 18, so the only barge deliveries to the island that week will take place on Monday & Tuesday – assuming no wind/wave or weather postponements. Mail and packages are expected to be delivered via the ferry and should not impact delivery times.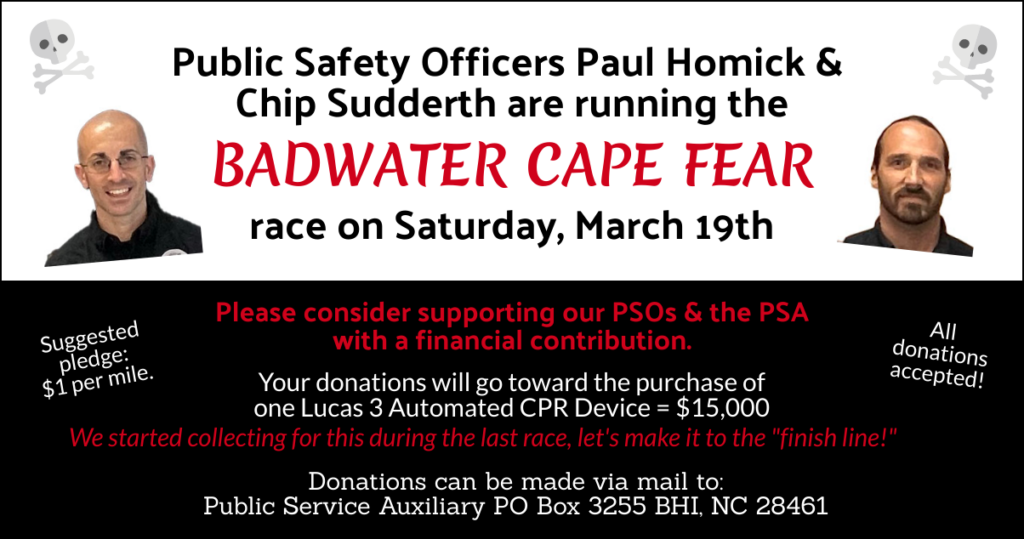 Cape Fear Badwater – The next Cape Fear Badwater Ultra Running Race is scheduled for Saturday, March 19, 2022. This all-day race will take place on several Village wynds, and Public Safety will be providing traffic control for this event.
Two of the Village's Public Safety Officers, Paul Homick and Chip Sudderth will be participating in the race to support the Public Service Auxiliary. The hope is to raise enough funds to purchase one Lucas 3 CPR device (the cost is $15,000). PSO Homick started collecting for this piece of equipment during the last race, let's help them "make it to the finish line" this time! The suggested pledge is $1 per mile though all donations will be accepted. Donations can be made via mail to: Public Service Auxiliary, PO Box 3255, Bald Head Island, NC, 28461.
More information about the race can be found HERE.
REMINDERS:
Village Council Meeting – The next regular Village Council meeting is on Friday, March 18, 2022, at 10:00 a.m. The agenda will be posted HERE. Zoom information can be found HERE. There will be a public hearing on a rezoning request for 86 Keelson Row (Case R-2022-1). Islanders may recall that there were two rezoning requests before the Planning Board, the second request for 1.1 AC Clarendon Manor House (Case R-2022-2) was withdrawn by the applicant. View the public notice HERE for instructions on how to be heard at the public hearing.
Free N95 Masks – Federally provided N95 masks are available at Village Hall, as supplies last. These supplies do not include child-sized masks at this time. Brunswick County Health and Human Services dispersed its full allocation of N95 masks to several of its municipal and senior center partners to improve access countywide. Learn more about N95 and other types of masks HERE. To learn more about where to find free N95 masks in Brunswick County go HERE.
Free At-Home COVID-19 Tests – Every home in the U.S. is eligible to order four free at-home COVID-⁠19 tests. The tests are completely free. Orders will usually ship in 7-12 days. Order your tests now so you have them when you need them. Order your tests through the United States Postal Service (USPS) at covidtests.gov. Find local testing sites HERE.
IPC/PO is closed on Saturdays – The Island Package Center & Post Office remains closed on Saturdays. First-class mail will be delivered to post office boxes every Saturday. On the heels of having our two newest employees trained, one of our long-time IPC employees has had to go on leave. We are hoping to have all four employees at 100% soon so we can start rotating staff back onto a Saturday work schedule. We apologize for the inconvenience.
Mask Guidance for Ferries & Trams –The mask guidance that was announced back in September 2021 is still in effect. US Coast Guard guidelines and restrictions require all employees and passengers (except children under the age of 2) wear a mask: 1. While waiting to board the ferry inside the terminal gate area, 2. While boarding the ferry, 3. While inside the ferry cabin, 4. While disembarking the ferry, 5. While riding in trams. Most importantly, social distancing should be practiced at all times.