Key Information:
Update on south beach artifact.
Rumble strips installed on South Bald Head Wynd hill leading to Federal Road.
Recognition of professional municipal clerks' week.
Hurricane season is less than a month away, the time to prepare is NOW!
REMINDERS: Unlicensed persons should not be operating golf carts and small electrics on BHI, pine straw ordinance now in effect, beach bonfire season ended on 4/30, N-95 masks available at Village Hall, free at-home COVID-19 tests available, IPC/PO remains closed on Saturdays.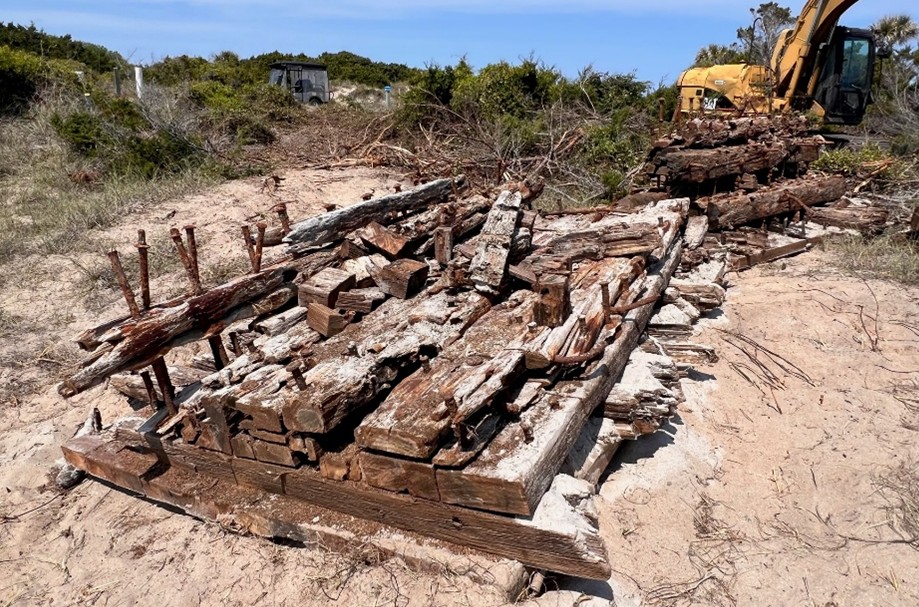 South Beach Artifact – The shipwreck remnants that were exposed in late January in front of the Shoals Club have been removed from the beach and are no longer a safety concern for Islanders, visitors, and guests. The Village is working with Tidewater Atlantic Research, Inc. which is performing the cultural resources investigation to identify the artifact. TAR will be providing a final report with its findings to the Village which we will share. The Village has reached out to BHI Conservancy and the Old Baldy Foundation to see if there is an interest in taking possession of the remnants. If they find a home, the Village will let folks know.
Rumble Strips on SBHW – Public Works has completed the installation of rumble strips on the hill on South Bald Head Wynd leading to Federal Road. Several accidents have occurred at this intersection regardless of the signage in place warning drivers to slow down. There are two sets of rumble strips and a set of reflective strips on the pavement which should warn drivers to slow down instead of using the momentum of the hill to accelerate down the hill and through the stop sign.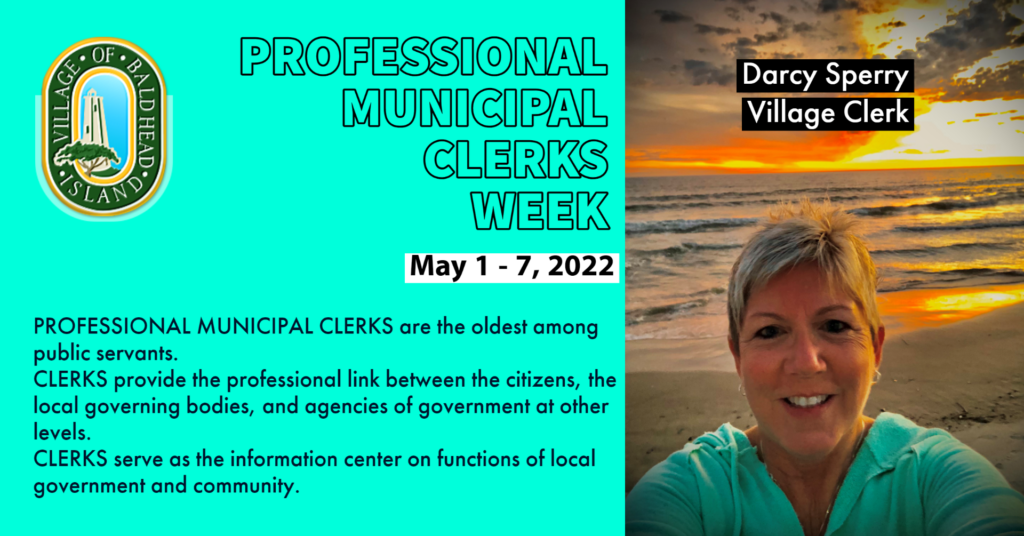 Professional Municipal Clerks Week – May 1 – 7 is professional municipal clerks' week. The purpose of the week is to recognize the vital and appreciated services performed by municipal and deputy clerks in serving the changing needs of their communities. What municipal clerks do every single day makes a difference in the lives of residents in their communities. Our Village Clerk, Darcy Sperry, started working for the Village as the clerk in August 2021 and has served as a municipal clerk for seven years. We appreciate all that she does!
Hurricane Season – Hurricane season is quickly approaching and now is the time to prepare. This week happens to be Hurricane Preparedness week. The Village will be sharing preparation tips from the National Weather Service and Ready.gov on its social media channels (Facebook/Twitter).
Colorado State University's Tropical Weather & Climate Research Division, which has a well-respected research team, anticipates that the 2022 Atlantic basin hurricane season will have above-normal activity. They have forecast 19 named storms, 90 named storm days, 9 hurricanes, 35 hurricane days, 4 major hurricanes, and 9 major hurricane days.
Village officials have already planned their preparations for this month, which includes reviewing the Village's Emergency Management Plan (EMP), ensuring contact information is up-to-date, equipment is in working condition, and ensuring that the off-island Emergency Operations Center (EOC) contract is renewed for this year. Several staff members will be attending Brunswick County Emergency Services' 2022 Hurricane Conference next week. This conference is for local agencies, partners, and municipal officials to inform and engage with each other so Brunswick County can work better together to assist the community if and when an emergency event occurs.
Below are two steps you can take now to prepare:
Sign up for the Code Red notification system. The Village of Bald Head Island utilizes an emergency notification system known as Code Red. Village of Bald Head Island citizens can register to receive emergency messaging and updates about specific events (i.e., hurricanes and/or tropical storms). This system will be used in addition to the Village's Voice to send important messages via email and text. Registrants can choose which methods of contact they prefer. Messages can be targeted to areas of the island, so be sure to use your physical address on the island when you sign up. The Village also uses this service to send messages about utility outages. You can sign up online HERE.
There are many resources online that provide additional helpful tips to prepare for hurricanes. Many of them are listed on the Village's emergency preparedness webpage HERE. Please also view our video HERE.
REMINDERS:
Unlicensed Use of Golf Carts & Electrics – Per Village ordinance Section 28-32 and Section 28-40, unlicensed individuals are prohibited from driving golf carts and using electric scooters, electric skateboards, hoverboards, Segways, or other similar apparatus on village streets.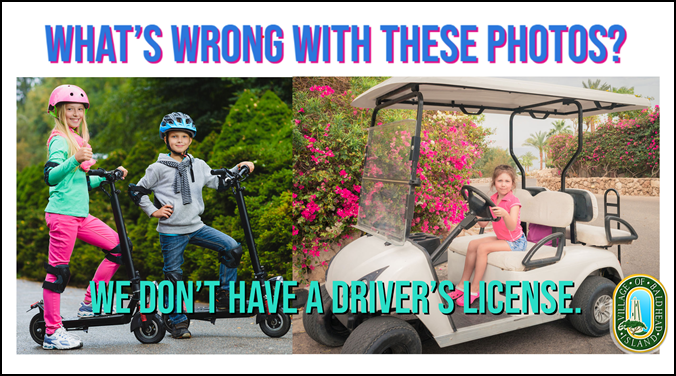 Pine Straw Ordinance – The Village's new ordinance is now in effect. It reads, "no pine straw or any other landscape material with a fire rate spread more than 24 inches per minute shall be placed, kept, or stored within 25 feet of any building or other structure with a combustible exterior." This ordinance does not apply to any landscaping materials placed prior to May 1, 2022; however, such landscaping material may not be placed with nonconforming materials after that date.
The Village has posted this information in several locations on the island, to include the break room at contractor services and in a direct email to contractor services customers. If you use a landscaper, please be sure to let them know about this new ordinance.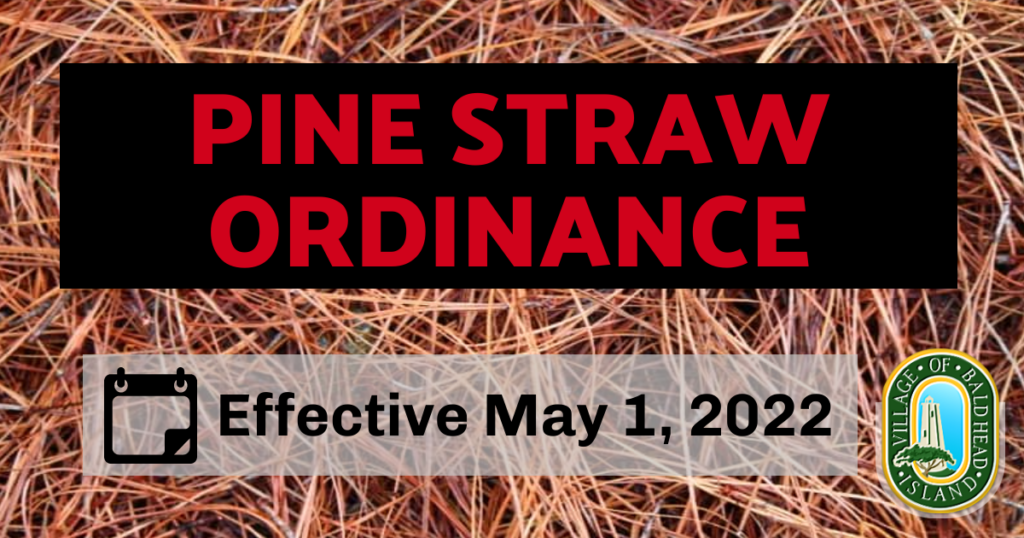 Beach Bonfire Season/Turtle Season – Beach bonfire season ended on 4/30 as turtle nesting season begins on May 1st each year. In addition to ceasing the issuance of beach bonfire permits, another regulation comes into effect at this time regarding dogs on the beach. Dog owners must have their dogs on a leash while on the beach from sundown to sunrise.
Please also remind your visitors and guests to fill in holes, knock down sandcastles, and remove beach equipment from the shoreline daily. Here is a one-page flyer with this information and other useful info for experiencing BHI.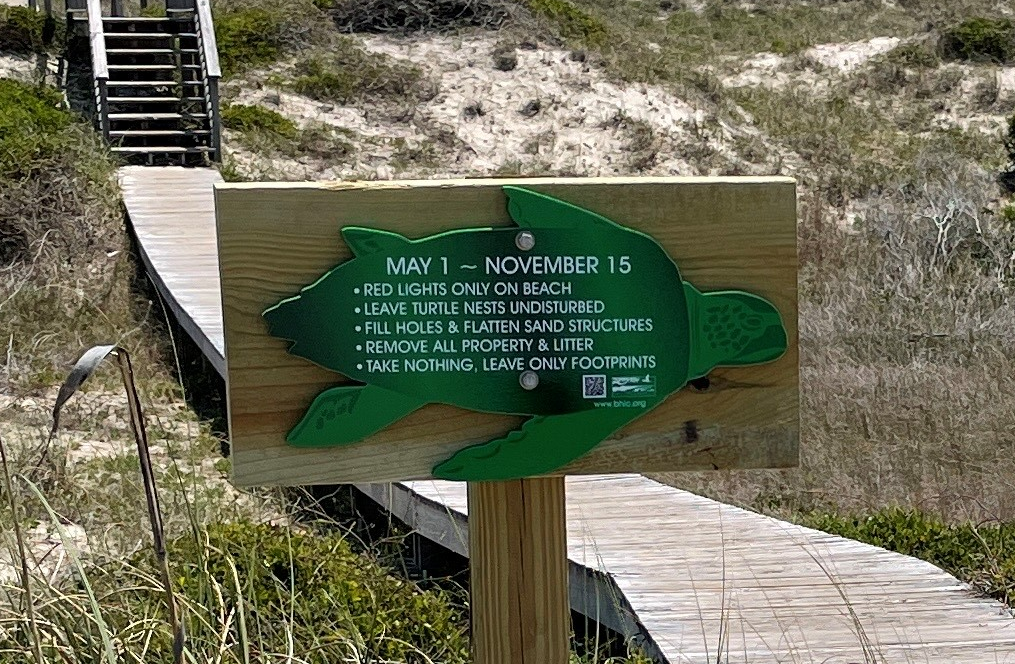 Free N95 Masks – Federally provided N95 masks are available at Village Hall, as supplies last. These supplies do not include child-sized masks at this time. Brunswick County Health and Human Services dispersed its full allocation of N95 masks to several of its municipal and senior center partners to improve access countywide. Learn more about N95 and other types of masks HERE. To learn more about where to find free N95 masks in Brunswick County go HERE.
Free At-Home COVID-19 Tests – Every home in the U.S. is eligible to order four free at-home COVID-⁠19 tests. The tests are completely free. Orders will usually ship in 7-12 days. Order your tests now so you have them when you need them. Order your tests through the United States Postal Service (USPS) at covidtests.gov. Find local testing sites HERE.
IPC/PO is closed on Saturdays – The Island Package Center & Post Office remains closed on Saturdays. First-class mail will be delivered to post office boxes every Saturday. We apologize for the inconvenience.