Key Information:
Public Safety Day is next Wednesday!
Village Council regular meeting is next Friday, last month's public hearing was continued.
Meeting with Congressman Rouzer's district director.
Sandbag project update.
Help the Village protect BHI's Dunes
IPC/PO Reminders
REMINDERS: N-95 masks available at Village Hall, free at-home COVID-19 tests available via mail, and IPC/PO remains closed on Saturdays.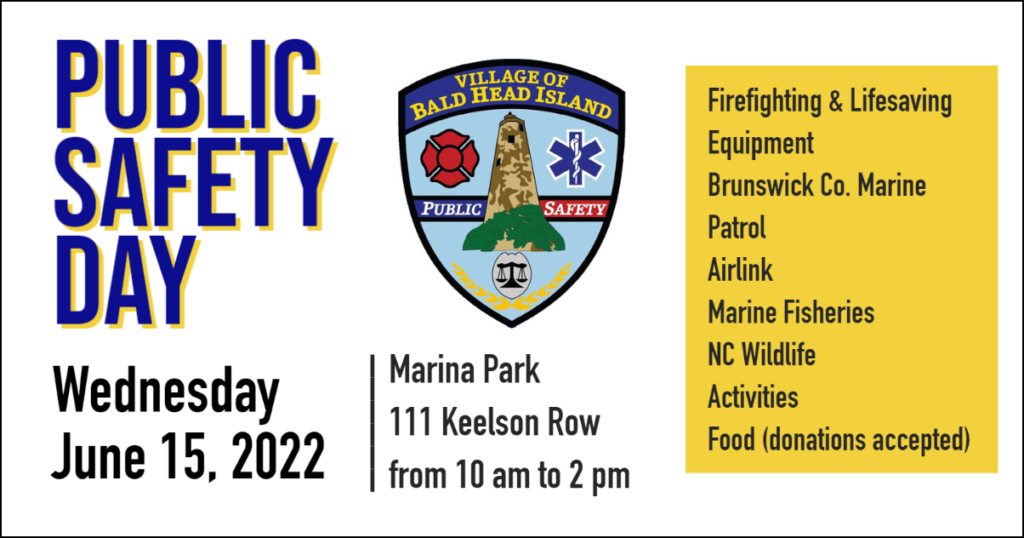 Public Safety Day – Please join us for this free family-friendly event! It will take place at Marina Park from 10 a.m. to 2 p.m. on Wednesday, June 15, 2022. Along with Bald Head Island's public safety personnel and apparatus, we will have Brunswick County Sheriff's Office marine patrol boats, Airlink, Marine Fisheries, NC Wildlife, food, and activities for folks to enjoy at the Marina Park.
Council Meeting – The next regular Village Council meeting will take place next Friday, June 17, 2022, at 10:00 a.m. Please join us at the Department of Public Safety multipurpose room or on Zoom (details HERE). The agenda will be posted HERE. Please take note that the public hearing on the text amendment adding a definition for "school, public or private" and this use to the Permitted & Special Uses Table, has been continued to this meeting.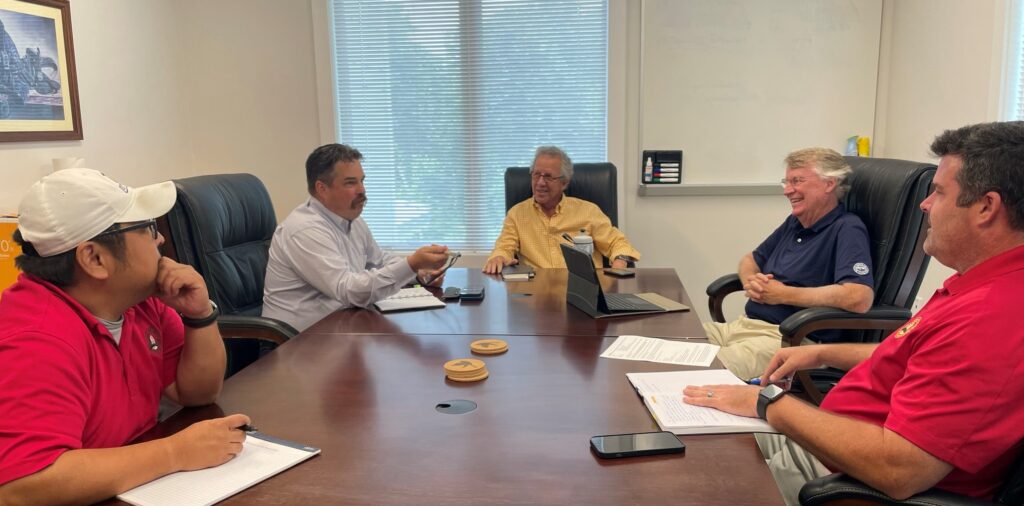 Meeting with Congressman's Staff – Earlier today Mayor Quinn, Mayor Pro Tem Gardner, Village Manager Chris McCall, and Assistant Village Manager Jae Kim, met with Chance Lambeth, District Director for Congressman David Rouzer. During the meeting, there was a discussion on several of the Village's priorities including:
The upcoming Wilmington Harbor Navigation dredging project for winter 2022-2023. The Village stressed the need for sand at the east end of South Beach. After the meeting, Mr. Lambeth was taken to the area of the Shoals Club.
Wind energy area leases and issues of concern.
Frying Pan Shoals borrow site permitting efforts and ongoing discussions with Federal regulatory agencies.
The NC State Port Authority's channel deepening effort and the Environmental Impact Study and the Village's issues of concern.
The recent CDF (Congressional Directect Funds) request submitted through Congressman Rouzer for the ladder truck, engine/pumper truck, the wastewater treatment plant expansion, and road paving. We thanked the congressman for his support.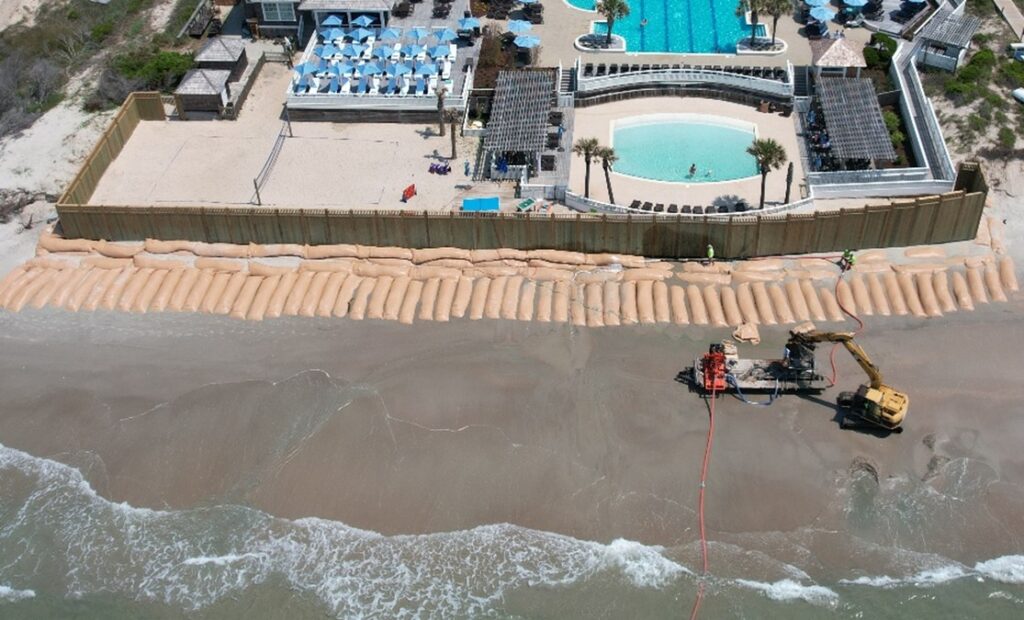 Sandbag Project – As previously reported, the Shoals Club is installing sandbags along its shoreline to stabilize the erosion at 100 Station House Way. This project started on Friday, May 20, 2022, and is moving along well. They are expecting to wrap up this project by the end of next week. For your safety, please give clearance to work areas
Help Us Protect the Dunes – Dunes act as a barrier from storm surge during severe storms and hurricanes. They act as a storage reservoir for sand that only gets taken away when there is an infrequent but severe storm or hurricane. The larger the dune, the more time it takes to erode, and the more protection it provides to landward properties and infrastructure. The sand stored by the dunes also reduces wave heights compared to areas that have little or no dunes.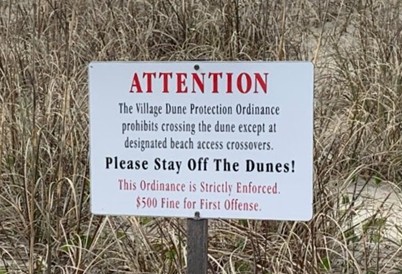 Through the years the Village of Bald Head Island has gone to great expense and effort into stabilizing and protecting the dune system along East, West, and South beaches. In addition to shoreline restoration projects, the Village has planted vegetation and installed rope fencing to help build up sand on the dune line. The Village also routinely monitors the beaches and dunes to see if any weak areas exist that could be vulnerable to storm surge.
Please help the Village by reminding your visitors and guests to stay off the dunes and to use the public beach accesses (MAP) or designated private beach accesses near your home. People who walk across the dunes are in violation of Village ordinance and could be subject to a civil fine of $500. The ordinance applies to West Beach and South and East Beach.
If you are interested in learning more information about dunes, erosion, and how the beach works, NC Sea Grant has published a booklet called "The Dune Book," it is an excellent resource and was the source for this announcement. It can be found online HERE.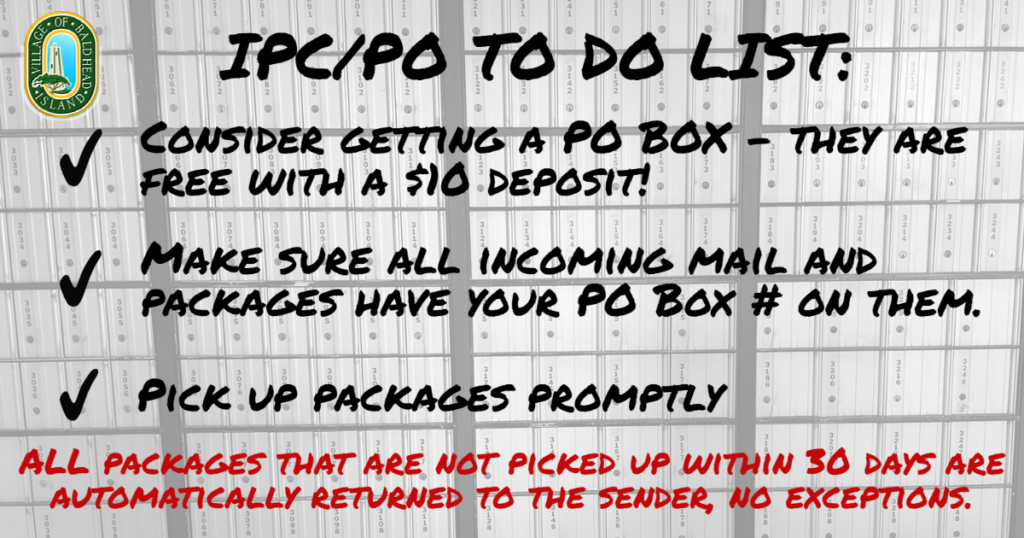 IPC/Post Office Reminders – With peak season in full effect, the Village would like to make sure Island Package Center and Post Office customers are aware of the following tips to make your experience the best it can be and to assist with the safety of our employees during this busy time of the year.
Make Sure Your PO Box # is on Your Incoming Mail – If you have a post office box, please make sure all of your incoming mail and packages include your PO box number. Not doing so slows mail delivery down. If your PO box number is not on there, our staff has to look up your house address to get that number.
If you do not have a PO box, please consider getting one, especially if a majority of your mail and packages are received on the island. There is not a monthly fee for the box, just a $10 deposit (non-refundable).
Please Pick Up Your Packages Promptly – Due to limited space in our IPC facility on the island, please pick up your packages promptly after you have been notified that they have arrived. If your package arrives and you are not on the island, please keep in mind that you can always arrange for a neighbor, property manager, or other trusted individual to pick up your package for you. ALL packages that are not picked up within 30 days are automatically returned to the sender, no exceptions.
Meal Kits & Items Requiring Refrigeration – If you are having items requiring refrigeration sent to the island, please call us in advance (910-457-9700 ext. 1013) to ensure that there is space for your package as space is limited. You can also arrange for someone to pick up your package as soon as it arrives.
Oversized Items – Oversized items that are not shipped by FedEx or UPS, such as sofas or sectionals, are usually shipped via a common carrier like DHL or others. The IPC does not accept these items. These items will need to be shipped to the Bald Head Island Warehouse at Deep Point Marina, barged over to the island, and then trucked to its island destination. Please contact Bald Head Island Warehouse at 910-457-5007 to arrange the shipping and delivery of these items. If you have any questions, please give the Island Package Center & Post Office a call so that staff can assist you.
Inbound Package Timing – Sometimes recipients will receive a notification from UPS or Fed Ex that their packages have arrived in Southport. This notification does not mean that your package has arrived on the island, nor is it available for pick up. The schedule varies by carrier. Please review our guide (HERE) to know when you should expect your package to arrive, depending on the carrier. If you have not already signed up to receive an email and/or text to be notified when your package arrives, please email public.information@villagebhi.org. If you will be signing up for texts, please also include the cell phone carrier.
The information in our guide is typically valid for "normal" operating conditions. Further delays may occur when the barge does not run due to weather conditions, maintenance situations, or heavy volume on the barge. Because the carriers leave packages at the warehouse, and the packages are then handled by the warehouse and then the Village, no overnight service to the island is possible.
The Village has a few videos on YouTube to help customers better understand the process. This video shows how packages from UPS and FedEx packages are received. This video shows how US Postal Service mail and packages are received.
REMINDERS:
Free N95 Masks – Federally provided N95 masks are available at Village Hall, as supplies last. These supplies do not include child-sized masks at this time. Brunswick County Health and Human Services dispersed its full allocation of N95 masks to several municipal and senior center partners to improve access countywide. Learn more about N95 and other types of masks HERE. To learn more about where to find free N95 masks in Brunswick County go HERE.
Free At-Home COVID-19 Tests – Every home in the U.S. is eligible to order four free at-home COVID-⁠19 tests. The tests are completely free. Orders will usually ship in 7-12 days. Order your tests now so you have them when you need them. Order your tests through the United States Postal Service (USPS) at covidtests.gov. Find local testing sites HERE.
IPC/PO is closed on Saturdays – The Island Package Center & Post Office remains closed on Saturdays. First-class mail will be delivered to post office boxes every Saturday. We apologize for the inconvenience.