Key information:
Update on the Wilmington Harbor Maintenance Project
Let's make a New Year's resolution about fire prevention – fireworks are prohibited on BHI
Creek access permit forms & payments are due on January 15, 2021
REMINDERS: Village offices and IPC/PO will be closed tomorrow (1/1/2021) for New Year's Day – no ICE vehicles on the roads tomorrow, annual golf cart registrations need to be submitted soon to avoid a citation, free mulch is still available at Swan's Quarter.
COVID-19 Updates:
North Carolina will remain under a modified stay at home order through January 8, 2021, vaccines are being administered per Phase 1a
Current Brunswick County case numbers
REMINDER:
Village Hall remains closed to the public until further notice
Wilmington Harbor Maintenance Project – Mobilization for this project has begun and construction is projected to begin on January 11, 2021, and conclude on or about March 3, 2021, please follow the Village's updates on THIS WEBPAGE. If you have property near the project area and will have renters, this page will give them an idea of what to expect during construction.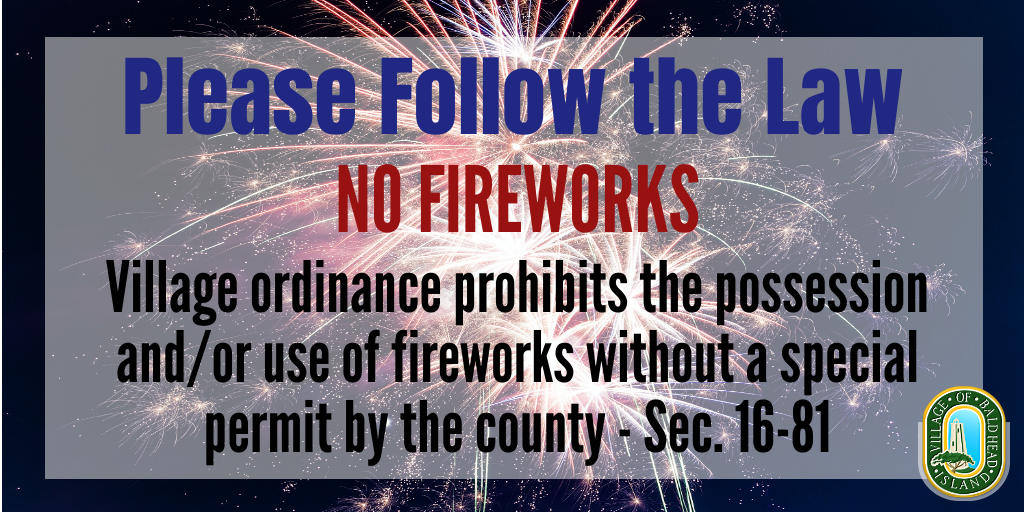 New Year's Resolution – No Fire Emergencies on BHI in 2021 – The Village would like to remind folks that fireworks are prohibited on Bald Head Island and that includes the use of sparklers. Please help us avoid ringing in the New Year with an injury or fire emergency. Violators using pyrotechnics on BHI can receive a fine of up to $500.
On Bald Head Island, fire prevention and early detection are very important. The island is only accessible by ferry or barge and the mutual aid the Department of Public Safety receives can take a while to respond. Also, many of the homes are surrounded by the thick maritime forest.
In 2021 the Village will be putting out more information about its fire prevention ordinance and general fire prevention measures that can be taken by islanders and visitors. In addition to the prohibition of fireworks, many folks may not know that the Village does not allow grills on decks, that folks should avoid grilling under decks and close to other structures, and that a permit is required to have a bonfire on the beach.
For more information about the Village's fire prevention ordinance and fire safety visit the Village's website HERE. The Village has also added a new webpage for beach bonfire permits HERE.
Let us all make a New Year's resolution we should be able to keep – NO FIRE EMERGENCIES ON BHI IN 2021.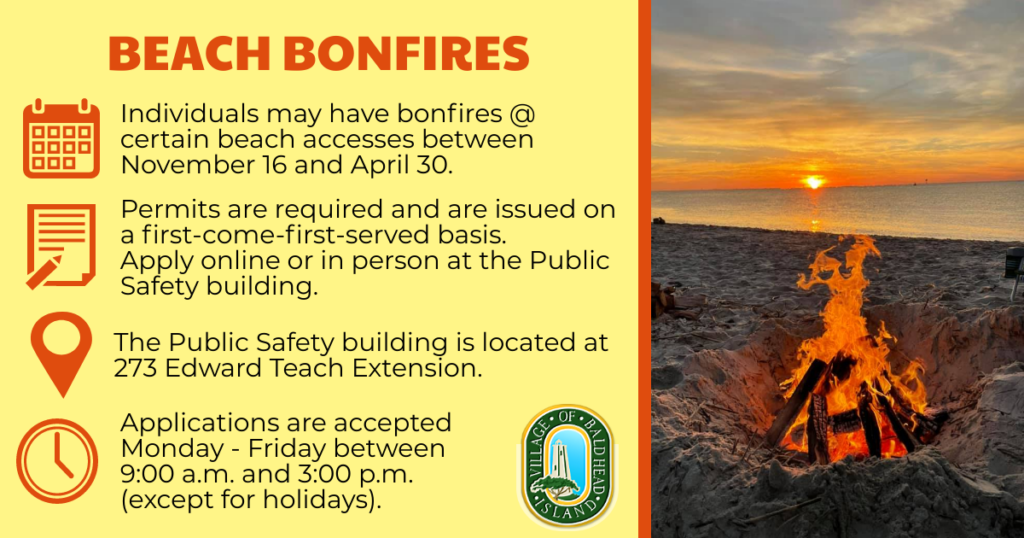 Creek Access Permits – If you already have a space at the Village Creek Access for your vessel (kayaks, canoes, small boats without motors), Creek Access permits have been mailed with payment due by the 15th of January, 2021. If you would prefer your permit be emailed, please contact Daralyn at dspivey@villagebhi.org. Please review the information/address on the form and correct it if needed. The permit needs to be filled out in its entirety and returned to the attention of Daralyn Spivey. Once payment is received, a permit number will be assigned, and staff will affix the stickers to the vessel for you. Permits are issued per vessel as opposed to per space.
If you are interested in using a space at the Creek Access, contact Daralyn (dspivey@villagebhi.org or 910-457-9700 ext. 1001) and if there is space available, she will get a space assigned to you once the proper paperwork is filled out and submitted. These spaces are permitted annually at the calendar year.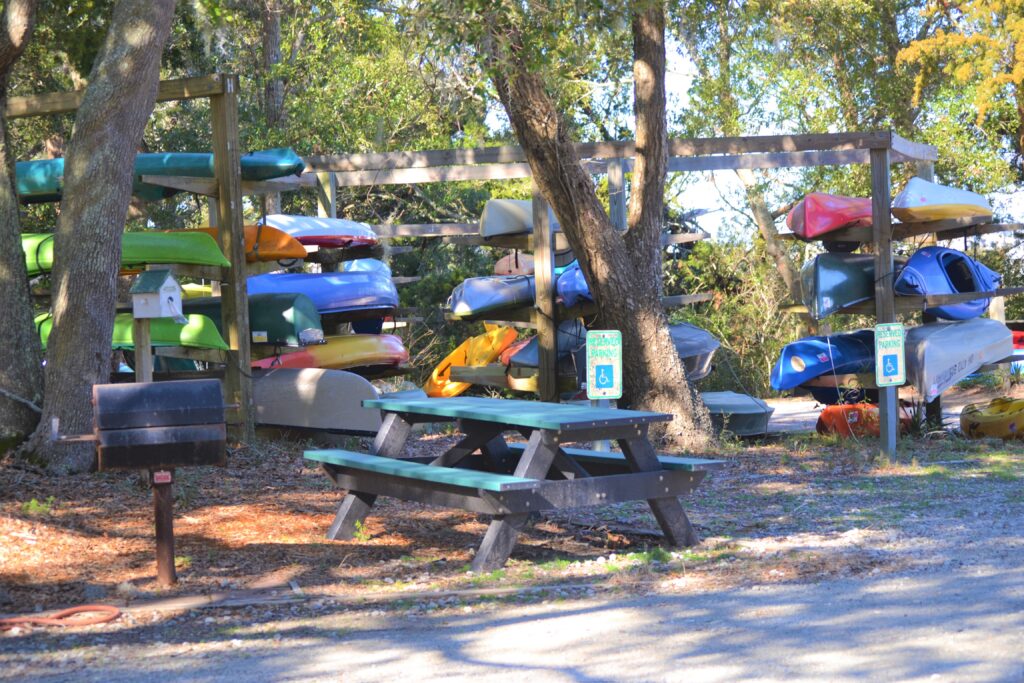 REMINDERS:
Village Offices Closed on 1/1/2021 – Village offices and the IPC/PO will be closed tomorrow (1/1/2021) for New Year's Day. Since it is a Village holiday, ICE vehicles are prohibited on Village public roads unless they are Emergency Vehicles, Government Vehicles, Official Island Transportation System Vehicles, or have been issued a Special Use Permit.
Free Mulch – Mulch is still available for pick-up at the Swan's Quarter site (Swan's Quarter is next to Bald Head Island Club).
Annual Golf Cart Registration – Annual golf cart registrations are due by January 1st of each year. If you haven't registered already, you can register your golf carts through the online registration portal HERE. If you select the option to pick up the new sticker at the Public Safety Department (273 Edward Teach Ext.), please allow at least 48 working hours for processing by administrative staff before going by to pick it up. Note that the 48-hour processing does not apply on weekends and/or holidays. The Village is still processing many renewals at this time and until the "rush" is over, the office is caught up, and stickers are mailed, there will be a grace period in which citations will not be given. Thank you for your patience.
If you have any specific questions about the annual registration process please feel free to contact Elizabeth Gray, Administrative Assistant, at 910-457-5252 or by e-mail at psadmin@villagebhi.org.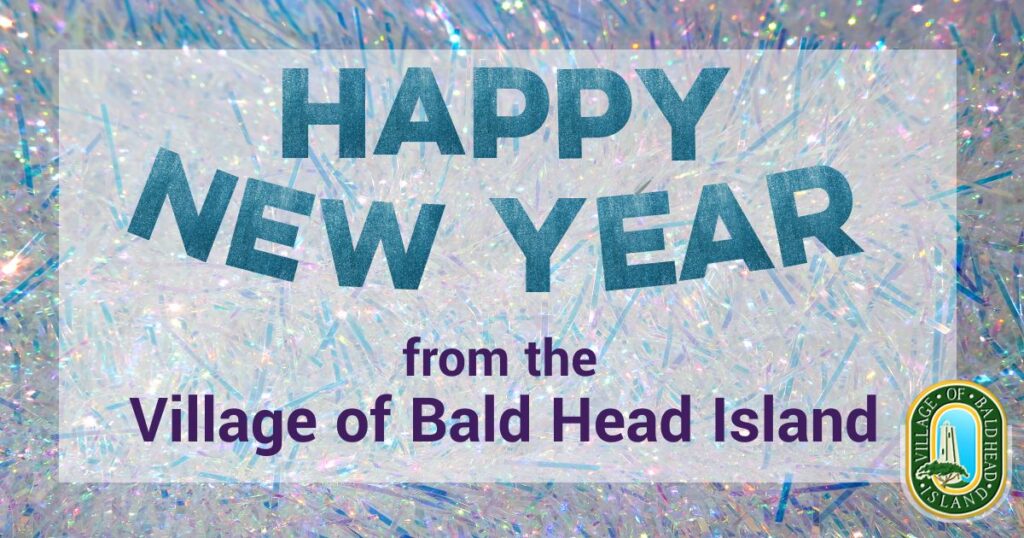 COVID-19 Updates
NC Under a Modified Stay at Home Order– As announced by the Village on Tuesday, December 8, 2020, Governor Cooper issued a new executive order which placed the state under a modified stay at home order beginning on December 11, 2020, at 5:00 p.m. This order is expected to be in effect through January 8, 2021.
Yesterday (1/30/21), NC Department of Health and Human Services (NCDHHS) announced it updated its vaccination plan to align with new federal recommendations issued last week. The changes simplify the vaccine process and continues the state's commitment to first protect health care workers caring for patients with COVID-19, people who are at the highest risk of being hospitalized or dying, and those at high risk of exposure to COVID-19. NC is currently in Phase 1a. Click HERE for a graphic on the vaccination phases a HERE for more information about the COVID-19 vaccine.
Current Case Numbers for Brunswick County – As of December 31, 2020, there are 4,491 positive cases of COVID-19 among Brunswick County residents. Of the positive cases, 3,557 are considered recovered, 847 are isolating at home, 13 are isolating at a hospital, and 74 are deaths associated to COVID-19.
There are 22 known cases involving non-residents who tested positive for COVID-19 while visiting Brunswick County, resulting in their contacts having to quarantine as well; these cases are not reflected in the County's total case counts. Seventeen of the cases are considered recovered, none of the cases are currently isolating. The County has transferred monitoring for three cases to the individuals' home counties, and two are deaths associated to COVID-19.
Brunswick County is currently designated as an orange county according to the State's COVID-19 County alert system which means there is substantial community spread.
Village Hall – Out of an abundance of caution, due to recent exposure and increased positive COVID-19 cases in Brunswick County, Village Hall has been closed to the public until further notice due to minimal staffing with remote-flex work schedules (we currently have plans to keep this in place through the month of January). If you have business with the Village, we ask that you please use our online options, e-mail, or call for an appointment. Please call 910-457-9700 and the auto-attendant will direct you to the appropriate department. General questions can be e-mailed directly to public.information@villagebhi.org. Utility payments are to be dropped off in the box on the porch at Village Hall. Notary services are available at the IPC/Post Office.