The National Weather Service (NWS) has issued a Winter Storm Watch for all of northeast SC and southeast NC beginning on Friday morning, through Saturday. Village officials are keeping an eye on the forecast and potential impacts of this storm.
According to the 8:00 a.m. NWS Wilmington briefing, the area could see heavy ice accumulation which could cause downed trees, power outages, and hazardous travel conditions. The wintry weather is projected to begin this Friday morning and the precipitation is expected to come to an end during the day on Saturday.
Village Services – Village officials have assessed the potential risks with hazardous conditions of area roads and possible impacts to ferry service and decided that Village offices will be closed on Friday, January 21, 2022. Essential staff, including Public Safety, will remain on duty (if you have an emergency or need an officer to come to you, please call 911). The Island Package Center & Post Office will be also closed on Friday, January 21, 2022. Staff will attempt to put up first-class mail on Saturday for pick-up late Saturday afternoon. Village Utilities wants to remind everyone to review the Village's tips on preventing frozen water pipes. They can be viewed HERE.
Regular Council Meeting – The regular Village Council meeting has been rescheduled for Tuesday, January 25, 2022, at 10:00 a.m. The agenda can be viewed HERE. Zoom information is HERE.
Ferry Service – Bald Head Transportation, Inc. is reporting that the adverse weather may result in disrupted, delayed, or canceled ferry service.
Barge Service – Bald Head Island Limited, LLC reported earlier today that due to pending weather issues contemplated for Friday, 1/21/2022 there is a possibility that barge service may be disrupted, delayed, or canceled.
Timber Bridge – The Village Public Safety Department may close the timber bridge to traffic for an extended period if it becomes icy.
Duke Energy – Please review the following information from Duke Energy:
Winter storm safety reminders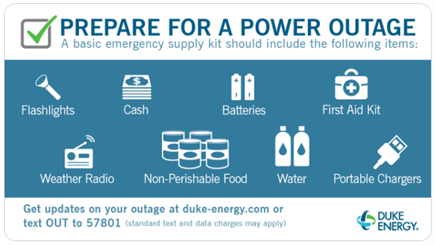 Weather can be unpredictable, so we're encouraging customers to be prepared for whatever conditions occur. Prepare for winter weather and outages that may impact them by doing the following:
Ensure an adequate supply of flashlights, batteries, bottled water, non-perishable foods, medicines, etc., as well as the availability of a portable, battery-operated radio, TV, or weather radio.
Stay away from power lines that have fallen or are sagging. Consider all lines energized as well as trees or limbs in contact with lines. Please report downed power lines to Duke Energy or local emergency services.
If you use a generator due to a power outage, follow the manufacturer's instructions to ensure safe and proper operation. Operate your generator outside; never operate it inside a building or garage.
Don't use grills or other outdoor appliances or equipment indoors for space heating or cooking, as these devices may emit carbon monoxide.
Customers should make alternate shelter arrangements as needed if you will be significantly impacted by a loss of power – especially families who have special medical needs or elderly members.
Reporting power outages
Customers who experience power outages should call Duke Energy's automated outage-reporting system:
Duke Energy Progress: 1-800-419-6356
Customers may also report an outage or view current outages online at www.duke-energy.com/outages or text OUT to 57801
Duke Energy will also provide updates on its social media channels to keep customers informed if significant outages occur: