In this issue:
Recap of Village Council regular meeting.
Communications updates – new media webpage, video programming on PEG channel and TVs in Village buildings, Department of Public Safety reports, and additions to beach safety webpage.
Stage 1 Water Conservation Alert has been rescinded effective 8/22/22.
An update from Duke Energy.
Village offices will be closed on Monday, September 5, 2022.
REMINDERS: There is still time to enter the Golf Cart Safety Month Poster Contest it ends on 9/6/22, package addressing guidance, community health opinion survey open for public input until 9/2/22, Dosher Clinic open through 9/2/22, N-95 masks available at Village Hall, free at-home COVID-19 tests available via mail.
Regular Council Meeting – The Village Council conducted its regular meeting on Friday, August 19, 2022, at 10:00 a.m. Here is a summary of the information shared and the actions that were taken at this meeting:
During the public comment period, Mike Butler, a BHI property owner, described an incident where a sudden wave came up on shore near Beach Access #9 as a ship was passing by as it was leaving port. He said that the wave came up so fast he and others had little time to respond. Beachgoers were washed out of chairs, a few small items were lost, and one of his dogs was pulled out into the water. He felt as though everyone involved was very lucky. He said he contacted the Coast Guard which advised him to file a complaint with the Brunswick County Sheriff's Office. He said he plans on speaking with the river pilots as well. He asked the Village to post signs, so the public knows about this hazard.
The consent agenda passed unanimously. It included meeting minutes. Under old business, the Village Council discussed the timeframe for receiving the completed Gateway Area Master Plan and the development moratorium which is due to expire on September 1, 2022. A motion passed unanimously to set a public hearing for September 6, 2022, at 10:00 a.m. to extend the moratorium.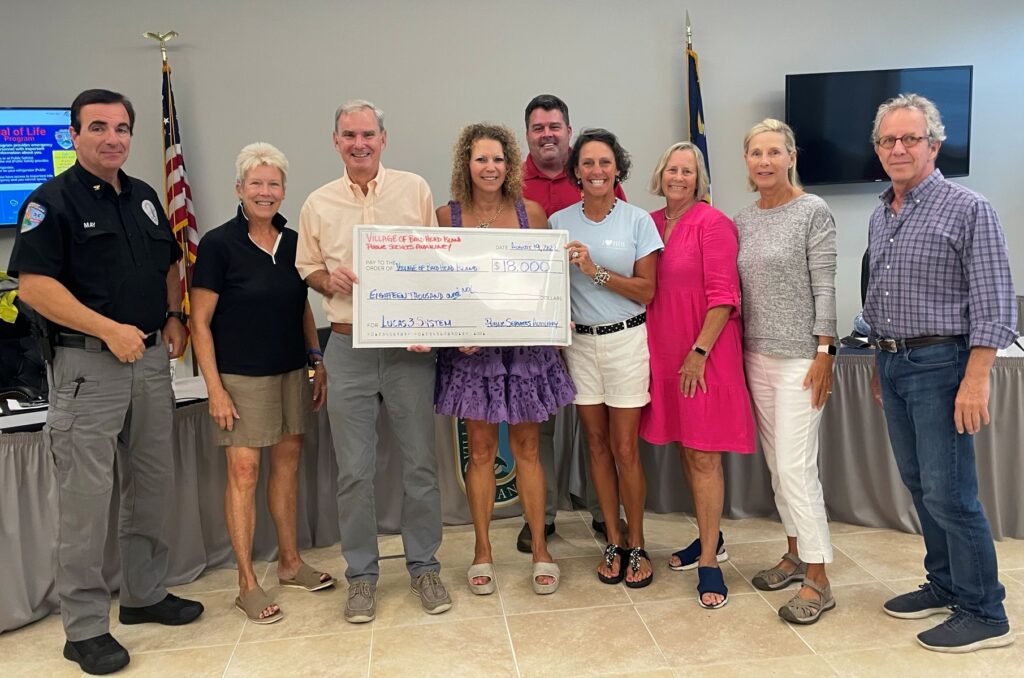 Under new business, the Village Council adopted a resolution accepting approximately $18,000 in cash donations from the Public Service Auxiliary (PSA) for a Lucas 3, v3.1 chest compression system. The resolution also stated the Village's intent to accept future donations for the purchase of equipment to benefit public safety through the end of the fiscal year (June 30, 2023).
Chief May explained that the Lucas 3 machine takes over the compressions when performing CPR allowing paramedics to monitor patients more closely and proceed with other aid such as administering medications. He said that this machine will make a great addition to the Department. He thanked everyone for all the work that was put into raising the funds for the equipment. The Taylors (Robert and Mary) contributed greatly as did Julie Showalter with numerous fundraising events (including the Tram Pub Crawl). Some of the funds were raised with pledges from PSOs Paul Homick and Chip Sudderth's participation in the Cape Fear Badwater race. Members of the Public Service Auxiliary were in attendance to present a check to the Village (see photo above) those in attendance included Cam McIntyre (President), Rob Taylor, Julie Showalter, Anna Ball, Betsi Stephen (Secretary), Debbi Byrd (Treasurer).
Also under new business, the Village Council unanimously adopted a capital project ordinance for Jay Bird Shoals dredging and two budget amendments which included one for Fund 10, and one for Fund 42. The amendment for Fund 10 includes expenditures related to road maintenance, professional services, fire supplies, and capital outlay for Public Safety. Some of the expenditures related to Public Safety include a new (2nd) jet ski, radar signs, CPR machine (donations pass through), dock blocks, and turn-out gear for Public Safety volunteers certified for fire response in addition to extrication suits for all other Public Safety volunteers. The amendment for Fund 42 is the expenses for the Jay Bird Shoals Dredging Project (Fund 42 – Beach Renourishment, Recreation and Tourism Fund – BRRAT). For property owners who may not be familiar with the Village's shoreline protection efforts, we recommend viewing the presentation our coastal engineering firm gave at the last Council Retreat. You can view it online HERE.
Below are a few items that were shared during the Manager's Report.
The Assistant Village Manager, Jae Kim, provided an update on the following:
IPC/PO Update – Mr. Kim gave an update on the July package counts for the IPC/PO facility:
8,332 total packages for July, which is up 21% from the year prior (6,892 last July).
It has been a month and a half since the new software and handhelds were implemented. Staff can check in and check out packages faster with the handhelds. There is a consistent dialogue with IT to work out any issues. For instance, they worked out an issue where people were getting notifications that packages were ready for pick up when they had already been picked up.
Staff is preparing a recommendation for Council regarding re-opening on Saturdays, it will include staffing and budgetary considerations and is likely to be an item on next month's agenda.
Zoning Conference – Mr. Kim attended the NC zoning official's conference for continuing education credit toward his zoning certification. He received updates from the School of Government on training that is available for governing boards and planning boards, information regarding a new requirement to publish a financial report on the use of permit fees, new notice requirements for CAMA plans, and information on new case law for sign ordinances.
Village Manager, Chris McCall, provided an update on the following:
Traffic Control Measures for Certain Intersections – Mr. McCall presented maps of the intersections of Muscadine Wynd and North Bald Head Wynd, Federal Road, SE Beach Drive, and Federal Road Extension, and Timber Bridge and Keelson Row. There was discussion on adding signage, adding some rumble strips, and extending a median to make these intersections safer.
Wilmington Inner Harbor Ocean Bar Project (Corps Project) – The Army Corps of Engineers has awarded the contract to Marinex Construction. This company has performed work on Bald Head Island before. The dredged volume has increased based on the cost per cubic yard. The Village is expecting to meet with the Corp sometime in October for a pre-construction meeting to discuss the staging area and where the pipe will come on shore. The staging area is not expected to change and will be located at the vehicular access closest to the navigation channel at Sandpiper Trail (Beach Access 11).
ADA Beach Access – The Bald Head Association has approved the proposed ADA access to be located on Peppervine Trail. It needs to then be approved by BHA's ARC. The Village has received the certificate of exemption from the State. If approved by the ARC, the Village can proceed and will tie the construction in with the beach accesses that will receive repair and maintenance in the spring.
Beach Access Parking Study – Staff reported that data collection will be taking place through September 10.
Mayor Pro Tem Gardner commended Chief May, his staff, the Village Manager, and the HR Director for the way that they handled some criticism that had been directed toward the Department of Public Safety. He said that the Village did the right thing in hiring an off-site inspector to do a review and after-action report. He said items were identified that the Village was working on already and there are items the Village is still working on. He noted that Staff has done a lot of things right.
Communications Updates
Media Webpage – The Village has a new webpage geared toward directing folks to the channels used to communicate with various audiences. The page can be found by going to the Village's home page at villagebhi.org and clicking on the Media icon on the menu (see photo below). For those who do not have social media, you can view the Village's social media posts on this page. The page includes information about the Village's Voice e-mail subscription, CodeRED alerts, our Spectrum PEG Channel, video programming, recent flyers, and media releases. Check it out HERE.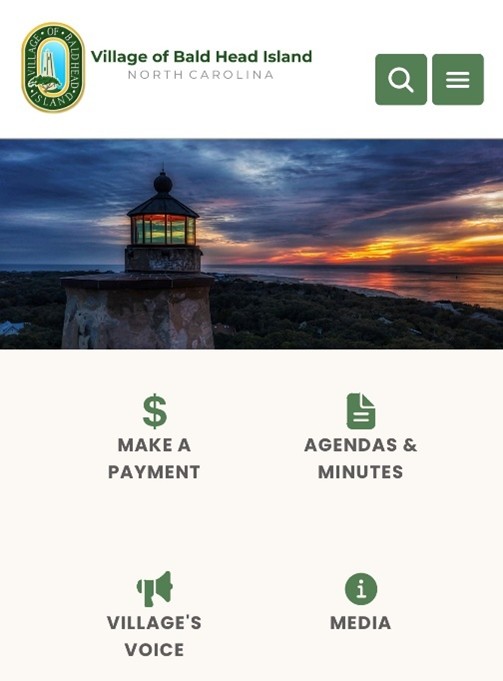 Video Programming – Did you know the Village has its own cable channel? We do, it's called a PEG channel (Public, Educational, and Government Access Channel). Spectrum cable customers can find it on channel 1395. If you are not a Spectrum customer, the content on this channel mirrors what the Village has on its YouTube playlist. You can view that playlist on our new media webpage HERE or on YouTube HERE. The YouTube playlist has been running on the TV in the lobby of Village Hall for several months.
The same software that runs the PEG channel can be used on TVs with certain equipment installed on them. The Village has purchased this equipment for TVs in the Island Package Center and Post Office and Contractor Services. In the next month or so, the IPC and Contractor Services will have TVs installed that will broadcast information that is geared to those two audiences.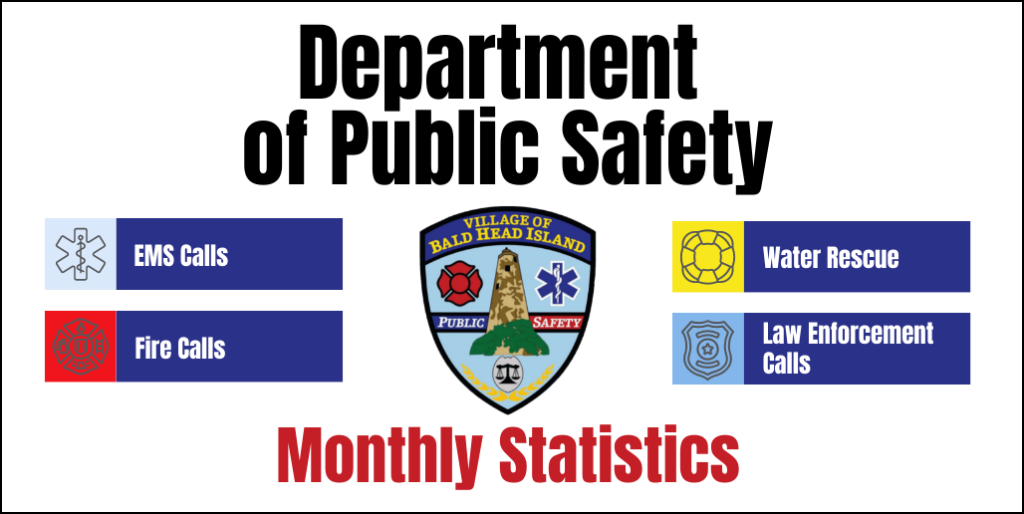 Department of Public Safety Reports – Last month, the Village started posting the Department of Public Safety's monthly report on social media. Based on feedback from citizens, we have also added a weekly report which will be also posted on social media. The reports are published on a new Public Safety Reports webpage HERE. The weekly reports include a "Tip of the Week." This week's tip is to establish a lock up routine to secure your home and property each night at 9:00 p.m.
Additions to Beach Safety Webpage –The Village has added information to its Beach Safety webpage to warn folks about the potential dangers of swimming near the shoals and the potential dangers of swimming and being on the beach next to the shipping channel when a ship comes through. You can view the new content HERE.
This information was communicated in the May issue of the Village's Voice which highlighted Beach Safety Week ahead of peak season. Based on recent public input the Village has used the CodeRed notification system to map the area along the shipping channel to send an email notifying the nearby residents of the hazard. In addition, a copy of the email was forwarded to the rental companies. If you are a property owner who did not receive the email, please contact Carin Faulkner at public.information@villagebhi.org. Now that the Village's new sign machine is in place, we are hoping to get some signs made and installed at Beach Access 5-11 in the next few weeks.
Stage 1 Conservation Alert Rescinded – Brunswick County Public Utilities has rescinded its Stage 1 Water Conservation Alert effective Monday, Aug. 22, 2022. This notice affected all customers of public water systems anywhere in Brunswick County (including BHI). Full details are on the County's website HERE. The conservation alert was originally issued June 16, 2022. Recent rainfalls and the public's efforts to conserve water have contributed to a drop to sustainable levels for the County's water system.
Update from Duke Energy – Duke Energy is working hard to complete a multi-year power grid improvement project that will help harden our system serving Bald Head Island to storms and allow for isolation of outages and remote automatic repairs.
Our next priority is installing some of the final, large switchgear equipment custom designed for Bald Head Island. We're coordinating upcoming work at the overlook area with the Village and Bald Head Association.
We apologize for the interruptions some residents and guests may have experienced earlier this month. With the improvements we're making now, we'll be able to minimize impacts like that in the future through automatic switching.
As we work on this customized solution to upgrade the system on the entire island, we're trying hard to avoid interruptions. We appreciate your patience when we do encounter unforeseen issues.
If you have questions or feedback, you are welcome to contact Danielle Peoples at Danielle.Peoples@duke-energy.com.
The Village receives regular updates from Duke Energy which will be shared with our e-newsletter subscribers and posted on the Village's "Village Projects" webpage HERE.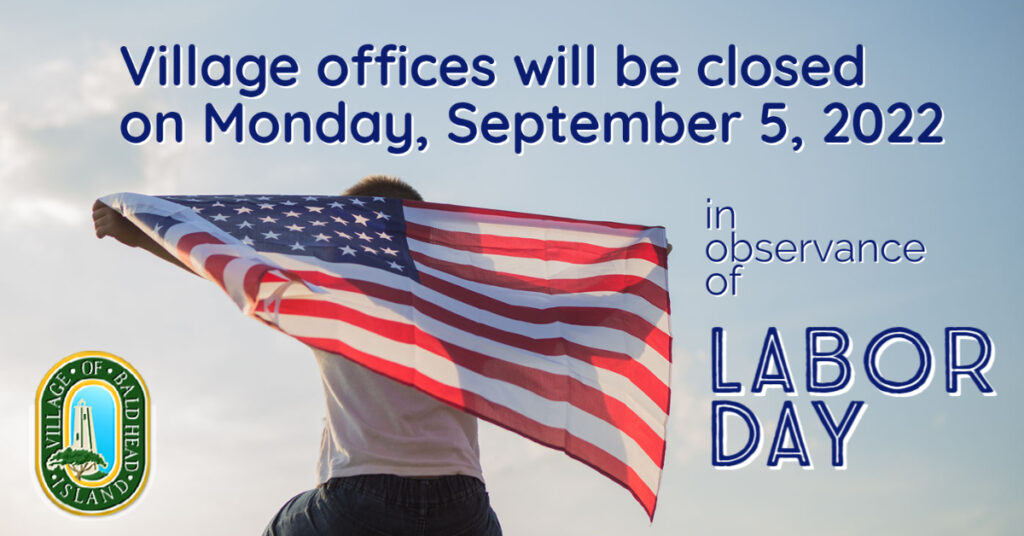 Labor Day Holiday – Village offices will be closed on Monday, September 5, 2022, in observance of Labor Day. The Island Package Center & Post Office will also be closed. ICE vehicles are prohibited on Village public roads on observed holidays unless they are Emergency Vehicles, Government Vehicles, Official Island Transportation System Vehicles, or have been issued a Special Use Permit.
Bald Head Island Transportation, Inc. has released its Labor Day weekend ferry schedule for additional ferry service. You can view it HERE.
REMINDERS:
Poster Contest – The Village is accepting entries for the Village's Golf Cart Safety Month Poster Contest through September 6, 2022. Please encourage the young artists in your family to enter! More info HERE.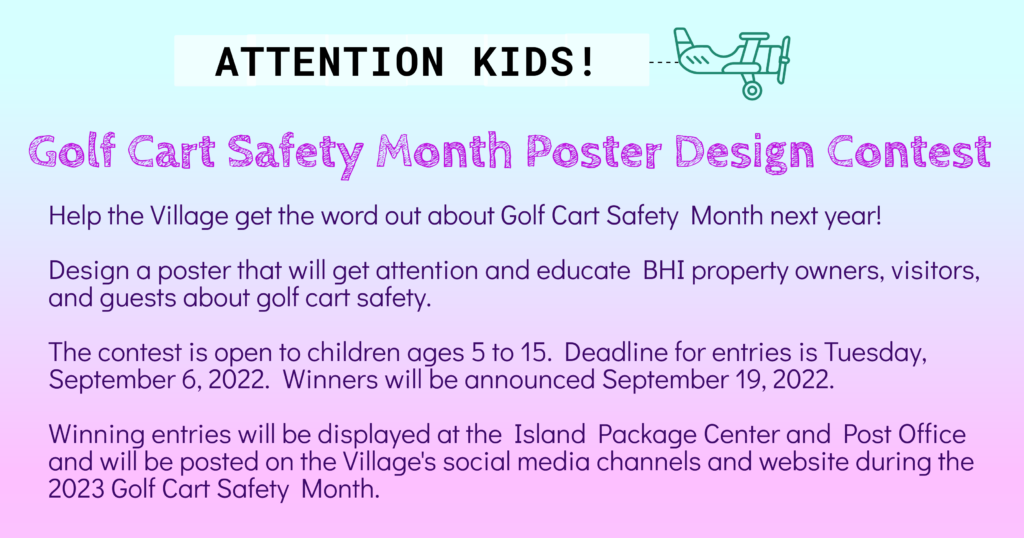 Package Addressing – Due to recent upgrades at the Island Package Center and Post Office, all incoming mail and packages must have a unique identifier to ensure that packages are tracked and received in a timely manner. If you have a post office box, please make sure all incoming mail has that number on it. If you do not have a PO box, your BHI property address needs to be on all incoming mail and packages. We have customers that are using the IPC/PO address (104/106 Lighthouse Wynd) for incoming mail and packages. This is no longer acceptable and will not be compatible with our new software system.
Community Health Opinion Survey Open until 9/2/2022 – Brunswick County Health Services, in partnership with Dosher Memorial Hospital, Novant Health Brunswick Medical Center, and the Brunswick Wellness Coalition, are asking residents to provide their opinions about the community health needs in Brunswick County by taking part in the 2022 CHOS. Through September 2, 2022, residents can complete the survey digitally. Estimated completion time for the survey is 15 minutes and all responses will remain confidential. Link to the survey HERE. More information HERE.
Dosher Clinic – Dosher Medical-Bald Head Island is open for minor illness and injury patients for the 2022 summer season. The clinic at the Bald Head Island Public Safety Building, 273 Edward Teach Extension, is open Monday through Friday, with clinic hours from 9 am – 2:30 pm. Patients are encouraged to call ahead, and patients with respiratory illness are required to call before entering the building. Everyone who enters the clinic will be required to wear a mask. To contact the clinic, call 910-457-5252. The clinic will be open through September 2, 2022.
Free N95 Masks – Federally provided N95 masks are available at Village Hall, as supplies last. These supplies do not include child-sized masks at this time. Learn more about N95 and other types of masks HERE. To learn more about where to find free N95 masks in Brunswick County go HERE.
Free At-Home COVID-19 Tests Mailed to You – Every home in the U.S. is eligible to order four free at-home COVID-⁠19 tests. The tests are completely free. Orders will usually ship in 7-12 days. Order your tests now so you have them when you need them. Order your tests through the United States Postal Service (USPS) at covidtests.gov. Find local testing sites HERE.