Key Information:
Partial lane closure near the ferry landing early next week.
Planned power outages for Wednesday, March 15, 2023, will affect 59 homes.
Offshore wind open house Tuesday, March 21, 2023, 4-7 p.m. at Brunswick Community College.
Existing Commercial Site Plan Analysis update.
Wilmington Harbor Maintenance Project update.
Check your deck.
Reminders & Events:
Online occupancy tax payment option is now available.
The next Village Council meeting is on Friday, March 17, 2023, at 10:00 a.m.
Cape Fear Badwater Race is scheduled for Saturday, March 18, 2023.
The Village Chapel is hosting a music event with Reverend (Colonel) Mike Charles on March 19, 2023, at 6:00 p.m. CHANGED TO FRIDAY, MARCH 17, 2023 (same time and place)
Partial Lane Closure – Duke Energy will be bringing over a crane to install the final switchgear on Monday, March 13, and will be leaving on Tuesday, March 14. There will be a partial lane closure during rigging operations. The red rectangle below shows the area of the road that will be closed to traffic.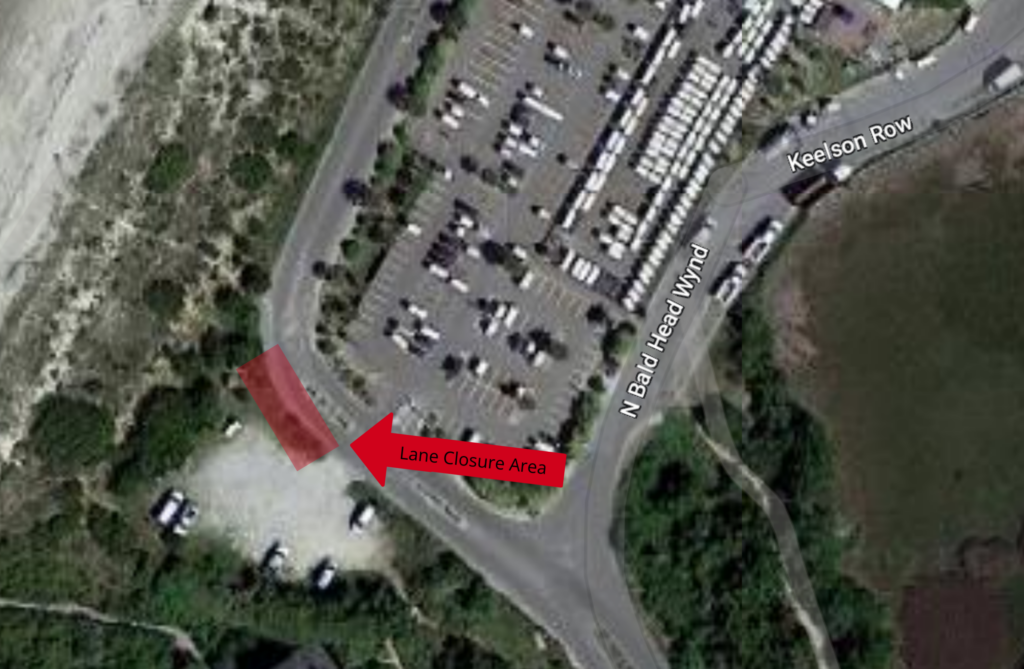 Planned Power Outages – There are two planned power outages scheduled for Wednesday, March 15, 2023, each lasting approximately two hours.
▪️ 10:00 a.m.: 19 customers on Portsmouth Way and SE Beach Drive.
▪️ 1:00 p.m.: 40 customers on Wash Woods Way and Kitty Hawk Way.
Duke Energy customers who are registered for outage alerts will receive a text/email based on their preference. You can sign up for alerts HERE.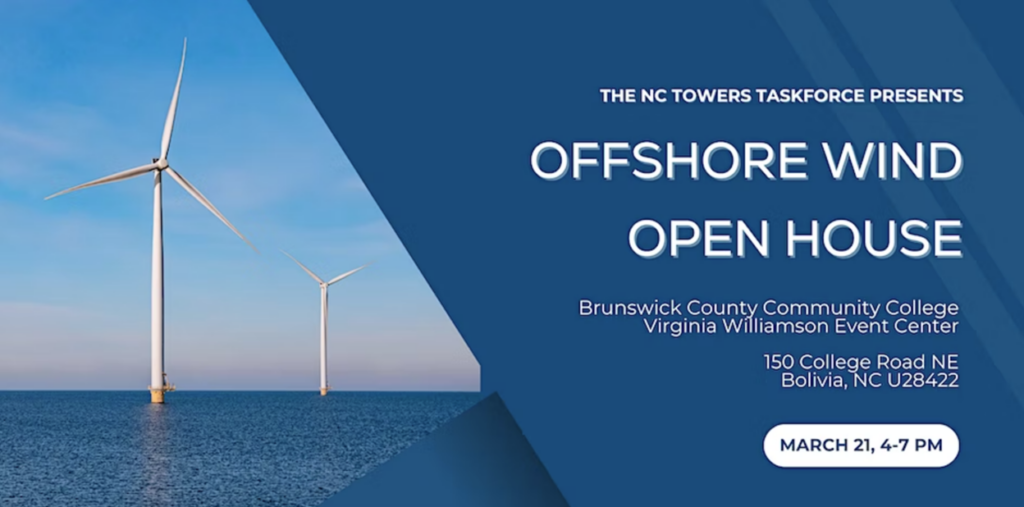 Offshore Wind Open House – The North Carolina Taskforce for Offshore Wind Economic Resource Strategies (NC TOWERS) presents an Offshore Wind Open House for residents and stakeholders in Brunswick County, North Carolina. This open house will provide attendees the opportunity to connect with members of the NC TOWERS task force and with offshore wind experts. Attendees will have the chance to talk with experts one-on-one in an informal setting.
Brief information sessions about the status of offshore wind in North Carolina will be held at 4:30 p.m., 5:30 p.m., and 6:30 p.m. These will be interactive sessions including time for Q&A. Taskforce members and offshore wind experts will provide information, answer questions, and listen to feedback throughout the Open House. Register HERE.
Existing Commercial Site Plan Analysis Update – On behalf of the Commercial Area Master Plan Committee, THANK YOU to all who submitted feedback in response to the site plan analysis presentation. If you read Mayor Quinn's message from earlier this week, you are up to speed on the next steps (read it HERE). Your input is valuable to the process. The comments received have been posted on the ECSPA website and you can view them HERE. Stay tuned for future public meetings. If you are not signed up to receive the Village's public notices directly in your email box, please reach out to Darcy Sperry, Village Clerk at village.clerk@villagebhi.org, and request to be added to our "Sunshine List."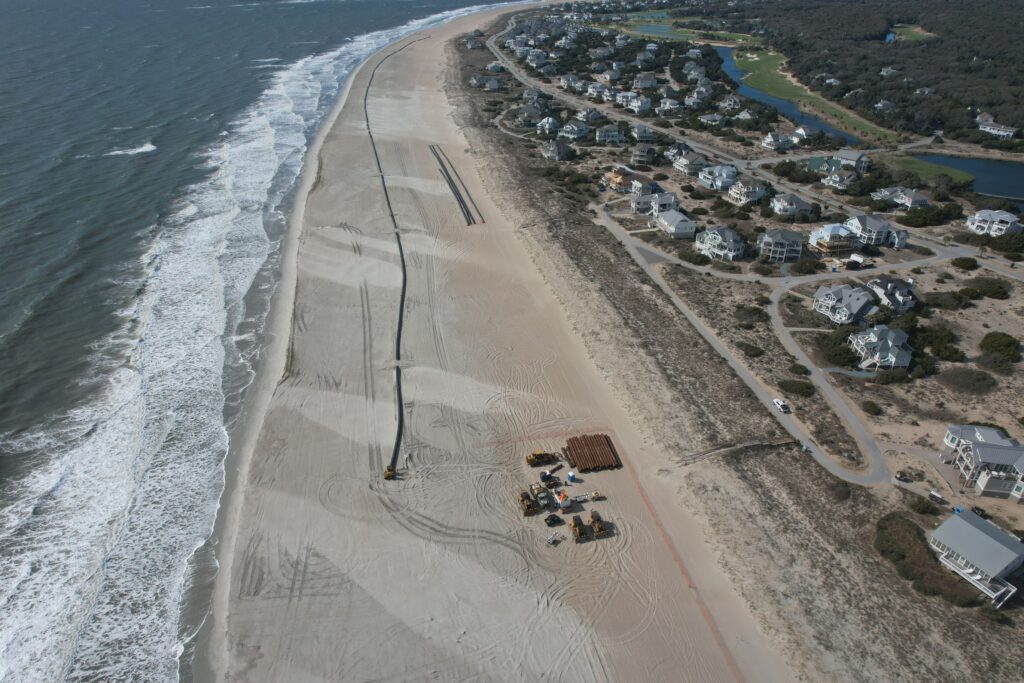 Wilmington Harbor Maintenance Project Update – The estimated date of completion for the WHNC (Wilmington Harbor Navigation Channel) Maintenance Dredging Project is April 5th with ten weather/mechanical downtime days included. They are now a little over halfway down the section South Beach which makes up the project area. Sand disposal is currently east of Beach Access #21 which is off Silversides Trail.
Please help the construction crew by being mindful of the construction fencing and signage. Do not go beyond any signage or barriers as doing so may place yourself and others in harm's way.
More information on this project, including a progress map and regular updates, can be found on the Village's website HERE.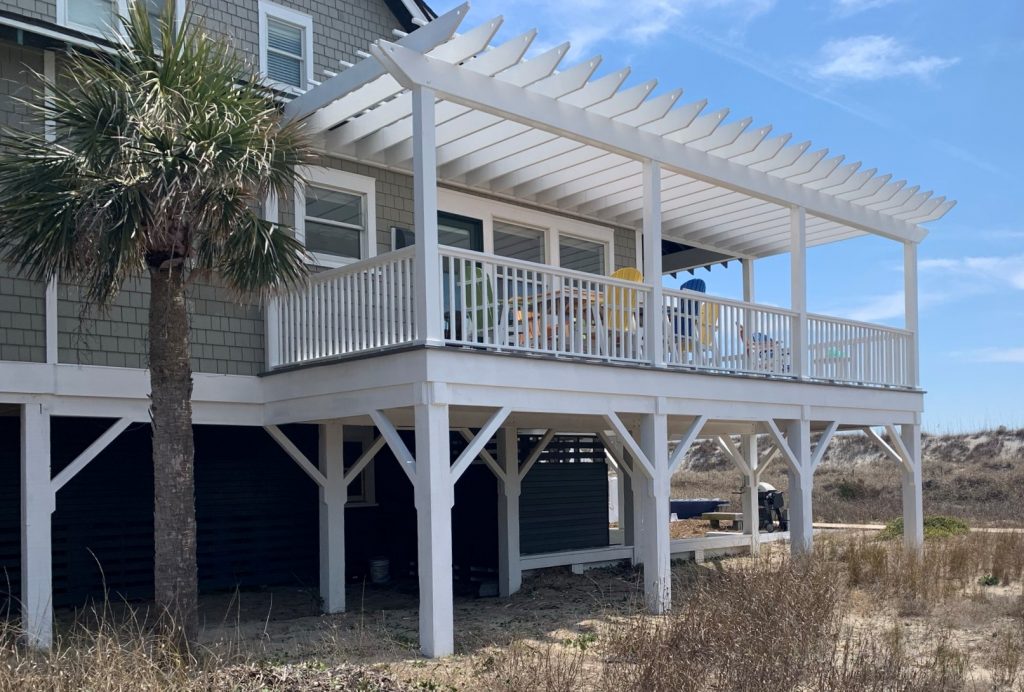 Check Your Deck – The corrosive nature of the coastal environment can take a heavy toll on wood and fasteners, and it is important to routinely inspect the condition of your property and take any necessary corrective action. Now is a good time to do it so you can get it ready for summer. There are many licensed general contractors and home inspectors that would be happy to assist.
In accordance with North Carolina law, the Village inspects any new construction and significant repairs or renovations at the time the work is completed but does not engage in routine, periodic inspections. This responsibility ultimately falls on the property owner, although the Village's building inspector will inspect any property for which a specific complaint is received. To assist our property owners, Village staff has prepared a simple, helpful Citizen's Guide to Deck Safety. This flyer includes a graphic illustrating typical deck construction along with illustrations of common problems and other helpful tips.
Additionally, it is important for everyone (property owners and visitors) to be mindful of the number of people gathered on a particular deck or section of the deck.
If you have questions or need additional information or assistance, please get in touch with the Village's Development Services Administrator Stephen Boyett at (910) 457-9700 ext. 1004 or sboyett@villagebhi.org.
Reminders & Events:
Pay Occupancy Taxes Online – Property rental owners can now pay occupancy taxes online. Notification letters should have been delivered to property rental owners by February 28, 2023. If you did not get your notification letter, please contact the Village at taxes@villagebhi.org or blt.str.support@govos.com to request an activation code and account number. Also, please check your spam folder and add blt.str.support@govos.com to your safe sender list.
More details are available in the notice sent with the utility bills (view HERE). For additional information, please email taxes@villagebhi.org.
This method is optional. Property rental owners who wish to continue to use paper submissions can still do so if they prefer.
Village Council Regular Meeting – The next Village Council meeting is on Friday, March 17, 2023, at 10:00 a.m. in the multi-purpose room at the Department of Public Safety. Folks can listen-in on Zoom (info HERE). The agenda will be posted HERE.
Cape Fear Badwater – The Cape Fear Badwater Ultra Running Race is scheduled for Saturday, March 18, 2023. This all-day race will take place on several Village wynds, and Public Safety will be providing traffic control for this event. Other activities for the participants will be taking place on the Island beginning Friday through Sunday. Approximately 140 runners (registration is capped at 200) are expected to participate this year. More information about the race can be found HERE.
Village Chapel Music Event – The Village Chapel is pleased to host a music-filled event with Reverend (Colonel) Mike Charles, a skilled singer and guitar player, on Sunday, March 19 at 6:00 pm at the Yacht Club pavilion in the Marina. More info HERE. CHANGED TO FRIDAY, MARCH 17, 2023 (same time and place) Updated info HERE.